In this fresh roundup we highlight our favourite 5 coffee subs, pick out a bonus wildcard that you just have to try, and go on to list the best of the rest. Buckle up.
Do you consider yourself a coffee addict, or just enjoy a nice cup to start off your day? Either way, a coffee subscription box is the perfect way to make sure that you are always stocked up with delicious coffee from the finest coffee producers.
Love a dark, bold coffee? Perhaps you want to explore the world of boutique single origin coffee, or maybe you prefer softer blends – whatever your preference there is something here for you. Plus, these coffee subscription boxes make a great gift for a friend or loved one. It doesn't get much better than the simple pleasure of having new and exciting coffee delivered direct to your door every month!
So, pour yourself a lovely cup of, erm, coffee (!) and read on.
These are our top 5 picks:
Spirit Animal Coffee
Subscriptions from $18 per 12oz bag
We love
Top 1% grade micro-plot organic beans

Roasted at source in Honduras for freshness

Typically low-acid, fruity tasting notes

100% fair trade & a truly ethical business model

Delivery every 1, 2, 3 or 4 weeks

Speciality Coffee Association ratings displayed

Lifetime free shipping promise (US only)

Fairly priced, considering what you get
Could be improved
Limited choice for those who like crazy bold flavors
Our thoughts on Spirit Animal Coffee
Wow. This company is truly on a mission to re-define what the phrase sustainable coffee really means for coffee farmers and coffee drinkers alike.
If you're into single origin, low-acidity, fruity, authentic, roasted-at-source coffee and don't mind paying a slight premium (because the farmers are actually getting 3x what some other 'fair trade' programs pay), then we think that Spirit Animal is about as good as it gets.
Spirit Animal founder Kathya Irias was born and raised in Honduras, and it shows. To directly control quality the company partners closely with small-scale Honduran organic coffee growers. Working at altitudes of 5000 ft plus means that the coffee beans grow more slowly and retain a more delicate flavor profile. Spirit Animal hand selects the top 1% of these crops, and the beans are then roasted at source in Honduras before being packed and shipped to customers. This ensures maximum freshness and taste.
In fact the taste of this coffee is so good that Spirit Animal batches usually score above 90 points in rankings from the SCA (Specialty Coffee Association).
Who is this subscription best suited to?
If you're looking for flavored blends, convenient pods or strong dark burnt notes then this probably isn't the coffee company for you. However, Spirit Animal is a great choice if you like your coffee luxurious, delicate in flavor, and direct from farm to cup.
You can have coffee delivered as beans or grounds (go beans if you can of course), and deliveries can be every 1, 2, 3 or 4 weeks.
We highly recommend Spirit Animal, and have awarded them number 1 spot in this roundup with a score of 9.5/10. Give them a try – you won't regret it!
"Committed to beans that merge luxury and sustainability, for a new coffee experience that changes your palate and our planet" – Spirit Animal Coffee
---
Fabula Coffee
Subscriptions from $19.49 per 12oz bag
We love
100% certified organic, low-acid beans

Single origin & fair-trade

Non-GMO, pesticide and mycotoxin free

Comes in 4 different roasts (light, medium, dark)

Freshly roasted just before shipping

Choose whole beans, ground or pods

Decaf option available

Delivery every 2-8 weeks
Could be improved
Minimum subscription order quantity of 2 bags

Unable to choose a specific coffee
Our thoughts on Fabula Coffee
We really like the overall offering from Fabula Coffee. The coffee quality itself is right up there with some of the best – the coffee beans are organic, low-acidity, single origin, Fair Trade beans that are free of pesticides and mycotoxins.
Fabula don't roast on-site at the growers, but beans are freshly roasted at Fabula HQ and shipped quickly to maintain freshness. The resulting aroma and flavor of this coffee is pretty hard to beat.
The website itself is also excellent and really easy to use. Setting up and managing your subscription is a breeze from start to finish and it's easy to choose preferred strength, coffee type (beans, ground or pods) and delivery frequency (anything between 2-8 weeks). It's worth noting that Fabula are one of the few top-end coffee subscriptions to offer both pods and decaffeinated options – so if that's your thing then they are worth a try for sure.
The downside to Fabula is that they send coffee based on your strength preferences, rather than allowing customers to choose specific beans and blends. So, if you like to try a range of different strengths and flavors then Fabula might not be the one for you.
Who is this subscription best suited to?
If you want an authentic, single-origin experience and need to use pods or decaf then Fabula coffee is a great choice, particularly if you are sensitive to acidity. Fabula is also a good option for those who like a surprise with each subscription delivery but know which roast of coffee they prefer.
We think Fabula Coffee is right up there with the best of them, and with 50% off your first order they are definitely worth a try.
"There are no shortcuts, and this makes the coffee beans much more challenging to access and pick, but it's so worth it" – Fabula Coffee
---
Out Of The Grey Coffee
Subscriptions from $13.59 per 12oz bag
We love
Huge range of roasts, blends and flavors

Good coffee at reasonable prices

Small batch coffee roasters

Coffee as whole beans or ground

6 grades of grind coarseness (fine through coarse)

Decaf option available for most coffees

'Bank of Java' customer reward scheme

Delivery every 1-4 weeks

Interesting 'discount wheel'! (See link)
Could be improved
So much choice it can be overwhelming

Busy website, not the easiest to navigate
Our thoughts on Out Of The Grey Coffee
Out Of The Grey (OOTG) must have one of the largest ranges of coffee for a small batch producer that we have ever seen. There's so much here that it can be difficult to make a choice! From light, low-acidity flavored coffee right through to strong, dark roasts (and everything in-between) – there's something at OOTG for all tastes.
As a consequence of the huge range, the website can be tricky to navigate – but stick with it because there are some real gems here and everything is priced at the more affordable end of the market for boutique premium coffee. It's all good value and there's also a points based reward scheme called 'Bank of Java' to enable you to save even more on repeat / subscription purchases.
There are some really interesting coffees here that are definitely worth a try. Have a look at the range of Japanese Roast blends for example – darker than American Roast and with a mellow, strangely clean and almost sweet aftertaste.
The subscription system itself is easy enough to use and you can have your coffee supplied as whole bean (always the best), or in one of 6 different grades of ground coarseness, depending on what brewing method you intend to use (we really like this touch). They even have decaf, if that's your thing.
Who is this subscription best suited to?
If you love plenty of variety and good value for money, but still want that 'small batch' experience then Out Of The Grey are definitely worth a look.
In terms of discount, they have an interesting wheel spinner where you can get yourself anything from 10-30% discount. Click the button below to give it a shot!
"Plain & simple: Our promise is to strive to treat You—our customers—as we would like to be treated." – Out Of The Grey Coffee
---
Explorer Cold Brew
Subscriptions from $19 per 12oz bag
We love
Dedicated cold brew specialists

Unique chicory enhanced recipe

Single origin Ethiopian organic beans

'Extra Caf' option for those who like it strong

Decaf and 'Low Caf' available for those who don't

2 bottle sizes in attractive packaging

Supplied as a concentrate for dilution to taste

Delivery every 2, 4, 6 or 8 weeks

Supporters of Charity:Water
Could be improved
Cold brew only (of course)

Just one blend, though it is very good!
Our thoughts on Explorer Cold Brew
If you like regular (hot) coffee but you've never tried cold brew. Well, you should (!) – and where better to start than with these guys. Explorer Cold Brew have been working on refining their recipe for years, and we think that it's the best cold brew on the market right now.
They start with premium single origin organic coffee beans from Ethiopia, which are medium roasted once back in the USA. After roasting, the coffee is then cold brewed for 12 hours to a unique method and recipe that includes a small amount of chicory.
The result is a liquid 'coffee concentrate' that is available in a range of strengths: Regular, Extra Caf, Decaf and Low caf. Of course, customers can further control strength and flavor by how much is used in the final drink preparation.
Cold brew can be used as an ingredient in many drinks (and foods). Iced coffee is the obvious one that everybody knows, but you can also use cold brew to make hot coffee, cocktails, horchata, chai and many more. In fact, Explorer have a whole recipe section on their website to give you ideas.
We think Explorer is a compelling cold brew offering, and we love it!
Who is this subscription best suited to?
Anyone who has not tried cold brew really should give this a go. It's an interesting take on coffee and worth a… shot!
If you know that you like cold brew, but haven't yet tried Explorer then give them a go. Our favourite 'extra caf' option is a great place to start.
"We've teamed up with Charity: Water, one of the leading providers of clean water access, to make sure that every cold brew that gets purchased contributes to clean water projects" – Explorer Cold Brew
---
Cardiology Coffee
Subscriptions from $17.60 per 12oz bag
We love
Beans grown in a 37 hectare Honduran co-operative

Health-focused coffee developed by doctors

Tested for toxins – free from ALL contaminants

Roasted for health too, minimizing acrylamide

Nitrogen-flushed bags to preserve freshness

Money back quality guarantee

Light, medium or dark roast

5% of sales go to Friends of Honduran Children
Could be improved
Only one blend available (in 3 strengths)

No choice of delivery frequency (monthly only)
Our thoughts on Cardiology Coffee
Cardiology Coffee was developed by doctors who were frustrated by the number of coffees on the market filled with contaminants and toxins. They set out to source pure, unpolluted organic coffee beans, then roast, pack and ship the coffee in a way that minimises nasties. The result is a smooth, great tasting coffee that genuinely makes you feel like it has positive health effects.
It's a simple concept, and one that several others on our top 5 list strive to achieve as well, but Cardiology Coffee are quite unique as they put health at the centre of their approach.
There's not a huge range of choice here, but that's the point really. This is coffee done simple, and done well.
Who is this subscription best suited to?
If you want the simplest, healthiest coffee you can get your hands on, this is probably it.
"Cardiology Coffee Is Loaded With Heart Healthy Antioxidants, Polyphenols, Vitamins And Minerals" – Cardiology Coffee
---
Bonus Wildcard Pick: Coopers Cask Coffee
Subscriptions from $26.96 per 12oz bag
We love
Proper whisky barrel aged coffee (not flavored)

Available in 12oz, 2lb or 5lb bags

Excellent grind coarseness options

100% money back guarantee

Delivery every 1-8 weeks
Could be improved
Expensive, but worth it for a treat or a gift

Ethics and sustainability could be better
Our thoughts on Cooper's Cask Coffee
There are two ways to create whisky flavored coffee: 1) Add artificial flavoring or 2) Infuse flavor in natural oak whisky or bourbon barrels. Cooper's Cask use the second method, and as far as we know they are the only company to do it this way.
The result is a very authentic coffee, that has taken on all of the natural flavor of the aged oak barrels.
The coffee is available in 3 different bag sizes (standard 12oz, 2lb or 5lb bags) and Cooper's Cask also offer a good range of grind coarseness options. You can have your coffee subscription delivered as whole bean, french press, drip, espresso or cold brew (course or fine). Note that the cold brew options are a coffee grind suitable for cold brewing and not a finished cold brewed (liquid) product.
We were also impressed by the subscription delivery options – you can have a fresh batch delivered at any frequency from 1 to 8 weeks and it's easy to skip a batch if you've not used as much as you thought.
Overall, we really like this authentic product. It is expensive though, which is why it's our wildcard pick – for a treat or the perfect gift subscription for someone who loves coffee AND whisky/bourbon!.
Who is this subscription best suited to?
If you love the idea of whisky flavored coffee either for yourself or as a gift then this is a great option. It's quite expensive but Cooper's Cask is a very authentic product and worth a try for the more adventurous coffee drinker!
"A great cup of coffee is good when you can drink it black and notice the subtle flavors of fruits such as berries, or natural sweetness like caramelized sugar, or earthy tones like plum or fresh tobacco. Add the barrel aging and the senses are enhanced to a whole new level" – Cooper's Cask Coffee
---
The best of the rest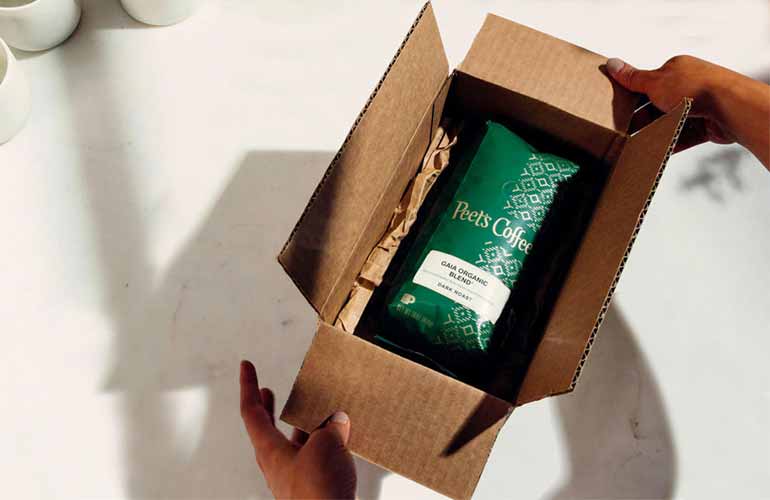 "The next best thing to being handed coffee by one of our roasters" – Peet's Coffee
The price:
$16/month
Box specs:
Peet's Coffee is a brand you can find on many grocery store shelves. But why wouldn't you want it delivered?
This coffee subscription box service gives you the flexibility to either opt for a curated subscription, meaning they'll pick and choose some of their favorites for you to try each month or a Frequent Brewer subscription, which allows you to pick and choose your own monthly delivery.
Both options will ship within 24 hours of roasting, so you know you're getting the freshest delivery. You can also customize the number of coffee grounds, how often it ships, and different grinds to find one that best fits your brewing style and preferences.
If you're a lover of Peet's Coffee, this is a great option to utilize all that the company has to offer!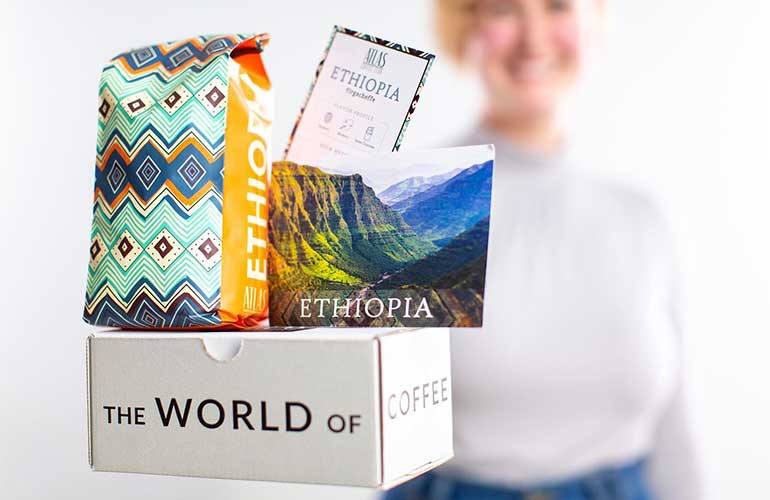 "A world coffee tour" – Atlas Coffee Club
The price:
$9/month
Box specs:
This coffee lover subscription box brings your love of coffee to a whole new level, with imported beans from nearly twenty different countries. Atlas roasts all of these exotic beans at their spot in Austin before shipping them all over for subscribers.
Atlas Coffee Club works to help subscribers explore an array of different coffee beans and flavors, depending on their individual preferences.
When you sign up for an Atlas Coffee Club subscription, you decide whether you'd like the ground or whole beans, choose your bag size, subscription delivery frequency, and one of three different roast options. Atlas will take care of the rest!
They'll send you their monthly imported bag of coffee each month. The packaging is a real standout, inspired by textiles of whichever local coffee grower they've chosen to send out that month.
If you love keeping your morning coffee exciting and unique, you'll love the ability to try something new every month.
If you want to know more about packages that allow you to try different goodies from abroad, check out our list of best food & snacks subscription boxes.
"The world's best artisan roasters" – Bean Box
The price:
$24/month
Box specs:
With a collection made up of 35 Pacific Northwest coffee roasters, this is one of the best coffee subscription boxes out there!
Bean Box is a coffee subscription service that will send you four 1.8-ounce sample pouches based on your preferences.
Roasts range from light to espresso and boxes are curated depending on what you prefer. If you try and love one of the samples, you're also able to buy bigger, full-sized bags to enjoy.
There's the flexibility to always change your preferences. Or if you don't want the hassle, you can also opt for a more traditional coffee of the month subscription, with a different batch delivered to your door each month, courtesy of Bean Box's choice.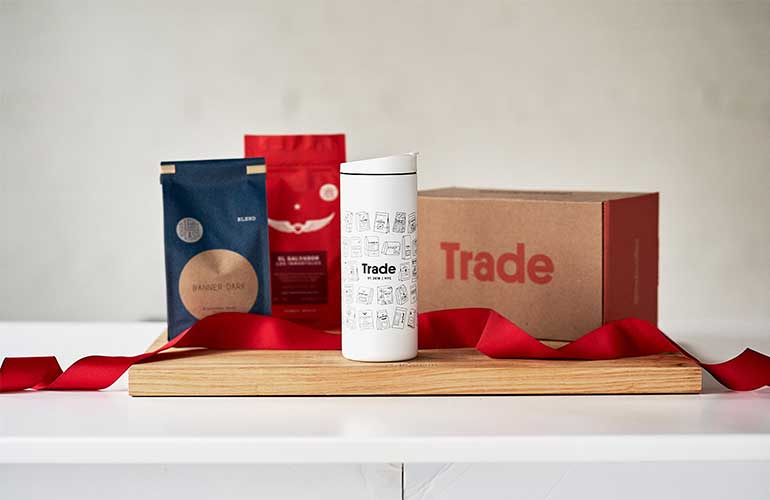 "The best local coffee brought to you" – Trade Coffee
The price:
$13/month
Box specs:
Trade Coffee is the ultimate example of the variety. With over 400 different coffees and 54 local featured roasters from 38 different states, Trade Coffee is a great option for coffee lovers who know what they like and want to browse endless options.
Even if you're unsure what you're looking for, this coffee monthly box starts subscribers off with a coffee quiz, using an algorithm to help you zone in on what roast profiles you might like (don't worry—if you don't like that pick, they'll send you a new one to try free of charge).
"Better coffee for less money" – Craft Coffee
The price:
$12/month
Box specs:
So you know you love coffee and you would really like to get involved with a coffee of the month club, but all you know is that you love your Green Mountain K-Cups.
No problem! Craft Coffee has you covered. With this monthly coffee subscription, just simply tell Craft Coffee what you typically like or buy.
Whether it's Dunkin Donuts or something else, Craft Coffee will select a blend for your curators to know you'll love (and if you don't love, it, they'll work with you to find something else). Customer service is a real plus with this company.
"The best coffee you've ever made" – MistoBox
The price:
$14/month
Box specs:
What makes MistoBox unique is that you're paired with a coffee expert when you decide to sign up. This export's job is to learn your personal tastes and curate your monthly subscription box with coffees that you'll love.
With over 500 coffee varieties from fifty different roasters, there's something for everyone!
And if you decide you don't want to work with a specialist, Mistobox also lets you select the coffee yourself—all of which is freshly roasted to order.
Through MistoBox, you'll choose from three different subscription options, ranging from $14 to $17 per delivery and a majority of coffee blending being dark to medium-roast blends.
If you opt for the deluxe tier, for example, you'll likely receive an espresso and medium roast coffee. The more expensive high-end tier subscription comes in at $20 per bag with micro-lot single origins and direct trade coffees.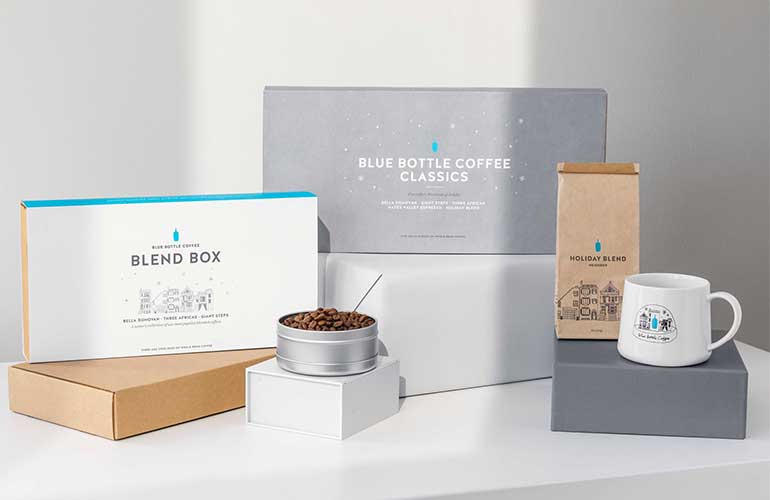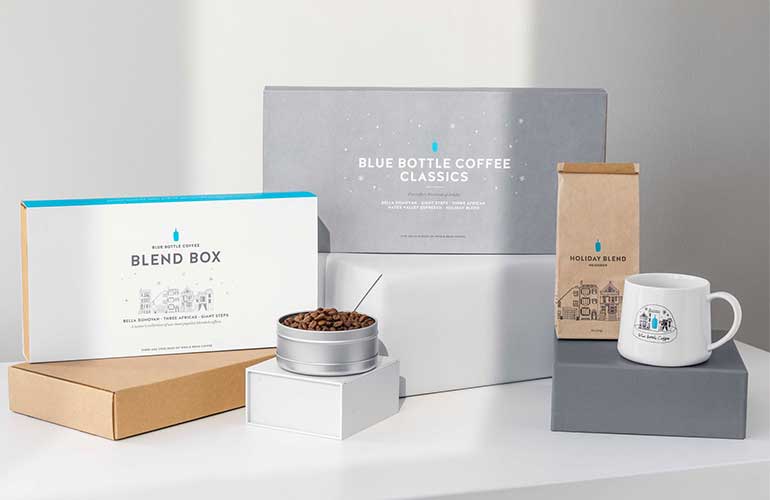 "Create beautiful mornings one coffee at a time" – Blue Bottle Coffee
The price:
$11+/month
Box specs:
A key mention of this monthly coffee subscription? Blue Bottle Coffee sources all of their coffee by hand.
As their website touts, this company really prides itself on quality control, with promises that all monthly deliveries are stocked with premium whole beans that subscribers will be excited about.
When you start, you'll fill out Blue Bottle's coffee quiz, meant to help you understand what products and roasts may be best for you before you start building your subscription.
We also love that Blue Bottle Coffee includes a Welcome Kit Subscription, which will guide you through everything you need to know and any must-haves to brew (and love) your next cappuccino.
The kit includes six-twelve oz bags, things like filters and a coffee dripper, and a Blue Bottle Coffee tote bag, so you know you are getting a great coffee experience with all of the fun of brewing at home!
"Our state-of-the-art algorithm will tell us what you consider a perfect cup of coffee" – Crema
The price: $17+/month
Box specs:
Love a good surprise? This is probably the perfect coffee delivery subscription for you. Crema's unique model uses what they call a "coffee playlist" to curate monthly subscription boxes.
When you join Crema's subscription service, you'll be asked to create a playlist featuring brands you already enjoy or would like to try. You can search and curate these brands based on flavor, roasting type, brewing methods, and country of origin.
Once you've created this playlist, Crema will use it to curate your box and ship it right to your door. This subscription also allows subscribers to choose their preferred delivery schedule each month.
Chances are you won't always remember all of the blends and brands you featured on this playlist, meaning each month will be a surprise, depending on what Crema includes.
Although you are able to control every product that goes into your box, it's a great way to still reap the benefits of a good surprise each month!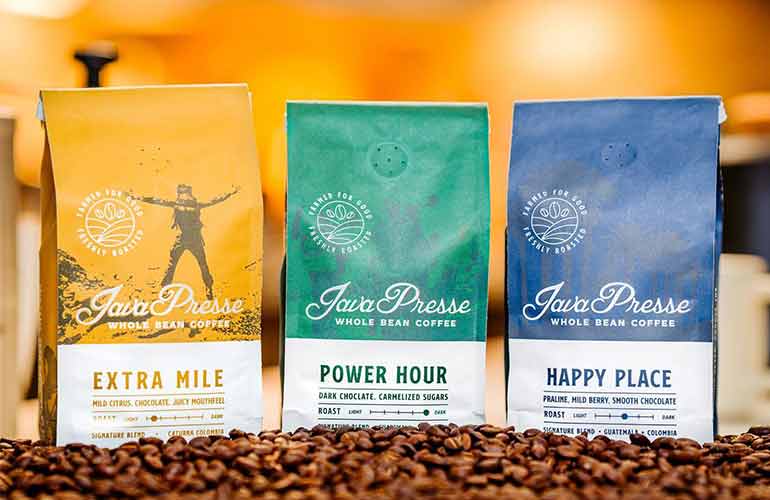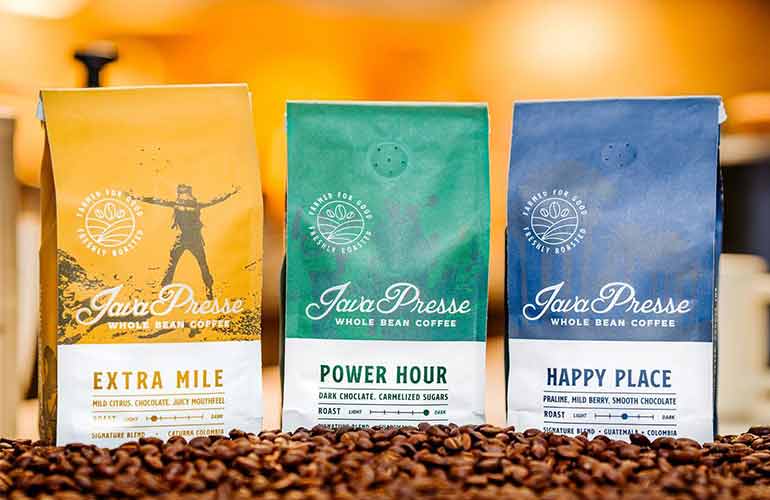 "Expertly curated coffee from the world's most celebrated family-owned farms." -JavaPresse
The price:
$18.99/month
Box specs:
JavaPresse narrows in on the fact that coffee beans peak freshness only lasts two the three weeks. That's why they ship their beans to subscribers just two hours after they are roasted.
It is not only a roaster, but JavaPresse is also a curator, meaning they handpick and send one coffee to all subscribers. Each coffee in their arsenal features fresh, single-origin beans.
We also love their clean, well-designed packaging, and the fact that their customer service is incredibly attentive. For someone who just appreciates a genuinely good cup of coffee, this is ideal.
JavaPresse does not get crazy or adventurous with their flavors, but they do offer an easy, hands-off subscription and a delicious morning cup of joe.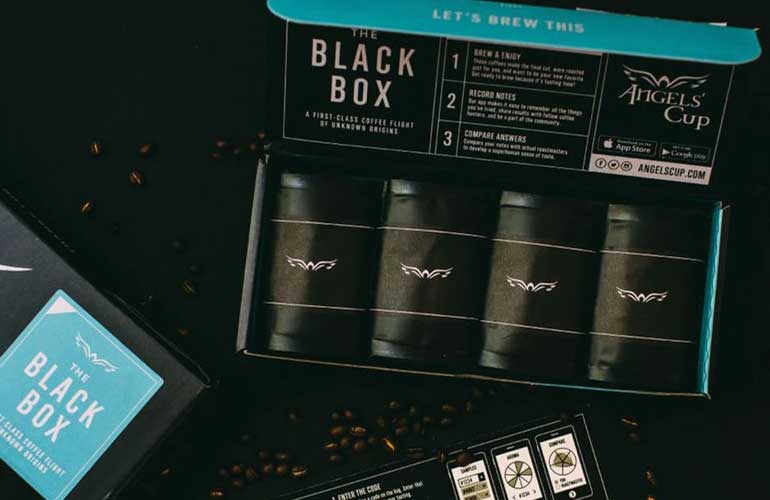 "Only the best, discover your new favorite coffee" – Angels' Cup
The price:
$10.99+/month
Box specs:
Angels' Cup works to help you determine what sort of coffee is made for you. While you can choose to order a single bag of coffee, this monthly coffee club encourages subscribers to opt for the Black Box, a "flight" of coffees delivered to your door.
The catch? Each coffee is numbered, which allows you to mark your favorites, least favorites and any other notes you may have on the flavors of each coffee.
With this subscription, you can choose how often you receive these samples: weekly, bi-weekly, or monthly.
Angels' Cup has over 100 specialty coffee roasters to choose from, so you'll always be getting a wide variety of different flavors and roasts.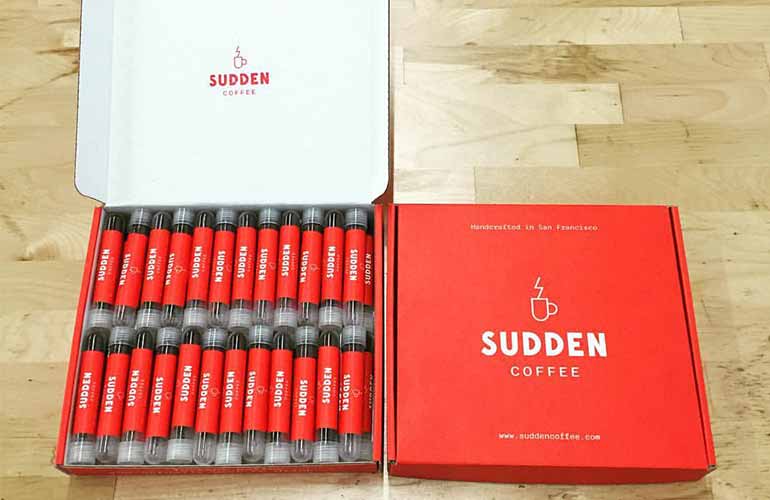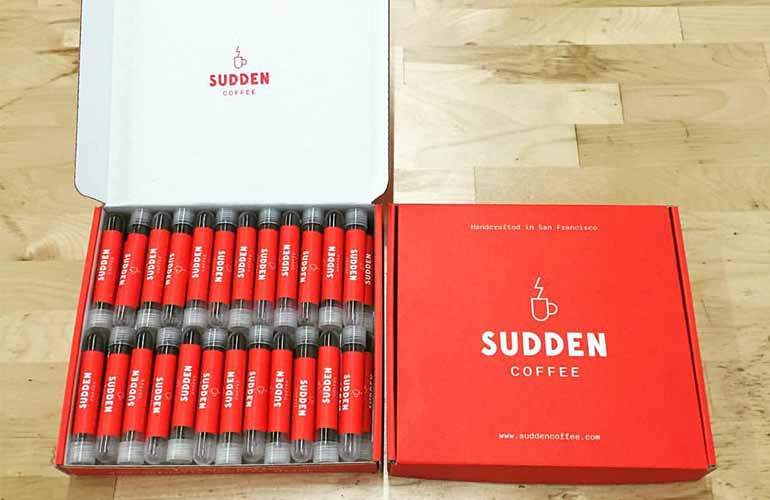 "Your favorite coffee brands — made instant" – Sudden Coffee
The price:
$20/month
Box specs:
Maybe you keep things simple and stick to instant coffee. Whether it's because you're short on time or resources, that doesn't mean you should skip out on flavor—enter Sudden Coffee.
This coffee bean subscription specialized in high-quality, single-origin beans that are freeze-dried and shipped in recyclable, single-serve tubes. This means they're small batch and made to go anywhere you go.
You just add water (hot or cold, depending on if you're looking for a hot cup or cold brew) and you'll be surprised how delicious this "instant" coffee really is.
"Monthly coffee delivered fresh." – Nomad Coffee
Price:
From $19.00 monthly
Box Specs:
Nomad Coffee is one of the best coffee subscription boxes for people who love a nice brew in the morning.
Every monthly package contains 12oz bags, which should guarantee 62 nine ounce cups of coffee.
Their beans are ethically sourced, so Nomad is transparent about its origin and its relationship with local farmers. Besides being locally produced, they are also naturally processed and roasted.
You can buy the monthly subscription for yourself, for your office or as a gift box for a coffee lover you might know.
P.S.: Shipping is only available to the US and Canada.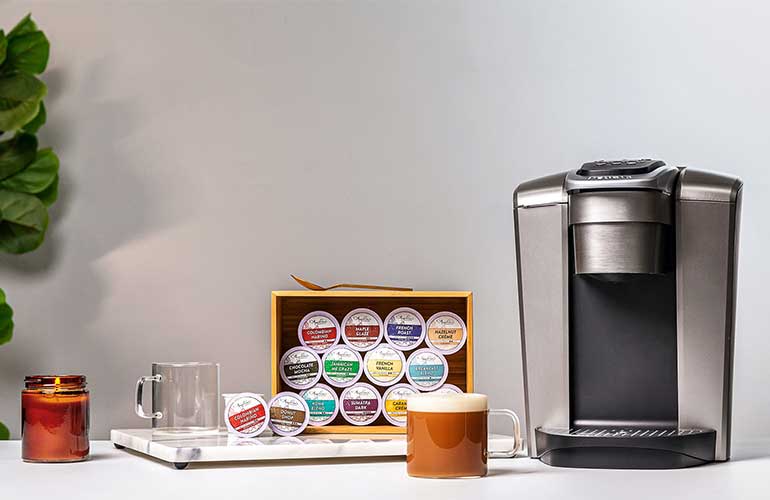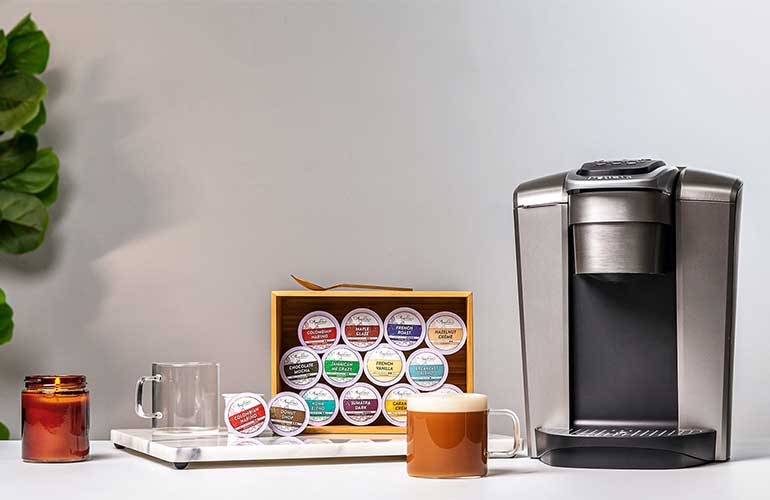 "An affordably delicious in-home experience!" – Angelino's
Price:
Starting from $34.95 (3-box minimum)
Box Specs:
Angelino's Coffee is targeted at people who have coffee machines that work with capsules.
It provides an incredible experience, with its numerous flavor options. You can choose from their wide range of choices and personalize your box or choose one of the assorted ones.
They source and roast the coffee by themselves, therefore making sure you receive the freshest beans.
Each box contains 24 coffee pods and each order must contain a minimum of 3 boxes. Angelino also has options on decaf and even organic tea.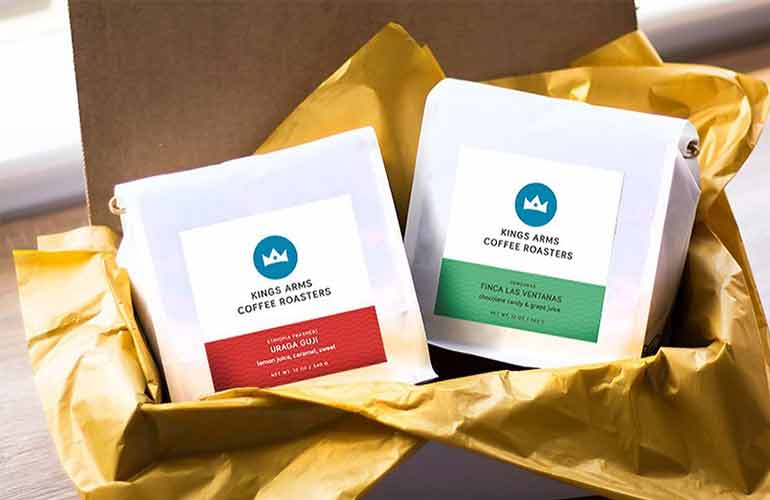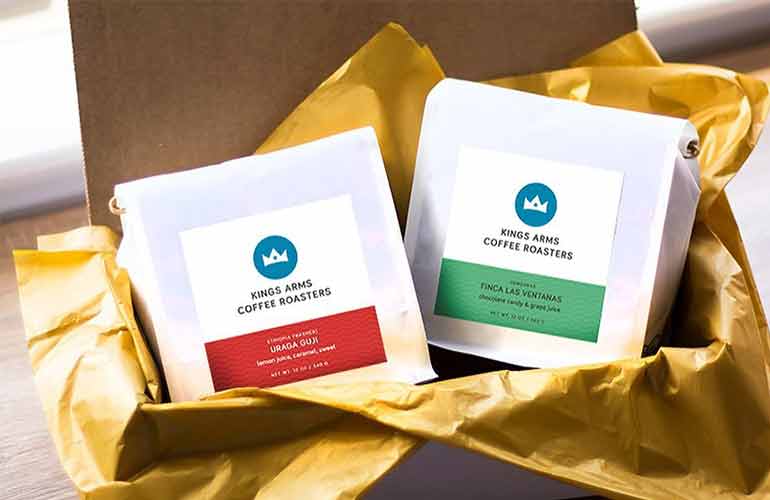 "Drink Coffee. Give Hope." – King's Arms Coffee Co.
Price:
From $12.00 (delivery every 2 weeks)
Box Specs:
According to Kings Arms, coffee "has an un-escapable way of bringing people together". So, one of the most important parts of this brand's identity is giving back.
10% of the company's profits go towards charities that help bring food and clean water to people in need. Plus, they are also invested in helping children with financial difficulties to have a proper education.
About their coffee – they collect beans from African origins (Ethiopia and Kenya), South America (Brazil and Guatemala), and Central America (Costa Rica and Honduras). The beans are then roasted in Tampa, Florida.
What's different about Kings Arms is that once you sign up for their Brew Club you are not only enjoying a tasty cup of coffee but also helping people around the world to have a better future.
"America's #1 Coffee Subscription" – Moustache Coffee Club
Price:
$22 every week (includes free shipping)
Box Specs:
Moustache Coffee Club offers a variety of flavors that are not matched anywhere else.
Their roasting selections include coffee beans grown in Ethiopia, Guatemala, Colombia, and much more.
You can also customize whether you want a box with 6 oz. or 12 oz.
This subscription box is also one of the few providing international shipping. With an added cost, you can have your coffee delivered at home no matter the country you live in.
The best part about the Moustache Club is that you can try their coffee for FREE. That's right! If you're a US-based customer, they offer a trial package, so you can receive their fresh roasted premium single-origin coffee for free – no strings attached!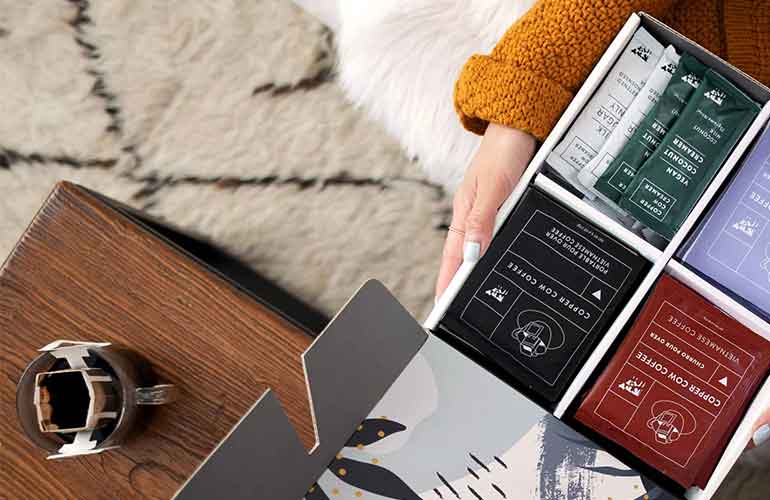 "Traditional Vietnamese Coffee Accessible and sustainable every step of the way" – Copper Cow
Price:
From $35/month
Box Specs:
Created by a Vietnamese-American, the mission of Copper Cow is to deliver original coffee from Vietnam right to your door.
If you prefer your coffee black, they will send you 20 black coffees with an added pack of flavor samples.
However, if you like that creamy texture, you should order the Classic Package: 20 black coffees & 20 creamers, all for $45 a month.
During warmer weather, you can also enjoy Copper Cow coffee, with their iced coffee packs. Click here to learn how to make it and enjoy a cold coffee with ginger, lavender or cinnamon taste with condensed milk.
A whole new way of trying coffee, no matter the time of the year.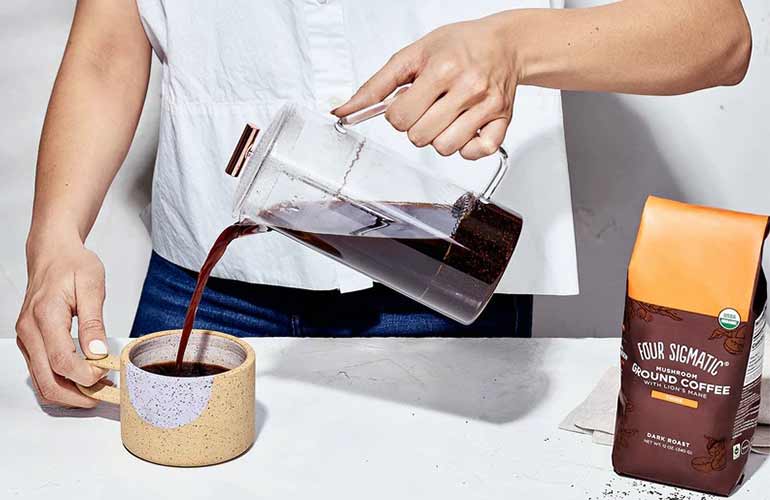 "Get your brain going without leaving your body behind." – Four Sigmatic
Price:
From $32/month
Box Specs:
Four Sigmatic is a Finnish-American beverage company that specializes in mushroom-based drinks. They sell protein shakes, cacao, and mushroom coffee.
What is mushroom coffee? It's basically a regular black coffee blended with medicinal mushroom powder. However, if you're afraid the coffee will taste like mushrooms, don't worry. It won't.
Mushroom coffee is especially useful for people who are intolerant to caffeine and still need their daily cup of joe.
The funghi beverage has less caffeine than the simple one, but it still has the same energetic function due to Cordyceps Sinensis – a kind of mushroom which is a natural energy booster.
You can choose between a Dark, Medium or Lightly Sweet Brew. Also, don't be afraid: the mushrooms used are totally non-toxic and created to be used in this format.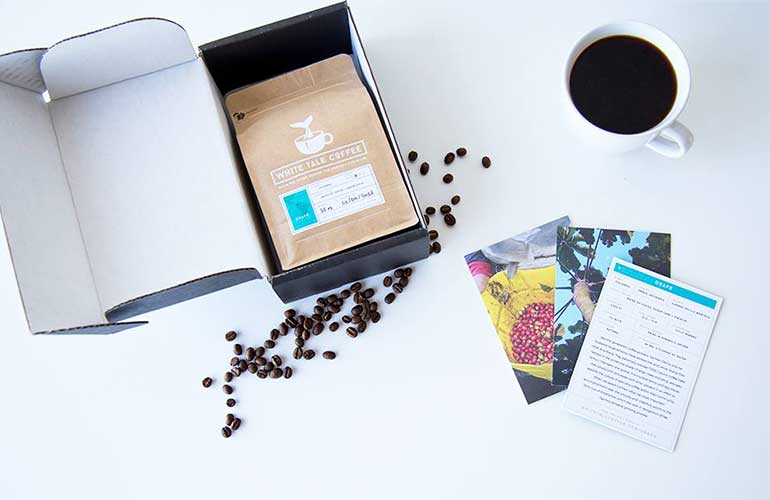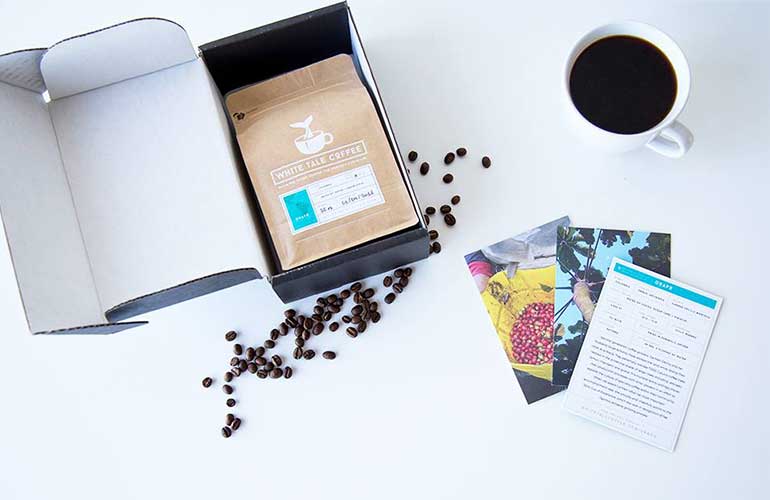 "Specialty coffee from around the world, customized and delivered to you." – White Tale
Price:
From $22 per delivery or $132 (3-month subscription)
Box Specs:
White Tale Coffee began through 3 friends, who had met when they were kids in Colombia. Now, while living in the States, although in different cities, they decided to create a business based on their shared interest in coffee and their connection to Colombia.
Nowadays, they sell coffee from different parts of the globe and they are proud for making their business sustainable.
Their guarantee is that the farmers are being properly compensated for their hard work on growing and collecting coffee beans. It's the passion of the farmer for the coffee that brings the best selection to your door.
Plus, there is no coffee subscription box as personalized as White Tale. It allows you to build your subscription, pick the method you use to brew it, the flavors and roast you prefer, and even how often you drink coffee.
By the end of this whole selection, you will have a package selected for you, with an adequate price considering your needs. You can also buy it as a gift box, surprising one of your loved ones as crazy about coffee as you are.
Final thoughts
Whether you're shopping for yourself or as a gift for a loved one, who doesn't love a piping hot cup of coffee or a chilled, perfectly brewed cold brew?
Luckily, this list gives you the flexibility and variety you need to find something for everyone.
Whether you prefer light or dark roast, hot or cold brew, flavored or classic, there are so many subscription services to choose from.
If you try any of these monthly coffee and coffee bean subscriptions, let us know what your experiences are—good or bad!
In addition, let us know if we missed one of your favorite subscription boxes, coffee of the month clubs or other monthly delivery services.
And while you are here, check out our other top subscription services lists, like our best chocolate subscription boxes and clubs for 2022.
From clothes, jewelry, food, and beyond, we're researching and inviting you to try them all!
FiveBoxes is reader-supported. When you buy through links on our site, we may earn a small commission (at no additional cost to you). We don't allow this to bias our reviews and opinions. Full disclosure.