FiveBoxes is reader-supported. When you buy through links on our site, we may earn a small commission when you click the links at no additional cost to you. Read the full disclosure.
Last updated on Jan 31, 2022
Who doesn't love chocolate subscription boxes? It seems like it's one of the most widely known universally loved things in the world.
Also, beyond its incredible taste, chocolate subscription boxes quickly become an experience. From tasting unique and world-renowned treats to pairing with other foods and drinks, chocolate has quickly become an indulgent pastime.
With the current surge of subscription services available across all sorts of markets, it is no wonder the world of candy and sweets has jumped on the bandwagon. Besides, considering how the last year has forced us all into lockdown and self-isolation, FiveBoxes knows that a chocolatey treat will come in handy.
After all, what's better than a monthly delivery of new and unique chocolates?
Best chocolate subscription boxes in 2022
There is dark chocolate, milk chocolate, white chocolate, hot chocolate, and other sorts of gourmet and unique flavors. So, there is bound to be a subscription service fit for your taste buds (or to gift to your loved ones—because again, who doesn't love chocolate?).
Nonetheless, with so many options, how do you know what to subscribe to? That's why we've curated some of our favorites.
Take a look at our 30 picks for chocolate subscription boxes. Find that perfect box of chocolates delivered right to your door!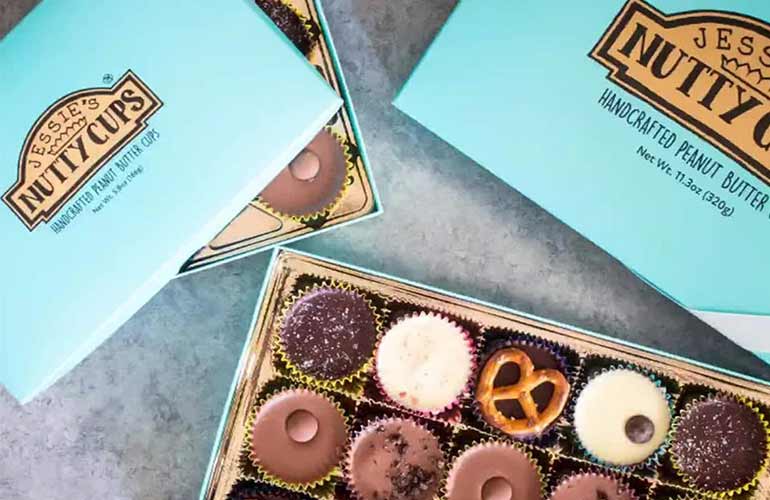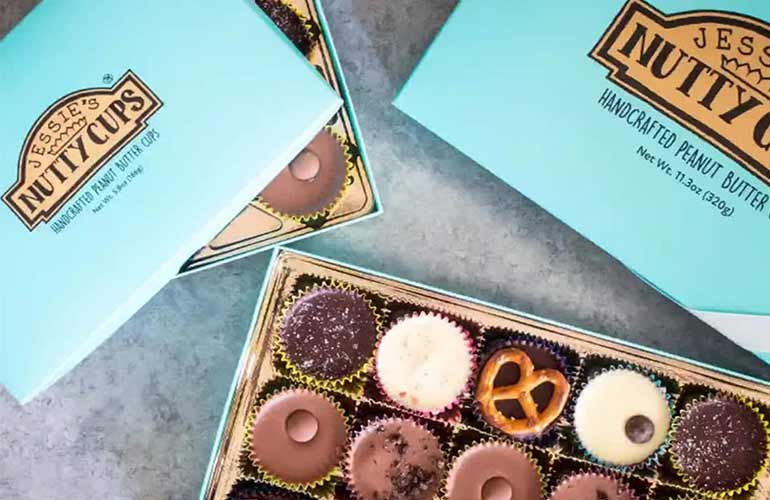 "We've created the perfectly nutty, two-bite treat just for you." – Jessie's Nut Cups
The Price:
$17/month
Box Specs:
If you are allergic to peanuts, you should scroll down. Jessie's Nut Cups are the perfect treat for anyone who loves both peanut butter and chocolate.
Jessie's Nut Cups is based in Brooklyn, NY and they specialize in peanut butter chocolate cups. To sum up, they roast fresh Virginia peanuts (in-house), transform them into creamy peanut butter and combine it with Belgian chocolate to create the perfect nutty treat.
The cups have different flavors that you can choose, from hazelnut to cookie crunch. Plus, a special flavored monthly cup of the month: right now, it's brownie caramel and it's delicious!
Every month receive a box of different signature flavors, plus a couple of the Nutty Cups of the Month. You can also choose the 3-month or 6-month subscription.
"Cure your cravings with "made from scratch" chocolates, like truffles, fudge, toffee, and more!" – The Chocoholic Tribe
The Price:
$32.99/month
Box Specs:
The Chocoholic Tribe subscription box is developed by Chocolate Haus, a chocolate producing company based in Amana, Iowa. They operate since 1995, making chocolate fudge from scratch, following a family recipe.
In each box from the 'Tribe' you will get an assortment of milk and dark chocolates, curated especially for you. Plus, an exclusive item that the Haus sends to their subscribers.
Due to weather conditions, they deliver only from September to May (avoiding the warmest months due to obvious reasons: chocolate melts). However, if it melts you can refrigerate it and it will still taste great!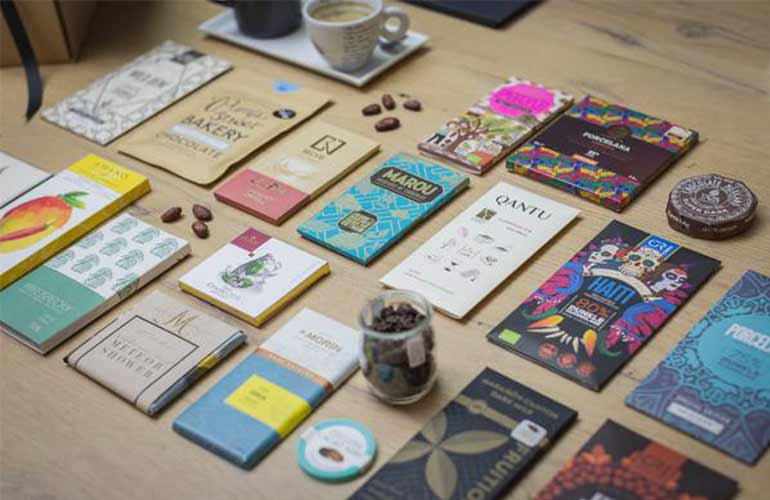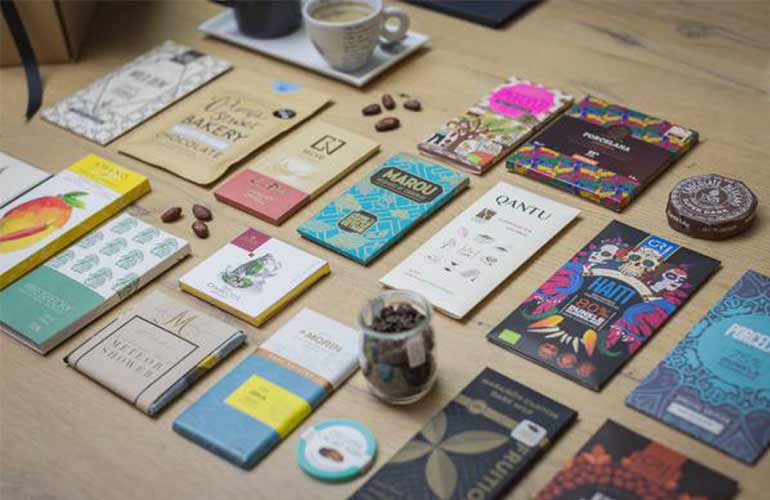 "A bean to bar chocolate subscription box for rebels." – Chokola Club Box
The Price:
$45.87/month
Box Specs:
Chokola Club Box is a bean to bar chocolate subscription box, delivering chocolate bars from around the globe to your door every month. The chocolate comes from artisanal producers, who create the perfect taste for you.
Every month get 5 to 7 full-size bars of rare handcrafter chocolate. The chocolate is organic and operating under fair trade.
Each 2 months there is a limited edition, so make sure to not miss it. Enjoy the aroma of home-made chocolate with Chokola Club!
"For the readers, the eaters, the drinkers!" – Chocolate and Book
The Price:
Starting at £14.99 ($19.52 US)/month
Box Specs:
One of the best chocolate subscription boxes, not only because it has a tasty chocolate treat, but it combines with 2 other delicacies: a great book and a hot beverage.
There are few things that are more pleasurable than sitting under a warm blanket, sipping a cup of tea or coffee, biting a chocolate bar, and getting lost in an interesting book. It's a match made in heaven.
Every month you get a tasty treat, from an award-winning chocolate bar or even cookies. There are also vegetarian and vegan options available.
Chocolate and Book also worries about how the treats are delivered to you, so they make sure to wrap it in foil to avoid melting under warm temperatures.
Be warned, do not order it if you are living in a place with extreme weather conditions. The company does not take liability in case the chocolate melts.
If you are interested in book subscription boxes, check out also our selection of kids' books.
"If you work hard and live a busy life, Mystery Chocolate Box is the escape you deserve." – Mystery Chocolate Box
The price:
$20+/month
Box specs:
Mystery Chocolate Box is keeping things fun and interesting in each monthly delivery. Each month, subscribers will receive three delicious mystery chocolate bars, complete with a sheet to guess the flavors as you try.
For chocolate enthusiasts, this is a great way to try unique flavors you may not otherwise (and discover those you may not even know you like)!
In addition, it keeps things interesting and lively if you are sick of the same old flavors you can find on any store shelf. And don't worry – you will find out the answers!
Every two weeks the chocolate flavors are released. This is a great opportunity to get some friends or family together for a chocolate-tasting and guessing opportunity.
Plus, we love that for every chocolate box subscription, two meals are donated to charity: a truly sweet act of kindness.
"Eat chocolate, improve life." – Fine Chocolate Club
The price:
$49.99/month + shipping
Box specs:
For the price, Fine Chocolate Club is a great deal, complete with five chocolate bars in each monthly shipment.
Enjoy limited and exclusive bathes of award-winning gourmet dark chocolates, created by some of the best and most world-renowned chocolate creators from around the globe.
According to Fine Chocolate Club's website, these artisan chocolates are created using ancient European chocolate-making techniques, meant to bring out as many flavors as possible from the Cacao beans and organic cane sugar.
In theory, this is meant to help you indulge in a way you can feel good about.
Another plus: we love the packaging that comes with Fine Chocolate Club. From the simplicity of the box to the beautiful details in the packaging of the chocolates, the presentation that comes with Fine Chocolate Club is always impressive.
"Crafted with our original 100% pure, ultra-premium, high antioxidant, Greek extra virgin olive oil." – Kosterina
The Price:
From $39.95/month
Box Specs:
Kosterina is dedicated to developing and distributing the most delicious Greek Extra Virgin Olive Oil to your door. Olive oil? Weren't we talking about chocolate subscription boxes? Indeed, because Kosterina has a subscription package with gourmet chocolate, made with premium olive oil.
According to Kosterina, the polyphenols in their Original Extra Virgin Olive Oil boost the antioxidants in dark chocolate. Added to the oil, this chocolate contains 70% organic cacao, organic cacao butter, organic coconut sugar and a pinch of salt from the Mediterranean Sea.
There are 3 flavors of Kosterina's dark chocolate: almonds & vanilla, nuts, cinnamon & honey, and figs. The best part is that you can choose either the Mezze box that contains 3 different flavors or if you have a favorite, you can order 6 bars of the same flavor in one box.
Choose a one-time purchase if you are an undecided first-timer client or order it as a gift for a loved one! Kosterina is premium unique flavored chocolate, totally guilt-free.
"Savor works of art from renowned chocolatiers." – The Gourmet Chocolate of the Month Club
The Price:
$42.95/month + shipping
Box Specs:
Right out of the gate, we're starting with a premium service that does just whatt its name promises to do: deliver gourmet chocolate creations to your door each month.
This monthly chocolate subscription selects premium chocolates, based on quality, flavor, uniqueness, and those created from fresh, high-quality ingredients.
It tends to focus on small-batch and elegant chocolates. Each month, you'll get an estimated one pound of chocolate, with boxes including those made up of unique bean blends and roasting techniques.
In addition, the company claims to work with and harness the creations of world-renowned chocolatiers, meaning you'll be tasting delicious creations from around the world.
"Delicious artisan chocolates delivered monthly." – Cocoa Couriers Chocolate Tasting Club
The price:
$25.70/month
Box specs:
Do you consider yourself a chocoholic? If so, this might be the perfect chocolate subscription service for you. Cocoa Couriers is an artisan chocolate club, bringing organic and fair-trade chocolate to your doorstep every month.
That means they're finding the best of the best, hard to find chocolate brands and flavors, and curating them for you. The contents of each box include high-quality chocolate, made from the best ingredients worldwide.
While the price for just a few monthly bars may seem a bit high, the quality of these chocolate bars seems to speak for itself. On average, these chocolate bars would retail for $10+ each.
There are also options for dairy-free, nut-free, and vegan preferences, meaning there really is a chocolate bar for every treat reference. Note: Cocoa Couriers does not ship a box during the hotter summer months of July and August (for obvious, chocolate-related reasons).
"The original club." – Chocolate of the Month Club
The Price:
$39.95/month
Box Specs:
How does one pound of chocolate sound? That's what you'll get when you subscribe to Chocolate of the Month Club.
This chocolate subscription club feels similar to what you'd get when walking into a locally-owned chocolate shop.
With options for personalization (think dark chocolate, milk chocolate, or truffle preferences), you'll never run out of options to try new and exciting chocolate creations.
Each delivery comes with an accompanying newsletter, meant to help inform you about everything you're tasting.
Thinking this may make a great gift? You can even personalize deliveries with a note for your chocolate-loving loved ones.
That flexibility shines through with Chocolate of the Month Club. Subscribers can choose subscription duration, shipping frequency, and the day of the month you're charged.
"Unwrap craft chocolate." – Standard Cocoa
The Price:
$34.95/month
Box Specs:
Complete with three chocolate bars each month, Standard Cocoa focuses on the great minds behind the chocolate bar. Do not let the name fool you—this subscription service is anything but standard.
Each delivery of this monthly chocolate box features the works of a great chocolate maker, meaning you will get to know not just your favorite flavors, but maybe your favorite chocolate creators too.
With Standard Cocoa, you will also receive information about the maker's story, passions, and inspiration for each bath, along with artisan chocolate made specifically from small batches.
This information includes specifics on each hand-picked chocolate bar, its roots, and the beans used to bring it to life. As a bonus, each box also includes some high-quality, vegan dark chocolate bars.
If you consider yourself a lover of elegant or high-end chocolate, this is a great pick for you. It's also a great way to discover some new favorite flavors.
"The gift that keeps giving." – Bar & Cocoa
The Price:
$45/month
Box Specs:
Bar & Cocoa curates each monthly delivery with four amazing and unique bean to bar chocolate bars from some of the world's best chocolate makers.
The producers included in this dark chocolate subscription service are chosen based on eco-friendly and sustainable practices so you can feel good about indulging in any of these treats!
Are you unfamiliar with the chocolate-creating process? Bar & Cocoa totes with small-batch creations, with many bars stemming from just two ingredients: cacao and sugar. Subscribers will also receive tasting notes to mark their favorites.
If you're interested in what sort of chocolates you might receive in that monthly delivery, it's worth taking a look at Bar & Cocoa's website. There you'll find a wide variety of the products they consider up to their standard.
You can even search the site and filter by the amount of cocoa found in each bar, setting the quality standard pretty high for this subscription.
There are also options for shorter or longer subscription durations if you'd like to try it out to a bit before committing. Furthermore, all of Bar & Cocoa's includes are gluten-free and dairy-free.
"The chocolate store that delivers to your door." – Jackie's Chocolate
The price:
$19.95+/month
Box specs:
A Jackie's Chocolate subscription will bring half a pound of handmade, artisan chocolates to your home each month. If you're a lover of all things chocolate, this is the subscription service for you.
Each monthly delivery features special chocolates like truffles, bonbons, fruit-filled treats, caramels, and more. Each box features an estimated fifteen or so pieces, with a wide variety of different bite-sized treats to sample!
A perk? Through the seasons, you'll receive a special seasonal and/or holiday treat box exclusive to Jackie's Chocolate subscribers in addition to your monthly box.
Jackie's also allows you to choose a subscription on a pre-paid or month-to-month basis (you can also order by weight if you decide you want more or fewer chocolates in your box each month).
We also really love Jackie's Chocolate for the nostalgic feel of the box. Who doesn't love the surprise of biting into one of those pieces?
"Our philosophy is to support chocolate makers." – Cococlectic
The Price:
$40/month
Box Specs:
If you love dark chocolate, this is the subscription for you! Cococlectic is a chocolate of the month subscription club, featuring created bean to bar chocolate makers in the USA and their delicious creations.
This means you are tasting pure chocolate flavors dependent on each bars' origin and the original beans they come from. Each monthly delivery includes four chocolate bars, complete with tasting notes and information so you can remember and be informed on your favorites.
We really like that Cococlectic focuses on being a small business, so you are getting quality over quantity with these boxes. One of the best parts? All featured bars are non-GMO and are made up only of natural, vegan, and fair-trade products and ingredients.
Check out more vegan subscription boxes here.
"Tasting club happiness." – Hotel Chocolat
The Price:
$29/month
Box Specs:
For the price, Hotel Chocolat gives you a wide variety and options to choose from. From the Classic Box to the Dark or Milk Chocolate box, you can decide what you'd like to receive each month.
There's also a great variety of the sorts of treats you can expect: from new recipes, classics, and fan-favorites, you're not likely to taste the same old chocolates each month.
We also love that you're not just getting typical chocolate morsels with this box. Instead, expect cake-based treats, truffles, and other unique pieces!
"Premium German chocolates to your doorstep directly from Germany" – German Chocolate Box
The Price:
$64.99 month (excluding shipping)
Box Specs:
If there are two countries that you immediately think about when it comes to chocolate goodies – it's Switzerland and Germany. Well, worry no more, because directly from Germany, this chocolate subscription package will go straight to your door.
The brands are not easy to find everywhere, especially if you live outside of Europe. German Chocolate Box provides chocolates from German brands, such as Milka, Ritter, Merci and many more.
There are 2 kinds of boxes: the regular, containing between 10 to 15 chocolates and the Große, which has around 20 to 30 items.
This subscription box is aimed for people in the USA and Canada. Unfortunately it doesn't ship anywhere else for now.
"Welcome to our world of experiential chocolate." – Vosges Chocolate
The Price:
From $190 (3 month subscription)
Box Specs:
We have to be honest here: this chocolate subscription box is definitely not for every wallet. However, if you are crazy about chocolate and you really don't mind spending a little extra for the good stuff, Vosges should be your pick.
Vosges is a Chicago based company, founded in 1998. Their chocolates are flavored with unusual tastes: from spices, to bacon, you never know what you will find.
According to Vosges founder, Katrina Markoff it is all about providing an unforgettable experience in each bite.
The Vosges Subscription Box is delivered every 3 months and includes some signature goodies of the brand, including their caramel marshmallow truffles.
And, for that extra mile, in each subscription Vosges also provides some guidebooks, where Katrina shares her inspirations and tasting notes.
"Enjoy exquisite gourmet chocolates and chocolate gifts year-round with our Chocolate-of-the-Month Club Collection." – Harry & David
The Price:
From $99.99 (3 month subscription)
Box Specs:
Harry & David began in the 1970s as a retail floral shop. Nowadays, H&D offers many other products besides flowers, including numerous gift baskets that include fruits, cheese, and… you guessed it: chocolates.
Their chocolate subscription boxes are a perfect gift idea. If you sign up now, for example, you will get the December, January, and February boxes, including holiday truffles, an ideal Christmas present!
H&D ships to the US, including Hawaii and Alaska, and also to Canada, Germany, United Kingdom, England, Wales, Great Britain, Scotland, under special conditions.
"Taste the naturally fruity flavor of cacao." – Raaka Chocolate Club
The Price:
Starting at $19.95/month
Box Specs:
Raaka Chocolates are a Brooklyn (NY) based chocolate-factory, which is famous for producing unroasted dark chocolate. They guarantee their chocolate is produced with the highest-quality cacao and with total transparent trade with the producers.
They have partners in Peru, Dominican Republic, and Tanzania, providing them with the finest cacao straight from the source. Since most chocolate is done by roasting the cacao beans, Raaka chooses to be different by avoiding this process.
This way the final product has a completely different taste, more authentic and flavorful, the true taste of cacao beans. It might not be for every palate, but it definitely is an experience worth trying and sharing with friends and family.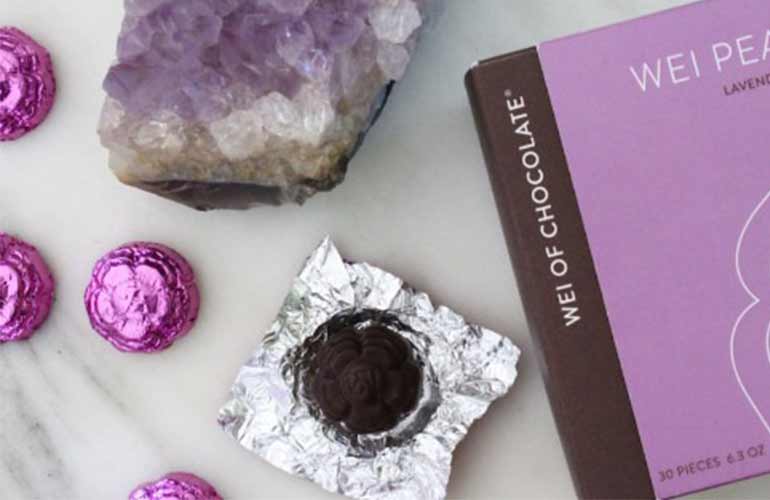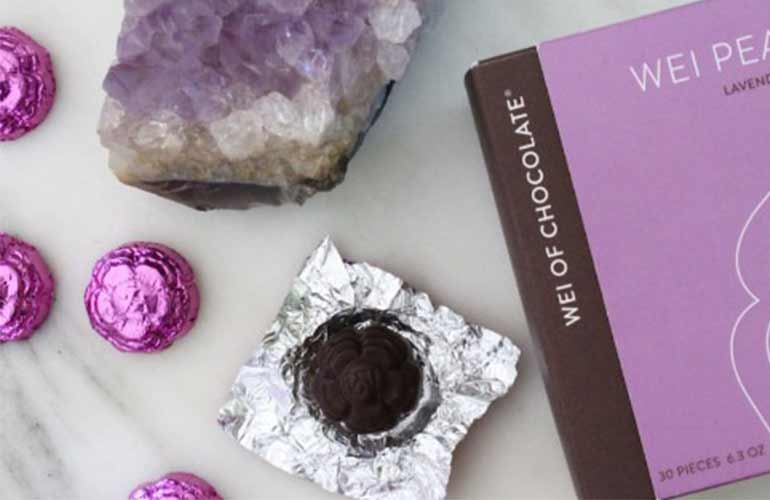 "Delicious. Healthy. Effortless." – Wei Of Chocolate
The Price:
From $55.80/month
Box Specs:
Do you love dark chocolate? Then Wei Of Chocolate is what you need in your life! With their monthly subscription of dark chocolate you can get an assortment containing 50 pieces of different flavors. It's more than 1 per day, so make sure to share it with a loved one!
Besides this subscription, Wei Of Chocolate has a wide range of collections that you can pick from Beautiful, Relaxed, Inspired, and many more. They have different prices and flavors, so you can choose which one you like more and take it as a one-time buy, as a gift, or as a monthly subscription!
Try exotic flavors such as cardamom, chai or peppermint infused chocolate. Wei Of Chocolate is an experience of taste to treat yourself or to treat someone that you know has a sweet tooth.
"Delicious craft chocolate delivered to your doorstep monthly." – Kekao
The Price:
$42.99/month
Box Specs:
Get 4-5 premium specialty crafted chocolate bars delivered to your door every month. Kekao is one of the leading brands of craft chocolate bars, searching the world for the finest cocoa.
Are you looking for rich dark chocolate from Peru, Madagascar, or Jamaica? Or maybe you like the idea of sampling chocolate from new start-up brands? Kekao offers you every month a delicious surprise. You can also gift this box to a loved one!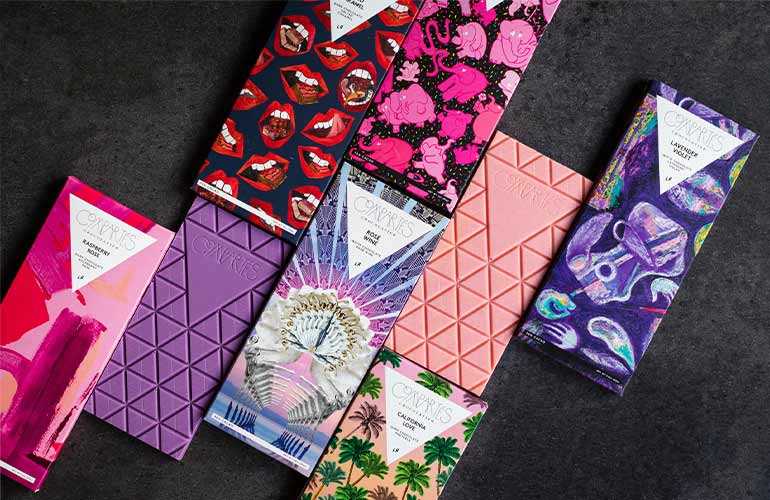 "Handmade daily, full of the freshest most delicious ingredients." – Compartés
The Price:
$150.00/3 months
Box Specs:
Compartés is a reputable brand of gourmet chocolate, that produces chocolate bars with different flavors and assortments. These flavors include strawberry champagne, salted caramel and California berries.
Besides their huge selection of chocolates, they also have a subscription service. If you subscribe to their Goumet Chocolate Of The Month you can get seasonal boxes that fit each month's holidays. For example, May is Mother's Day, October is Halloween Themed and in December you get a limited edition of Chocolate Truffles, ideal for the Christmas time.
The minimum subscription period is 3 months, but you will receive different boxes for each month you subscribed. Try Compartés Gourmet Club of the Month yourself, or gift their flavorful premium gourmet chocolate boxes to your family or friends.
"Community supported chocolate subscriptions." – Endorfin Foods
The Price:
From $22.50/month
Box Specs:
Endorfin Foods Chocolate Box is a distinct one from the rest since it has a special focus on helping the community. Don't worry: they still taste delicious and the chocolate bars are made of fair trade regenerative cacao and coconut sugar.
However, they skip the middle man, making sure the chocolate goes straight from the producers to your home. Plus, you'll be happy to know that Endorfin's chocolate is dairy-free, soy-free, gluten-free, agave-free, GMO-free, and does not contain refined sugar.
By subscribing to Endorfin's monthly chocolate subscription, you are not only buying tasty chocolate that is healthier than most mainstream brands, but also helping the planet and the farmers who produce the ingredients used in the chocolate making.
It's one of the most sustainable brands out there and you can choose 3, 7 or 15 bars delivered to your door every month.
"Simple ingredients, unbeatable taste." – Hu Chocolate
The Price:
$40.50/month
Box Specs:
Developed by Hu Kitchen, the Hu Chocolate Variety Pack is a great chocolate subscription box, that contains an assortment of flavored chocolate bars. The Variety Pack includes: almond butter and puffed quinoa, cashew butter and vanilla bean, hazelnut butter, cashew butter and raspberry, salty, simple, crunchy mint, vanilla crunch.
The Hu Chocolate Box doesn't include: soy/sunflower lecithin, dairy, cane sugar, refined sugars, emulsifiers, palm oil, erythritol and sugar alcohols. Instead, Hu uses coconut sugar and is certified paleo and organic.
"Different Gift Collections for Different Chocolate Lovers." – DeBrand
The Price:
$150.00/3 months
Box Specs:
There is no better gift than the gift of chocolate! Everyone loves it and it's a perfect gift for any occasion. DeBrand specializes in gift chocolate subscription boxes, that you can offer to friends, family or… yourself.
The Chocolate of The Month subscription of DeBrand is a themed one, meaning each month you get different chocolates that target specific seasonal holidays. For example, in May you would receive 1 Box of Peanut Butter Cups, 1 Box of Toffee & Almonds, and 1 Box of 5 Dark Chocolate Raspberry Creams, while in June you get Caramel Pecan Patty 2 Box Set (Milk & Dark Chocolate).
The minimum subscription period is 3 month, but you receive a new box every month. Gift a chocolate subscription to someone you love and they will be definitely be grateful.
"Top quality artisan chocolates to delicious baked good and the best Montana's local artisans have to offer." – Wildflower Confections
The Price:
$59.95/3 months
Box Specs:
Wildflower Confections is a Montana based business, that specializes in local artisanal chocolates. Their chocolates are made with authentic ingredients, with no corn syrup or fillers.
Their subscription club delivers every month, but the minimum period of subscription is 3 consecutive months. You can get seasonal truffles targeted to the holiday that is happening during that period.
In May, due to Mother's day, you can get a hearts & flowers bouquet of chocolates. In June stout beer or hand-dipped truffles.
You can get a small box with 5 to 8 pieces or the large box, that contains 16 truffles. You can also include a gift card if you wish to send the box to a loved one.
"#1 Rated Chocolate Club Seven Years in a Row!" – Amazing Clubs
The Price:
$35.95/month
Box Specs:
Amazing Clubs is the top seller of monthly gourmet gifts in the US The quality of their chocolate gift box is approved by the Wall Street Journal and it's easy to know why.
Their premium, hand-crafted chocolates are produced by American renowned chocolatiers with all-natural ingredients. Their boxes deliver every 3 or 6 months.
Each month you get also a newsletter with information about the chocolate selection, interesting chocolate facts and serving suggestions.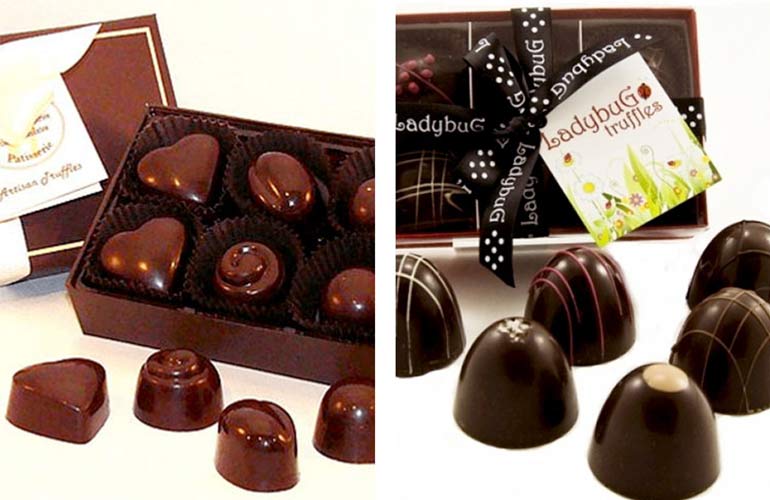 "Savor the difference of artisan chocolate, handcrafted by local chocolatiers and made available here." – Chocolate.org
The Price:
From $24.99/month
Box Specs:
Join the Chocolate of the Month Club by Chocolate.org and get handmade and artisanal chocolates delivered to your door.
You can choose three different subscription packs: the dark chocolate lovers collection, with handpicked dark chocolate bars and truffles; the gourmet truffle lovers collection, a box of exclusive truffles and the milk chocolate lovers subscription, that contains bars, truffles and other milk chocolate creations.
There is also a chocolate lovers collection that includes a mix of all the 3 assortments and a vegan chocolate box, made with dairy-free ingredients only.
"Show your appreciation with a gourmet gift of Vermont's finest chocolates." – Lake Champlain
The Price:
$130.00/month
Box Specs:
Lake Champlain is a Vermont based chocolate business, focused on locally produced gourmet chocolates. Their subscription box is ideal to gift to a loved one or to offer to a corporate client.
They have 2 different subscription boxes. The Chocolate Fanatics Club includes a fine selection of famous Vermont chocolate truffles, sea salt caramels wrapped in dark chocolate macadamia nuts with caramel and milk chocolate, and many more.
With an added cost you can subscribe to the Chocolate Lovers Club, which includes all the treats from the Fanatics pls an assortment of gourmet bonbons. It's a must-have subscription for anyone who really loves chocolate.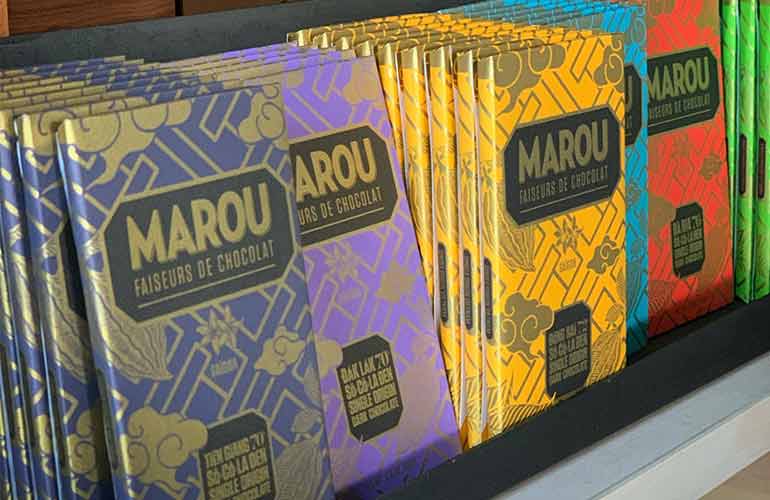 "Culinary outfitters in Detroit." – The Monger's Provisions
The Price:
$135.00/3 months
Box Specs:
Monger's Provisions is a Detroit-based business that specializes in gourmet food: cheese, charcuterie, and chocolate. All their chocolate bars have 70% cocoa percentage or higher and are made with artisanal beans from Madagascar, Tanzania, Uganda, Congo, and other locations in the world.
With the first box, you will get a chocolate journal, where you can take notes about your flavor journey! Monger's Chocolate Club delivers the finest chocolate selection, so you can taste treats coming from all over the globe.
Final Thoughts
Whether you're shopping for yourself or as a gift for a loved one, we know it's tough to someone who wouldn't get excited about a monthly chocolate delivery!
Again, who doesn't love chocolate, let alone a surprise of hand-picked delicious treats delivered right to your home? That's why we hope this list of our favorites can help you find the right choice for any occasion and whatever chocolate preferences you may be looking for.
From dark chocolate, milk chocolate, white chocolate, truffles, or other creative chocolate treats, there is bound to be something perfect for any sweet tooth!
Whether you're looking for something classy and simple or unique and eclectic, all of these subscription boxes and chocolate clubs can offer exactly what you may be looking for.
If you try any of these chocolate clubs, let us know what your experiences are—good or bad! In addition, let us know if we missed one of your favorite subscription boxes, chocolate curators, or monthly delivery services.
And while you are here, check out our other top subscription services lists. For example, if you like chocolate, you might also be interested in the best food & snacks subscription boxes!
From clothes, jewelry, food, and beyond, we're researching and trying them all! Whether you are looking for a monthly surprise or a casual gift to a loved one, FiveBoxes is always here to help you discover your options and make the best choice!