Whether you are a seasoned artist looking for inspiration or you want to pick up something new, art subscription boxes featuring all sorts of paints, sketchpads, charcoal, and even graffiti supplies, may be just the fix you are looking for!
FiveBoxes has curated some of our favorite art subscription boxes on the market this year. These boxes are meant for artists of all types: painters, paper crafters, those who prefer a sketchpad, doodlers, calligraphers, or anything in between. The best part?
Most, if not all, of these boxes are geared towards all ages and even all skill levels: experts or amateur, most of these subscriptions are meant to fit anyone and everyone.
FiveBoxes is reader-supported. When you buy through links on our site, we may earn a small commission when you click the links at no additional cost to you. Read the full disclosure.
Last updated on May 3, 2022
"Monthly art supplies to fuel your fire." – SketchBox
The Price:
$25/month
Box Specs:
When you subscribe to SketchBox, you'll receive a monthly box filled with a featured artist print and a collection of 4 to 6 pieces of art supplies.
This monthly art box also allows you to level-up to the premium box which, if you're an art expert already or can really appreciate the high quality, includes high-end art supplies and more expert items.
What do we love? With each sale, SketchBox gives back and donates art supplies to schools in need.
---
"We scour the planet searching for the best, new and unknown art supplies." – ScrawlrBox
The Price:
$20+/month
Box Specs:
Looking for a little inspiration? ScrawlrBox is the perfect solution. This monthly art box sends a surprise delivery of art supplies to your door each month.
The company offers all sorts of products, so you know you're receiving something unique each time to work into your art. This could be anything from pens and paints to stickers or brushes.
ScrawlrBox also sheds some light on a new artist each month, with gift options if you're looking for something for that special artist in your life.
---
"Our mission is to inspire you through the discovery of amazing art materials." – Art Snacks
The Price:
$24/month
Box Specs:
This is a great art box subscription if you're looking to discover and try your hand at some new and fun art supplies.
Art Snacks send a monthly box filled with 4 to 5 premium art projects and an info sheet that details all that's inside.
This sheet includes some techniques on how you can use them to the best of your ability. Art Snacks also encourages all of their subscribing artists to share these creations on social media and tagging #ArtSnacksChallenge!
---
"High quality art materials that inspire and nourish creativity." – Smart Art
The Price:
$49.95/month
Box Specs:
Inside each delivery of this art supplies box, you'll receive hand-curated, high-quality art supplies and materials meant to help you create something original and great.
Something we love about Smart Art is that they explore every medium of art, so one month you may receive pastels or graphite, while you could find some acrylic paint and brushes inside the next.
If you're looking to try something you may not have done before, this is a great option.
---
"Providing everything you need to create work of art." – Paletteful Packs
The Price:
$24.95/month
Box Specs:
Paletteful Packs is great beginners choice for monthly art subscription boxes – because it sends you everything you need to get creative and create some fabulous art. There are three box options: Petite Pack, Paletteful Pack, or Young Artist.
From there, Paletteful Packs' crew will put together a monthly box of goodies to last you and your creative eye for the month.
Past boxes have included mixed media items, paintbrush pens, toolsets, and sketchpads, for example.
---
"The hardest part of learning something new is knowing where to start, but we make it simple." – Let's Make Art
The Price:
$35/month
Box Specs:
Let's Make Art has all sorts of options, no matter the medium or level of art you're comfortable with. This box in particular, for example, focuses on watercoloring.
With this watercolor subscription box, you'll find a monthly delivery complete with fresh paints, brushes, paper, and inspiration to create.
Each month includes four projects with a step-by-step guide, so if you're looking to sit back and take out all the guesswork, this is a great option! Subscribers also have access to weekly video tutorials to get you through each project.
---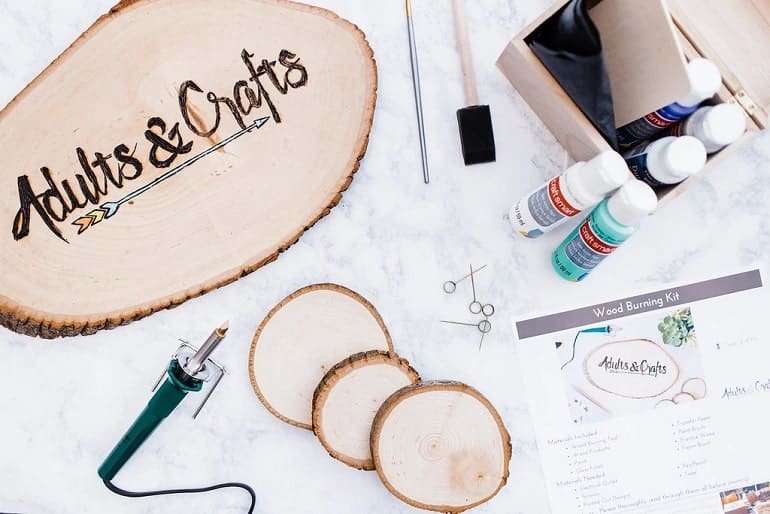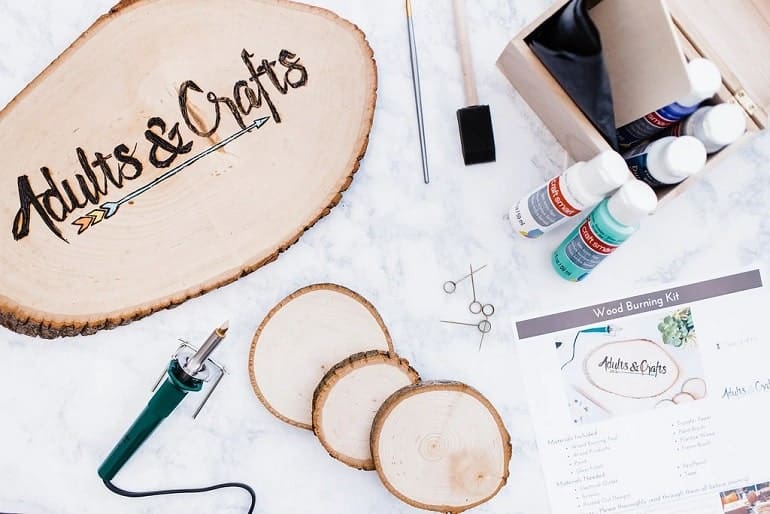 "A brand new engaging craft project with all the materials, tools, and instructions to your door every month." – Adults & Crafts
The Price:
$33/month
Box Specs:
Crafts and DIY are great hobbies for any adult. Not only you are taking your mind away from everyday responsibilities, but you are also creating something that you can be proud of.
Adults & Crafts Crate provides a full project kit with each monthly subscription box.
You can end up creating a wine caddy or a homemade wall clock for your kitchen, that you can then exhibit proudly when you have guests. Maybe even create your own jewelry and launch a jewelry subscription box?
You will receive materials, tools, and instructions. Therefore, you don't need to be an expert in DIY.

Whether you are an expert in crafts or a clumsy beginner, Adults & Crafts will inspire the craftsman or craftswoman inside yourself.
---
"A monthly selection of lettering tools, supplies, practice sheets and exclusive greeting cards designed by your favorite lettering artists." – The Inky
The Price:
$14.99/month
Box Specs:
Is calligraphy your thing? Or maybe you're just looking to branch out from the typical painting on a canvas or sketching in a pad. Why not try your hand with this unique monthly art supply box.
In each delivery of The Inky Box, you receive a selection of lettering and calligraphy supplies like brushes, pens, paint pens, calligraphy practice sheets, and more!
And, can you think of all the creations you could gift once you've mastered this skill?
---
"We'll send you a curated, themed box of pens, notebooks,
pencils, and items designed to inspire you to use them." – SCRIBEdelivery
The Price:
$29/month
Box Specs:
SCRIBEdelivery is for the doodler or note-taker in your life (and let's face it—we all know one). Each delivery comes with a pen and a notebook, perfect to jot down all your thoughts, dreams, wonders, and anything else throughout the day.
Each box is also curated with a new theme in mind, so there's always something exciting to look forward to on the delivery day!
The base plan is also month-to-month, so you can cancel, renew or make changes any time.
---
"The tools you desire, with the instruction you need." – Creative Art Box
The Price:
$24+/month
Box Specs:
If you're just getting started creating some art or are looking to rekindle a long lost hobby, Creative Art Box is a great starter subscription box.
Every box in this art subscription has a unique monthly theme, designed specifically for those who would like to learn about the art they're creating.
Boxes also include information and how-to's for everything included and sends everything from books to stencils, pens, and everything in-between to subscribers.
---
"Quality art projects and supplies so that you can better understand fine art and explore new ways of making art." – Indigo Art Box
The Price:
$29.99/month
Box Specs:
Whether you're looking to subscribe just to get some fun and unique supplies or you're looking for an actual art project to take on each month, the Indigo Art Box has it all.
When you subscribe to this monthly art box, you're getting quality products delivered right to your door. Each box contains at least different items, for example, specialty paper or unique crayons and pencils.
There are also instructions for a suggested art projected based on these items included in every box, based on a featured artist with examples meant to inspire your inner artist.
---
"First access to new and exclusive Tombow products, to take your skills to the next level and create a one-of-a-kind project." – Tombow VIP Club
The Price:
$30/month
Box Specs:
If you're already an artist, you're likely familiar with Tombow. From arts and crafts supplies, pens and notebooks, office supplies, and more, this is a great resource for anyone looking to stock up on what they need to create all sorts of art.
When you sign up for this art supply subscription, you're getting first access to all new supplies and product kit features all Tombow products and step-by-step instructions for each.
As a member, you also receive discounts, sneak peeks, and more on Tombow's website.
---
"Experience charcoal drawing through guided lessons with Artist Robert Gorder." – Charcoal Expressions
The Price:
$39.95/month
Box Specs:
A subscription to Charcoal Expressions will help any artist fine-tune their drawing skills.
This sketch box subscription includes new drawings and instructions, all pencils and other necessary art supplies to make it happen, paper and mattes to frame it all in one easy monthly delivery.
There are several other box options if you're looking for other additional tools such as eraser, blending tools, and more.  
---
"Mark Your Words!!" – Madbomr
The Price:
$24.99+/month
Box Specs:
Looking for something a little more unique? Why not try Madbomr, a graffiti subscription box! This is one of the coolest art subscription boxes we've ever seen. Each month, Madbomr delivers four to six graffiti or street art-related items right to your door.
Some of these items could be paint pens, stickers, dabbers, markers or anything else under the sun! The service also works to bring you exclusive or limited edition products.
NOTE: the company's website is hinting ahead at a future box that may include spraying paint if you're looking for a more traditional graffiti experience (to use for your own personal art, of course).
---
"We're here to help you smile and find more joy in creating your art." – Smile Create Repeat
The Price:
$23+/month
Box Specs:
We love that the makers of this monthly art supply box say each delivery is meant to be "a monthly box of you-time." That means you can look forward to getting the most out of every box and the most out of your time being creative.
Each Smile Create Repeat monthly box features highly sought-after art supplies hand-curated with a purpose.
We also love that this is a small family-run company, so you know the quality and production of these boxes includes a high-level of detail and something you can be proud to subscribe to.
---
Final Thoughts
The best part about all of these boxes is their versatility to be used by children to teenagers and adults and the ability for any artist to love what's inside, despite their artistic level or specialty.
Are you a seasoned and veteran painter or simply someone who loves to craft? With most of these boxes, none of that matters! They are meant to be used and loved by all.
There are so many options with all of our picks for the top art subscription boxes on the market this year. We hope you'll find one that fits perfectly for you, your family, or the artist in your life, no matter the occasion.
Our choices for these boxes were made based on the variety of art supplies included, whether or not instructions and/or art inspiration was included, available options, customization, pricing, customer service, and flexibility of each subscription service.
For example, subscription services that allow for adjustments or cancellations–because we know your life or inspiration is always changing too!
Video: best monthly art box subscriptions for adults, kids, and artists
Find more subscription boxes with FiveBoxes
If you try our any of these arts or crafts subscriptions, let us know what your experiences are—good, bad or anything in-between!
In addition, let us know if we missed one of your favorite art box subscriptions! We're always looking for unique boxes or subscriptions—regardless of the medium.
And while you are here, check out our other top subscription services lists and review. No matter what you're looking for, we have it all! For example, check out our latest subscription list: best makeup and beauty subscription boxes.
Don't forget: from clothes, jewelry, food, and beyond, we are doing our research and bring you what matters. We do the heavy lifting so you can subscribe and enjoy each month!
Whether you are looking for a monthly surprise for yourself or a creative and clever gift to a loved one, FiveBoxes is always here to help you discover your options and make the best choice!