All sports enthusiasts, whether you are hardcore or casual, can struggle sometimes to find the right accessories that match your passion. That is until you discover the huge range of services you can find online that deliver sports subscription boxes straight to your home.
There are affordable options for every fan and lots of man crates that are focused on enriching the lives of sports fans. They also make a great gift any time of the year.
Whether you are a football or soccer maniac, a casual player of golf, volleyball, or tennis, FiveBoxes has gathered a collection of the 27 best sports subscription boxes available at the click of a button.
Best Sports Subscription Boxes in 2022
Last updated on May 1, 2022
We collected 27 subscription services for athletes and fans, which include lots of different sports and activities.
Maybe you are having been looking for a golf subscription box, so you can surprise your friends over the weekend? Or you are thinking of starting a new hobby, like fishing, and you need the proper gear?
FiveBoxes got you covered, and you will definitely find what you are looking for on the list below. Take a glance at the next 27 sports subscription boxes and see which one is adequate for your sporting needs and for your wallet!
Pricing:
$31.99/month (Shipping included to the U.S)
Audience:
Young basketball fans
Box Specs:
Despite being one of the most popular sports in the world, there are not many basketball subscription boxes in the market. However, Sports Box Co has it's Hoops Box edition, dedicated to the ones who thrill with basket.
Hoops Box comes in 3 different versions, with a subscription box for kids under 8, one semi-pro for older children aged 8 to 12, and another one for experienced over 13-year-old players.
The products in each box are basketball themed and adequate to the age. The boxes include t-shirts, socks, mini baskets to train dunking at home and other basketball gear for children and teens enthusiastic about basketball.
---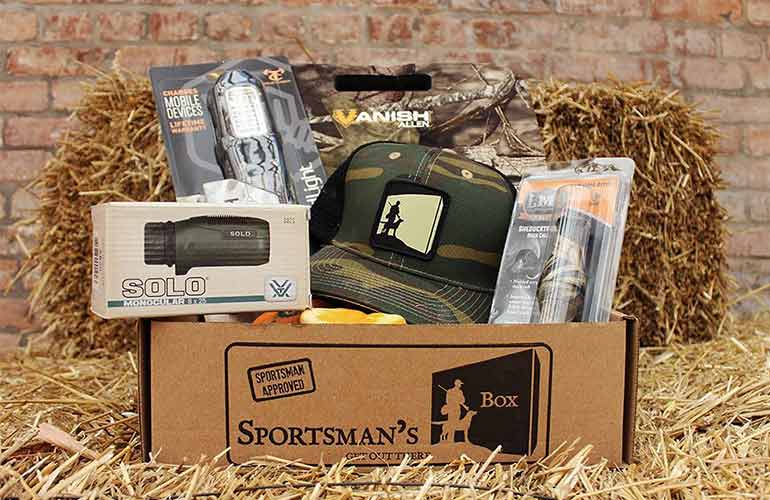 Pricing:
Starter $25
Original $42
Denali $83
Audience:
Fishing & Hunting
Box Specs:
Not many consider it as actual sports, but fishing and hunting are activities that demand great physical skill and endurance. Therefore, it is only mandatory that, if you are into these hobbies, you need to have the proper gear with you.
Sportsman's Box is one of the best fishing subscription boxes for anglers out there. If you are a hunter, it also is one of the most complete hunting subscription box in the market. Well, if you like both activities then you will be delighted.
They offer a personalized quiz on their website, where you can find your style, concerning your personality and how often you practice such sporting activities.
Going through this quiz, you will be able to decide which service suits you better: the beginner's box is more affordable but has fewer items. Mostly bait, tools, tackle, and hunting accessories.
Once you go full pro, you pay the extra price but you get Game Cameras, Apparel, Essential Gear, and Lifestyle Items. If you are fishing for an affordable gift box for men you are in for a treat if your loved one is into these hobbies.
---
Pricing:
Starting from $32 per month
Audience:
Fitness and gym enthusiasts
Box Specs:
Gainz Box is one of the best fitness subscription box available, delivering supplements, gear and equipment for all the gym fanatics. If you are working out only at home, Gainz Box can also improve your experience.
The best part about Gainz Box is that it is not only a subscription box for men. It also offers products for women interested in fitness.
With a very interactive website, you only need to browse it, choose your gender and clothing size and Gainz Box will indicate the best subscription plan for you.
You can also participate on surveys and earn points to redeem for free stuff. The info provided will be used to improve the quality of the subscription boxes and seek for new products to help fellow fitness enthusiasts.
---
Pricing:
From $99 (quarterly). View all pricing plans
Audience:
Surf and beach sports enthusiasts
Box Specs:
Summer might be soon come to a close in the Northern Hemisphere, but if you like to practice surf, windsurf, water skiing or other related beach sports the season extends further. Beachly is a subscription box for clothes and other beach accessories.
They offer options for both genders and you can pick your size on their website. You can also have access to free shipping once you place an order over $50.
With Beachly you have the quarterly subscription box option, or you can also subscribe to its annual option. They are endorsed by many surf related media, such as Hawaii News Now and ShopEatSurf.
---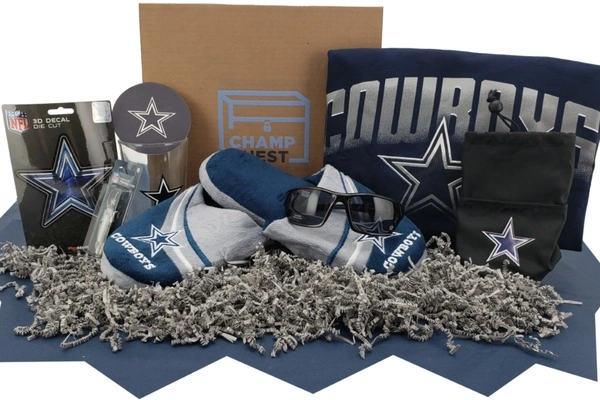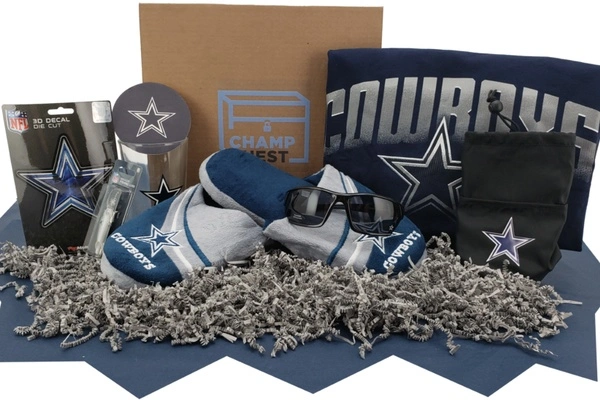 Pricing:
$79.99 per month
Audience:
NFL Sports fans
Box specs:
The Chest contents guaranteed licensed NFL items priced at over $110 Boxes include amazing finds like caps, shirts, watches, socks, tumblers and custom-designed prints, never before seen items, and more!
Each month, you will get a specially curated box that will boost your fandom, celebrate your team colors, amp up your game days and provide you with an opportunity that will celebrate your team all day, 365 without missing a beat.
---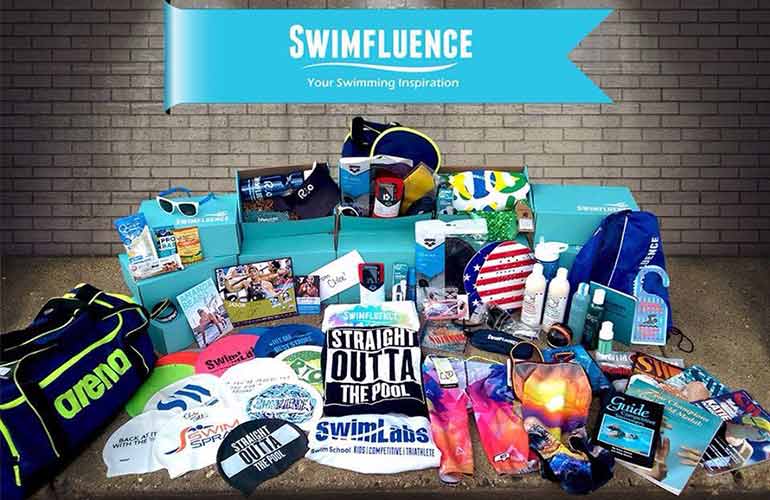 Pricing:
For US citizens: starts at $34.99/mo
International subscribers: starts at $56.99/mo
Audience:
Swimmers
Box Specs:
Swimming is a great physical activity. It helps to increase stamina and even improves mental health. It is also a widely popular sport, being watched by millions during the Olympics.
Swimfluence offers options for the aspiring Michael Phelps or the occasional swimmer. Each monthly swimming subscription box comes with 5 to 7 items.
For now you can use the promo code SUMMER to have 25% discount on your first purchase.
---
Pricing:
$40 per month
Audience:
For those who admire outdoor activities
Box specs:
Steel to Reel's subscription box is unique. It includes top survival equipment. This subscription box was designed by a team of veterans and survivalists.
Created to facilitate multiple outdoor activities. New equipment is delivered in every box. No need to be concerned about getting duplicates or redundent products! Every box is guaranteed to satisfy.
---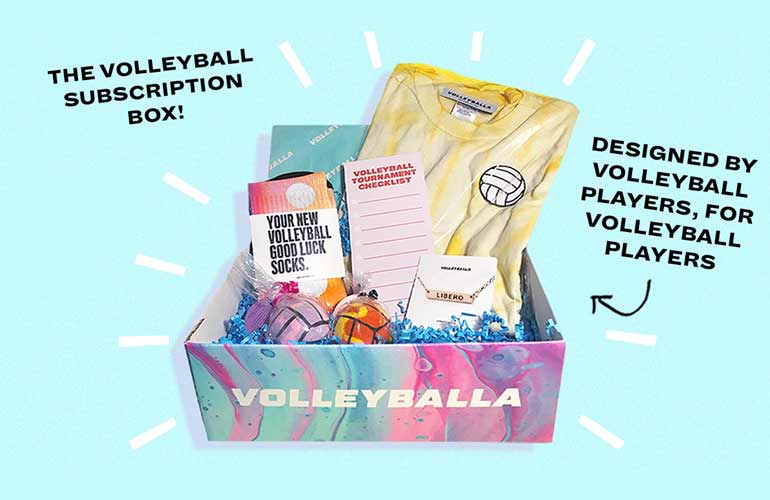 Pricing:
Bi-monthly subscription: $65/box + shipping
Audience:
Volleyball players and fans
Box Specs:
Volleyball is a very popular sport, played either on a 5×5 court or on its 2×2 beach version. Either way, Volleyball is a sport played by either men and women, with its competitions being intensely followed at the Olympics.
Filling a gap in the market, Volleyballa arrived to become the first dedicated volleyball subscription box service. It works through a bi-monthly delivery, so you get a new package every two months.
Each box might contain a volleyball, wearables, accessories, stickers, and much more. There are a boy and a girls club, which only differs on the styling of sportswear adequate for volleyball.
The subscription service only ships to USA and Canada, but Volleyballa assures they are working on international shipping.
---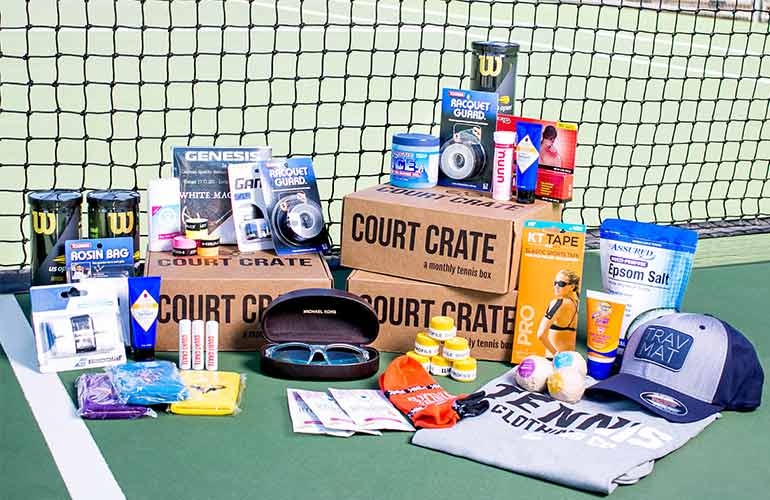 Pricing:
Monthly subscription: $39
3 Months subscription: $99
Audience:
Subscription box for tennis players and fans
Box Specs:
Court Side is a tennis subscription box for all the lovers of the racket sport. You can choose a one time monthly option or a three month subscription and each box comes with 6 to 9 items.
According to its founder, Court Side started out of necessity. After spending 20 years on the courts, Kayvon decided to launch this business to help tennis players to have gear and equipment for the sport at the distance of a click.
You would be also happy to know that Court Side has partnered with Emily's Place, a nonprofit resource for victims of domestic violence. Also, they work with The Bridge, a homeless recovery center for people in need in North Texas.
For each box bought the company donates a pair of socks to each one of the partner charity associations.
---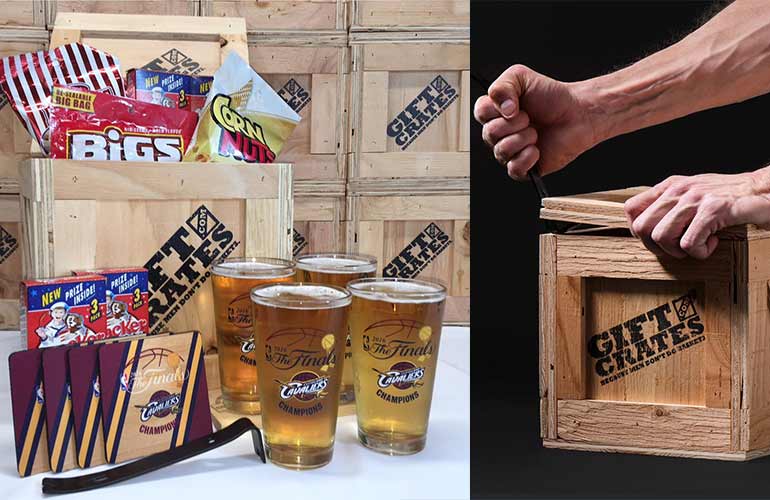 Pricing:
$114.95
Audience:
Subscription box for NFL fans
Box Specs:
Step aside all you healthy sport athletes, as this box is for the ones who enjoy to watch the game on the telly. If you an American football fan, or you have a friend or relative who is crazy about the NFL, here is the perfect man crate for him (or her!).
The crate is available on GiftCrates and they say it takes 15 minutes to open (you can add a crowbar to help the task). The suspense of unlocking the gift will add up to the surprise of opening a box with football items personalized with their favorite team.
Each box contains cups and other football-themed equipment with the logos of the team you choose. It also has snacks, such as peanuts and beef jerky, plus a candy pack if you want to add.
Oh, and a bottle opener, to crank up that fresh beer. Buckle up and watch the SuperBowl comfortably with this NFL subscription box.
---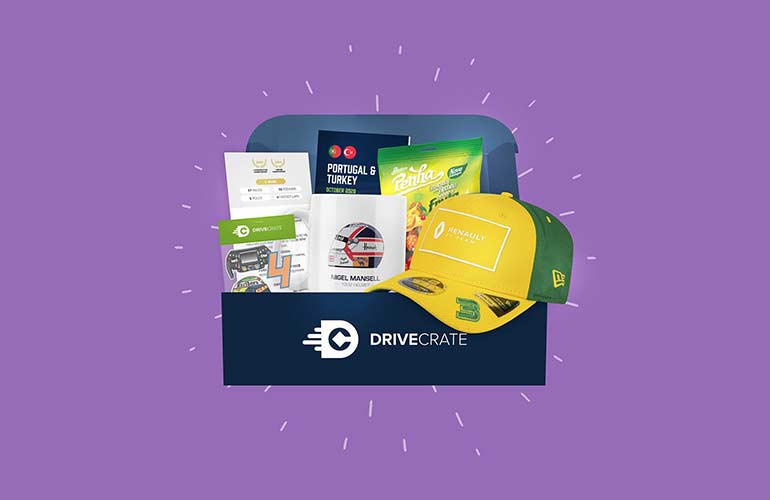 Pricing:
£24.99 ($32.53) + £1.99 shipping for UK citizens ($2.59). Citizens outside UK have an added shipping cost of £9.99 ($13.00)
Audience:
Formula 1 fans
Box Specs:
The Formula 1 season is back, after an interruption due to the COVID-19 situation. Even if you can't enjoy the action on the tracks due to the epidemic restrictions, GetDriveCrate offers you the chance of enjoying the races at home with proper F1 gear.
The only subscription box for Formula 1 fans in the market, this UK based service offers monthly themed boxes, celebrating different tracks around the world. For example, August's box theme is Italy.
Although the service is UK based, they ship internationally for an added cost (look above). So if you are an American fan of Formula 1 you can still buy or offer this subscription box.
Right now you can use the promo code SEASON20 to have a discount on the shipping fee.
---
Pricing:
£59.99 ($78.17) – Free Shipping in the UK.
Audience:
Rugby Fans
Box Specs:
Rugby is growing on popularity on the USA, although it is more common in England, South Africa and New Zealand. Therefore, it is no surprise the only subscription box for rugby fans comes from an English based company.
The company launched on Autumn 2018 and they deliver their products either on a quarterly basis or on a one time purchase. They offer free shipping to UK, but they deliver elsewhere (the shipping cost is calculated at the checkout).
Rugby Box contains not only training gear for athletes, but also nutrition items, accessories, and much more. Their website also sells the items separately, including clothing and rugby balls.
---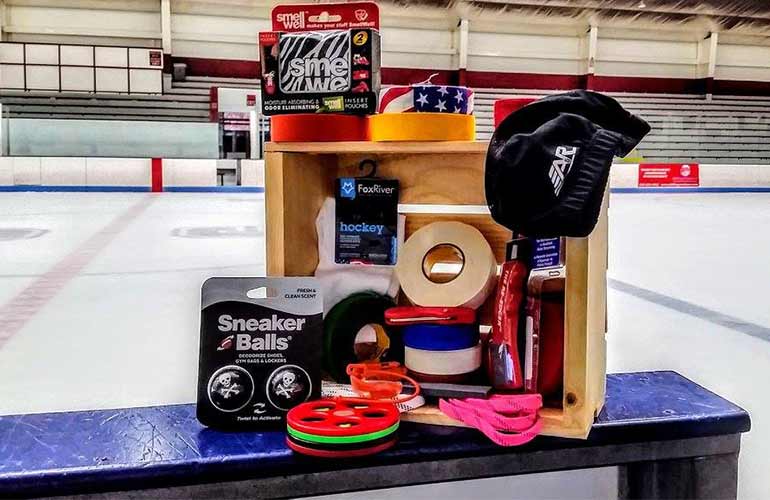 Pricing:
Starts from $38.33 / month
Audience:
Hockey fans
Box specs:
Widely popular in North America, there aren't many options on hockey subscription boxes. The best one is probably PenaltyBox, powered by CrateJoy.
PenaltyBox offers subscription boxes for girls and boys, for kids and for adults. They also allow you to personalize your items if you are a goalie or a casual 'beer leaguer'.
The boxes include hockey pucks and tape, clothing gear, nutrition items and much more. For any ice hockey and NHL enthusiasts, young or veteran, PenaltyBox offers the best subscription box for hockey fans.
---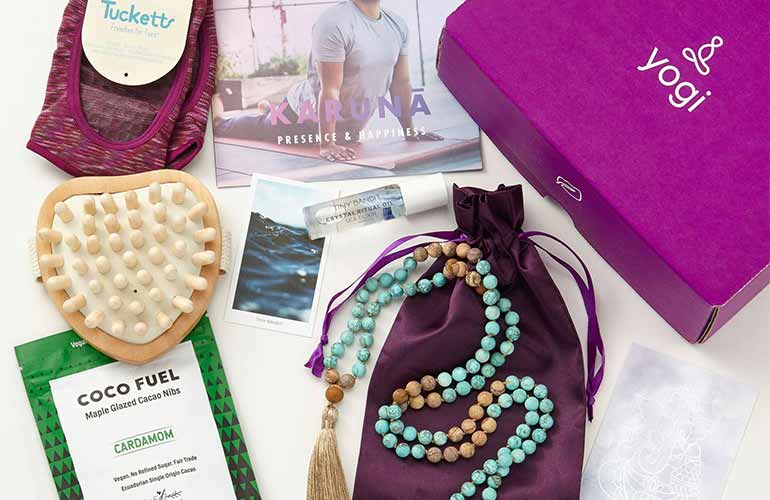 Pricing:
Starting from $39.95
Audience:
Subscription box for yoga practitioners
Box Specs:
Yoga has been gaining more and more followers, both as a physical activity but also as a relaxation method. Attracting more fans, means that a new niche found it's way to the subscription box market, with Yogi Surprise being the first service dedicated to it.
The brand ships for free to the US and for Canada adding a $20 fee. They also ship globally, although the fee might vary. Yogi Surprise is a great subscription box for women and men who love Yoga.
To achieve the 'dharma' (complete harmony) Yogi Surprise hand-selects the items in each monthly box, so you can be sure every package will be full of meaningful gifts.
Besides holistic equipment and yoga mats and straps, the boxes also contain essential oils and incense.
---
Pricing:
$60.95
Audience:
Baseball, Football and Basketball Card collectors
Box Specs:
Collecting sports cards has been a hobby who united fathers and sons throughout generations. Robert Smith knowing about this and wanting to pass this passion to his son started the Collectible Card Club.
Launched in 2017, Collectible Card Club is one of the best football card subscription box and baseball card subscription box. You can get the modern or vintage edition, with players from different eras.
For now, they only have football, baseball and basketball, although they assume interest in having hockey too in the future.
Collectible Card Club offers free shipping for US residents and an added fee for international deliveries.
---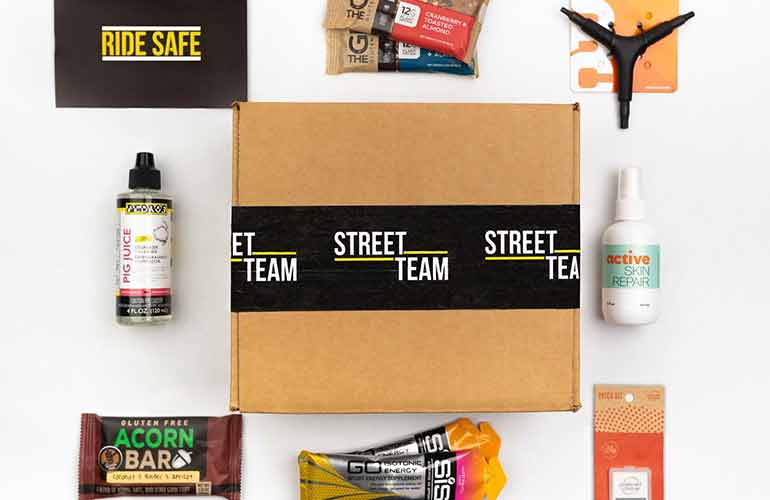 Pricing:
$40 per month
Audience:
Cyclists and cycling enthusiasts
Box Specs:
The Cycling hub is growing, with several people taking this alternative mean of transport to work, to reduce time in traffic jams and have a healthier life. Therefore, it is only proper that cyclists can have proper gear too, since it is not only a sport but an activity that brings people together.
Street Team Cycling offers a care package per month dedicated to bike riders. It is not focused on the ones who do mountain biking, but instead on casual cyclists who ride their bike through busy city roads.
Their team is composed of people who worked as bicycle couriers and bicycle mechanics, so they know what the niche needs. This cycling subscription box includes apparel, bike gear, accessories, tools, and even first aid kit.
---
Baseball Subscription Boxes
Pricing:
$49 per month (you get a discount if you subscribe for 3, 6 or 12 months).
Audience:
Baseball players and fans
Box Specs:
Founded in 2015, Plate Crate became the first baseball subscription box on the market. According to its CEO, Josh, "by picking each other up and putting our teammates first, we can all grow and continue to enjoy the game we love".
Plate Crate offers a diverse choice of man crates for baseball fans: pitcher crate, infield, hitter and much more. There are also mom, dad and coach crates, which you can offer as a baseball gift box.
The package delivers a bunch of baseball themed accessories and gear, for the ones who enjoy playing baseball either on the little leagues or just hitting some balls with their friends or family.
US citizens have free shipping granted, while international citizens have to pay a $25/$30 fee according to their countries law.
---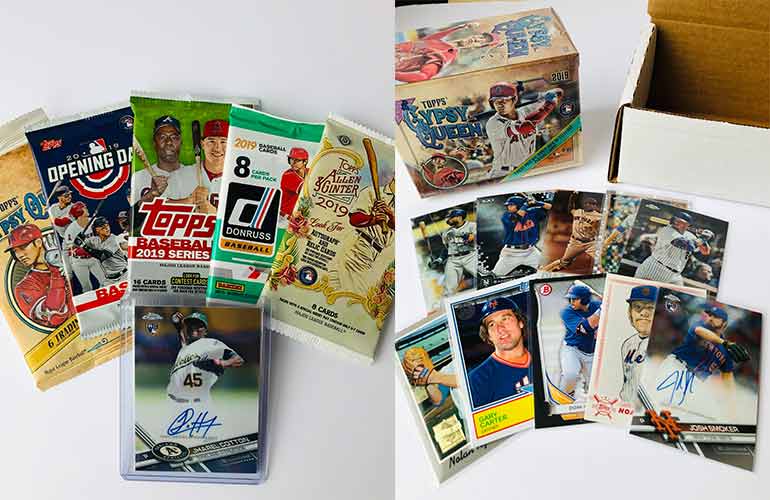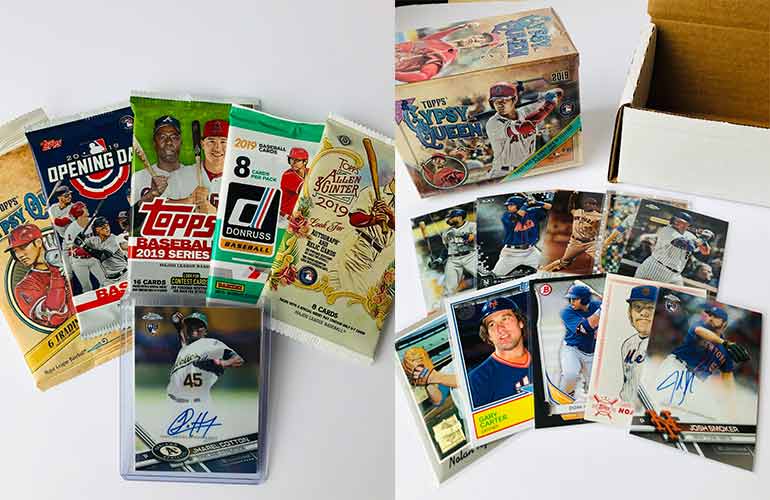 Pricing:
$24.99 – Baseball Home Team Club
$15.99 – Kids Club
$19.99 – Full Count Club
Audience:
Baseball card collectors
Box Specs:
Yet another card subscription box, this one focused solely on expanding your baseball collection. Baseball card collectors take seriously their hobby and they don't mind investing to enrich their portfolio.
Sharing this passion, Baseball Cards of the Month Club launched this idea of surprising baseball fans with a new pack each month. They have 3 different clubs: the most popular one is the kids subscription box.
It comes with a 10 card pack featuring their favorite team and at 1 special autograph or relic card. Then there is the Full Count Club (10 cards per month) and the Baseball Home Team Club (20 cards).
On all these cards you have the option to choose modern and past cards of the hall of fame stars who crossed the MLB team of your choice.
---
Golf Subscription Boxes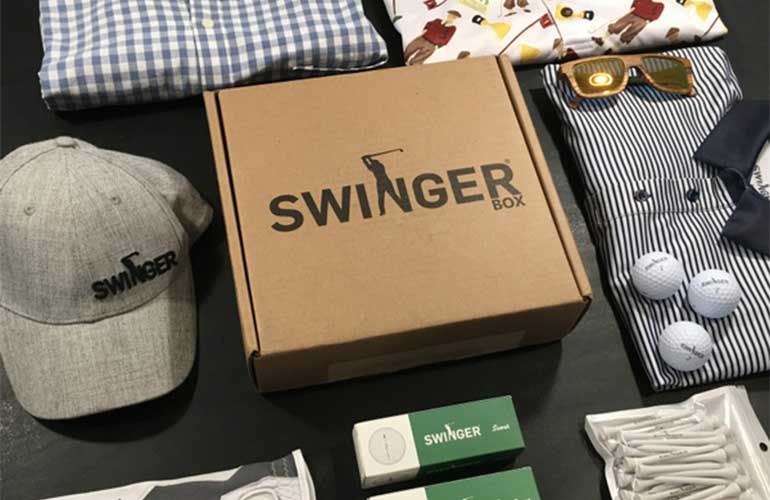 Pricing:
$49 for starter box/$40.00 essentials box
Audience:
Golf players
Box Specs:
Previously, golf was seen as a sport of the elites, but right now it has become more accessible to people of all ages and social classes. There are a couple of golf subscription boxes on the market and Swinger Box is definitely one of the best.
They have 3 different subscription boxes: Gear Box, Essentials Box and Starter Special. On the gear box you get mostly clothing gear, including casual outerwear and also balls and tees.
The essentials box is ideal for those looking on a deal for the cheapest 12 pack of golf balls under $10. The monthly pack is $40, but besides the 12 balls, you also get 30 golf tees, a leather glove, and some other accessories and apparel. To sum up: it's a pretty good deal!
Then, to those who are just launching their golf hobby, Swingers Box provides a starter special. It has everything you need to get to the golf club without missing any equipment, including proper golf wear: a polo and shorts.
---
Pricing:
From $150 per shipment
Audience:
Golf players
Box Specs:
MyGolfLocker is the subscription service of Golf Locker, a brand that focuses on golf wear and equipment. This service is not so affordable as the previous one, but on the other hand, you only pay per shipment.
Depending on your budget you will receive a different number of items:
$100 – $150 (1-3 items)
$150 – $250 (3-5 items)
$250 – $500 (5-8 items)
$500 – $1000 (8-12 items)
$1000+ – (unlimited – based on your preshipment interview)
The boxes as personalized, with your golf experience and size of clothing. Unfortunately, this is a men's subscription box only, although they guarantee they will be working on including women section on a near future.
This service is especially ideal as a man crate gift box for a loved one. If one of your friends or relatives is a golf enthusiast, he will definitely be thrilled to receive a fully equipped box of golf-related items.
Since they are all delivered by retail brand Golf Locker, you know the quality of the items you will get is guaranteed.
---
Best Fishing Subscription Boxes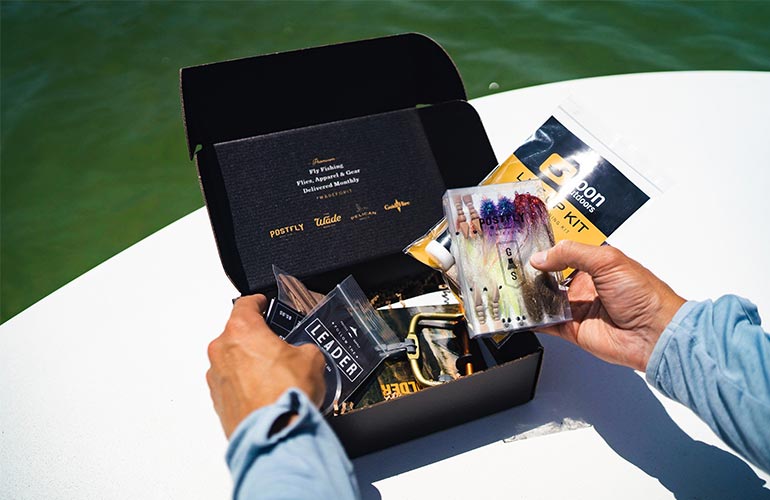 Pricing:
The O.G.: $24.95/month
Guide Series: $44.95/month
Audience:
Anglers and fishing enthusiasts
Box Specs:
If you love fishing or you are just starting this hobby, PostFly is one of the best fishing subscription boxes out there. They offer a package for beginners and one more complete for the experienced anglers.
Their crates contain premium gear and baits with size variations. They also offer rods and reels in their website.
If you are into fishing for trouts you can also pick their monthly trout package, which includes 12 to 15 trout flies.
PostFly is endorsed by fellow fishing enthusiast and late night host Jimmy Kimmel. This brand came up from the brain of Brian Runnals, who believed in providing accessible and affordable fishing equipment.
---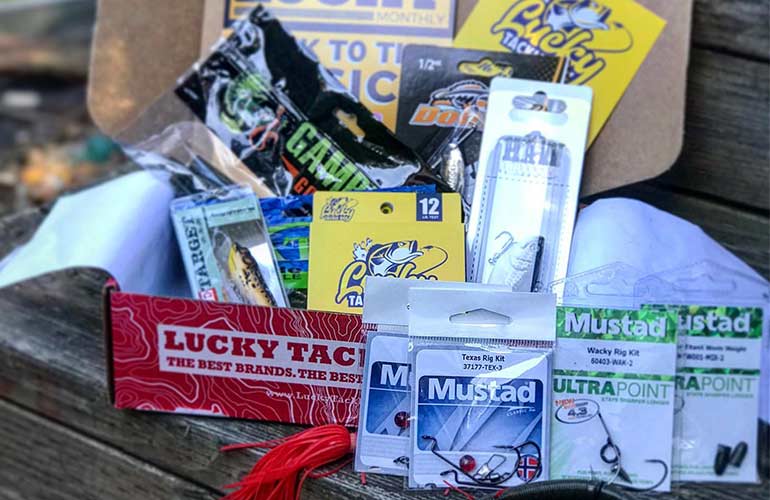 Pricing:
Starting at $26.99
Audience:
Fishing fans and anglers
Box Specs:
Another fishing subscription box for all the anglers out there is the Lucky Tackle Box. They claim to have the best baits, with each box containing to between 7 and 14 baits.
It also includes lures, terminal tackle and a lot of accessories exclusive to the Lucky Tackle brand. You can choose the species you are aiming for and how long you want to subscribe.
Their website also offers fishing tips, so make sure to check it out.
---
Wrestling Subscription Boxes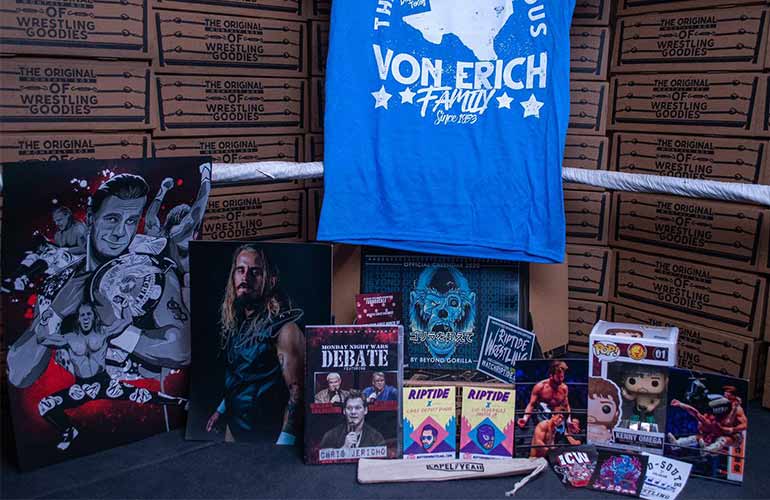 Pricing:
Starting from £11.99 ($15.69) + shipping
Audience:
Wrestling fans and WWE subscription box
Box Specs:
Based on the UK, but shipping elsewhere, Wrestle Crate is one of the best boxes for wrestling fans around the globe. No matter your age, or if you believe that wrestling is a sport or entertainment, it definitely is an industry that ignites ferocious rivalries.
This box contains hoodies, t-shirts, and other wrestling related clothing for you to surprise your friends. It also has inside autographs and action figures of the most prominent wrestlers from actual or ancient times.
---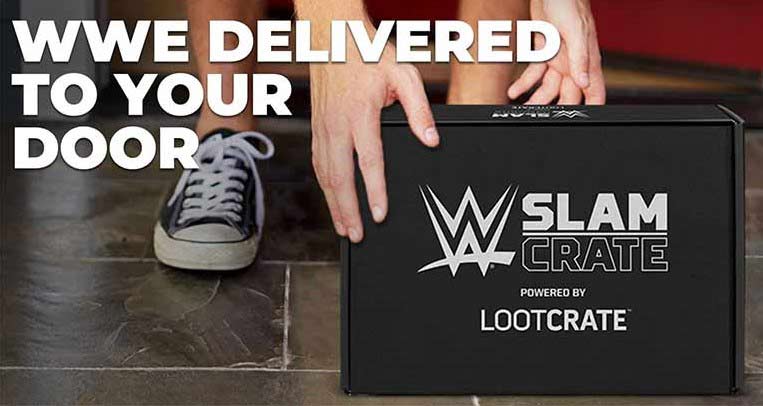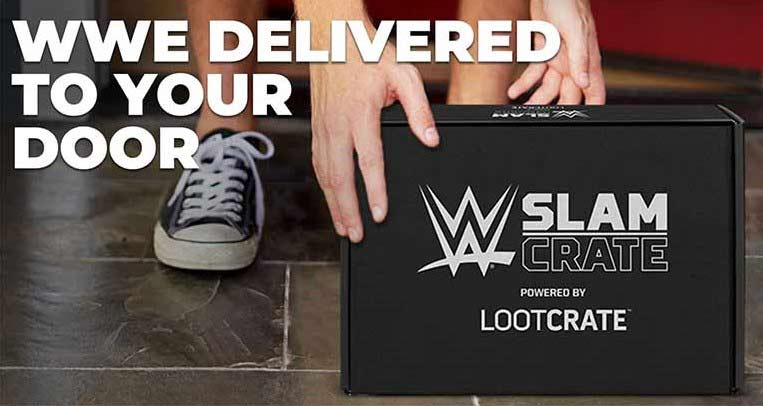 Pricing:
$34.99
Audience:
World Wrestling Entertainment (WWE) fans
Box Specs:
This official product of WWE is the ultimate wrestling subscription box for fans everywhere. It is distributed by Lootcrate, and includes lots of collectibles and exclusive items.
This is one of the best kids subscription boxes: a perfect gift box if your child is a WWE fan. Each box has 4 to 6 WWE related items, including tshirts and other wearables and small figures of your favorite superstars.
WWE Slam Box also contains exclusive championship belt pins, so you can have a champion badge on your bag pack.
---
Soccer Subscription Boxes
Pricing:
$8 per month
Audience:
Soccer/football fans who enjoy reading
Box Specs:
Americans call it Soccer and Europeans call it Football. Whether you like it or not, it is the most popular sport in the planet. Football related books are nowadays a huge marketing literary niche.
If you are a fan who also likes reading, you can combine both of your passions with this subscription box for soccer fans.
At just $8 a month, this is one of the cheapest subscription boxes in the market. Every month you receive a different football related book, telling the story of one athlete or manager from modern or past times, or giving insight into tactics.
If you have a child who lacks interest in reading but loves watching footie games, this might be the indicated gift to invest your kid into reading.
---
Pricing:
Starting at $38.00/month
Audience:
Football and Liverpool fans subscription box
Box Specs:
For the fans of the current Premier League champions, Liverpool, the KopCrate is the ideal gift. It features several exclusive LFC related items, including books, cups and other Red and White items to make your room look like a mini Anfield.
At the moment the KopCrate is out of stock, but we expect it to be available again soon.
The KopCrate also includes the Liverpool FC magazine with exclusive interviews with the current players and manager Jurgen Klopp.
---
Pricing:
From €39.99/month ($48.61 USD)
Audience:
Football and soccer fans around the world.
Box Specs:
If you absolutely love to collect kits from the best soccer teams in the world, Footballkitbox is the subscription you have been looking for.
It's a fully customizable experience, where you can choose your size, subscription length and your soccer preferences, to improve the final result. Every month, each box will contain three curated football-branded kits from teams around the world.
Still, there is more! Footballkitbox also has special boxes for special fans. You can choose a goalkeeper box, a retro pack, or one that is suited for Celtic Glasgow or Japanese League fans. There are other options that you should definitely look into.
Your kit collection will keep growing and you won't need to overspend to achieve a closet full of soccer jerseys!
---
Final Thoughts
If you need a gift box for a sports fan there are choices for every taste. Either if your loved ones are outdoor sporting enthusiasts or if they love sitting back and watching the NFL on their couch, you can count on FiveBoxes to find you the best choice for your needs.
If you love subscription boxes, don't forget to take a look at our latest top 25 subscription boxes for pets. Maybe you can find a special football scarf for your furry friend too!
FiveBoxes is reader-supported. When you buy through links on our site, we may earn a small commission when you click the links at no additional cost to you. Read the full disclosure.
---
Video: best sports fan subscription boxes for NFL, basketball, baseball, and soccer lovers