FiveBoxes is reader-supported. When you buy through links on our site, we may earn a small commission when you click the links at no additional cost to you. Read the full disclosure.
Last updated on Jan 31, 2022
Whether you're expecting yourself or looking for a gift to give to a pregnant friend or relative, you can never go wrong with a pregnancy subscription box.
With Five Boxes picks, an expectant mother can enjoy her pregnancy to the fullest with beautiful, hand-curated boxes arriving at their doorsteps every month or every trimester.
Well, we all know every mom—current or future—deserves a little pampering and the opportunity to enjoy the journey!
However, if you are not pregnant now nor intend to ever be, still take a peek at the list below.
When you need to look for the best baby shower gifts, the boxes listed here will come in handy.
Check out our picks for the best pregnancy subscription box!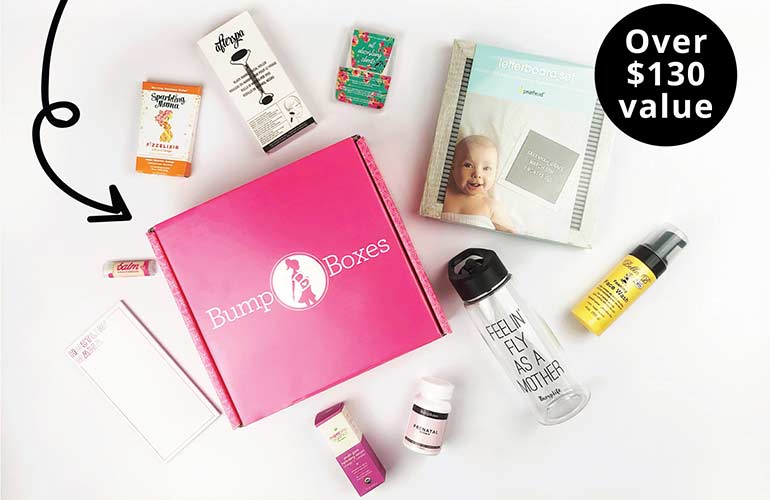 "Helping you celebrate pregnancy and protect your bump!" – Bump Boxes
The cost: $32.99/month
Box specs:
Bump Boxes is one of the more popular pregnancy subscription boxes. Each box comes with five to eight full-size (this is rare, we're finding – a lot of boxes include travel or sample sizes) products aimed at whatever stage in your pregnancy you are.
The first example – first trimester boxes – may include a remedy for morning sickness, while later trimesters may include things to ease your sore feet or dry, stretching skin.
There is even an option for a 12-month subscription so you'll receive some great items once your baby is born (because what new mommy doesn't love a little pampering?).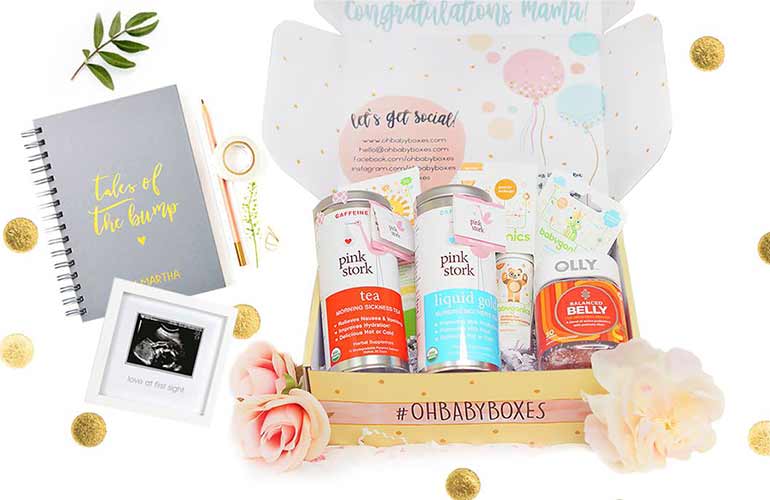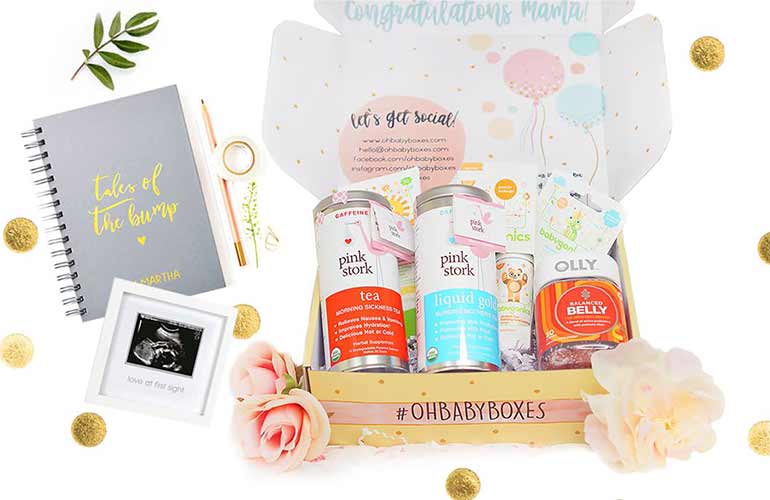 "The ultimate pregnancy lifestyle subscription" – Oh Baby Boxes
The cost: $35.99/month
Box specs:
This pregnancy subscription box comes with six to eight (again—full size!) self-care or pregnancy essentials picked specifically for your stage of pregnancy. This includes things like prenatal supplements, bath salts, candles, teas, journals to document your pregnancy and more.
Each box has an estimated worth of $100 or more! Oh Baby proudly markets itself as a relaxation box for soon-to-be mama's, with all-natural, organic and holistic goodies included every step of the way.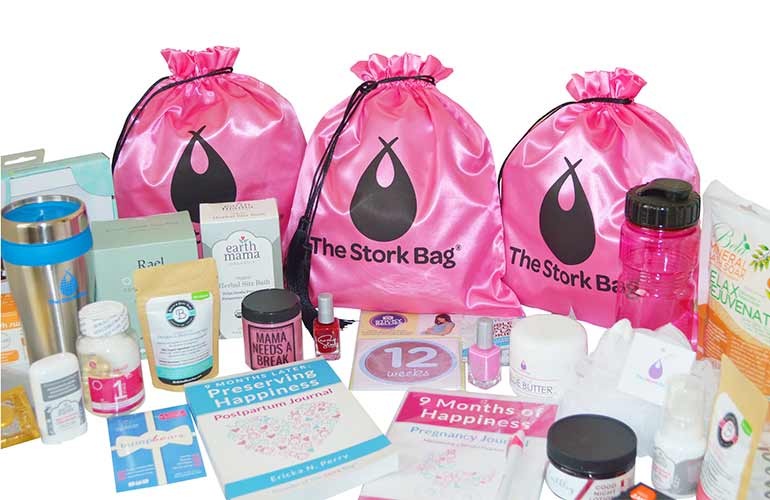 "Healthy products handpicked by our mom" – The Stork Bag
The cost: $40/bag + shipping
Box specs:
The Stork Bag markets itself with a purpose of bringing "a smile to mothers all across American and across the world." These bags (which are reusable—another plus) are delivered on a trimester basis, filled with ideas and products for expectant mothers.
Past bags have included items such as clothing adjusters, health and beauty items and pregnancy journals. It also includes healthy pregnancy snacks and DIY items to keep you feeling excited and creative throughout your pregnancy.
Since the brand started, it's begun selling its own Bellie Butter, Stork Bag Nail Polish, and other fan-favorite products, meaning if you find one or two you absolutely love, you can buy it individually!
"No subscription – no strings attached!" – Noobie Box
The cost: Just pay shipping (no, really!)
Box specs:
You read it right—this box is completely free. With eight to ten sample items in each Noobie Box, this maternity subscription includes must-have items such as pacifiers, diapers, lotions, baby wipes and more.
If you like these items, you ca sign up for other boxes such as the Parents or Nursing Boxes. The $8.95 you spend on initial shipping costs will also be applied to a future credit if you decide to purchase any of the other one-time boxes.
"Little things do count" – Bumpte
The cost: $36+/month
Box specs:
When it comes to maternity subscriptions, we absolutely have to include a maternity clothes subscription service—enter Bumpte. When you subscribe, you'll receive a box of handpicked and properly curated clothes and accessories for every step of your pregnancy.
Boxes include tops, pants, dresses, and more, with coordinating accessories like necklaces or other jewelry to accompany each item. There is a "petite" box option as well, which includes one piece of maternity clothing and a mystery item.
"A monthly subscription box that caters to the needs of moms during the Fourth Trimester" – Cater to Mom
The cost: $37/month
Box specs:
This monthly pregnancy box is geared towards those soon-be-mamas in their fourth trimester—aka Postpartum. Each month, new mothers will receive a box filled with six to eight hand-picked items, filled with essentials such as bath and beauty products, teas, healthy snacks and more!
All of the items are also organic, natural, vegan, and cruelty-free, working to promote health and wellness for postpartum moms. This is a great gift idea for a new mommy, which monthly themes meant to help with different needs with each delivery.
"Lovely baby gifts which help countdown the months of pregnancy" – 9 to Nest
The cost: $39.95/month
Box specs:
9 to Nest is a pregnancy subscription service meant to help you relish in the excitement of your upcoming bundle of joy. Each delivery includes anywhere from three to six useful items for your newborn, along with a poem to go along with each month.
With your subscription, you can choose how many items you would like to receive each month. Items are also meant to help countdown each month of your pregnancy, with gender-specific gifts available if preferred. Bonus: every box ships free!
9 to Nest is a hassle-free way of sharing in the excitement of a new arrival with expectant parents. The months will pass quickly with each delivery of lovely and useful items for baby.
Gifts are delivered in a beautifully packed box and are accompanied with an entertaining poem that will countdown each month until that much-anticipated arrival.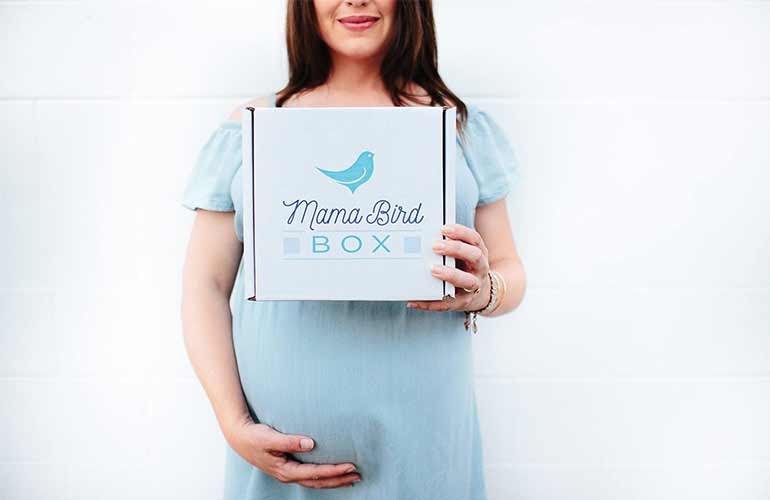 "Designed just for mama bears" – Mama Bird Box
The cost: $29/month
Box specs:
Mama Bird Box is one of the best pregnancy subscription services for modern mother-to-be. Each box is packed with super high-quality items (anywhere from four to six), all deemed organic health and wellness beauty items geared towards pregnancy.
This includes items like belly butter or all-natural face masks and makeup. We also love the presentation of these boxes—they're beautifully packaged!
"A subscription for the modern, mindful mama" – Ecocentric Mom
The cost: $32.99/month
Box specs:
This is another great subscription service for soon-to-be-mothers looking for healthy, all-natural and organic products. Depending on your stage of motherhood, Ecocentric Mom curates each monthly box with 2-3 accessories or products for mom, with another 2-3 for the baby.
We love that you're getting a great mix of both practical and pampering items for the whole family. These boxes can also include items for children through age two.
"Maternity clothing, just for you" – Stitch Fix
The cost: $20 styling fee + the discounted price of any items you keep
Box specs:
Stitch Fix knows it's tough to shop as your body changes throughout pregnancy. Not to mention – who has time to shop? Enter Stitch Fix. We've mentioned this company before on the best subscription boxes for women and the best subscription boxes for kids.
Now they're gearing certain subscriptions specifically to expectant mothers.
If you're unfamiliar with Stitch Fix, their service offers a curated box of clothing items based on your preferences (you'll fill out a style and budget questionnaire, along with a $20 styling fee).
Each month, you can pick and choose the items you would like to keep and send back, with your already-paid styling fee giving you a discounted price for everything.
Another perk: Stitch Fix does not require a subscription, but rather allows you to set up automatic deliveries as often as you'd like or skip monthly boxes.
Final Thoughts
We know how exciting it can be as you await the arrival of your new bundle of joy! That's why we hope this list of our favorites can help heighten the excitement of these next nine months (or even longer!).
From maternity clothes, snacks, self-care items, and more, there's surely something for everyone and every growing family.
Let us know what your experiences are with any of these mentioned pregnancy subscription services and boxes let us know if we missed one of your favorites!
While you are here, check out our list of the best jewelry subscription boxes. Whether you are looking for a monthly surprise or a casual gift to a loved one, FiveBoxes also helps you discover and make the best choice.