FiveBoxes is reader-supported. When you buy through links on our site, we may earn a small commission when you click the links at no additional cost to you. Read the full disclosure.
When it comes to personal grooming, why wouldn't you want to save some time and money? That is why men's shaving clubs, grooming product subscriptions, and grooming subscription services are become more and more popular these days—especially for men.
Take the last-minute pharmacy runs out of your daily routine and look forward to these monthly deliveries of everything you need to be brought right to your door.
From razors to shaving cream, soaps, beard oils and more, you will keep your supply in check, while also discovering some new favorites.
Check out our list of the best shave clubs for men on the market today!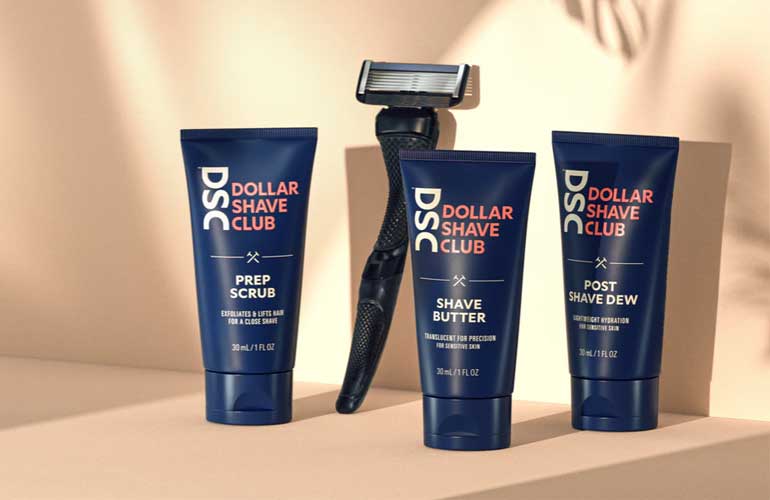 "A personalized, top-shelf grooming routine as unique as you are," – Dollar Shave Club
The Cost: $1+/month
Box specs: This needed to be our first pick, simply because it seems everyone has heard about this brand. Each month, you are shipped a box based on your razor preferences (the humble twin, the x and the executive) and how often you would like a restock box.
Essentially, this is made to be sure you never run out of your favorite razors! Be sure to take advantage of their $5 starter box, complete with all the essentials to give you an idea of what is so great about this brand.
"Experience an exceptional shave" – Gillette Shave Club
The cost: $16.99+/month
Box specs: When you subscribe to the Gillette Shave Club, you'll first receive a free starter kit, which includes a Bestselling Gillette blade and a travel case. From there, your subscription box will show up on your door every month with new blades and full-size Pure Shave Cream.
You're able to customize each shipment frequency, giving you the freedom to receive re-fills as often as you'd like. A bonus: each fourth box is free!
"Be free, be bearded" – The Beard Club
The cost: $31+/month
Box specs: This beard subscription box servicelets men pick and choose what sort of box they'd like, dependent on their beard goals. For example, there's a Starter Box, the Epic Box or the Advanced Kit.
Once you choose, you're enrolled and will receive all sorts of oils, balms, creams, waxes and more—all meant to help you care for your beard however you see fit.
It's also a great way to discover new products. Our favorite bit about this subscription service is the variety of products you're going to get your hands on.
"We think shaving should be better" – The Personal Barber
The cost: $31.80/box (every six weeks)
Box specs: The Personal Barber prides itself on turning a daily chore into a "satisfying ritual."
You'll receive a classic razor and brush in your first kit, with each shipment afterward. Including an array of different shaving-related items to try, so it never gets boring!
In addition to these personally curated items, you'll also get replacement blades and new shaving soaps in every box.
"We created Harry's to be a little bit different" – Harry's
The cost:$8+ base price/month
Box specs: This razor club for men lets you customize everything, from the color of your razor to the products inside.
When you subscribe, you'll start with the sort of color and handle of your razor. You'll also get a razor cartridge.
Similar to a few other men's grooming subscription services, you'll start with a $8 grooming starter pack, which includes both the razor and the cartridge.
From there, you receive eight new cartridges based on how often you'd like them shipped to your door. You can also add on shaving gels, face washes, soaps, and other items for an additional price.
Plus: Harry's also offers a women's razor under their brand Flamingo. You can buy these online, however it does not include any sort of subscription service.
"The best shave of your life" – Supply
The cost: $125 for the Starter Kit
Box specs: As soon on Shark Tank, Supply claims to have created a razor that eliminates razor burn.
The Single Edge Starter Kit starts at $125, making it a pricier purchase amongst beard club subscriptions, but also includes quite a bit inside: it includes the razor handle, six months worth of blades, the standard shave setting, a shaving brush, shaving cream, and aftershave.
There are all sorts of additional add-ons you can include in your shipment as well, including options that help you customize your razor. Supply gives you a 100-day trial—if you don't like it, there's a money-back guarantee.
"Shaping a new legacy" – Bevel
The cost: $59.95/month
Box specs: The packaging alone makes Bevel a standout amongst men's shaving club subscriptions. It's also geared to men of color and works to solve some of the problems faced by men with coarse or curly hair.
Typically this type of facial hair makes men more prone to razor bumps or ingrowths. Bevel's monthly box includes a priming oil, which works to soften skin and prepare it for a razor. It also includes a specialized balm to prevent razor burn.
"A shaving club without the monthly fees" – Wet Shaving Club
What it costs: $15/month
Box specs: Wet Shaving Club allows the subscriber to choose from two options: the Wet Shave Sampler Box or the Wet Shave Enthusiast Kit—both are shipped every three months. In the Sampler Box, you'll find a surprise soap, ten cologne samples and ten blade refills.
In addition, the Enthusiast Kit bumps you up to thirty blades, and in also includes a pre-shave oil and aftershave. Wet Shaving Club razors can be purchased separately and are said to last up to a year, with all sorts of options depending on your preferences.
"A simple and delightful way to update your grooming routine" – BirchBox
The cost: $10/month
Box specs: You've probably heard of Birchbox for its monthly, six and twelve-month plan. In fact, we included Birchbox in our Best Subscription Boxes for Women.
With Birchbox men, you'll receive a delivery based on your frequency preferences, complete with five original products such as beard oils, moisturizers, hair gel and more.
While this isn't a traditional men's beard club subscription, it's definitely a unique delivery with all sorts of new products to discover. In addition, it makes a great gift!
"We have you covered from head to toe, literally!" – ToppBox
The cost: $30/month
Box specs: With ToppBox, each monthly subscription box includes 4-5 travel and full-sized high-end grooming products. With a great combination of both grooming and skincare products, this monthly beard box is personalized to fit your preferences and needs.
Simply answer a few questions about yourself when you join and each month, you'll enjoy all sorts of hand-picked, original products to test out.
Final Thoughts
So, there you have it! Shopping for yourself? Looking for a gift for the man in your life? Either way, save money, save time and bring the convenience of self-care right to your doorstep with one of these best shave clubs for men.
All of the picks compiled in this list were chosen based on price, quality of the products found in each box, versatility and service. We also looked for originality both in the products chosen and in the subscription services.
Please share your thoughts and experiences with any of these products! While you are here, don't forget to take a look at our 15 Best Monthly Book Clubs and Subscriptions for Kids in 2020.
And don't forget: FiveBoxes is always here to help you choose the best subscription box for your needs!