FiveBoxes is reader-supported. When you buy through links on our site, we may earn a small commission when you click the links at no additional cost to you. Read the full disclosure.
Nail polish and nail art have come on leaps and bounds in the past 5 years. With the advent of new formulas and colorful variations as seen all over Instagram and Pinterest, you can now become your very own premium nail artist.

Nail art has never become so fun. And for all you nail art junkies out there, the next step is signing up for a nail polish subscription box.
Whether you are a professional or just an enthusiast, here are FiveBoxes favorite nail polish subscription boxes on the market.
"Nail mail every month!" – Maniology
The Price:
$25 per month
Box Specs:
Maniology is one of the best nail polish retailers ever so it stands to reason that their nail art subscription box would be incredible too!
Their affordable monthly box includes 2 exclusive stamping plates, 2 coordinated polishes, and 1 surprise extra product every month. It's a great option for hobbyists.
Their subscription service includes two options: the monthly club, with the items mentioned before, or the express kit. This one is a more affordable option and it includes all the must-have elements of the Maniology brand.
If you explore Maniology's website you will also find some kits and bundles, so if you are on a short budget don't worry: there is definitely something in their catalog for you.
"Your Favorite Nail Subscription Box." – NAILBOXY
The Price:
$29.99 per month
Box Specs:
The NAILBOXY subscription is perfect for those wanting to add fresh, new nail art accessories to their collection. Their monthly box comes with 5-10 full-size nail products including studs, crystals, glitter, stamps, and organizers.
NAILBOXY is also a learning experience, thus making it fun for everyone. You can watch tutorials on the brand's social media accounts, finding new creative ways to use the products from their box.
They also promote nail contests quite often and you can win exclusive prizes! Don't miss it!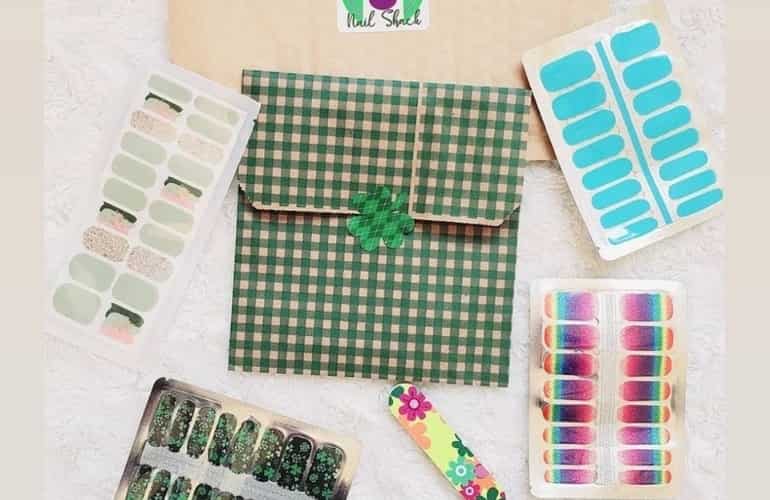 "Monthly custom-curated nail pack filled with easy to apply nail polish strips in fun designs!" – Nail Shack
The Price:
$9.95 per month
Box Specs:
If you like your nails to look good but find nail art intimidating, the Nail Shack subscription might be for you. It's one of the most affordable nail subscription boxes in the market, so it's a great option for the ones who can't spend too much on their nails.
Each box includes 4 full sets of nail polish strips with cool designs on them – all you have to do is press them onto your nails.
Oh, and did we mention it also includes a nail file and a cuticle pusher? With these tools, you can create your private nail salon and take care of your hands at home.
"Great box for women and girls who love fresh manicures." – Nail Obsession
The Price:
$28.33 per month
Box Specs:
The Nail Obsession box includes nail polish strips too, for a beautiful, simple application that lasts up to 10 days and with no drying time.
This manicure subscription box also contains hand care products for the full mani experience. Their nail polish strips are awesome since they offer base, color, and topcoat in each strip.
You can also get additional items in every monthly box: nail decor tools, lotions, and more.
If you use the FIRSTFREE code at the checkout during a 12-month subscription you get the first month free. Try it out.
"Self care is more important now than ever." – Northern Nail Polish
The Price:
$69.99 per quarter
Box Specs:
Northern Nail Polish is a unique US vegan nail polish brand with an eco-friendly philosophy. Their subscription box goes a step beyond the other polish subscription boxes on this list.
According to their bio, the idea started 8 years ago, when the Northern Nail Polish creator found how toxic nail polishes are (for both humans and the environment). So, she started this brand, to create an alternative for those looking for eco-friendly nails.
Their box is about the complete self-care package. Each quarter you'll receive 8+ full-sized, high-quality products that include nail care, body care, skincare, sweets, and jewelry.
It is all about being good to yourself. We love that philosophy!
"A carefully curated box of products to pamper you!" – Just Because Box
The Price:
$32 per month
Box Specs:
The Just Because Box is a nail polish strip subscription providing you with gorgeous designs every month. You'll also receive other hand care products in your delivery for the complete experience.
The bonus with Just Because Box is that they specialize in both mani and pedicure. So you can also have some foot care products in your monthly box.
Their products are easy to apply, coming out with simple nail polish remover. Plus, this monthly box ships worldwide, which makes it one of the most international boxes on the list.
"Nail art supplies for the glamorous girl." – NailDrama
The Price:
From $14.99 per month
Box Specs:
The Nail Drama box contains a plethora of nail goodies. They offer incredible nail polish wraps and other unique tools and supplies.
Nail Drama has two different boxes that you can select. The Nail Art box contains a collection of stamping plates, nail decals, rhinestones, charms, and glitter. This one costs $14.99 per month.
The Polish Strip box contains two sets of polish strips for $24.99 per month. Although slightly more expensive, if you really like to pamper your nails this option is ideal for you.
"Indie beauty for the geek in you." – Fanchromatic Nails
The Price:
$15 per month
Box Specs:
This brand is uniquely aimed at the fandom and geek market with a very particular edge – and their nail box is definitely not your average.
Created by artist Lynae Zebest, in San Francisco, CA, they have more than 70 unique and limited-edition nail polishes, balms, sanitizers, scrubs, soaps, and much more. All these are themed with sci-fi and geek culture icons.
However, their most famous subscription club is the Nail Polish Of The Month Club. With this box, you receive a different polish every month, adapted to the geek universe.
If this is not enough to satisfy your curiosity, they have plenty of other boxes that you can find out and subscribe on their website!
"Go full glamour with your next set!" – Sparkle & Co. Luxe Nails
The Price:
PaletteMix – From $20 per month
Sparkle & Co Subscription – From $29.99 per month
Box Specs:
Sparkle & Co offers a range of nail subscription boxes to suit you! They have over 5 different subscription boxes options for you to try!
However, the top two choices are PaletteMix and Sparkle & Co Subscription Club. PaletteMix offers a selection of nail polish colors adapted to the season: you can get Spring colors in April/May and Halloween colors in October, as an example. The best part is that they never repeat colors!
Meanwhile, the Sparkle & Co Subscription Club offers a wide ranger of nail care items. From dip powders to gel polishes, you can choose the subscription bag you are most interested in and get it delivered straight to your door.
"The monthly subscription for nail art lovers." – Fearless Nail Art
The Price:
$14.99 per month
Box Specs:
This is a nail art monthly subscription box in its purest form. Each month you receive one Born Pretty stamping plate plus 4-5 extra nail art accessories.
It can include decals, stamps, glitter, stickers, stencils, foils, wraps, stencils, charms, rhinestones, brushes, dotting tools, and more! Plus, in the first box, you get a stamper/scraper and a stamping polish kit too.
One of the best parts of this nail subscription club is that you don't sign any contract, so you can cancel or skip a month whenever it pleases you.
"Let us give you pretty nails!" – Chika Nails
The Price:
$9.99 per month
Box Specs:
The Chika Nails box contains 4 full sets of nail wraps. It is an extremely affordable monthly nail box with free shipping.
They are easy to apply, so no more smudging, and there is no drying time either. You can choose from over 400 styles and colors and this box is appropriate for adults and kids.
Chika Nails also incentives their clients to post their "nailfie" and you can get a free nail set in the next delivery. Definitely worth your time!
"The unique nail care subscription box delivering professional nail care products to your door!" – Chrysobox
The Price:
$34.95 per month
Box Specs:
The Chrysobox is fantastic for nail enthusiasts at every level. It was founded for people who love nail care, to convince other nail lovers to express their creativity.
Each package contains 4-5 nail products including polishes, nail art accessories, and more to make your nails look fab. With your first order, you also receive a free LED gel lamp!
Their Mistery Box is great because, as the name says, you never know exactly what you going to get. So, each month you will be thrilled to receive your box!
"Gorgeous sets of hand designed press-on nails." – NailGame by Kiki
The Price:
$16.67 per month
Box Specs:
NailGame by Kiki sells unique, handmade press-on nails with interesting designs. Every subscriber will receive a free nail sizing kit too.
The monthly box contains one full set of press-ons, glue, a cuticle pusher, a nail file, and extra surprises. Every month they design new sets just for you.
You can choose your preferred length (short, medium, long) and also customize your nail shape (Ballerina, Coffin, Square, Stiletto, Almond, or Oval).
"Enjoy Life's Mini Treasures with Mila and Maya." – Mila & Maya
The Price:
$14.58 – 35.98 per month
Box Specs:
This box from Mila & Maya is more of an all-encompassing beauty box, including all sorts of goodies. It contains nail polishes, nail clippers, chapstick, and other lip care and skin care products.
Perfect for a pamper day with your bestie. Every box comes with up to 6 items and a surprise gift too!
This package indicates for all ages, so if you want to surprise a young one who loves to color their nails you can gift them a Mila & Maya subscription.
"Luxury Press on Nail Subscription." – Blessed and Pressed
The Price:
$17.50
Box Specs:
Blessed and Pressed is a press-on nail brand that sends an affordable box of press-on nails right to your door every month.
You'll love their unique and luxury designs, which have different themes and lots of colors.
Cancel anytime without contracts and get your box on the 4th day of each month.
"Has everything you need for a home spa day." – Deluxe Spa Box
The Price:
$54.95 per month
Box Specs:
For a manicure subscription box, this one is a very complete all-rounded option. Deluxe Spa Box includes bath bombs, nail files, polish, and decorative hand towels.
There is more: you also get a remover, an accessory kit, a candle, hand and feet masks, scrub brushes, and many more surprise items.
Please note, this is a Christian devotional box and is themed around Christian scripture. If that calls to you, you will love this box as it contains scripture-themed messages inside.
You can find more boxes aimed at spiritual guidance in this article about self-care subscription clubs.
"Keep your nails looking professional week after week." – French Pastry Nail Art
The Price:
$37 per month
Box Specs:
If you love French culture, you will really like this one! French Pastry Nail Art offers three different boxes.
The manicure subscription box contains 4 polish wrap sets, nail files, lotion, jewelry, and French-themed treats. Feel transported to the set of a French movie, with these sets that have popular icons from France: including the obvious reference to the Eiffel Tower.
The nail wraps come in beautiful, varied designs every month. The jewelry inclusion is just the icing on the cake, with cute charms, necklaces, and bracelets to brighten your day.
A gift from you to you. If you like jewelry, you can also find jewelry subscription boxes here.
"Beautiful Nail Decals Subscription Box." – Ladies Nail Decals
The Price:
From $12.95 per month
Box Specs:
Ladies Nail Decals offer three different tiers of boxes depending on how many sets you want to be delivered to you each month. For 4 sets, it is extremely affordable at just $12.95 per month.
Their products are easy to apply and remove. It's a great DIY set, helping to boost your creativity by creating fun patterns on your own nails.
$12.95 per month will get you 12 designs per month, and for the nail fanatics and professionals out there, you can get 20 designs for $42.95 per month.
"The ultimate Nailbox for the DIY nail enthusiast." – Notably Nailed
The Price:
$23.99 per month
Box Specs:
Notably Nailed is a beautiful gel nail subscription box. It contains two 8ml bottles of gel polish, glitter, dotting tools, stickers, and more.
You often get accessories for your fingernails and your toes too, so you can enjoy the complete mani-pedi experience.
Since gel polish is more difficult to take off, your box will also come with a set of soak-off nail clips too. You can also get a color swatch stick for each color and 1 jar of mixed 3D accents.
"Comfy, Sanitary, Made in USA." – Style File Mini Nail Files
The Price:
$5 per month
Box Specs:
Looking specifically for nail files subscription boxes? Well, look no further, Style File Mini Nail Files is exactly what you need.
Each month you will receive 3 mini nail files to use on your nails and shape them perfectly. The small size ensures an easier filing experience.
These nail fails are sanitary, they promote less waste, and are ideal for traveling! Check the compact design, we are sure it will appeal to you!
Final Thoughts
Doing your nails and playing with nail art is one of the most fun ways to pamper yourself. We hope this article helps you find a subscription box that matches your artistry.
From press-on nails to gel nail subscription boxes, this list was carefully curated to give you a full flavor as to what is out there on the market for you!
Check out some other subscription boxes for women from FiveBoxes extensive list.

---