If you're an avid tea drinker, then you will love these tea subscription boxes!
After all, what is not to love about the convenience of a monthly (sometimes surprise) shipment of tea right to your doorstep? Being able to try a wide variety of new types of tea is always lots of fun.
We've compiled some of the best subscription boxes and monthly clubs for those who love a piping hot cup of tea throughout their day (side note: we've included an option for those iced tea lovers too).
FiveBoxes is reader-supported. When you buy through links on our site, we may earn a small commission when you click the links at no additional cost to you. Read the full disclosure.
Last updated on Mar 16, 2022
Top 26 Tea Subscription Boxes in 2022
These are also great for anyone just looking to venture outside their comfort zone and try something new. You might even consider gifting any of these subscriptions to a loved one!
No matter the occasion or reason, there's bound to be a great option for a tea lover! Check out our top 26 picks and enjoy the best monthly tea subscription boxes in 2022.
"Life is too short to drink bad tea!" – Simplicity Teas
The price:
$9/month
Box specs:
With Simplicity Teas, you will receive a box filled with unique and organic loose leaf tea blends. With this organic tea subscription box, health and wellness are at the forefront.
And at just $9 each month, this is a great value! Each box also includes reusable tea diffusers, meaning you will feel good about the sustainability of the products delivered right to your door.
According to Simplicity Teas, each box is curated with health at the forefront. Teas are created with purposes such as optimized digestion, a mid-day pick me up or a nighttime tea to help you sleep.
The key: Simplicity Teas does not skip out on taste! It's the best of both worlds.
---
"Get yourself a tea discovery box as unique as you are" – Sip by
The price:
$15/month
Box specs:
Sips by is a personalized tea subscription boxes service, handpicked and curated from a wide variety of premium-level teas. In fact, these tea subscription boxes are curated from over 150 brands of tea from around the globe.
For just $15 each month, subscribers will start by taking the company's "Tea Quiz," selecting their tastes and tea preferences. You can also choose to include any tea-drinking habits, preferred brew methods and any allergies or other dietary restrictions.
Each subscriber will then have a Sips by Tea Profile, which can be edited at any time as your preferences and choices change. From there, curators will use this information to put together a box of four different teas.
Depending on which subscription you choose, each box is capable of making anywhere from 15 to 45 cups of tea (this makes it well worth the money, depending on what box of tea you're usually picking up from your local grocery store).
According to the Sips by website, there are options to receive both bagged and loose leaf each month, so you can develop your preferred method or mix things up if you want.
There are also options for decaf or herb-central teas. Sibs by also allows you to choose the frequency of your box, whether it be monthly or every three, six or twelve months.
Each box comes with instructions on how to properly steep the included tea, as well as reusable and biodegradable filters and bags. In addition, members will have access to online recipe guides and tips on how to make the most out of the tea bags they receive.
For the real tea enthusiast, this is a great subscription option.
---
"Each tea has a beautiful display and a unique story of its own" – Art of Tea
The price:
$18/month
Box specs:
If you prefer single-origin tea, you're in luck with an Art of Tea subscription boxes service. This monthly tea box includes a diverse inventory of the best loose-leaf teas—most of which are single-origin—including green and black teas, blooming teas, herbal teas, and more.
If you prefer some unique or sweeter teas, there's even a Dessert Tea Collection, with flavor profiles including chocolate and caramel and an exclusive Iced Tea collection.
There are plenty of subscription packages, including Caffeine Free, Classic, Single Origin, Explore and Pyramid Sachets. Depending on which you choose, you'll receive two to four ounces of a new loose leaf tea or twelve eco-friendly pyramid sachet teabags.
Each box also includes information and ideas on how to best brew each tea included in your monthly shipment. Art of Tea also keeps things interesting and seasonal, switching up the offers as the year goes on.
Plus, the collection of teas to choose from with Art of Tea often includes some pretty rare varieties: there are imported teas from around the world.
You can also find all sorts of important and interesting information on the Art of Tea website, helping you learn all you can about tea in general or the specifics of what you're drinking each month.
With Art of Tea, it's never going to be just a boring old cup of tea.
---
"A sophisticated twist on a southern tea tradition" – Just Add Honey Tea Box
The price:
$29.50/month
Box specs:
So maybe you're not thrilled with the idea of a hot cup of tea—how about something iced? Just Add Honey Tea Box is bringing back the thrill of this southern tradition.
When you subscribe to Just Add Honey, this tea subscription service will send you a box filled with unique full lead teas—all that have originated from the idea of southern sweet tea.
Each box includes three 1 oz bags of blended tea, made with unique ingredients from around the world (this is what gives each flavor such a unique twist).
An added bonus – you are also going to get some American-made, small-batch honey from local beekeepers across the country!
---
"Discover your cup of tea" – Tea Runners
The price:
$21.25/month
Box specs:
If you're always looking to try the next new and unique bag of tea, look no further than this tea of the month club. With Tea Runners, you'll receive award-winning teas from around the world delivered right to your door.
Tea Runners' online catalog has more than 300 teas to choose from, including rare finds and some of the highest-rated teas on the market.
Whether you're looking for something hard to find or a local, small-batch variety, changes are Tea Runners has it.
Subscribers have options with a Tea Runners subscription. Choose from four different subscription types each month: the Original Box, Pure Tea Box (no added flavors), All Black Tea Box and an Herbal Tea Box.
You can also curate your own box if you prefer. Each box comes with four loose leaf teas, with enough supply to last you 40 or so cups.
Decide how often you'd like your delivery, whether it be monthly, bimonthly, or trimonthly.
Bonus: if you try and love a particular tea you've received in your box, you can order it separately from the online tea store.
---
"Changing the way tea is perceived and consumed, one cup at a time" – Teabox
The price:
$29.99/month
Box specs:
Teabox brings the unique flavors of India's best and finest specialty teas right to your doorstep. With this tea subscription box, you're getting incredibly fresh and delicious teas chosen to match everything you love about a nice cup of tea, whatever your preferences may be.
Every month, the tea box sends you five unique flavors and blends of tea for you to brew and enjoy.
Each box includes a new theme, focused on sharing the stories behind the makers, the particular tea blends included, and the regions from which the teas are made from.
Given the focus of these blends, you can guarantee you'll detect the unique flavors of the spices and herbs used with TeaBox. If you're looking to gift someone a tea subscription, we pick this as one of our favorites. It's unique and gives you a great story to go along with each cup.
---
"Home of the best monthly tea subscription service," – Plum Deluxe
The price: $10+/month
Box specs:
As a subscriber of Plum Deluxe, you'll receive up to 1-2 ounces of handcrafted and blended teas delivered in each box—to put that into perspective, that's enough to make about twenty delicious cups.
What we love about Plum Deluxe is the ability to discover and choose new flavors, based on an easy 30 second Tea Quiz. This, in addition to the ability to look amongst the "fan favorites," means you're bound to find a new favorite blend.
There are also plenty of other options to include in your box, for example entirely caffeine-free tea options.
---
"Hand packaged tea to your door made simple" – Simple Loose Leaf
The price:
$13/month
Box specs:
Don't let the name fool you—Simple Loose Leaf and their offers are anything but simple. Hand-packaged in reusable linen tea filters, this tea of the month subscription service offers loose leaf tea found from around the world.
Fun fact: filters are handsewn on historic sewing machines and are designed for single-cup brewing. Subscribers can choose from a Sampler Box, Black Tea Box, Green Tea, and Herbal Tea Box delivered monthly, bimonthly, or quarterly.
Each monthly delivery comes with four different varieties of loose leaf teas (this will make anywhere from 16 to 20 cups of tea each month).
We love that this tea subscription service really leans into the season, meaning right now, there is a wide variety of fall varieties.
This will change as the year goes on and the seasons change, giving year-round options for tea lovers.
It also includes information on all of the curated teas, its origin, flavor profiles and the preferred brew method. The best part? When you buy from Simple Loose Leaf, you're also supporting their non-profit partner, Bost, which provides employment for members of the local community with developmental disabilities.
---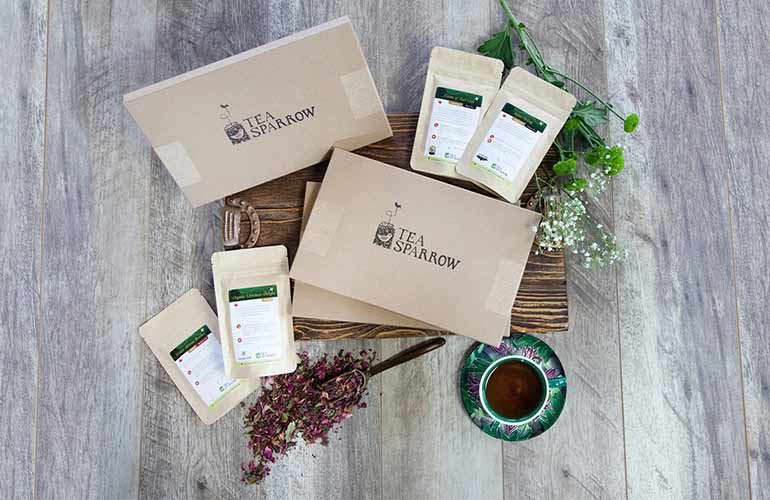 "The world's best tea delivered to your door" – Tea Sparrow
The price:
$20/month
Box specs:
With a subscription to Tea Sparrow, you'll get about 35 cups of tea to make in each delivered box. As one of our best tea subscription boxes, we like the variety of choices you'll receive each month.
With each shipment, Tea Sparrow includes one black tea bag, one green, one rooibos, and one herbal tea bag. You can only opt to only receive purely caffeinated teas or only herbal.
Tea Sparrow is pretty open about their process, which we love. From tea growers to blenders, the people behind Tea Sparrow are trying everything—they're tasting blends without any extra additives or fancy extras, so you know the teas chosen are the best of the best at their very simple core.
---
"Your tea. Your way" – BlendBee
The price:
$15+/month
Box specs:
If you're a lover of blended teas, this tea subscription service might be the right find for you. BlendBee offers a monthly subscription of blended loose leaf teas for up to $25 per month.
Each monthly delivery includes two 2-ounce tea bags. BlendBee says this should equate to anywhere between 40 to 60 cups of tea.
Depending on your preferences, all of the included tea is either caffeinated, caffeine-free, or a mixture of both. Subscribers can also choose to have their subscriptions delivered monthly, bimonthly, or quarterly.
Included in a BlendBee subscription, this monthly tea club also gives subscribers two reusable tea bags for loose leaf teas. There are all sorts of seasonal flavors that change throughout the year too.
We also love that BlendBee encourages customers to share feedback on what they love and what they don't. This information is not only used to curate next months' box but will also tailor how particular teas are recommended to other subscribers.
---
"You Deserve Better Tea" – Respyre
The price:
From $14.99 (month)
Box Specs:
Respyre is the best medicinal tea subscription box. Tony, its founder, confesses how switching from coffee to tea helped him to deal with stress. Meanwhile, he learned to craft wellness teas to help with relaxation.
This subscription box contains high quality organic products and they work under a fair trade policy, in direct contact with producers.
Another great thing about Respyre is that no two months are the same. This means you will always discover new flavors.
With each package, Respyre sends two loose-leaf Wellness Teas, which will be enough for 20-30 cups.
---
"Tea, Biscuits, China & more." – Vintage Teatime
The price:
From £29.99 ($39.12 USD)
Box Specs:
If there is a country that loves and cherishes their tea time in England. So, leave it to them to create the fanciest and delightful tea sets.
With Vintage Teatime you not only get tea to your door but also a special set of China cups and plates to host the perfect tea party. After getting this package, you will be ready to create successful gatherings with your friends, while you sip tea and discuss books or personal stories.
Their classic and cheapest box includes an individual China set – cup, plate, and saucer, plus some posh biscuits and a mindful book. If you raise your stakes, you will get even more China, more tea, and… more biscuits.
Plus, there is always a surprise waiting for you when you order a Vintage Teatime box. Well, when it's tea o'clock, you will be ready.
---
"We take tea seriously." – The Dollar Tea Club
The price:
Starting from $1.00 per month!
Box Specs:
What if we told you that you could have a tea subscription for $1 a month? I know, it's unbelievable how affordable it is and this bargain Tea Club subscription comes with 3 blends for you to explore.
This is the perfect 'trial' for the ones who are not keen on having a never ending collection of tea, but prefer to keep it simple and let the pleasure grow.
So, start with The Explorer and for a price as low as ONE DOLLAR, you can experience new flavors every month. They also source their tea by season, making sure it keeps it consistent natural flavor.
The most expensive tea set of this brand is $25 a month, which is aimed at tea addicts. Still, a very low price for such high-quality sets of loose tea.
---
"Get or Give Tea Tailored To Taste" – Free Your Tea
The price:
From $20 (monthly) – yearly subscription allows you to save $4 each month.
Box Specs:
You don't know what to give to a loved one this Christmas? Free Your Tea might be the solution, as they have the best tea gift box out there.
Choose between Regular, Herbal, or Iced and if you want to get the subscription for yourself or get it for a loved one.
Free Your Tea will adapt your future boxes according to your tastes and personalize it further in every order. You get a 6 tea sampler on a first time purchase, then you rate the teas and the next order will be more targeted to your likeness.
With this subscription tea box you will discover new flavors every month, from gardens all around the world.
International shipping is possible for an extra fee of $5.
---
"A great way to explore the world of premium tea" – The Whistling Kettle
The Price:
Between $16 to $24/month
Box Specs:
The Whistling Kettle is a tea retail brand, which has stores in the US, Canada and India. Now, they also have a subscription club, called tea of the month.
This box is perfect for both newcomers to the tea world and experienced tea drinkers. It is curated by professionals who are in this business for over 15 years.
It allows you to have premium quality tea right at your door, without much hassle and for a reasonable price.
With your monthly tea box, you get a starter set of loose tea bags and also membership discounts for you to use if you visit one of their stores or if you shop elsewhere on The Whistling Kettle website.
---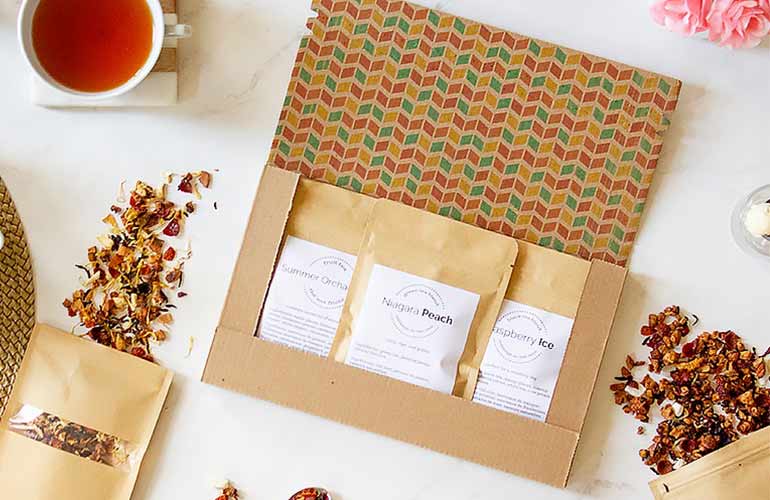 "For tea-lovers, hand-packaged with heart." – My Tea Box
The Price:
$24.99/Month
Box Specs:
This subscription box is based in Canada and contains all the items needed for a pleasant tea experience. You just need to have a cup and boiling hot water! Every month you receive a selection of three delicious blends of loose-leaf tea.

This is enough tea for more than 30 infusions. With the leaves, you will also receive steeping instructions and a detailed ingredient list in each package.

And to add some more positivity to your life – a wholesome monthly card to bring you inspiration.
---
"We select and deliver the finest organic whole leaf tea from botanical gardens around the world". – Teawrks
The Price:
$27/Month
Box Specs:
Teawrks has a large diversity of teas for you to choose from: black, green, herbal, and more. You can personalize your box and the curators will design it especially for your needs. Each monthly box can make up to 36 cups! That's more than a cup of tea per day of the month.
Plus, with their Tea Discovery Boxes you can find infusions from all over the world. Organic and loose teas from botanical gardens in Asia or South America in a packaging that is totally eco-friendly.
Teawrks is not only an awesome tea subscription box, but they are also active in taking measures to improve the sustainability of tea cultures and the environment surrounding them.
---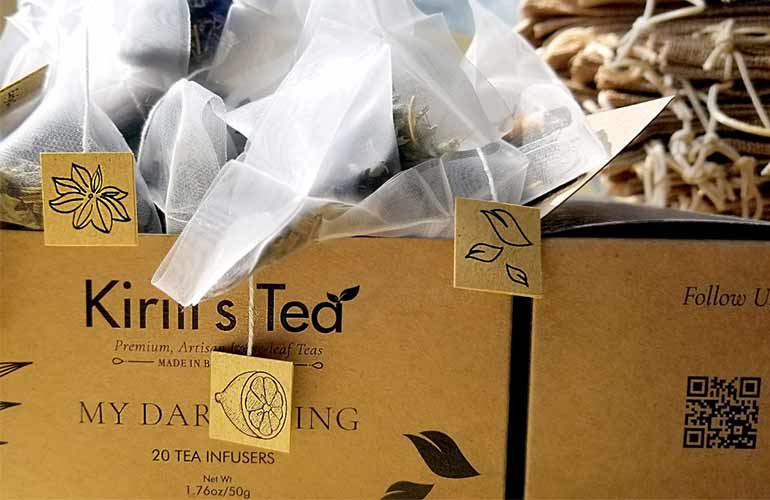 "Drink tea and donate." – Kirill's Tea
The Price:
From $20 to $60/Month, depending on the number of tea bags
Box Specs:
A different kind of subscription box, Kirill's Tea not only specializes in tea but also works with charities. Every $3 spent on their subscription boxes goes to World-Wide Humanitarian Aid, an organization that works with victims of natural disasters.
About the tea itself – it's handcrafted, organic, and produced with whole herbs and spices. You can choose a single box with 8 tea bags or one with 16.
There is also a new option with 24 tea bags and 24 honey sticks, that comes with a 12-flavor hand-crafted tea assortment. Oh, and did we mention you get a free ceramic mug with each subscription?
---
"A sip to your health!" – Little Woods Herbal
The Price:
$50/3 Months
Box Specs:
This subscription box ships every three months and for each delivery, you receive three teas (each one for 8-10 cups). Every shipment you will receive a tea passport, with instructions on how to brew it, caffeine level, and the origin of the blend. There is also space for your own tasting notes!
Each box comes with bonus samples, including spice blends and single-origin teas. They also guarantee a caffeine-free option per month, so your evening teas won't keep you awake.
Little Woods Herbal never repeats a tea in the same year and all their teas are artisanal, without oils, additives, or fillers.
---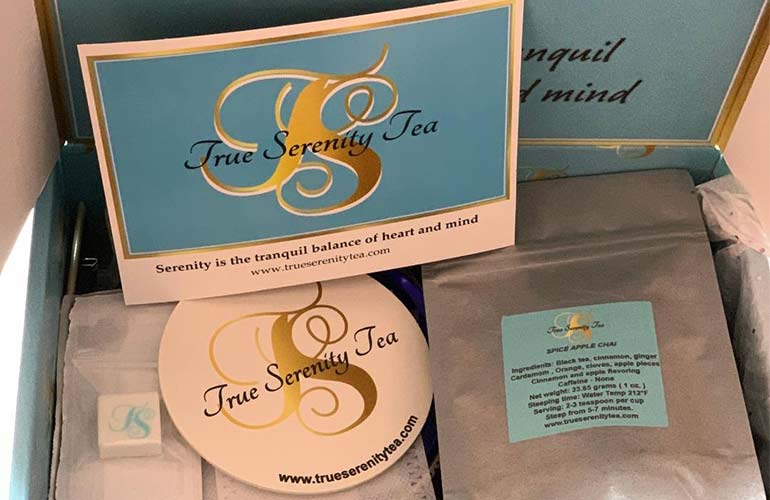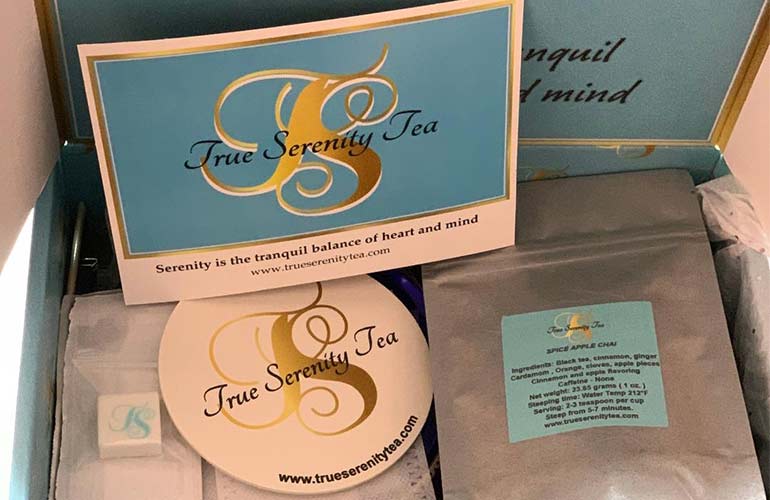 "True tea made simply for you." – True Serenity
The Price:
$15.99/Month
Box Specs:
There are few things better than the warmth of a cup of tea. With True Serenity Sample Box you receive 4 samples of 1 oz. teas each month, as well as tea filters and a special gift from the curators.
Each True Serenity package includes a large variety of teas, from decaffeinated ones (tisane) to oolong, white, black, green, and even specially blended herbal teas.
Choose your subscription based on your needs: monthly, 3–6-month gift, or 12-month gift. Plus, in the first delivery, you will also get a tea starting kit!
---
"Helping you send a hug to your loved ones – near and far. " – Hugz In Mugz
The Price:
$45/Month
Box Specs:
Hugz In Mugz is a gift subscription box that allows you to send hot beverages as presents to loved ones. Their special Par-tea Box comes with 10 tea bags of specially curated loose leaves.
Along with the tea bags, you get a bag of Janis & Melanie key lime cookies, a floral tea towel and vanilla-scented tea drops.
You can add other items to the gift box, like mini-honey jars, tea infusers and appreciation cards. What better way to show someone you love them than with a tea gift box?
---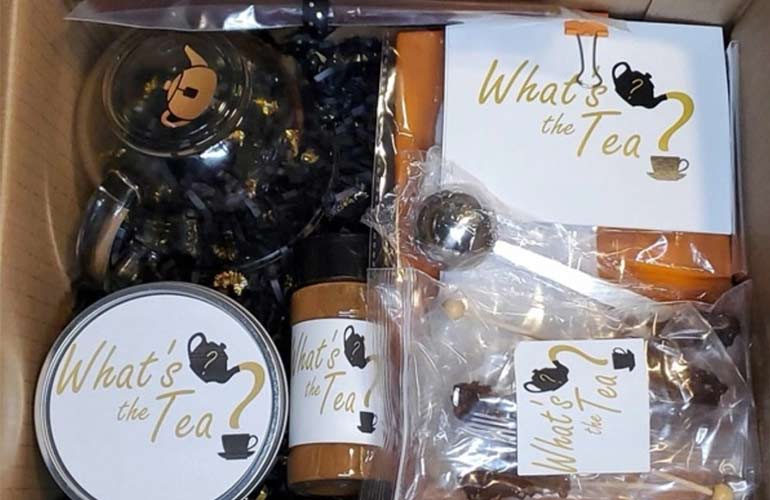 "Great tea and affirmations to sooth the mind and spirit." – What's The Tea
The Price:
Basic Box: $17.59 / 3 months
Lux Box: $36.00 / 3 months
Box Specs:
Do you know what time it is? It's tea o'clock! What's The Tea is a quarterly subscription box of hot tea, packed with 5-7 full-size products. All products have the highest quality and they aim to create experiences of self-care: relaxation and rejuvenating the mind, body, and spirit.
What's The Tea is a family business run by mother and daughter. They curate each box specially to their client's needs. Each package includes a mix of tea, honey and positive affirmations.
You can choose the basic box for 10 infusion bags or the lux pack that has 20 herb-infused bags, a mug, and a stainless-steel spoon. For more self-care boxes click here.
---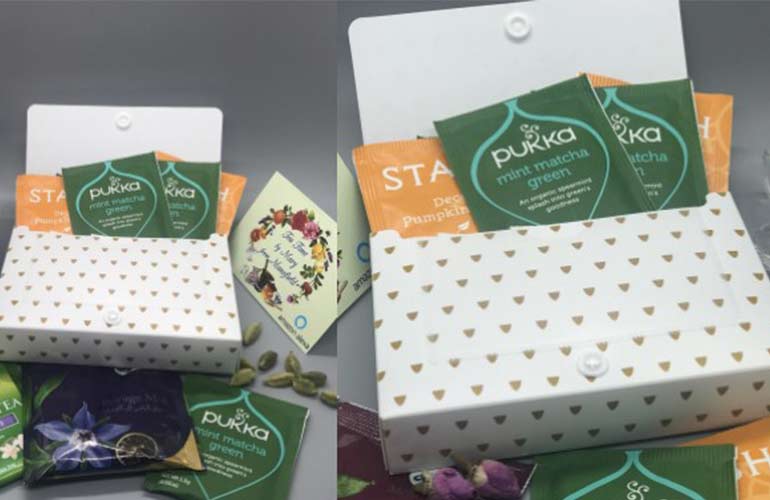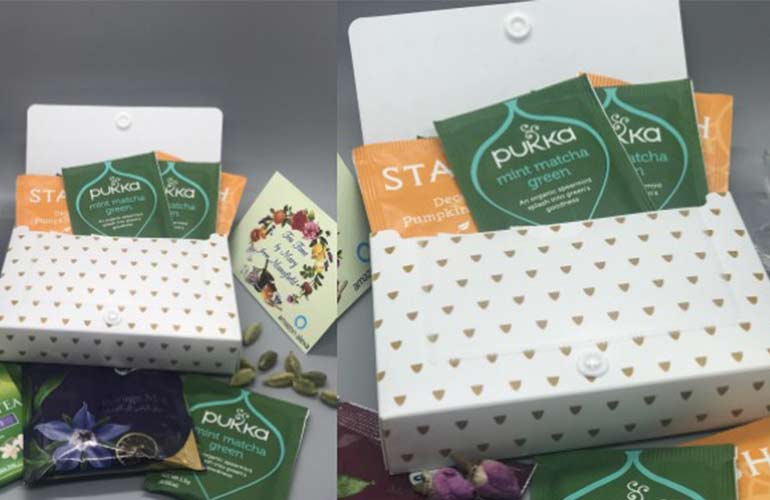 "Try unique combinations of herbal teas each month." – Tea Time By Mary
The Price:
$9.99/Month
Box Specs:
If you want to experience teas from different countries of the world, Tea Time By Mary is the ideal subscription box for you. The Tea Time box contains at least 15 tea bags, from four different teas.
You can select only decaffeinated teas or a mix of both, so you can have the proper energy boost for a specific time of the day. If you own an Amazon Alexa, Tea Time also offers you the chance of getting specific brewing times, adapting to your needs and routine.
---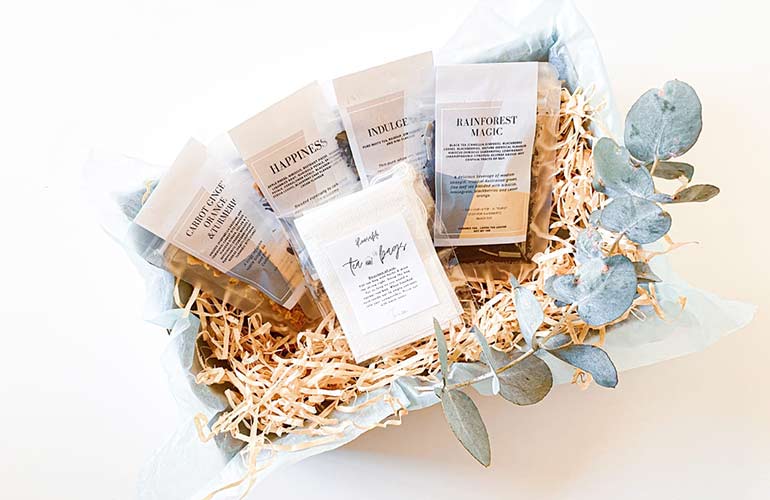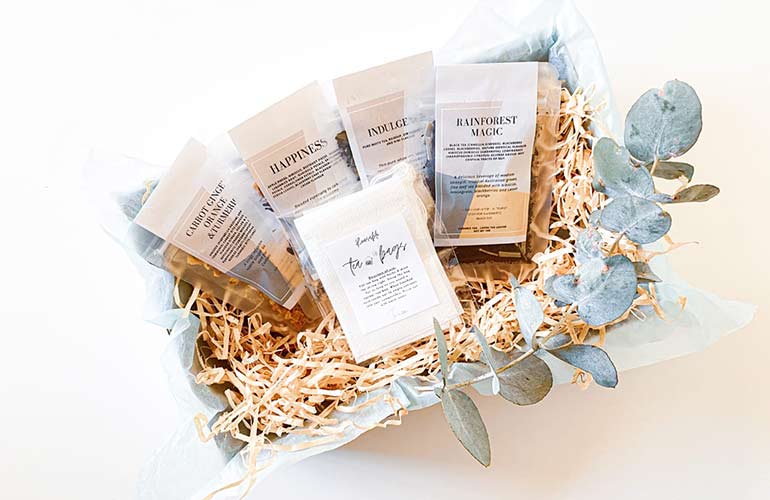 "Gourmet tea from around the world." – Tease With Tea
The Price:
Warmth Box –$80/3-Months
Box Specs:
This box is for real tea lovers, who want to try gourmet infusions from different places around the globe. Tease With Tea provides a warmth box subscription, that contains 4 pouches of 10-15g premium tea, enough for filling 38 cups. Besides the tea, you will get a special treat each month.
In the first month, you get woven reusable tea bags, in the second homemade lotion bars, and on the third a stainless-steel tea infuser.
And the gifts go on every month a different surprise. Tease With Tea ships every 3 or 6 months, depending on your preferences.
---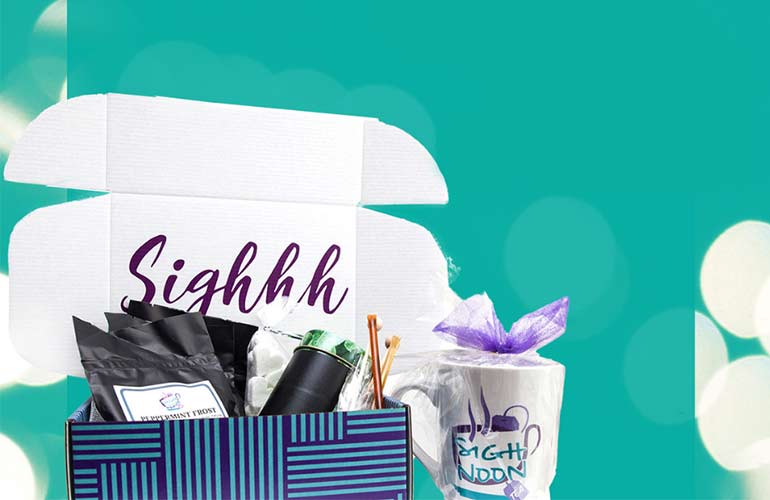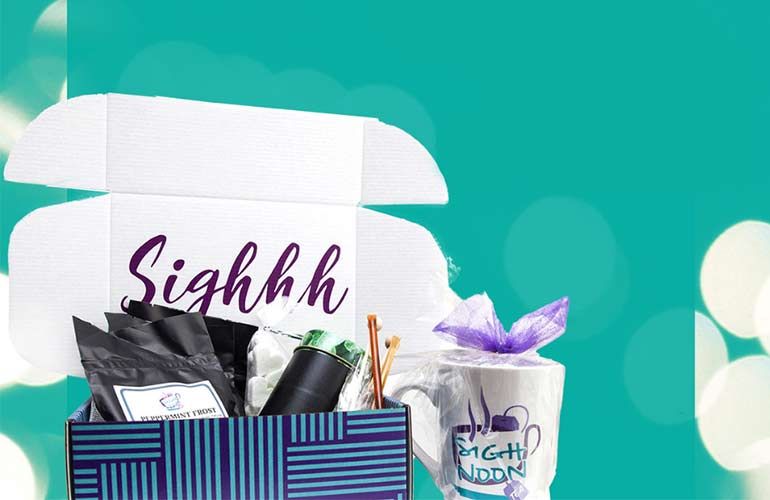 "Exotic, award-winning loose-leaf teas from across the globe for our esteemed tea lovers." – Sigh Noon Tea
The Price:
$29.75/Month
Box Specs:
Sigh Noon Teas claims that signing up to this subscription box is as easy as brewing their tea leaves. Each of their healthy teacups is filled with vitamins, minerals, natural flavors, and organic aromas.
They pride themselves on having the finest selection of loose-leaf teas, providing you with the freshness you are looking for in your tea. There are 3 boxes to choose from: the Harmony Box comes with 3-1 oz. of loose tea (30 cups). It includes brewing info, storage tins, and an infuser.
The Joy Box is slightly cheaper and provides 2-1 oz. of loose tea (16-20 cups) and 1 sample. Finally, if you are still undecided, get the Delight Box, for beginners to try Sigh Noon samples. It contains 3 samples for 6-8 cups and brewing info as well.
---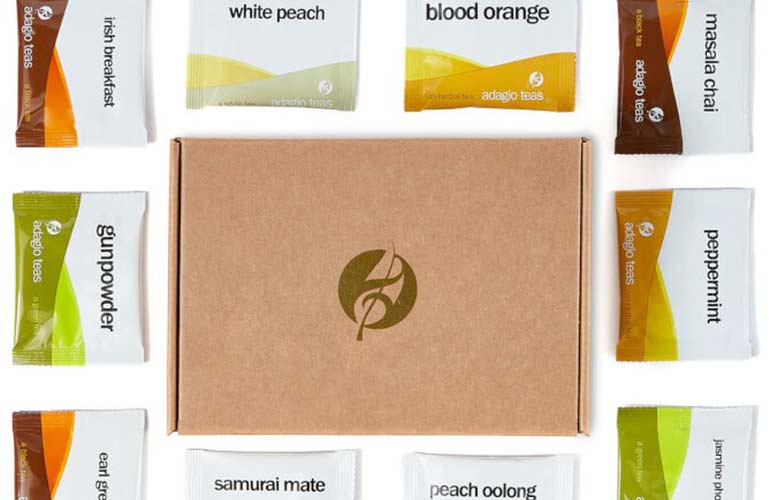 "Treat yourself or someone you love to our monthly assortments of fresh teas." – Adagio Tea Of The Month
The Price:
From $19/Month
Box Specs:
Adagio is a popular brand of teas, with products in retail stores across the U.S. However, did you know they also have a monthly subscription service?
The Adagio Tea Of The Month sends you 30 packets of tea each month for 30 cups! These tea subscription boxes are an easy and affordable way of getting your tea stock always full.
Choose from herbal, black, green & oolong teas or, if you prefer, select Adagio choices of popular teas for a box with a wide variety of infusions.
---
Final Thoughts
Whether you're shopping for yourself or as a gift for a loved one, you can't go wrong with a tea subscription box for the tea lover in your life. Luckily, this list gives you the flexibility and variety you need to find something for everyone.
Hot, cold, simple, or unique flavors, there's something for everyone on this hand-curated list. Our choices were made based on the variety, pricing, customer service, and flexibility of each tea subscription service.
If you try any of these monthly tea subscription boxes and tea of the month clubs, let us know what your experiences are—good or bad!
In addition, let us know if we missed one of your favorite tea subscriptions!
And while you are here, check out our other top subscription services lists, for example, our best coffee subscription boxes and clubs for 2022.
From clothes, jewelry, food, and beyond, we're researching and trying them all!
Whether you are looking for a monthly surprise or a casual gift to a loved one, FiveBoxes is always here to help you discover your options and make the best choice!