FiveBoxes is reader-supported. When you buy through links on our site, we may earn a small commission when you click the links at no additional cost to you. Read the full disclosure.
Last updated on Feb 03, 2022
Are you tired of combing your usual grocery store or local butcher shop for fresh, affordable, and delicious tasting meats?
Perhaps the answer is simple: a subscription box. Believe it or not, there are dozens of subscription services shipping high-quality, healthy and top-shelf meats to doorsteps nationwide.
Most of our picks pride themselves on not only the quality but the organic, humanely-raised processes in which that meat is brought to you every month.
Whether you're looking for filets, chicken, specialty pork or sausages, charcuterie items, seafood, or anything in between, there's certainly a subscription waiting for you to subscribe!
We've compiled some of the FiveBoxes favorites, ranging from grass-fed beef to your new favorite fun and fun beef jerky sticks. Enjoy!
"Boneless strip loin steaks, lower in calories, lower in saturated fats and higher in Omega-3s," – Great Wisconsin Steak Co.
The Price:
From $159.99/month
Box Specs:
Wisconsin is often known as "America's Dairyland", as one of their biggest industries is dairy. However, they also produce quality grass-fed steak.
Having in mind the excellence of the state's meat products, Great Wisconsin Steak Co. created a subscription box that focuses on delivering the best boneless beef strip loin steak from the great state of Wisconsin.
They present two kinds of boxes: the Starter Pack ($99.99/month) and the Family Pack ($199.99). The starter pack is a one-time purchase, with 4 pre-seasoned steaks, medium-rare, and flash-frozen to ensure freshness.
The Family Pack also allows you to make a one-time purchase, but if you acquire the brand's monthly subscription service you get a 20% discount. It comes with 7 – 10 steaks of grass-fed Wisconsin beef.
Great Wisconsin Steak Co. assures the quality and sustainability of its farming methods, offering 100% organic products.
"Great tasting craft beef jerky, healthy, all-natural and American made." – LOLJerky
The Price:
From $9.95/month
Box Specs:
Do you love jerky, but you can't find the right authentic American flavors? Are you looking for an affordable subscription box for jerky lovers?
LOLJerky lets you choose how many bags of jerky you want per month, adapting the price to your needs and your devotion to this delicious snack.
They deliver quality beef jerky to your door, with flavors such as sriracha, teriyaki, or even Korean BBQ. Or, if you prefer, the classic grass-fed American beef jerky. Simple, but yummy.
Plus, with LOLJerky you will be supporting local farmers and ranchers. Not only will you be eating healthy jerky, but you will also be giving back to the community that produces and takes care of the cattle.
"Live vicariously through your mouth." – Carnivore Club
The Price:
$39.99/month
Box Specs:
Love a charcuterie board? Who doesn't? That's why we already mentioned Carnivore Club in the best food subscription boxes. They ship high-quality and original cured meats to your doorstep every month.
These meat gift boxes feature a different artisan vendor in each box, so you always know you're receiving something new. Subscribers can choose between a monthly delivery, bi-monthly, or every three months.
Each delivery includes four to six cured meats ready to eat once unboxed, including pepperoni or salami to original types of jerky. Not sure you need all that? There's also a Snack Box available for $24.
"Become a barbeque expert today." – Grill Masters Club
The Price:
$29.99/per month
Box Specs:
Do you want to host the perfect barbeque party? Then you need the right set of tools! Grill Masters Club takes your BBQing to another level, with the best products delivered to your door.
These products include award-winning sauces and spices that will enhance your BBQ flavor.
The box also includes cooking tips, a discount code, the history of each product and even a delicious recipe to combine the products you received!
Grill Masters Club is also a community that incentivizes sharing stories and has a section with BBQ tips and recipes on their website.
"Premium barbeque sauces and rubs delivered to your door monthly." – BBQ Box
The Price:
From $15.95/month
Box Specs:
Do you love lighting up the grill and having a barbeque? Maybe inviting some friends or family, cracking open some cold beers or sodas, and enjoying each other's company?
Looks like the perfect setup, but you need the right ingredients to make the party last.
BBQ Box is the perfect subscription box for barbeque gatherings. With their monthly subscription, you get one sauce or marinade, one rub or spice, one edible item (jerky, snacks, etc.), and one sample package of premium wood chips.
Plus, it also includes a custom recipe that illustrates how to properly use all the things in your BBQ box.
You can also offer this box as a gift for someone that you know is the king of the grill. Enjoy your BBQ and let's get cooking!
"America's original butcher." – Omaha Steaks
The Price:
$80+/month
Box Specs:
You may be living under a rock if you're never had an Omaha Steak, or at least heard of the brand. This meat delivery box has been offering subscriptions for decades (the company began filling delivery orders in 1953, to be exact).
Customers can purchase anything from appetizers to grillable items and entire meals. Contents of actual subscription boxes do vary, but options include grill boxes, steak boxes, and more.
Regardless of which options you choose though, there's no doubt you're getting high-quality meats with Omaha Steaks. There are also options to change up subscriptions to bi-monthly or quarterly if you're looking for a less frequent shipment.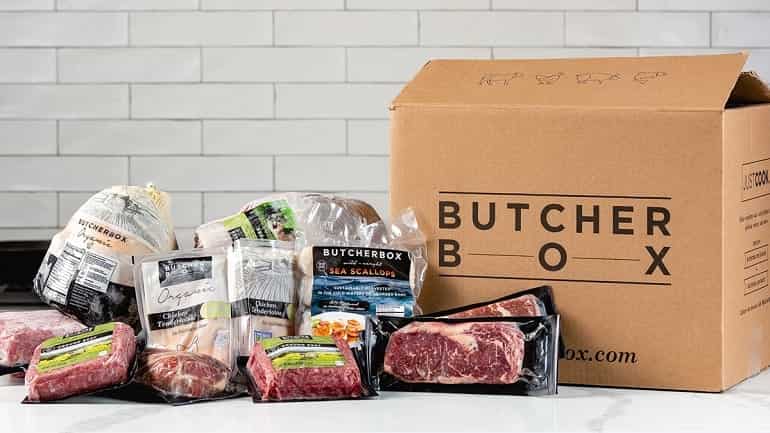 "We make it easy to feed your family the best." – Butcher Box
The Price:
$129+/month
Box Specs:
Butcher Box is proud to offer humanely raised, hormone, and antibiotic-free meats for subscribers.
With Butcher Box, you're only getting high-quality, grass-fed meat delivered right to your door—and the amount of high-quality meats you're getting for the price is pretty impressive.
At its lowest price-point, you'll receive 7 to 10 pounds of free-range organic chicken, beef, pork and bacon, and salmon. There are also options to customize what's included in each box.
For example, you can receive up to thirty meals worth of meat while also choosing the types of meat you'd like included.
Another bonus—choose between four or eight-week deliveries and pause or cancel your membership anytime.
"For the foodie who has eaten it all". – Goldbelly
The Price:
Prices vary
Box Specs:
First off—note this as an amazing gift idea for the foodie in your life. These meat gift boxes are made up of creative, highly sought-after, and handcrafted food collections—think things like specialty barbeque or desserts.
It typically focuses on legendary chefs and creators. Each month, the Goldbelly team curates delivery boxes with items from their favorite items.
This could be a collection of fan-favorite savory items, sweet creations, or more. Goldbelly says their boxes should include enough food for a household of four or more people.
"Focused On Animal Well-Being, Sustainability, Total Quality, And Responsibility." – Snake River Farms
The Price:
$199/three months
Box Specs:
If you're unfamiliar with Snake River Farms, their meat subscription box includes all of the same meats used in their restaurants—that means USDA Prime and USDA Choice meats as well as Certified Angus Beef Brand.
Each month, a different type of month is included in the box; it could be steaks, chops, ribs, or other grillable options.
A Snake River Farms box also allows subscribers to choose between two tiers of meat quality—high or even higher.
"Meat raised right." – CrowdCow
The Price:
$89+/month
Box Specs:
You can feel good about supporting independent farmers when you subscribe to CrowdCow. With CrowdCow, you're getting fresh meat delivered based on your preferences.
The basic $89 subscription will send just ground beef to your door, but you can also opt for the Farmer's Market Reserve for $159, which includes an assortment of beef, pork and chicken.
There are also custom options that are a little more affordable and that feature some of the company's most popular items to choose from. Love a steak? There's also a Steak Lover's subscription.
So, there's bound to be something for everyone, no matter what their meat preferences are with these home meat delivery services. Crowd Cow also specializes in seafood!
All of Crowd Cow's products go along well with red or white wines. Make sure to check our list of best wine subscription boxes to find out the perfect pairing.
"World's finest steaks and chops." – Stock Yards
The Price:
$200/month
Box Specs:
If you're unfamiliar with Stock Yards, the company hails as a family-run retail shop in Chicago. In 2000, the company began shipping its favorite cuts to nationwide customers.
With several subscription services, this meat subscription service offers deliveries every three, six, or 12 months. While services start at that $200/month price point, they range up to $1,300/month depending on your preferences.
Subscribers can receive things like a rack of lamb, steaks, rib eyes, turkey, and more. And while it can be a little bit pricier than other subscription services, the meat is marketed as restaurant quality.
"Highest quality and best tasting meat ever." – Moink
The Price:
$129/month
Box Specs:
Moink's forefront claim is that everything is grass-fed, free-range and antibiotic free.
It also pushes for ethical practices in the meat industry, so you can feel good about what you're getting in your monthly delivery. If you visit their website, Moink's founders share how they're working to change the meat industry and system.
Subscriptions range from $129-$159, including small sampler boxes of beef, pork, and chicken. Boxes are also customizable if you'd like to swap out things like salmon or lamb. It's also easy to cancel your subscription or a monthly box at any point.
"Say hello to the simplest way to get your favorite meat delivered." – Porter Road
The Price:
$70/month
Box Specs:
Porter Road is another meat subscription box that focuses on getting meat from animals that are grass-fed, hormone and antibiotic-free. Due to this, Porter Road says their meat just tastes better.
It's also all dry-aged and hand-cut. As a subscriber, you can choose from burgers and sausages to chicken and sirloins.
There are also more than twenty box add-ons to make your box exactly what you want it to be, for example, pork chops, ground beef, or up to 8 pounds of pasture-raised selections.
"Fresher than fresh." – Rastelli's
The Price:
$99/month
Box Specs:
Rastelli's is a QVC favorite, so you may have heard about it. If you're looking for a meat home delivery service with options, this is the meat box for you.
A subscription to Rastelli's includes items like salmon, steak, shrimp, tuna, sausage, and more.
You can also choose from options such as the brand's holiday box, meatball box, surf and turf, and other themed deliveries. Subscriptions also contain anywhere between eight to 24 servings and can be as frequent as weekly up to six weeks.
"Fresh, portioned and sustainably sourced delivered straight from the dock to your door." – Oceanbox
The Price:
$42/month
Box Specs:
If you are a meat lover, chances are that you occasionally also enjoy a fresh grilled fish.
If you're sick of searching for fresh seafood at your local grocery store, Oceanbox has you covered. Oceanbox sends fresh, sustainability-sourced seafood sealed and packaged right to your door.
With this fish subscription box, you simply choose how many servings you want to be included in your box and how often you'd like your delivery: weekly, bi-weekly, or monthly and your seafood preferences.
Oceanbox offers everything from salmon and snapper to scallops, tuna, cod, and more.
"Farm-sourced, steroid-free and antibiotic-free meat and seafood delivered to your door." – Greensbury
The Price:
$14.99+/a la carte
Box Specs:
Greensbury offers individual items but also offers a 5% discount when you sign up for recurring deliveries. With Greensbury, you're getting fresh meat delivered with a variety of options: the meat "pack" subscription offers combinations of beef, chicken, seafood, bison, lamb, and more.
A cool feature: Greensbury also sells bones for bone broth or you can buy it pre-made. The best part? All of the meat included is grass-fed, humanely raised, and organic. It's also free of hormones, steroids, and antibiotics.
"Hand-curated, top-notch, mouth-watering exotic and gourmet jerky delivered right to your door!" – Perini Steakhouse
The Price:
$125/box
Box Specs:
The bread and butter of the Perini Steakhouse business is the company's beef tenderloin. For those unfamiliar with this Texas hot-spot, this restaurant-quality cut is 2-2.5 pounds and can serve up to 15 people!
Perini markets this as not only a delicious meal or appetizer for the whole family but also a great gift. In fact, this cut of meat was mentioned by the New York Times as a mail-order gift of the year!
"Hand-curated, top-notch, mouth-watering exotic and gourmet jerky delivered right to your door!" – Jerky Dinasty
The Price:
$30+/month
Box Specs:
Love beef jerky? Jerk Dynasty specializes in just that. With specialties in high-protein, low-fat, Keto, Paleo and Whole30 options, subscribers have all sorts of options with this beef jerky subscription.
There are three subscription boxes: the Dynasty Club, which includes 16 to 24 oz. of various jerky, the Fitness Edition, with up to 32 oz. of jerky specifically meant to replenish muscles and provide energy and the Lite Edition.
This is great if you're just looking for a fun way to try new and exciting products. Subscribers can also tack on snack sticks and additional sausages if they'd like.
"I started Farmer Girl to give fellow seekers of good health and clean food unfettered access to food meat EVERY DAY." – Farmer Girl Meats
The Price:
$3.39/half pound + shipping
Box Specs:
Hailing from a third-generation farm in Saint Louis, Farmer Girl Meats is a woman-owned and run business bringing grass-fed beef, pork, lamb and free-range chicken to your doorstep.
Shipping costs vary by destination, but $6 delivery is available for those in the Greater St. Louis area, with local farm pickup also available if you're local!
Once you select what and how much you'd like in your delivery, you can also indicate if you'd like a delivery every one, two, or three weeks, monthly or bi-monthly.
"The best online meat delivery service with the highest quality meats." – Beck and Bulow
The Price:
From $134.99
Box Specs:
Beck & Bulow offers pasture-raised buffalo, beef, elk, wild boar, lamb, heritage pork, poultry, wild catch seafood, and more. They operate a shop in Santa Fe, New Mexico and they also have a subscription box that delivers all across USA.

Simply select from the size and price point you desire and let them do the rest. Their Warrior Box is a great opportunity to try quality meats and discover new favorites from their premium selections.
If there's anything you'd rather not have included in your box, simply let Beck and Bulow know in the comments section of your order. They tailor each box to your tastes and preferences.
These boxes are available for individual orders as well as on a subscription basis if desired.
Final Thoughts
Whether you're cooking for the family, preparing for a celebration or looking for something casual to throw on the grill, there are so many options with all of our picks for the top best meat subscription boxes.
We hope you'll find one that fits perfectly for you and your family, no matter the occasion.
Our choices for these boxes were made based on the variety of meat included, available options and customization, pricing, customer service, and flexibility of each subscription service.
For example, subscription services that allow for adjustments or cancellations–because we know your life is always changing too!
If you try or taste any of these meat subscriptions, let us know what your experiences are—good, bad or anything in-between! In addition, let us know if we missed one of your favorite meat box subscriptions!
And while you are here, check out our other top subscription services lists and reviews, for example, our recent 15 Best Toy Subscription Boxes in 2022.
Don't forget: from clothes, jewelry, food, and beyond, we are researching and trying them all!
Whether you are looking for a monthly surprise or a casual gift to a loved one, FiveBoxes is always here to help you discover your options and make the best choice!