Given the choice, most golfers would prefer to be out on the golf course instead of in a store shopping for golf apparel. The good news is that you no longer need to choose between the two thanks to golf subscription boxes!
There are several excellent golf subscription boxes on the market that will deliver high-quality golf apparel right to your front door on a monthly basis. Simply fill out a short survey about your preferences and style, and expert golf stylists will hand-curate an assortment of different items for you each month, from clothes to accessories.
These are some of the best monthly golf boxes currently available. Now you have one more excuse to hit the golf course this weekend.
FiveBoxes is reader-supported. When you buy through links on our site, we may earn a small commission when you click the links at no additional cost to you. Read the full disclosure.
Last updated on May 1, 2022
"Our mission with each package is to impress you with our quality and leave you excited for the packages yet to come." – Short Par 4
The Price:
$54.95 +$5.95 shipping. Get $10 OFF your first order!
Box Specs: 
Short Par 4 is a women's and men's golf subscription box designed for every type of golfer, as each box is uniquely curated for every customer. Each package contains high-quality items at extremely affordable prices.
There are two different men's box options, and one for women.
The Fairway Membership: $54.95/month
With this membership, you will receive a different number of items each month depending on the value of the products. Typically, you can expect about 3 items per box.
The Executive Membership: $99.95/month
For this price, you will receive more premium items than with the Fairway membership. This membership prioritizes quality over quantity. This is for the golfer that already has a fair bit of golf apparel but is looking to upgrade their closest.
The Magnolia Membership: $99.95/month
This one is curated just for women. This box contains high-quality and fashionable apparel, accessories, and gear that is different every month.
---
 "Helping golfers look, feel, and play amazing." – Mully Box
The Price:
$39/month + free shipping
$199/quarterly + free shipping
Box Specs:
Mullybox is a monthly golf subscription box designed to enhance your golf game. Each month you receive a themed box containing golf accessories and swag. They offer two different subscription services, one that ships monthly and a more premium one shipped once every 4 months.
Mullybox Original: $39/month
Shipped every month, this box includes 6 golf balls and 3-4 golf aids and accessories. Items included range from socks, hats, and magnetic rangefinder straps, to tees and other tools and golf gear.
Mullybox Premium: $199/quarterly
This box is curated by golf experts to provide a luxury feel while on the golf course, and is shipped to you only once every 4 months. Items include premium clothing, gloves, high-end golf balls, and much more. This one makes an awesome gift for the golf lover in your life.
---
"Your one month supply of your favorite golf balls!" – On Par Golf Balls
The Price:
$26.25-$54.73/month + $4.99 shipping
Box Specs:
On Par is a golf ball subscription box that is as simple as it sounds. They only sell golf balls and deliver them monthly right to your door. This is a box for pros and amateurs alike. 
They have a huge assortment of box options depending on what you are looking for. From high-end balls like the Pro V1 and Pro V1x, to assorted mixes of used balls for hugely discounted prices. They have over 10 different box options, but some of our top choices would be:
Mint Condition Titleist Pro V1: A dozen balls for $26.25
Hybrid Box Mint Condition Brand Name Mix: 4 dozen balls for $49.17
Tee Box Mint Condition Callaway Mix: 2 dozen balls for $28.33
---
"Let us handle making you look good. We are experts in golf lifestyle apparel and shoes." – My Golf Locker
The Price:
$100-$1000/month or quarterly + free shipping
Box Specs:
This golf apparel subscription box is one of the most personalized options available. Every box is distinctly different, based on your selected preferences. It's basically like hiring an expert personal stylist.
You will fill out a survey about your style, favorite brands, and what type of items you'd like to receive. You then select how much money you wish to spend on each box, and how often you'd like to receive their "locker". 
They will then hand-select items for you within your budget and ship them out monthly, quarterly, or every other month. 
What's even cooler is you decide what you want to keep, or what you want to return. With free shipping each way, this is no pressure shopping at its finest.
---
"Contents of each Birdie Bundle are valued at 40%-70% off retail!" – Birdie Bundle
The Price:
$50-$100/month + $4.95 shipping
Box Specs:
Birdie Bundle is a men's and women's golf subscription box personalized to fit your needs. Select your interests and box choice and their personal stylists will choose items just for you. No two boxes contain the same items.
There are 3 different boxes available for monthly delivery. In each box you will receive:
Primary Birdie Bundle: $50 each month (3 months minimum)
1 or 2 apparel items, or wearables
Innovative golf accessories
A sleeve of golf balls (sometimes not included depending on the overall value of other items in the box)
Various promotions and discounts
Bonus gift after 6 months of subscription
Combo Birdie Bundle: $71.95 each month (2 months minimum)
2 or 3 apparel items, or wearables
Up to 2 sleeves of golf balls (sometimes no golf balls included depending on overall value of the box)
2 or 3 gadgets/tools/accessories
Bonus gift after 6 months of subscription
Premium Birdie Bundle: $99.95 (3 months minimum)
2 or 3 apparel items, or wearables.
Up to two sleeves of golf balls (sometimes no golf balls included depending on overall value of the box)
Up to 2 gadgets/tools/accessories
Website club access: golf tips, articles, exclusive discounts.
Bonus gifts after 6 months of subscription
---
"Swinger Box was created for golfers passionate about the game."- Swinger Box
The Price:
$40-$69/month + free shipping
Box Specs:
Swinger Box is one of the best monthly golf boxes available for its price to value ratio. They design and manufacture all their own products, so your gear will be one-of-a-kind on the golf course. They strive to curate a subscription box experience that keeps you motivated and excited for that next round of golf.
With two different box options to choose from, this service is ideal for someone looking to try out a new brand. Receive it monthly, or choose just one box to be delivered.
Gear Box: $69. This includes apparel and/or golf accessories.
Essentials Box: $40. This includes utility items such as golf balls, leather glove, and sunscreen.
---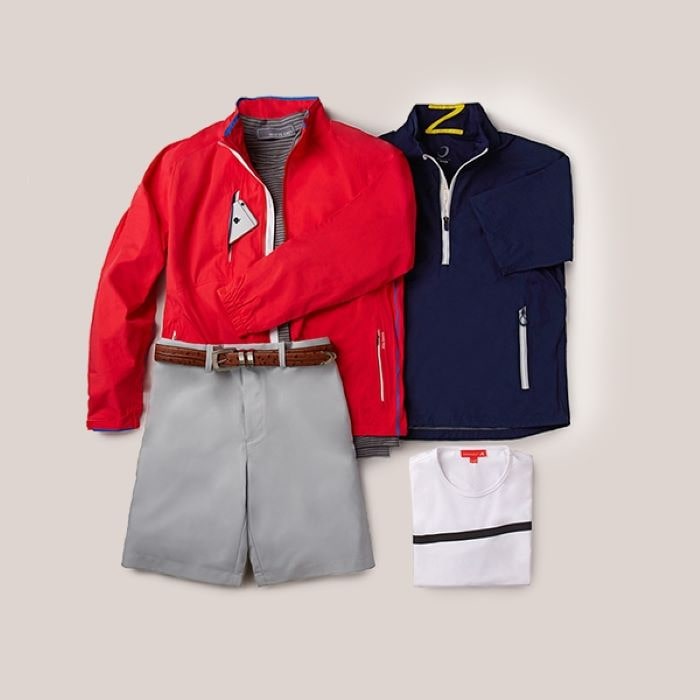 "Save time & look great."- Bogey Box Golf Club
The Price:
Whatever your budget is. Average price per item is $89, but there are plenty of items both cheaper and more expensive. Free shipping.
Box Specs:
Bogeybox Golf Club isn't your average golf subscription box service. They won't send you a random assortment of goodies – they send you exactly what you asked for. Think of it like a personalized clothing service.
You will select clothes and items you wish to receive, such as pants, shoes, or tees, and then their fashion stylists will pick out clothes based on your choices. 
They will then send you your items, and you can try on everything, and send back what you don't want. They offer free shipping both ways, so you don't need to leave the golf course to go shopping ever again!
---
"We've got you covered when it comes to women's golf apparel and want to share our love of the sport with you!"- Tee Up Box
The Price:
$29.99-$59.99/month + free shipping
Box Specs:
Finally, a women's golf subscription box with fashion and style at the forefront. Their goal is to provide high quality women's golf clothing and accessories at affordable prices. If you are looking for a gift for that lovely lady in your life, this one is fantastic.
With two different box options to choose from, there's something for everyone's budget.
The Tee Up Starter Box: $29.99. This includes tees, golf balls, and accessories.
The Original Tee Up Box: $59.99. This includes 2-3 items including one golf clothing item, and accessories.
---
"You can expect only the top styles from the best brands."- 59 Golf Club 
The Price:
$59 to $149 + free shipping
Box Specs:
59 Golf Box is a monthly box club that strives to provide you with high quality apparel and accessories at great value. Every month you will receive multiple items from the top golf brands. No low end, box filler items you will never use.
This is one of the best golf subscription boxes because of the high-quality items they put in each box. They offer box options at the three different price points, allowing you a lot of choice in what you will be getting.
Fairway Plan: 
Receive 2-3 items per box
Retail value over $120
Eagle Plan:
$99 a month
2-5 items per box
Higher end styles
Retail value over $200
Master Plan:
$149 a month
2-7 items per box
Best quality and value
Retail value over $300
---
"Top golf brands at huge discounts" – Golf Gear Box
The price:
$59/month
Box specs:
This personal caddie can help you spend more time on the course and less time shopping. These boxes are filled with the top brands and most recent trends in golf to keep you stylish at the golf course.
There's everything you require to play golf, such as accessories and clothing like shorts, shirts and hats and clubs cleaners.
---
"Perfect box combining goodies, gear, and workouts" – BlissBOX
The price:
$199.99 per box
Box specs:
BlissPODyoga's BlissBOX was designed specifically for golfers looking to have a few essentials as well as some treats and take care of their fitness and health.
The BlissBOX is different by the fact that it contains enjoyable items along with workout equipment and specific exercises. We also include a card with links to exclusive workout plans to ensure you are prepared.
---
"The Golf Coach in a Box!" – JrGolfBox
The price:
$41.95/month
Box specs:
Every box is created to teach children and teens the fundamentals of golf, including how to have fun playing on the fairway, be confident playing the course and enhance their lives fitness, health, as well as their the game of golf by building positive character traits, positive values for life and leadership skills.
---
Final Thoughts
Whether you're shopping for yourself or for a golf enthusiast in your life, ordering a golf subscription box is sure to be a major hit.
There are a lot of different options available when it comes to golf subscription boxes, and it can be hard to choose just one. We compiled our list to make it as easy as possible, and only recommending the best options. Our picks are always based on service, product quality, price, and versatility.
We recommend browsing over our list and choosing the one that stands out to you first. Then try out another one after a few months and see which one fits you best.
Let us know which box you choose first – we'd love to know!
Looking for a gift for a non-golfer? Check out our list of the 25 best subscription boxes for sports fans, athletes, and outdoor enthusiasts. Or check out another one of the numerous lists we've put together over here at FiveBoxes, to make your life easier.