FiveBoxes is reader-supported. When you buy through links on our site, we may earn a small commission when you click the links at no additional cost to you. Read the full disclosure.
Last updated on Mar 18, 2022
Whether you are into flashy jewels, statement necklaces, or just something simple, chances are you are always on the hunt for the next big thing to add to your jewelry box.

That being said, chances are there is a jewelry subscription box perfect for your taste that is ready to be shipped to your doorstep. Not sure what you are looking for?

A subscription box can take the guesswork out of trying to accessorize. Many of these options do all the hard work for you!
Best Jewelry Subscription Boxes of 2022
Check out our picks below—which include something for everybody—for some of the best jewelry subscription boxes currently on the market.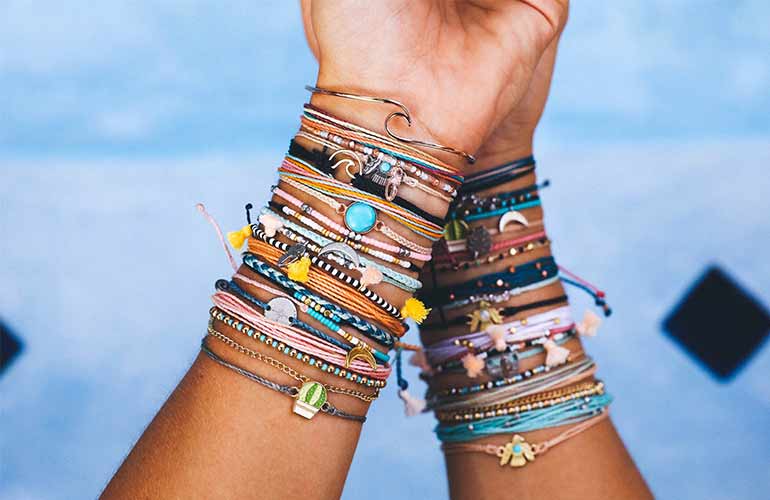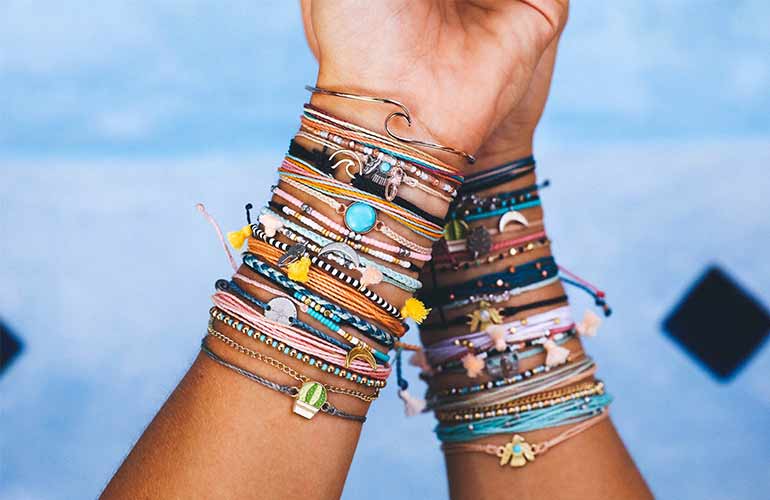 "Our goal: to give back." – Pura Vida Bracelets Monthly Club
The price:
$14.95/month
---
Box specs:
Pura Vida Bracelets Monthly Club is great for multiple reasons. First, the company provides jobs to artisans across the globe, while also donating a portion of profits to charity.
So you can feel good about subscribing to this one! This jewelry subscription box will send you three hand-picked bracelets, with each box being up to a $50 value.
Each piece is versatile enough that it can all be mixed and matched across deliveries and paired with all of the stable pieces you already have in your closet.
---
"This jewelry is heirloom quality, tested and conflict-free." – Silver and Gold
The Price:
$35/month
Box Specs:
Silver and Gold subscription box delivers 2 to 3 pieces of sterling silver and gold for an affordable price. You won't need to spend all your savings on a fashionable gold or silver bracelet anymore.
Wait, but there's more. Silver and Gold has other subscription boxes that you can choose from, including an Allergy-Friendly Box. No copper or nickel and you can choose whether you want silver or gold items.
They also have a ring of the month club, where you can receive a monthly ring with gold, silver and authentic gemstones for only $18.95.
Plus, they offer free shipping for all continental USA and offer a free gift ring sizer!
---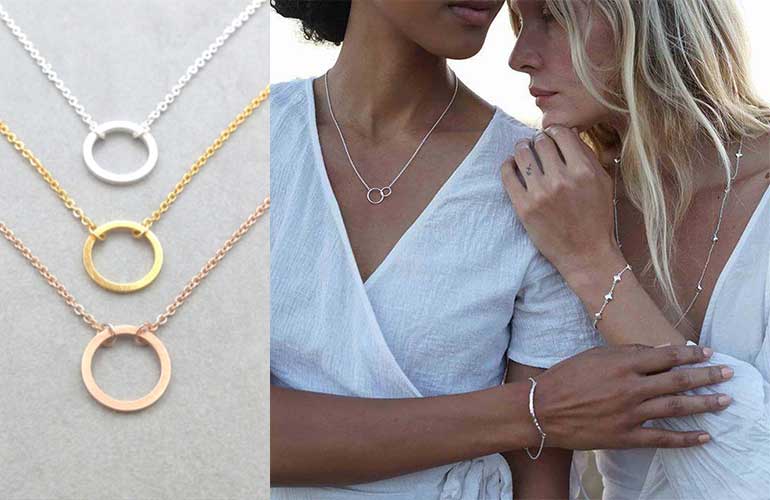 "Go ahead, be picky." – Penny + Grace
The price:
$29.99/month
Box specs:
This monthly jewelry club is entirely customizable. Subscribers can choose whether they prefer gold, silver, rose gold, etc. as well as enter their ring size.
They can also decide if they would like earrings to be included in your box or not. Penny + Grace brands itself as the perfect fit for those who like minimalist jewelry, compiling a box of three coordinating jewelry pieces worth up to an estimated $55.
---
"Made by women, for women." – Emma and Chloe
The price:
$35/month
Box specs:
If you are looking for something original and shiny, look no further than Emma & Chloe! Each month, subscribers will receive a new piece of French jewelry.
This is great for anyone looking to build a collection of high-quality pieces. Each delivery also includes a booklet of style inspiration so you'll never run out of ways to wear your favorite pieces.
This makes Emma and Chloe a great option for the fashionista looking for that next great piece to accessorize her wardrobe.
---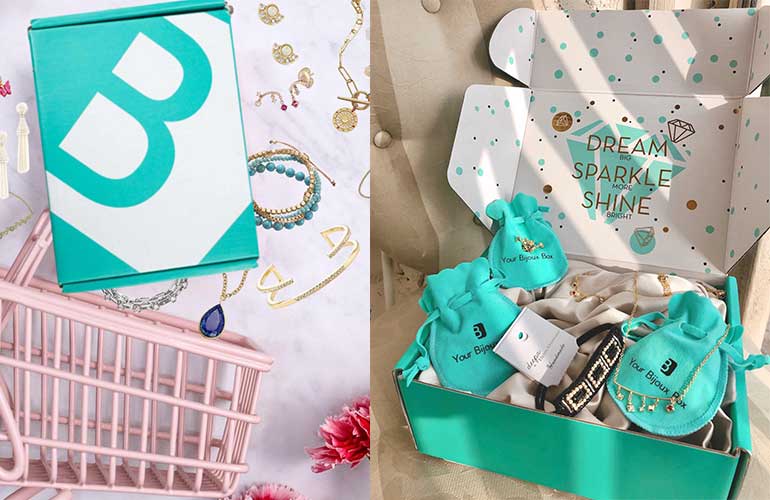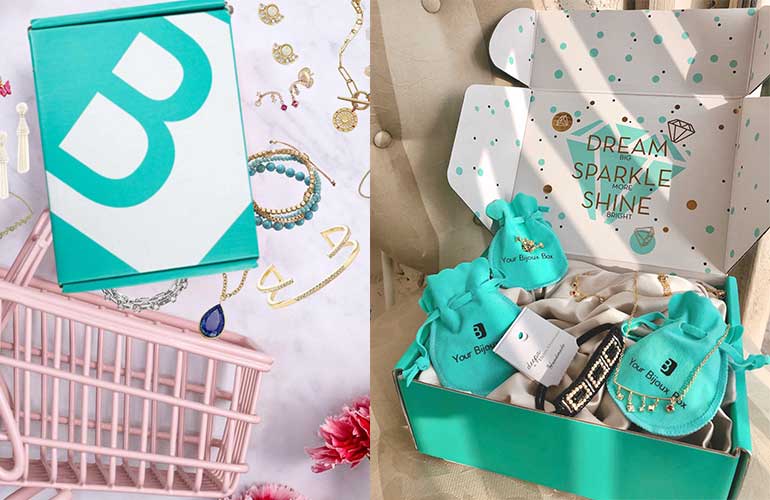 "Find your sparkle." – Your Bijoux Box
The price:
$39.99/month
---
Box specs:
Although not a customizable box, Your Bijoux Box does still offer some great items. Subscribers will receive three pieces of jewelry each month, in addition to a bonus lifestyle item picked by a stylist.
Pieces are featured from a wide variety of brands, so you are bound to be surprised each month with some unique.
---
"Access the Ultimate Jewelry Collection." – Rocksbox
The price:
$21/month
Box specs:
We love the flexibility and variety of items that Rocksbox offers. Each box is curated from all sorts of different brands and allows subscribers to either choose the pieces they'd like to receive or be surprised by a stylist.
For the monthly rate, subscribers can rate these pieces before deciding what they'd like to purchase (and at a discounted price!). Anything you don't want can be shipped back, but by the looks of it, every box is diverse enough that you'll want to keep most—if not all—of the pieces shipped your way.
---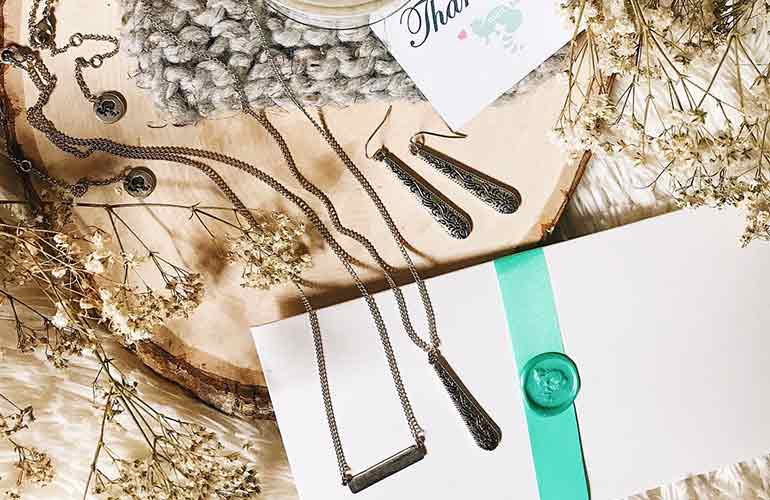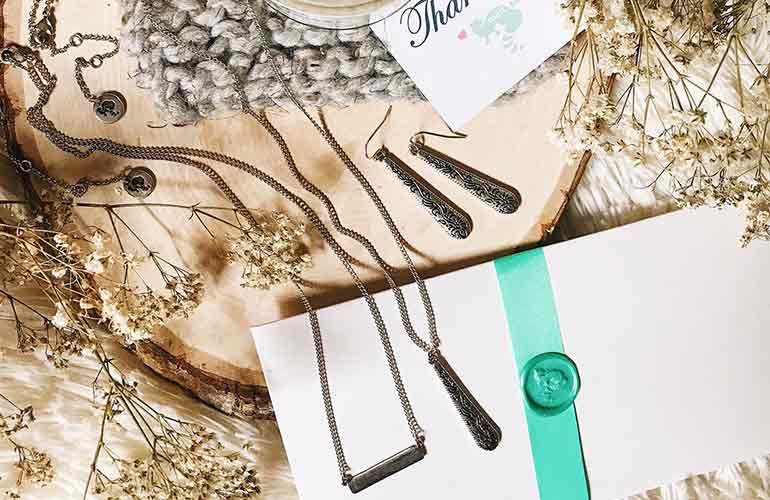 "Jewelry inspired by life." – mintMONGOOSE
The price:
$12.99/month
Box specs:
MintMONGOOSE is a monthly jewelry subscription meant to help you build your jewelry collection with unique, meaningful pieces. There are options for the regular or BLACK box, depending on how many items you'd like to receive.
Each piece, while handpicked, is also meant to be versatile enough to be work to the office, out for a night on the town, and everything in between.
And starting at just $12.99 each month, this is a great affordable option for what you are receiving each month.
---
"Have it all." – Switch
The price:
$29/month
Box specs:
Switch gives you unlimited access to designer jewelry that you can rent-to-buy (with a discount) each month.
Their biggest selling point is this designer aspect, which means you are paying little to nothing in comparison for the pieces you are being sent (and then potentially keeping).
This includes bracelets, necklaces, earrings, and more! Switch allows you to keep each piece for as long as you want, with the ability to switch (clever, huh?) it up when you are looking for something new.
---
"Do you want to try to be a fashion designer or catwalk model? Now you can." – BohemStyle
The Price:
$24.99/month for the first box; $29.99 for the following boxes
Box Specs:
BohemStyle is the first DIY jewelry subscription box on the market. Every month they ship to your door a mystery box with 2 jewelry kits, containing top quality Czech glass beads, so you can make your own jewelry.
Bohemia is a region in Czechia known for its artisanal production of glass or crystal. The components you will receive are already being used by Prada, Louis Vuitton, Christian Dior, Chanel, and other fine brands.
You can use it yourself, gift it to someone you love or even sell it online! If you are worried that it's too much work for you to handle, BohemStyle offers a step-by-step video tutorial to help you craft your jewelry pieces.
Whether you like crafts or simply looking for a new hobby, BohemStyle is the jewelry subscription box for you. Plus, shipping costs are just $5 worldwide!
---
"Not your basic jewelry subscription box." – Rebel Misfit
The Price:
$15/month (plus shipping)
Box Specs:
So, you want a jewelry subscription box, but can't really afford the fancy (and quite pricey) ones? Rebel Misfit Treasure Monthly delivers 3 to 5 jewelry pieces straight to your door, for under $20 per month.
However, what distinguishes Rebel Misfit from other similar subscription boxes is not only the price but how they target different niches. Whether you like goth, vintage, or biker jewelry, Rebel Misfit contains items for different moods and styles.
This is a box for the ones that don't enjoy fitting into the conventional fashion patterns and want to try something different and unique. Rebel Misfit adds personality to your jewelry and accessories box.
---
"Keep your arm party alive, kicking, and changing." – ByLilla

The Price:
$66.00/3 months
$120.00/6 months

Box Specs:
By Lilla is a brand of jewelry specialized in bracelets and hair ties. Every month you receive five elastics, curated by experienced designers. There are accessories that you can use as arm bracelet or to tie your hair together.
Look fashionable wherever you go, with these trendy accessories. Your wrist will never look out of date and you will enjoy collecting these bracelets.
Plus, By Lilla partners with other women owned businesses, adding to the pack an additional surprise!
You can also choose to give this subscription box as a gift if you want to offer it to a loved one who collects accessories.
---
"An affordable, monthly subscription box for hypoallergenic earrings." – EarFleek
The price:
$3.49/month
Box specs:
If you are looking for something affordable and maybe a little quirky, EarFleek is here. With this earring subscription box, Choose from three different subscription types from "Minimalist but Groovy" to "Silly and Fun," and receive a new pair of earrings each month. EarFleek is also allergen-free, so you don't have to worry.
And at $3.49 each month? You can not beat it! You are essentially paying less than you would for the earrings themselves to get the heavy work out of curating your new favorite earring collection.
---
"The brand for trendy gals that want to make some magic." – XIO
The price:
$60/month
Box specs:
Monthly XIO Bag is a monthly jewelry club that typically features three to five trendy accessories in each delivery, with each bag holding up to a $150 value.
Each bag is hand-curated by the company's founder or another jewelry insider, with options to receive sterling silver or gold-plated pieces.
There are options, depending on what sort of subscription you are looking for and your jewelry preferences, so you are bound to love the box sent to your home each month.
---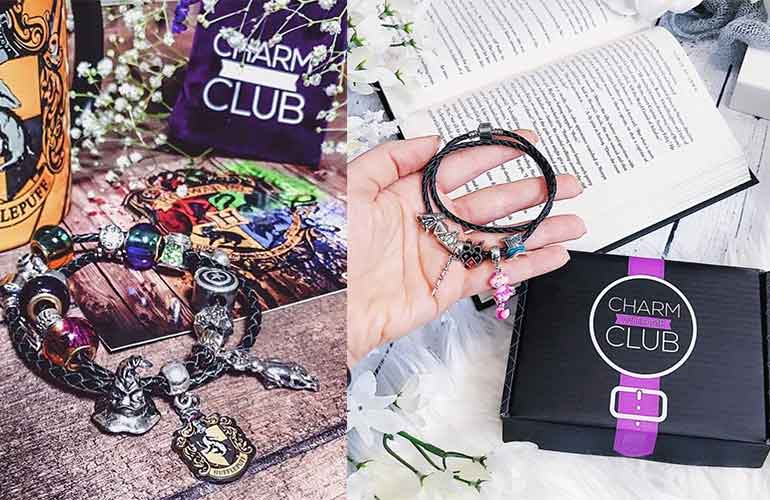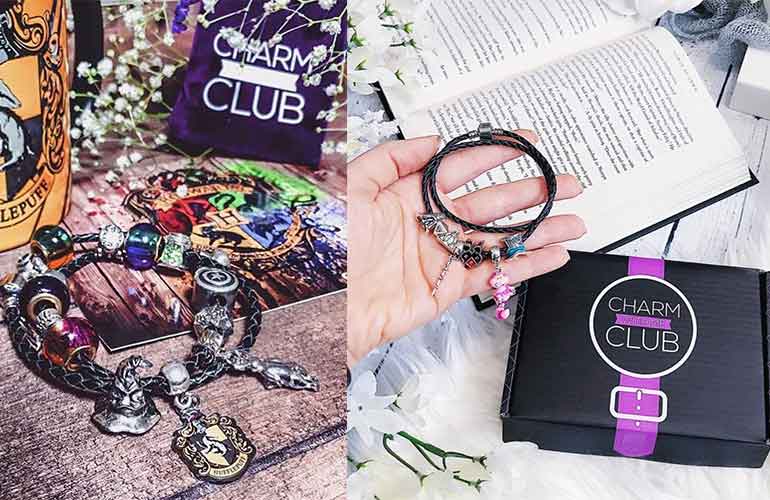 "The single wrap bracelet." – Charm With Me Club
The price:
$18.50/month
Box specs:
Charm With Me Club offers a unique spin on these Pandora-style Fandom-themed charms (FYI-these do fit Pandora and many other major charm bracelet brands).
This monthly jewelry subscription allows you to create your bracelet exactly how you'd like it, sending a starter bracelet and two charms in your first month.
Designs range from Harry Potter to Disney and Doctor Who.
---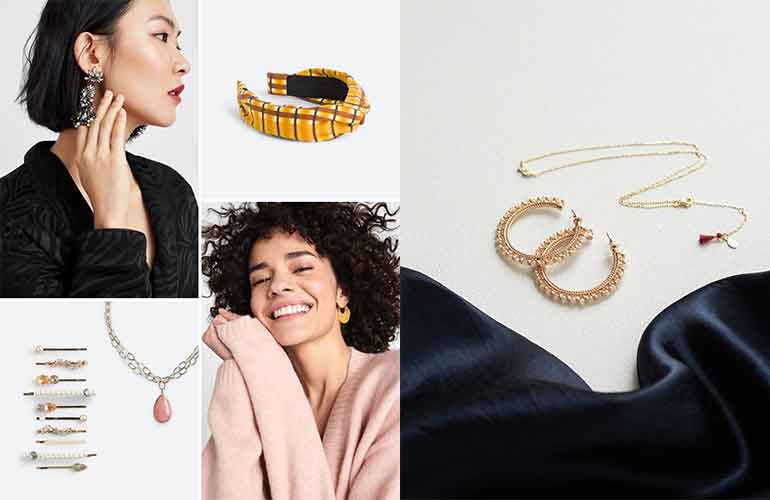 "We'll find style for your life." -Stitch Fix
The price:
$20 styling fee, applied to any items you keep
Box specs:
Chances are you've heard of Stitch Fix. This monthly subscription box comes fully equipped with clothes and a wide range of accessories, all hand-picked based on your personal style quiz.
You can opt to only receive accessories and jewelry if you prefer, and Stitch Fix will send you five unique and exciting pieces each month! You keep what you want and send back anything you don't.
---
"High-quality, dainty jewelry every month." – Glamour Jewelry Box
The price:
$14.95/month
Box specs:
The Glamour Jewelry Box is a monthly subscription that sends three boutique-style jewelry pieces to the subscriber each month—this includes a mix of necklaces, rings, earrings and more.
These items are picked by the site's "fashion experts" and each delivery includes a 30-day-hassle-free return policy on the off-chance you do not love something.
---
"Cute, quality pieces that you probably can't find at your favorite store in the mall." – HangSquad
The price:
$15/month
Box specs:
With a subscription to HangSquad, you'll receive two new pairs of earrings each month. This is a great affordable monthly gift box.
There's lots of room for customization with this – for example, choosing what size earrings you'd like to receive: from itty bitty to bigger-the-better.
When you join, you put together a style profile that will better help HangSquad's stylist handpick the items you'll receive.
---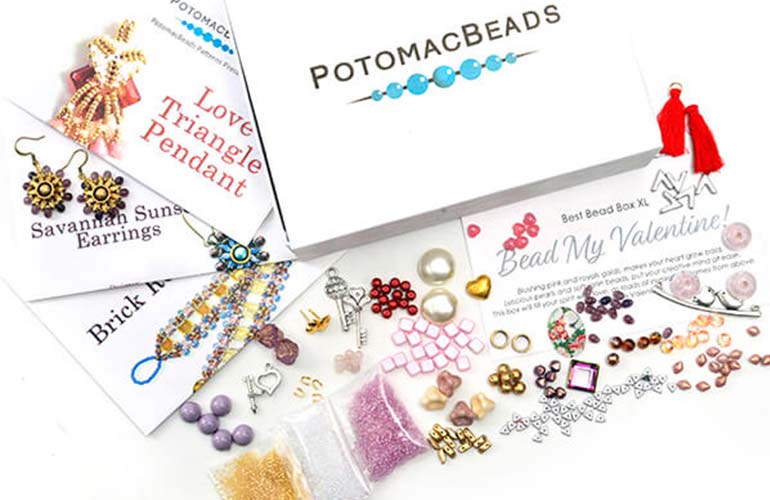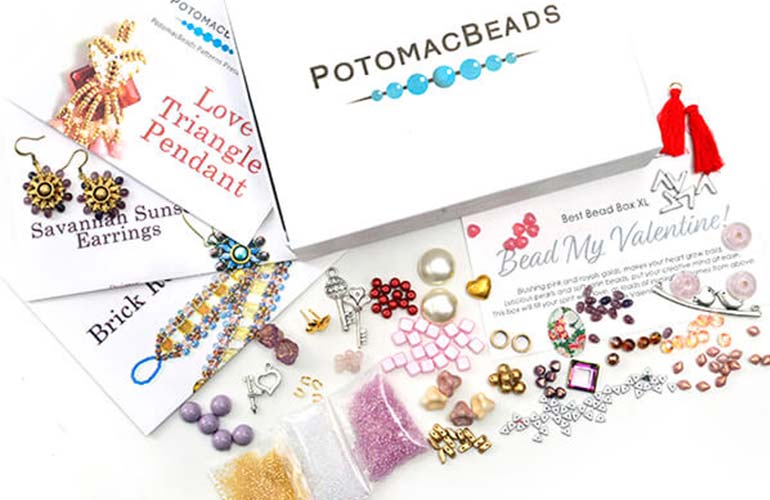 "A website dedicated to fuel your creativity with ideas for the beads in your box." – Best Bead Box
The price:
$25.99/month+
Box specs:
For the creative type, Best Bead Box is a jewelry making subscription box, sending you everything you need each month to DIY your own accessories.
The general box (there are options for an upgraded box) comes equipped with "1 paper pattern and beads you could use with this pattern, and beads to add to your stash and to use on other projects."
In addition, there are options for a monthly delivery, quarterly, bi-annually, and annually.
---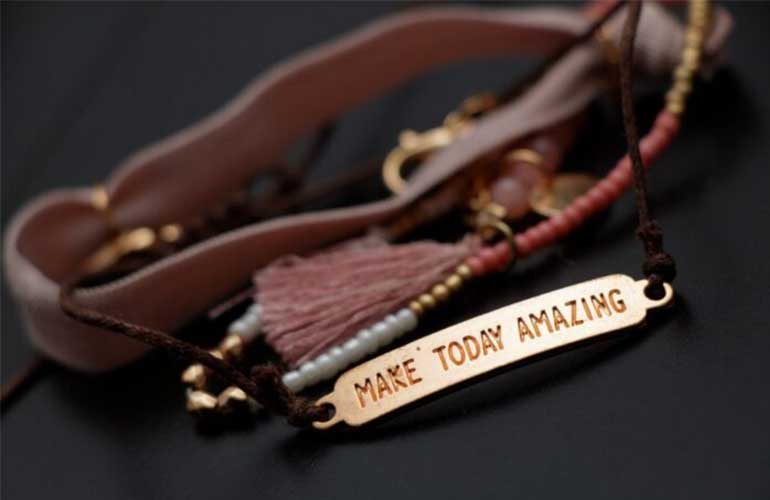 "A wonderful surprise to keep or gift." – Jewelry Tree
The price:
$6.49/month
Box specs:
Jewelry Tree Club puts a fun twist on your normal jewelry subscription service. Each month, you'll receive a unique piece of jewelry and a gift bag, meant to allow you gift the jewelry to a friend if you wish.
This is great if you are picky with your jewelry but also want new monthly pieces. Don't like something? Simply gift it!
---
Their words:
"Simple, versatile, elegant pieces that would complete every woman's personal collection. " – Cate & Chloe
The price:
$19.99+/month
Box specs:
Cate & Chloe is an online jewelry boutique, offering the latest trends outside of their subscription service. This means you know you are getting some great pieces if you subscribe to Cate & Chloe VIP.
As a member, you'll receive 1-3 personalized pieces of jewelry, based on your preferences. You'll also receive a monthly accessory gift, such as nail polish, scarves, etc.
---
"Never miss a shine." – Roselium
The price:
$19.99/month
Box specs:
What we love about Roselium is their efforts to support local jewelers. The brand says they choose to use small local businesses in an effort to bring subscribers variety, value and high quality.
If you don't like something, Roselium offers free shipping and returns. In addition, a subscription will also get you a discount in their online store!
---
"Your very own jewelry of the month club." – Jewelry Subscription
The price:
$25.99/month
Box specs:
This monthly jewelry box offers flexibility, depending on what you are looking for. You can choose from plans that will ship one to three pieces a month, including earrings, rings, bracelets and more.
Each box is valued at $50-$400 each month! Just simply fill out a preference questionnaire when you sign-up.
---
Final Thoughts
We know that everybody loves a beautiful piece of jewelry! Our hope is that our picks might help you choose the perfect jewelry subscription box for you, bringing one or dozen of your favorite new pieces right to your door.

All of the picks compiled in this list were chosen based on price, product quality, versatility, and service. We also looked for originality both in the pieces chosen and in the subscription services.
Please share your thoughts and experiences with any of these products! While you are here, don't forget to take a look at our Top 30 Subscription Boxes for Pets.
And don't forget: FiveBoxes is always here to help you choose the best subscription box for your needs!