We all know it's important for our little ones to read. But it can be overwhelming to decide what books to pick, what will keep them engaged, and at what age they should be reading what. That's why a kids book club subscription service may be a perfect solution for your family! 
FiveBoxes compiled some of our favorite services, meant to bring the fun of reading right to you and your child's doorsteps (because I'm sure your child would also LOVE the idea of a monthly delivery just for them).
FiveBoxes is reader-supported. When you buy through links on our site, we may earn a small commission when you click the links at no additional cost to you. Read the full disclosure.
Best Monthly Kids' Book Clubs in 2022
Their words:
We believe in the life-changing impact of reading! – Bookroo
The cost:
$16.95+/month
Box specs:
If you read our 20 Best Subscription Boxes for Kids, you've heard a bit about Bookroo.
It's a great way to start a child's at-home library, full of educational and fun books they'll want to read over and over again. Bookroo offers subscription services for a wide variety of ages, ranging from 0-3, 3-6 and 7-10.
Named one of Parent's Magazine's Top 10 Subscription Services, Bookroo books arrive in a bright, colorful box, hand-wrapped like a present. It is ready for each child to open easily.
In their words:
Guided by a passion for reading. – My First Reading Club
The price:
$16.99+/month
Box specs:
This children's book subscription offers five distinct age groups, ranging from newborns to preteens. Each box includes 3-4 age appropriate books, as well as an additional activity to keep reading fun. Bonus? Deliveries also include a gift for parents!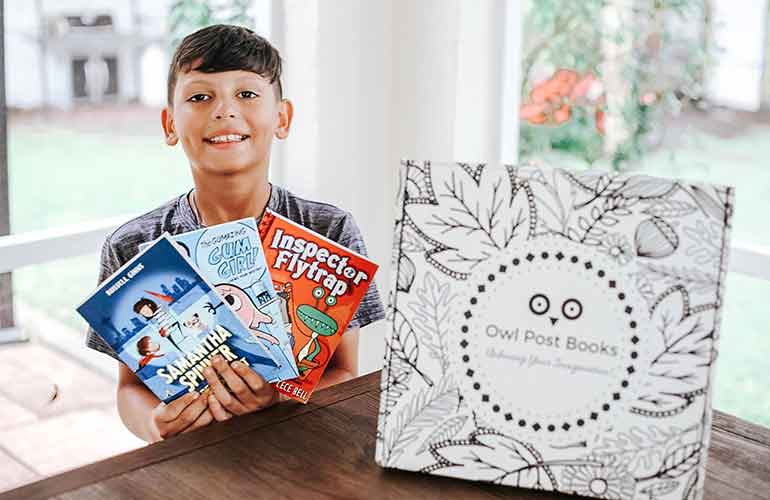 In their words:
Imagination delivered monthly. – Owl Post Books
The price:
$14.99+/month
Box specs:
Owl Post Books grows with your child as they develop their reading skills, starting at the newborn level and, according to their subscription options, up to age 11.
Our particular favorite (because there are a few different options to choose from when subscribing), is the Imagination Box.
It includes three new books each month, with an accompanying toy, and arrives in an interactive box that doubles as a giant coloring sheet! What's not to love?
In their words:
Art meets storytime. – KidsArtLit
The price:
$39.95/month
Box specs:
This monthly subscription box for kids is the work of crafty mothers, looking for ways their children could learn while also being creative. Each month, subscribers will receive an easy-to-follow-minimal mess art project aimed at children ages 3-8. The Spark Membership includes one age-appropriate book along with a related art kit. You can also opt for the Deluxe plan, which includes a bonus activity.
In their words:
The premiere book club for kids. – Literati
The cost:
$9.99/month + cost of books purchased
Box specs:
Literati is unique in the sense that you're only buying for the books you'd like to keep. It's a monthly book club for kids, sending five books each month with the option to buy whichever ones you'd like.
If you're looking to expose your child to as many different types of books as possible, this is definitely the way to go. Each month includes a different theme and an easy, already-made shipment label makes it easy to return any of the books you don't want to buy.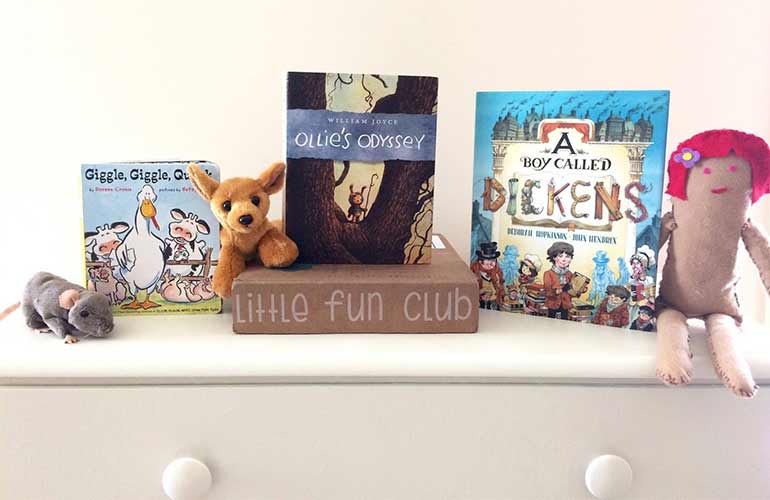 In their words:
Shipping imagination one box at a time. – Little Fun Club
The price:
$16.95/month
Box specs:
Little Fun Club believes imagination is key when it comes to raising a child. That's why books are curated specifically for the little adventurers in your life, with a collection of three different adventure books shipped to your door each month.
Books are aimed at children up to twelve years old. There is also an Adventure Box option, which includes a fun activity to go along with each shipment of books.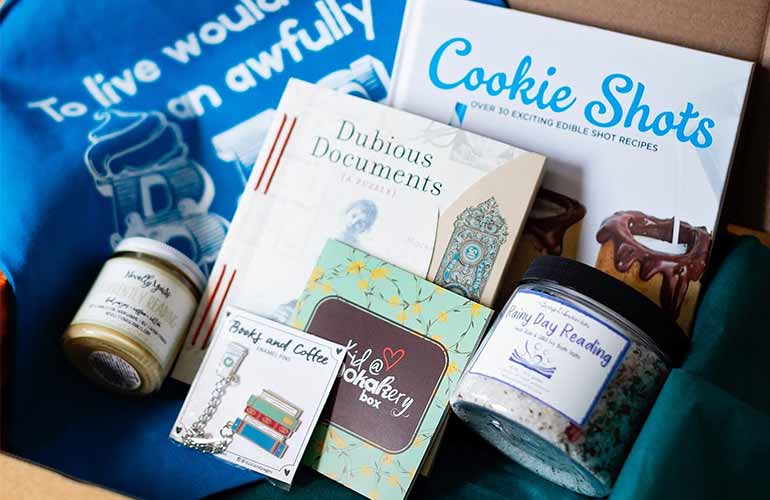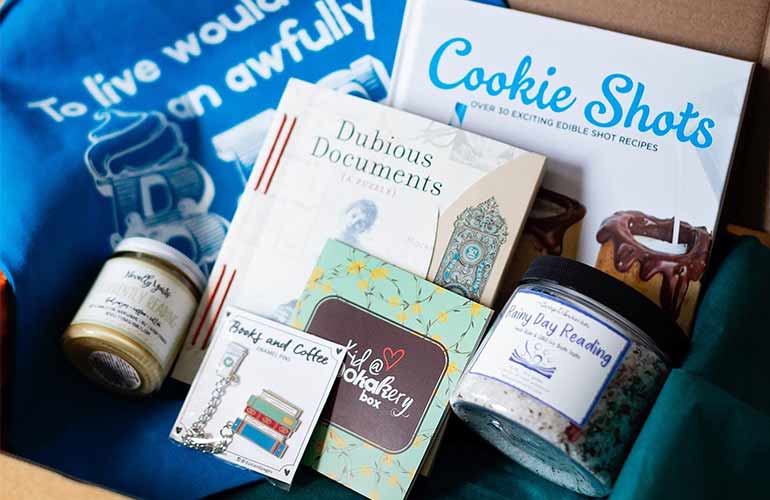 In their words:
Children's books and comfort baking delivered to your door. – Bookakery Boxes
The price:
$29.95+/month
Box specs:
Bookakery Boxes combines your child's love of reading with the fun of baking!
Each box, under the chosen monthly theme, includes a hardcover picture book, a kid-friendly recipe card, baking tools, and accessories and fun activity. This is a great way to keep your kids engaged and broaden their interests both in and out of the kitchen!
In their words:
Bond with your little ones, one book at a time. – LillyPost
The price:
$26/month
Box specs:
Lillypost gives subscribers the option to have every book hand wrapped and shipped, so every delivery feels like a gift for your little readers. Choose from the age range of 0-2 or ages 3 and up.
Each box also includes a few bonus items, such as stickers, to add a little extra excitement each month. We also love Lillypost because, for every purchase, a book is donated to a child in need.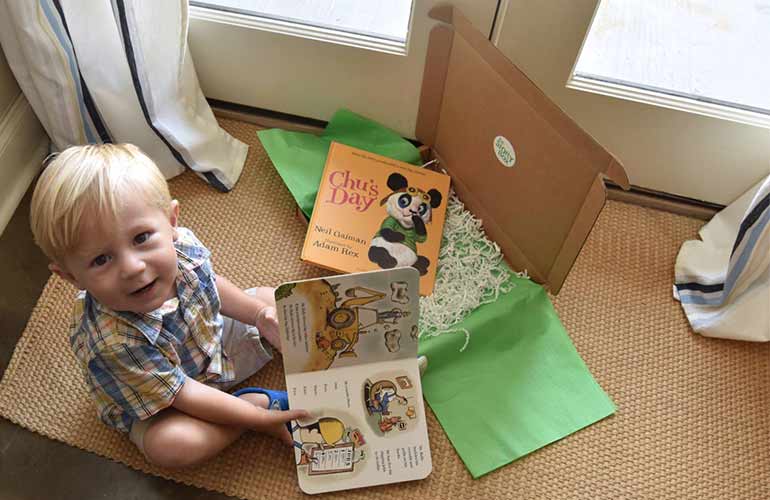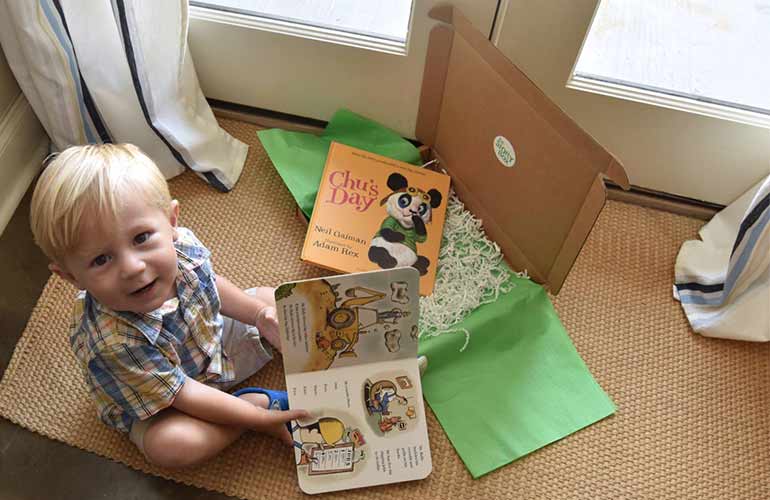 In their words:
Awesomeness in the form of book mail for kids! – The Story Box
The price:
$14.99+/month
Box specs:
Each box in this monthly book club is curated by a nationally-certificated speech-language pathologist, meaning you're getting quality literature for you and your child to read and experience together.
These books can also be used to enhance your child's language skills! Each delivery includes a challenge, which helps direct how parents can use the books to help teach valuable reading lessons.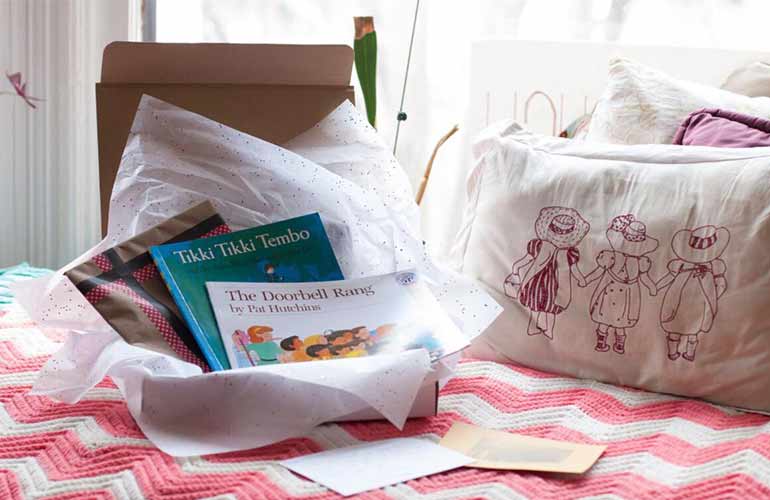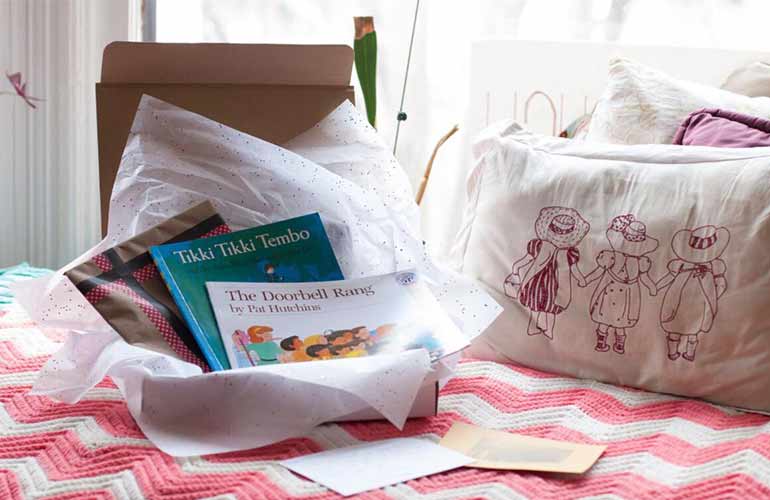 In their words:
Make your child's library as diverse as the world. – Momo's Book Club
The price:
$24.99/month
Box specs:
With a monthly theme, Momo's Book Club is a book subscription box meant to empower and educate.
Past themes include strong female leads or dealing with bullies, meaning parents and kids will have the opportunity to discuss the "tough stuff" going on in the world.
There are options to receive two or three books a month.
P.S.: If your child instead loves sports, take a look at the best sports subscription boxes, where we listed a couple of monthly subscription boxes with the heroes of football, soccer, and more as protagonists.
In their words:
Where children's books and imagination meet. – The Bookish Wardrobe
The price:
$32.99+/month
Box specs:
The goal of the Bookish Wardrobe is to tap into your child's imagination. Not only will your children receive a monthly book to read with this monthly subscription box, but also a unique costume to match the theme or characters in the book.
Each box is geared towards children 3-7 years old and is available for both boys and girls! There are also options for sibling boxes at a discounted price, as well as a Twinning box.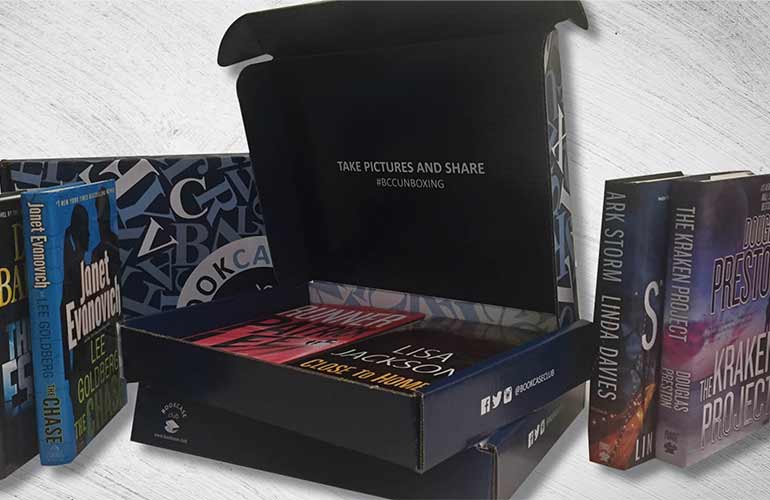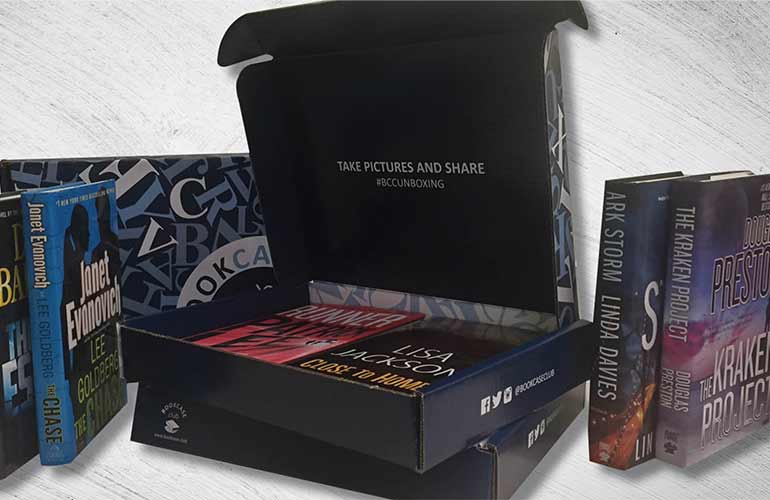 In their words:
You make some quick choices, we do the rest, – Kids BookCase Club
The price:
$9.99+/month
Box specs:
With so may age ranges to choose from, you're bound to find something perfect for any of the little ones in your life. With Kids BookCase Club, book subscriptions are available from 0-2 years, 2-4 years, 5-6 years, 7-8 years and pre-teen.
Each case comes with three books, handpicked to inspire your child's imagination. You can also choose to customize subscriptions based on gender if preferred.
In their words:
A library in your pocket. – ReadingIQ
Price:
$7.99/month
Box specs:
ReadingIQ is putting an entire library right at your child's fingertips. There are thousands of digital books and educational materials available through your computer, tablet or phone.
Choose from classic stories and children's books, original educational stories, and more. If your kid can't take its hands off the iPad or tablet, it will be easier to convince him or her to read!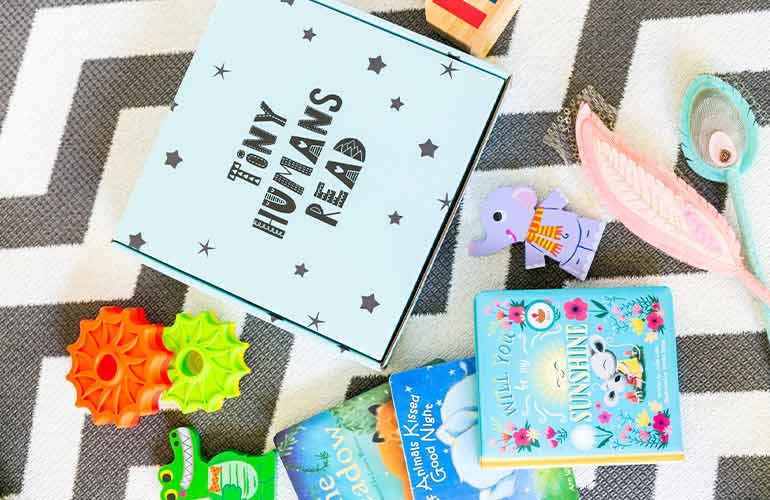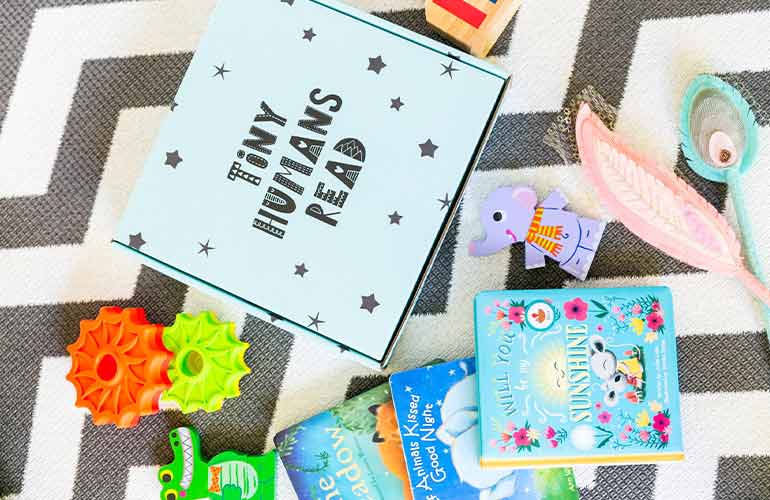 In their words:
Less screen time, more story time. – Tiny Humans Read
Price:
$22.99/month
Box specs:
Tiny Humans Read says its goal is to get kids hooked on reading. With this monthly book subscription, subscribers will receive a collection of "whimsical" stories, meant to let their imagination run wild.
There are three subscription options: the board book box, the picture book box, and the sibling box. We also love that Tiny Humans Read donates 1% of its profits to early literacy and children's tutoring programs.
In their words:
Fuel curiosity and reading confidence. – Epic! Books
The price:
$9.99/month
Box specs:
Epic! Books are a kids eBook subscription, offering unlimited options for kids twelve years old and under. The service is able to offer suggestions, based on preferences, interests, and reading levels, making it easy for parents or children to easily find something new to read.
In addition, each subscription will track reading progress, time spent reading, and more. Epic! Books are available on both IOS and Android.
Final Thoughts
We hope our picks might help you find the perfect way to introduce or cherish your child's love for reading. Our picks were compiled and chosen based on price, subscription and book quality, flexibility and service.
Please share your thoughts and experiences with any of these products! While you're here, don't forget to take a look at our 20 Best Subscription Boxes for Kids.
FiveBoxes is always here to help you choose the best subscription box for your needs!