FiveBoxes is reader-supported. When you buy through links on our site, we may earn a small commission when you click the links at no additional cost to you. Read the full disclosure.
Last updated on Jan 31, 2022
Whether you're drinking alone or with friends and family in your home, having a glass of wine is always a delightful experience, and a wine subscription box will make sure you never run out of vino to sip on.
However, as our long list of options proves, there are so many wine subscription boxes being offered to consumers. So which is the right one for you?
After reading this post if you still don't know which wine club to choose, make sure to check out bestwineclub.com for more in-depth reviews.
Take a look at FiveBoxes list of the best 28 favorite wine subscription boxes. Cheers!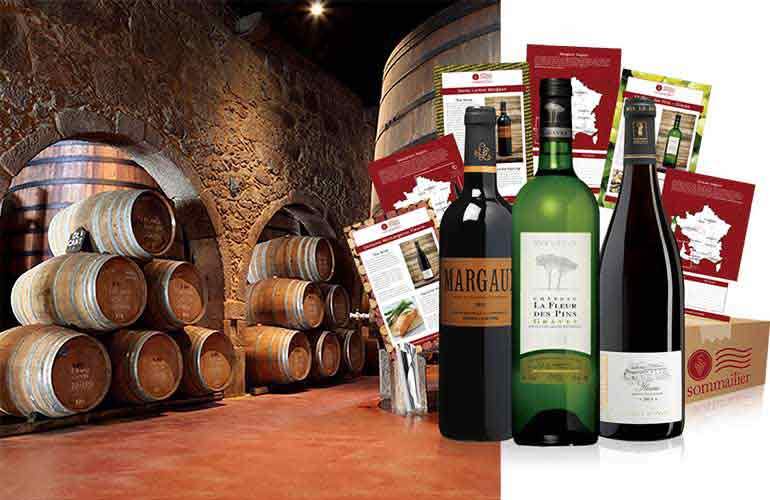 "Remarkable wines from the hidden corners of France." – SomMailier
The Price:
C'est la vie – $99.00 per quarterly shipment
Rendez-Vous – $192.00 per quarterly shipment
Box Specs:
France is well known for the quality of its wines. However, they are also known for having some of the most expensive and fancy bottles, not available for every wallet.
SomMailier club is a French wine club that provides quality wine for an affordable price.
The curators of this club work with smaller producers who always offer something unique while maintaining the exquisite quality which French winemakers are famous for.
The club was created by a passionate wine-loving French family, from Bordeaux.
SomMailier club delivers to your door every quarter and allows you to choose between two different subscriptions: the "C'est la vie" pack comes with three bottles per shipment. For less than double the price, you can get six bottles with the "Rendez-Vous" subscription plan.
You can also choose to offer one of these subscriptions as a gift to someone else. Who wouldn't love to receive a couple of quality bottles of delicious French wine as a present?
"Personalized wine service tailored to your taste, budget and lifestyle." – Revel Wine
The Price:
From $52.00/month (4 bottles)
Box Specs:
You don't need to overspend to get award-winning wines delivered at your doorstep every month. Revel Wine offers a quite affordable subscription service with wines sourced from all around the world.
The best part about Revel Wine is the full customization that they offer. If you filter through the options in their page you can have the wines adapted to your tastes, depending on how eager you are to spend on your subscription.
You can choose your preference for organic or sulfite free wines. If you fancy white wine, red wine or both, if you want 4, 6 or 12 bottles per delivery and finally whether you want your subscription to be monthly, bimonthly or trimestral.
Right now Revel Wine offers a $20 discount in the first order over $50 using the code TRYREVEL20. Definitely worth a try!
"Sommelier curated boutique wine selections." – VeroVino Club
The Price:
$99.00 every month
Box Specs:
VeroVino Gusto is famous for curating and selling rare wines and foods from artisans around the world. All the producers they collaborate with are passionate about their land and the sustainability of their businesses.
Their monthly subscription club is pretty straight forward: you get 3 bottles each month and the final price ($99 USD) already includes shipping.
Besides the incredible wines, the subscribers also receive notes, with advice on which foods pair well with them. You can also learn about the background of the artisans behind the wine and other stories from the sommelier founder.
From the farm to the glass, VeroVino Club is one of those subscription services that combines quality with a reasonable price.
"Discovery delivered to your doorstep." – Wine Awesomeness
The price:
$49/month
Box specs:
The mission, according to Wine Awesomeness, is to track down great wine crafted by winemakers around the world. That's why each monthly delivery includes delicious wines with stories and experiences to discover with every bottle.
This subscription service gives subscribers access to digital content, including tasting notes and amazing recipes to help you pair your favorite wines with a great meal.
"Sip back, unwind and discover." – Vine Oh
The price:
$59.99/month
Box specs:
Vine Oh is a great wine enthusiast gift! With this subscription, you're getting an awesome collection of items for the wine lover in your life.
At $59.99 per month, you're getting a great value with items totaling over $85 in each shipment.
This includes your choice of reds, whites, a mix or sweet wines.
"The original wine of the month club." – Wine of the Month Club
The price:
$39+/month
Box specs:
Wine of the Month Club is, as you can guess, the original Wine of the Month Club. A lot of what we see today with all of these different digital wine clubs stems from what's being done with this wine subscription.

This company has been shipping wine bottles since 1972. With subscription options ranging from two bottles per month to twelve per month, there are also all sorts of preference options—classic, California or Bordeaux.

"The easiest way to keep your wine rack stocked without having to lift a finger." – 90's Plus Cellars Club
The Price:
From $50/quarterly
Box Specs:
Imagine receiving quality wines from California, Italy, New Zealand, and other great wine locations around the world without needing to go to any fancy stores.
Travel around the world's finest vineyards without overspending. 90's Plus Cellars quarterly club sends you 3 fine bottles for a reasonably price of $50 USD. You can also choose their 6 and 12 bottle packs if you are an authentic wine enthusiast.
This subscription club has already been recommended by Oprah Magazine, Forbes and Food Network. A champion of reviews and a must-try subscription for wine lovers.
"The world's best organic, non-GMO, non-toxic, and sustainable brands." – Thrive Market
The price:
$60/4 bottles
Box specs:
If you are familiar with Thrive Market, you know the company prides itself on only offering the cleanest of products—that includes wine.
With this subscription, you can filter all of the wine offerings in multiple different categories including organic, no sugar or sweeteners added, pesticide-free, and by region or varietal.
Once you know exactly what you're looking for, you can also decide just how much of it you'd like and then select your own bottles—there's no surprise here.
There are some great starting points, including Thrive's Clean Wine Starter Pack. You can also build your own case, whether it be half or a full case worth.
"Discover the best way to enjoy great wine." – NakedWines
The price:
$39.99+/6 bottles
Box specs:
While NakedWines isn't a traditional subscription service, the company does offer some great options if you're a wine lover and looking to get some great choices delivered to your doorstep.
For wine lovers, NakedWines is a relatively inexpensive way to get great and unique wines sent to your door. The website features all sorts of up-and-coming winemakers, giving you the exclusive ability to browse what could be your new favorite!
These winemakers propose a wine, it gets approved and NakedWines gives them an advance to produce it. Again, this is not a traditional monthly subscription, but rather an opportunity to buy directly from the site itself and save on some great and unique bottles of wine.
"Our mission is to inspire a new generation of wine lovers." – Bright Cellars
The price:
$80/month
Box specs:
Bright Cellars starts with a quiz meant to help set you up for a perfect wine subscription.
Those results are then used to generate a shipment of four bottles set to be delivered right to your door.
Bright Cellars does allow for some swaps, meaning if you don't love the bottles curated for you, you can request it to be replaced.
"Unbox, uncork, enjoy." – Winc
The price:
$39+/month
Box specs:
Winc started in 2012 with hopes of making wine more accessible and easier to enjoy. With this monthly wine club, Winc offers hundreds of unique wines, regardless of your tastes.
When you join, you take a short quiz that helps to understand not just your wine preferences but your taste preferences as a whole (for example, do you prefer sweet or savory?) This means your monthly delivery will be personalized to your tastes and individual palette.
A great feature of Winc is that your subscription allows you to rate the wines included in your delivery, so your subscription will always be tailored to what you like and don't like over time.
A wine club subscription typically includes three bottles, but there is an option to add additional bottles at an affordable price from Winc's own virtual wine cellar.
"Firstleaf gets better with every box." – Firstleaf
The price:
$90/month
Box specs:
Firstleaf is passionate about connecting people to wine. With this wine subscription service, Firstleaf uses what the company claims as its industry-leading, patent-pending technology to pair you with wines meant for just your palate.

Once you answer a few short questions, Firstleaf builds you a custom tasking profile meant to generate your monthly boxes.

This wine subscription will also allow you to rate your wines, meaning your profile is constantly tasting and evolving.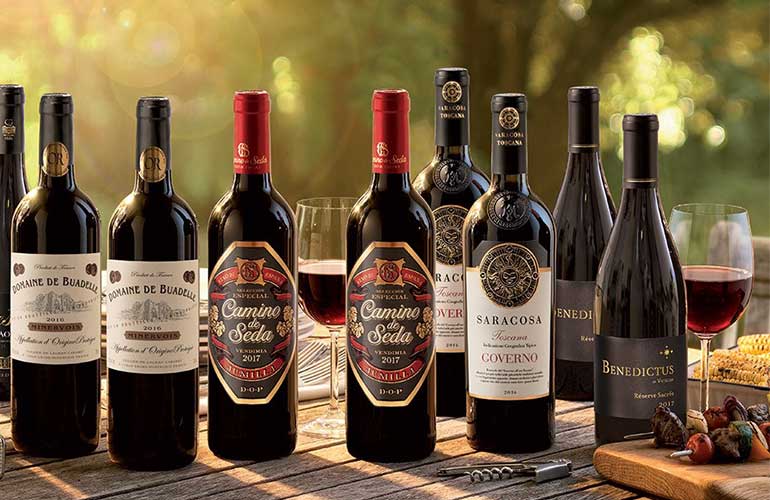 "The smartest way to enjoy fine wines." – WSJ Wine
The price:
$69.99+/month
Box specs:
With two different subscription options, this monthly wine subscription is a great option for any wine lover.
First, WSJ Wine offers The Discovery Club: you'll taste curators' top 12 wines (your choice of reds, whites, or a combo).
With the Premier Club, you can receive special access to WSJ's highest recommendations and some of the world's most sought-after wines.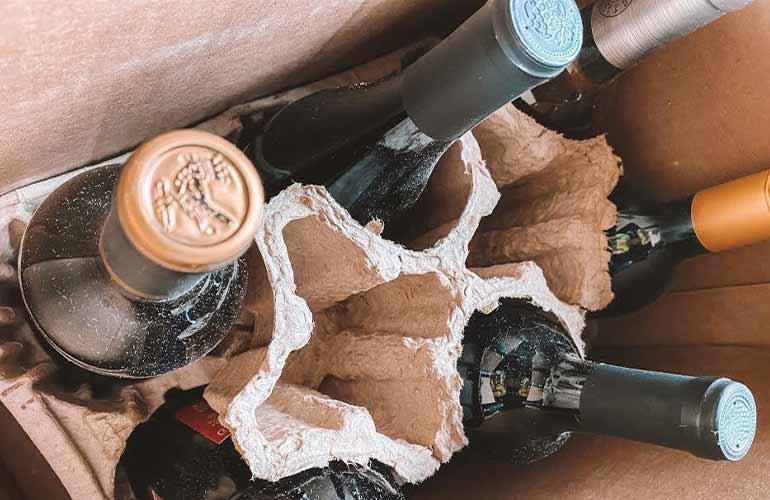 "The only wine club that makes wine a matter of taste: yours." – Tasting Room
The price:
$39.95/month
Box specs:
A subscription with Tasting Room offers just that: a tasting. When you sign up, you'll receive six different mini bottles of wine, which allows you to then pick and choose your favorites.
This will allow the Tasting Room to build your personalized wine profile, including the styles, blends, and flavors you prefer. Each shipment will then include a box of full-sized wines based on your chosen preferences.
The best part? You'll share your thoughts on each shipment, meaning as your tastes change, so will the bottles included in your subscription.
"Access to great wines, transparent pricing and sensational customer service." – Splash Wine
The price:
$59+/month
Box specs:
Discover delicious wines from winemakers from around the world with a subscription to Splash Wine.
This monthly wine delivery includes bottles that appeal to everyone—from novice wine tasters to experts.
"A flight of wine delivered to your door." – VINEBOX
The price:
$79/quarter (options for monthly subscription)
Box specs:
Looking for a gift for that wine lover in your life? Look no further than VINEBOX.
The great thing about this wine delivery subscription is that you'll love being able to try before you purchase.
Subscribers will first fill out a questionnaire about their wine preferences. Then, every quarter, you'll receive nine wine testers (think travel size). After that, you can order full-size bottles of your favorites.
This is a great option for cautious wine lovers who want to be confident in what they're ordering.
"We make buying ultra-premium wines easier." – Empathy Wines
The price:
$60/month
Box specs:
With Empathy Wines, you'll get a monthly delivery of three delicious wines hailing from California.
Whether it's a high-quality blend of White, Red, or Rose, you're getting an incredible value shipped directly to your door from this Northern California winery.
"A glass of real wine, in a bottle." – Usual Wines
The price:
$80/month
Box specs:
A usual wine subscription allows you to choose between either 12 or 24 bottles of sustainably farmed, minimally intervened, small-lot wine. With this selection, it's quality over quantity.
There are also options to choose between Brut, Red, Rose or you don't have to choose and let curators of this monthly wine subscription box choose for you!
"This selection is planned to give you a comprehensive introduction to our cellar" – Martha Stewart Wine Co.
The price:
$49.98+/shipment
Box specs:
We all know the infamous Martha Stewart and her Wine Club is nothing short of as fabulous as the rest of her brand.
When you subscribe to this monthly wine subscription, you're receiving wines that have been hand-picked by Martha Stewart.
You'll also have access to exclusive serving, pairing and entertaining suggestions. There's flexibility on whether you'd like to receive your shipment every six or eight weeks, with your preference of reds, whites or a mix.
"Luxury sparkling wines to your doorstep through an affordable bi-monthly membership." – The Sip
The price:
$55/bi-monthly
Box specs:
Love some bubbles? You're going to love this monthly wine enthusiast gift. The Sip brand comes from founders Erica Davis and Catherine Carter, who started the company to make trying new champagnes a little easier.
Each month, you'll get two or three mini bottles of champagne or sparkling wines sent right to your door.
There are certainly some staples in their collection, but you'll also get some new and up-and-coming standouts you've likely never heard of. This is also a great gift idea!
"Helping artisan wineries share their handcrafted wines." – California Wine Club
The price:
$39.95+/month
Box specs:
When you join this monthly wine club, you're getting handcrafted, boutique, high-quality wines from around the globe. California Wine Club has a master team of curators and wine experts.
There are actually five club levels to choose from, ranging from the Premiere level to aged packages that focus on particular regions of the world.
"Discover the perfect wine for every weeknight dinner." – Blue Apron
The price:
$66/month
Box specs:
You may be familiar with Blue Apron, popular for its delivery of meal kits.
Nonetheless, did you know the company launched a wine subscription back in 2015, perfect for wine lovers who want to be able to pair their favorites with a nice meal?
Each bottle in this monthly wine box comes with tasting botes, pairing tips and a story behind the blend or winemakers.
You don't have to purchase a meal kit with this wine subscription, but it's certainly an option and a great way to spice up your weeknight meal!
"The Best Wine Club on the Planet. Period." – Gold Medal Wine Club
The price:
$40.95+/month
Box specs:
Gold Medal Wine Club has an option for any wine lover. With six different wine clubs, subscribers can choose the package that makes the most sense for them.
These range from the Gold Club all the way up to the Diamond Club. Subscribers can also choose from monthly shipments to every-other-month to quarterly.
"Award-winning wines, no corkscrew required." – WineSociety
The price:
$39.20/quarterly
Box specs:
WineSociety is a unique experience and a great way to incorporate wine into your picnic, outdoor adventures or any on-the-go experience.
The company makes canned wine a thing; so you can sit back with a great glass of wine wherever you are.
You'll take a short quiz when you sign up and, from there, you'll have three cans of Napa-sourced blends per quarterly shipment.
"Our clubs offer a range of ways to stay well-stocked with great wine and truly learn how to "Drink Like a Somm." – SommSelect
The price:
$99+/month
Box specs:
If you're new to the wine-subscription world or you're looking to gain some basic wine knowledge, this is a great option. SommSelect is curated by a master sommelier.
Each delivery is themed, meaning it may focus on one particular wine region or maybe a certain variety of grapes. You'll really understand the quality of the grapes and the science behind wine curating, pairings and more.
"Some of the best natural wines available in the United States." – Primal Wines
The price:
$85+/month
Box specs:
As one of our picks as a best wine subscription, Primal Wines prides itself on offering low-intervention, natural, low or no sulfites.
This monthly wine club offers monthly shipments of 3, 6 or 12 bottles, including whites, reds or a mix of both.
"Your personal concierge has arrived." – Plonk Wine Club
The price:
$110/month
Box specs:
Coming in at $110 per month, Plonk Wine Club is one of the pricier options for wine enthusiasts. However, it's worth the price if you know what you're looking for.
This monthly wine delivery service offers organic wines made without herbicides, pesticides, fungicides or any added sulfites.
When you subscribe, you have a choice of reds, whites or mixed wines in either four or 12 bottle shipments.
Each box also includes pairing notes and recipes for each bottle.
"A small, family-owned business in Woodinville, Washington Wine Country, and we are great wine enthusiasts ourselves." – Cellars Wine Club
The price:
$29+/month
Box specs:
Cellars Wine Club offers an astounding twelve different wine clubs that subscribers can switch between, making it one of the most versatile clubs on our list.
When you subscribe to this wine of the month club, Cellars Wine Club's team will pick and choose the wines for each club.
Ultimately, these experts are pulling from top tier wines, catering to specific tastes and wine categories.
Final Thoughts
Don't forget—some of these great subscriptions aren't just a perfect match for our readers, but also make a great gift for the holidays!
Our choices were made based on the variety, pricing, customer service and flexibility of each wine subscription service.
If you try any of these subscription boxes or wine of the month clubs, let us know what your experiences are—good or bad! In addition, let us know if we missed one of your favorite wine subscriptions!
And while you are here, check out our other top subscription services lists, for example our Best Tea Subscription Boxes and Clubs for 2020. From clothes, jewelry, food, and beyond, we're researching and trying them all!
Whether you are looking for a monthly surprise or a casual gift to a loved one, FiveBoxes is always here to help you discover your options and make the best choice!