FiveBoxes is reader-supported. When you buy through links on our site, we may earn a small commission when you click the links at no additional cost to you. Read the full disclosure.
Last updated on Feb 03, 2022
We all love our furry friends — so why not make one (or more) of our favorite monthly pet subscription boxes part of your routine?
Whether you're looking to pamper your pooch or keep your home stocked with all sorts of pet essentials, we've compiled some of the best subscription boxes on the market for your four-legged family members.
From treats to toys to pet parent goodies, check out FiveBoxes list of 30 best pet subscription boxes of 2022.
Best monthly dog subscription boxes in 2022
What they say?
"For the health-conscious dog lover." – WagWell Box
Pricing:
$34/month
Box Specs:
We know you love your dog and want him or her to have the healthiest life possible. With that in mind, WagWell created a puppy subscription box that will bring you organic treats and safe toys for your companion.
Every month you will receive 2 full-size bags of organic treats, made without additives and conservatives, as well as 2 bully sticks for your buddy to chew on!
Plus, you'll receive a dog toy that is dog-friendly, and lasts for a long time (completely dog-proof!).
Oh, and did we mention you also receive a dog bandana? For your pup to look stylish on all those 'ruff' days!

Last but not least: WagWell Box has free shipping for all US orders!
What is it about?
"The first GIANT quarterly box for dogs." – BoxDog
Pricing:
$22+/month
Box Specs:
Boxdog is a quarterly dog subscription box that sends handmade treats, toys, vegan skincare, dog clothes and accessories.
The subscription allows the subscriber to customize all or some of the items they'd like to receive, meaning there are options for any pup–no matter their size, temperament, energy level, etc. According to BoxDog, each box is valued at over $125.
With no commitment, subscribers can skip a box at any seasonal point. In addition, there are add-on options at reduced rates for extra treats or toys.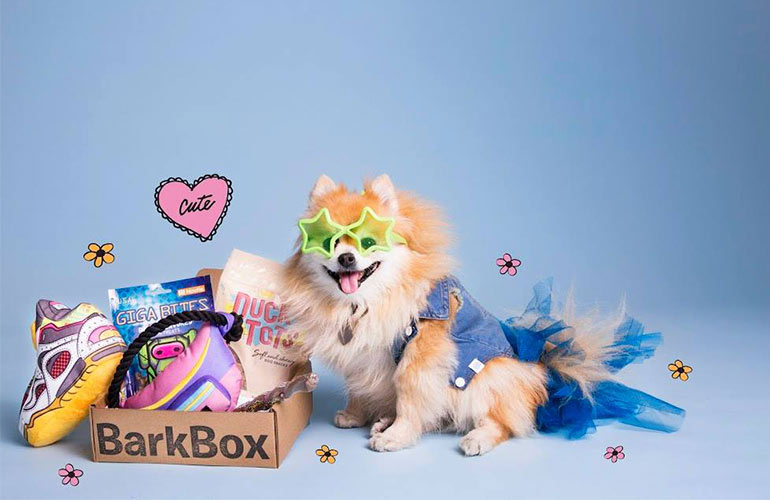 Their Words:
"Give your dog exactly what they want." – Bark Box
Pricing:
$35/month
Box Specs:
Each month, Bark Box will curate a customized box just for your pup. Based on your dog's size, likes and dislikes, dietary restrictions and more, each box comes with a monthly theme packed full of fun goodies.
Some noteworthy themes: Fairground Hounds and Podium Pups!
Not only are these items of great quality, but they're cute and quirky! Each monthly delivery includes two innovative toys, two all-natural bags of treats, and an additional chew.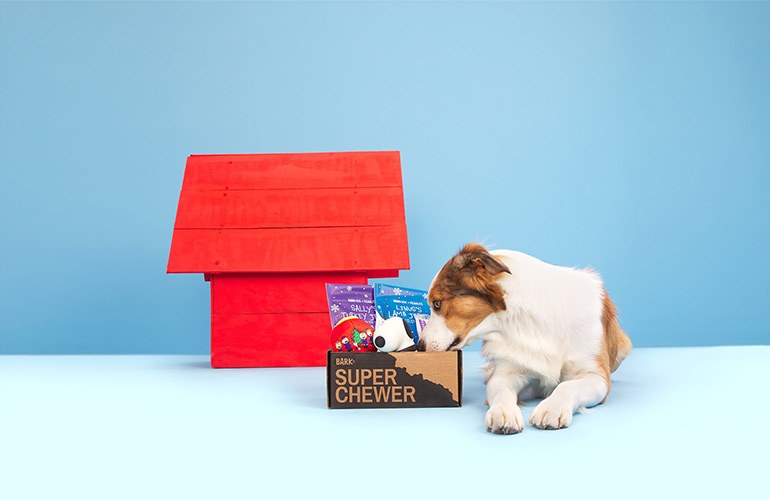 What they say?
"Making play time last longer." – Super Chewer
Pricing:
$39/month
Box Specs:
From the creators of BarkBox, this monthly dog box is perfect for the pooch that likes to shred through his toys.
Each box includes a themed collection with two extra tough toys that are fluff-free (because nobody wants stuffing all over their home), 2 full-sized bags of treats that can be customizable, and 2 meaty, all-natural chews.
What they say?
"We sniff out the good stuff." – PupJoy
Pricing:
$29/month
Box Specs:
PupJoy lets pet parents customize a monthly curated box. With options to choose from toys, treats, chews, accessories, and more, each box is specific to each dog's individual profile.
If he has allergies, you can choose all-natural, organic, grain-free, or protein sensitive options. If your dog tends to destroy his toys, you can choose more durable toy options.
What they say?
"Love your best friend & the planet." – Pure Earth Pets
The Price:
From $39/month
Box Specs:
There are many dog product brands that aren't eco-friendly and produce large quantities of non-recyclable waste.
Thinking about the dilemma between giving the best to your puppy and keeping a sustainable lifestyle, Pure Earth Pets came up with this subscription box that focuses on your dog and the planet.
Inside each box, you will find eco-friendly treats, toys, and other products that guarantee limitless tail wags from your best friend.
Pure Earth Pets also works with different charities each month, donating a part of their profits to these organizations. If you know about a charitable organization that deserves their attention you can fill the form on their page.
Oh, and they offer free shipping for everyone in the US!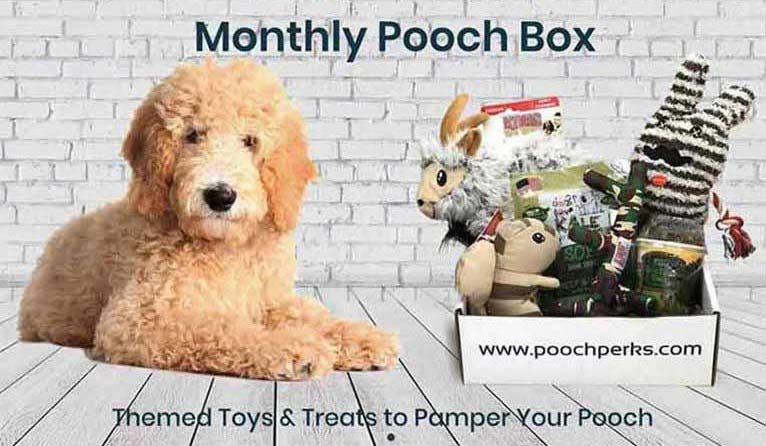 What they say?
"We love to pamper your pooch." – Pooch Perks
Pricing:
$21.15+/month
Box Specs:
There are multiple options when it comes to subscribing to Pooch Perks. Whether you want just a few toys, some toys, and treats or a surprise box of different goodies.
Your pup will be thrilled with these curated plushes or durable toys, unique treats, and cute accessories.
Pooch Perks also allows subscribers to customize shipments, meaning boxes can be received monthly, bi-monthly, or quarterly.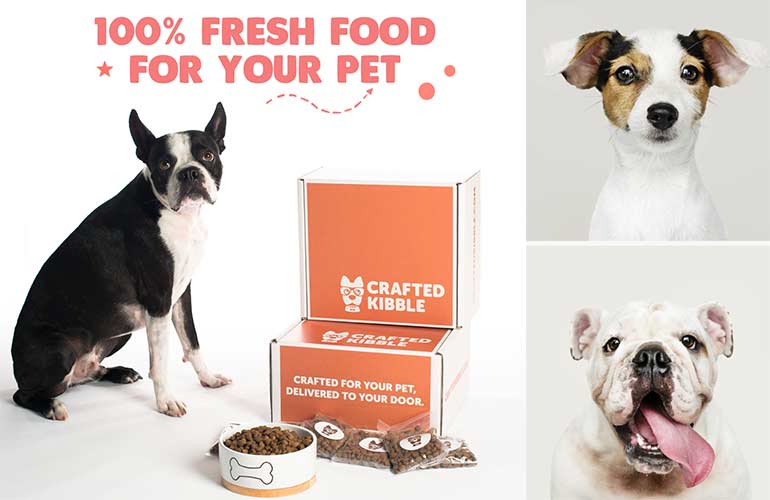 What they say?
"Quality dog food that is tailor-made and pre-portioned just for your dog!" – Crafted Kibble
The Price:
$36.67/month for medium dog
Box Specs:
Crafted Kibble is designed to give your dog fully customized meals, adapted to their age, breed, and other specific traits your pup might have.
This way you know your dog is getting its set of treats full of nutrients adapted exactly to its needs.

So, if your dog needs to have a grain-free diet or is a picky eater, Crafted Kibble should be on your list.
Plus, they offer special diet options for overweight or underweight dogs and for those who suffer from skin rashes, sensitive stomachs, heavy shedding, or joint issues.
Since the food is delivered to your door, you can skip the trips to the pet shop to buy big bags of dog food.
The monthly bag brings 50 lbs. of food and Crafted Kibble's price is actually less than the average pet food price for a bag the same size.
What they say?
"An ever-growing library of dog training content to improve your dog's behavior."- Pupford Academy
The Price:
From $9.99/month
Box Specs:
Have you recently adopted a pup for the first time and having a hard time teaching it how to behave?
Different from other subscription services, Pupford Academy aims to discipline your dog with a series of online courses dedicated to helping you in specific situations.
The courses are organized and run by 3 experienced dog trainers: Traci, Amber, and Erika. Their monthly subscription gives access to all premium courses, with videos that break down all steps to make your dog obey you.
They also have courses that focus on specific canine behavioral problems, showing the solution immediately after. Finally, you also have access to downloadable PDFs to help you along the journey.
Pupford also has an entire range of dog products on their website that you can browse through!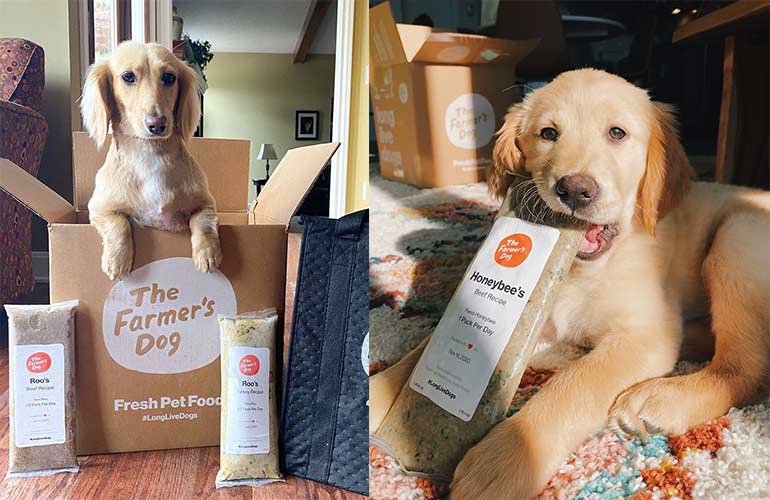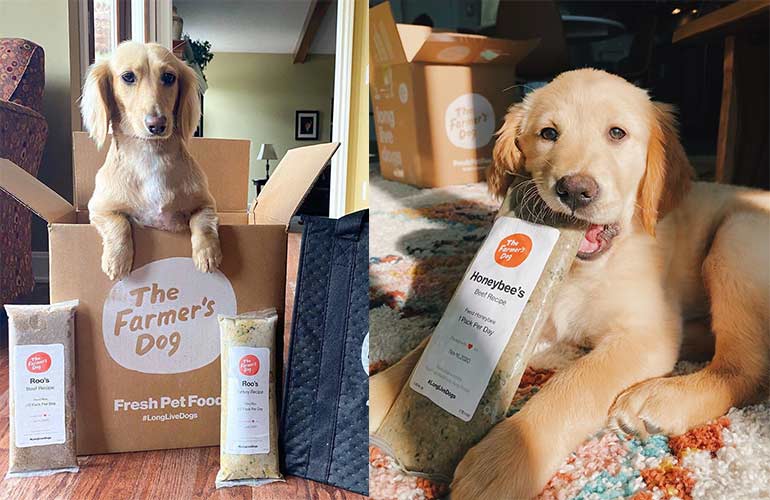 What they say:
"Rethinking pet food." – The Farmer's Dog
Pricing:
Starts at $3/day
What's inside:
The Farmer's Dog delivers healthy, freshly made dog food right to your door. Made with human-grade, USDA ingredients, each meal comes pre-portioned based on your dogs health needs.
The deliveries from Farmer's Dog are all made within a few days, meaning each meal maintains its nutritional integrity.
In addition, it's made up of meat and veggie recipes that, according to the Farmer's Dog's website, are all veterinarian approved and surpass industry standards.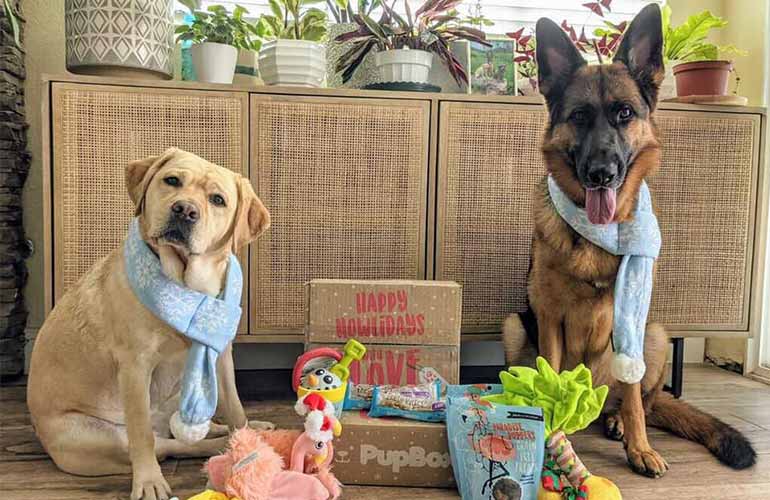 What they say:
"Puppyhood made easy." – PupBox
Pricing:
$29/month
Box specs:
PupBox is specifically a puppy subscription box, filled with awesome products for your growing new pup. Every month, your box will feature treats, teething toys, grooming accessories, and chew toys.
Plus, you'll even receive a training program developed by celebrity dog trainer Andrea Arden from the Animal Planet.
Each month your box will change based on your pup's growth and development, introducing you to new products and themes along the way.
Their motto:
"Your impact counts." – RescueBox
Pricing:
$23.45/month
Box specs:
A subscription to RescueBox helps feed animals in need at shelters nationwide. Catering to both cats and dogs, subscribers can choose the box that best fits their furry family members, making it a great dog or cat subscription box.
Each box is unique based on the pet, filled with hand-picked toys, treats, and accessories.
The best part? For each month someone subscribes, RescueBox donates ten pounds of cat or dog food to a shelter.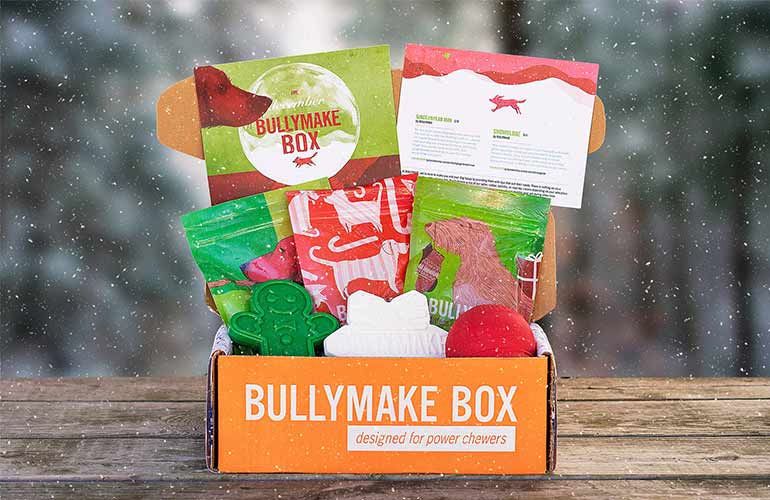 What they say?
"If your dog is an extreme chewer, tugger, fetcher, or player – we got you covered." – BullyMake Box
Pricing:
$39/month
Box specs:
If your dog is tough on toys, BullyMake is one of the best dog subscription boxes on the market. Each month, BullyMake customers will receive 2-3 toys and 3 full bags of grain-free, USA made treats.
We also have a "toys only" option where you will receive 4-5 toys instead–all made tough and durable enough to withstand even the toughest of chewers.
The BullyMake guarantee ensures no toy should be destroyed or leave you unsatisfied, or BullyMake will ship a new one free of charge!
With over 100,000 subscribers and 90% satisfaction, we think it's worth a try if you have a touch-chewing pooch at home!
They say:
"We fill our box with photo ops." – Dapper Dog Box
Pricing:
$35.99/month
Box Specs:
The Dapper Dog Box sends a monthly dog subscription box filled with fun bow ties and bandanas, natural treats and durable toys.
Each box features a fun unique theme, such as Fun in the Sun, Under the Sea, and Happy Howlidays.
Best of all, they donate $1 from every box to rescues each month!
What they say?
"With dog mom box, you get spoiled too!" – Dog Mom Box
Pricing:
$37.99/month
Box Specs:
This is a must-have for any crazy dog mom (or dad). This dog toy subscription box comes with 2-4 goodies not just for the pooch, but also for you! Some of those human-friendly items include things like t-shirts, koozies or even arts and crafts.
This is an ideal way to get both you and your pup excited for that monthly delivery. It's also a great gift box for women who own pets. Check out some other ideas on subscription boxes for women.
What they say?
"The world's first triple enzyme." – Bark Bright
Pricing:
$1/day
Box Specs:
We all know our dog's breath isn't pleasant – here's a new product to help you make it less smelly.
Another box from the makers of BarkBox: Bark Bright is not your typical dog subscription box. Bark Bright's enzymatic toothpaste has three enzymes that break down the debris that causes bad breath.
Each month, subscribers receive a Bright Dental Kit, complete with a tube of triple-enzyme toothpaste and chicken dental sticks to help scrub the debris off your dogs' teeth.
Their motto:
"Spoiling your dog is just a click away!" – Woof Pack
Pricing:
$26/month
Box Specs:
Every Woof Pack dog subscription box includes 2 interactive toys, 2 all-natural bags of treats, and an accessory or chewers, all curated to fit the unique monthly theme.
The Woof Pack website says everything inside of these monthly boxes is tested and analyzed before they're sent out, so you know you're getting a quality product!
Still, on the off chance your pup doesn't love any of these items, simply let Woof Pack know and they'll send you a replacement!
For an extra $9 a month, Woof Pack will also throw in an extra super-tough toy.
What they say?
"Improving life with your best friend." – Good Dog in a Box
Pricing:
$21.99+/month
Box Specs:
The roots of Good Dog in a Box is positive reinforcement dog training. On its website, the company describes themselves as "a little bit old school mail order, a little bit high tech e-learning, a dash of fun and games, and a pinch of puppy love."
Good Dog in a Box offers all sorts of training products and subscriptions, but the basic "family-friendly dog training box" includes a six or 12-month in-home dog training program with all of the training tools, activities and online training videos you might need to get your new pup up to speed.
It's also worth taking a look at all of the other items Good Dog in a Box offers. That includes baking accessories (for example: dog treat cookie cutters), card games and party supplies.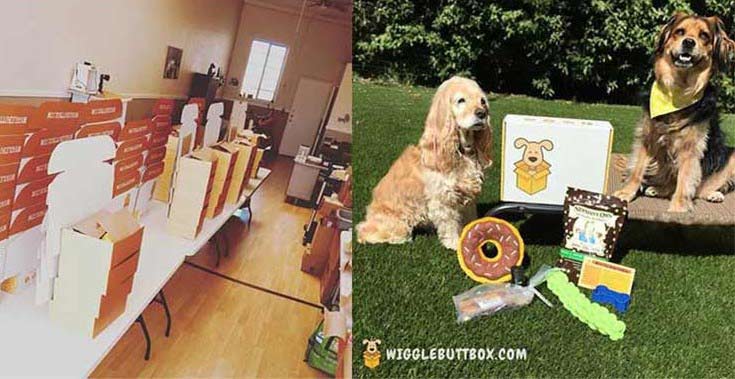 What they say?
"….. because dogs love stuff!" – Wigglebutt Box
Pricing:
$27/month
Box Specs:
This monthly dog box even includes something for you! Each box is curated with 6-8 items that include toys, treats, accessories, a seasonal kerchief, a roll of poop bags and something for each pup's owner!
You can also feel good about the fact that Wigglebutt Box donates a portion of each box sold to an animal charity.
Best monthly cat subscription boxes in 2022
What they say?
"The World's Smartest Cat Litter." – Pretty Litter
Pricing:
$22/month
Box Specs:
PrettyLitter's mission is to take the stress out of cat parenting. Subscribers will receive a monthly supply of lightweight cat litter. Unlike ordinary litter types, PrettyLitter keeps tabs on your cats' health by changing color according to the PH level of their urine.
The formula is said to be 80% lighter than traditional cat litter, allowing subscribers to scoop less and spend less time dealing with litter box messes.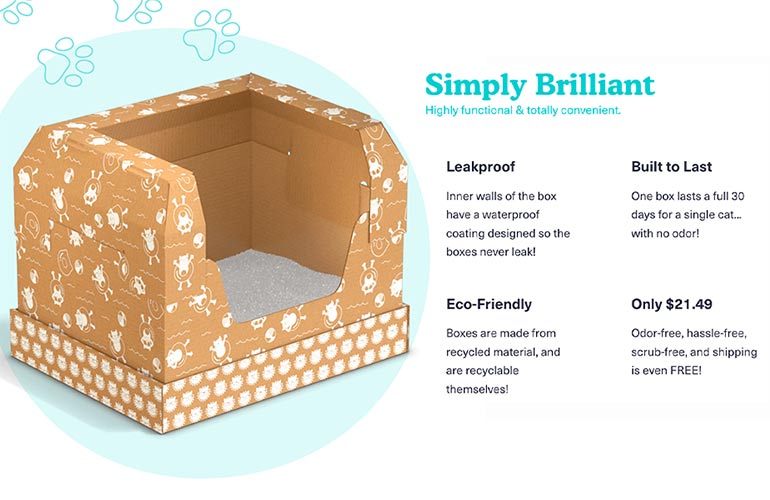 What they say?
"The only litter box you need." – Kitty Poo Club
The Price:
$21.99/month
Box Specs:
Do you have trouble finding the right litter box for your kitten? What if you had a new box every month that can be recycled?
Instead of purchasing a new litter bag and cleaning it weekly, you get a Kitty Poo Club cardboard box that renews itself monthly.
The box prevents leaks, meaning that the walls are completely waterproof.
Plus, if you are concerned about the environment and your footprint, the box is made of eco-friendly recycled materials and is also recyclable.
Each box lasts a full 30 days and is completely odor-free, meaning you don't have to scrub to get rid of that nasty poo or pee smell. Toilet breaks will be easier for both the cat and the owner!
Oh, and did we mention shipping is free too?
Their words:
"Ready to spoil your cat with the best toys and treats around?" – KitNipBox
Pricing:
$19.95+/month
Box Specs:
With two different subscription options, KitNipBox is one of the best cat subscription boxes if you're looking to spruce up your kitty's toy collection. The multi-cat box comes with seven toys per month, making it ideal for the household with more than one feline friend.
However, it's not just toys inside: in addition to fun cat toys, KitNipBox also includes treats, must-have accessories, health and hygiene products, innovative new gadgets, and other surprises in every box.
We also love that KitNip supports over 100 animal rescue organizations, donating a portion of all monthly proceeds to shelters, advocacy groups, and more.
Their words:
"Humble brag: we have the cutest customers around." – MeowBox
Pricing:
$22.95+/month
Box specs:
MeowBox is a monthly cat subscription box, delivering fun toys and treats for your feline friends. It's important to note that you do have the option to receive a box bi-monthly, based on you and your cats' preferences.
Per the MeowBox website, past Meowbox goodies have included silvervine, catnip, crinkle, feathers, strings, and bells.
What we love about MeowBox: It supports small businesses! Each box includes at least one handcrafted, small-batch or locally-made toy or artisan.
And if that's not enough for you, with every MeowBox bought, a can of cat food is donated to a shelter cat in need.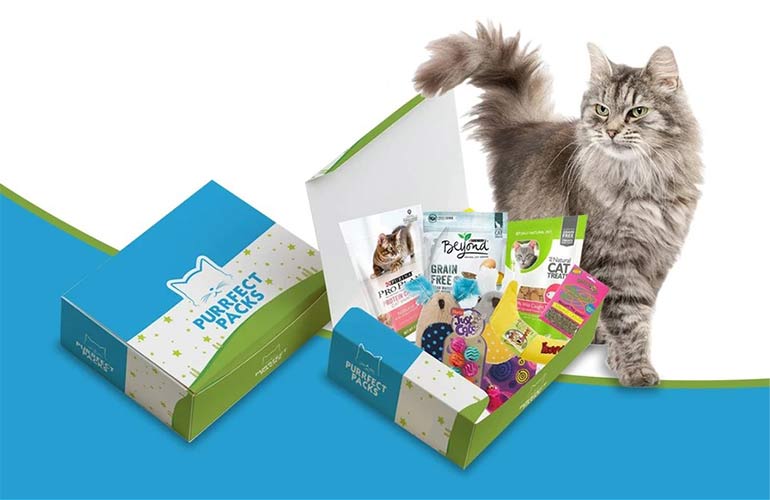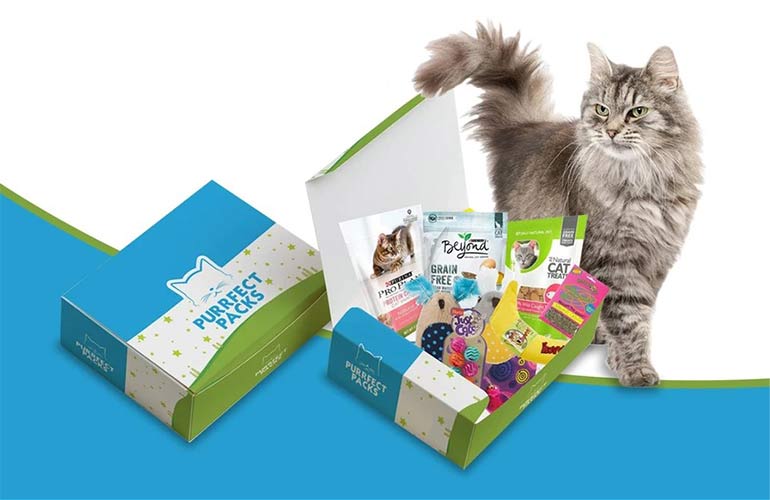 What they say?
"Give your cat what they want!" – Purrfect Packs
Pricing:
$25/month
What's inside:
Purrfect Packs is a monthly cat box that sends 5-6 all-natural treats and toys to your door. Purrfect Packs prides itself on the ever-changing items they feature each month, meaning your kitty will always be getting new treats, toys, health products, and catnip each month!
Their guarantee? To deliver these items at a price far below retail price. And if your kitty isn't purring each month with every delivery, they encourage subscribers to send their box back for a full refund!
Best pet subscription boxes available for both cats and dogs
What they say:
"Goodies to pamper your best friend." – Pampered Pet Box
Pricing:
$39+/month
What's inside:
Pampered pet box (once again, for both dogs and cats) is meant to–you guessed it–pamper your furry friend! Per the Pampered Pet Box website, you simply choose a plan, share some information about your pet such as their name, size, etc. and receive a box on the 25th of each month!
Each box is dependent on whether or not you're receiving a K-9 Crate or a Kitty Crate.
For dogs, for example, a K-9 Crate comes filled with a themed selection of toys, a bag of treats, one chew and an on-theme accessory. Meanwhile, your feline friends would receive four themed toys, a wooden wand, one bag of treats, and a themed bow/tie.
Our favorite part? Every other Kitty Crate you receive transforms into a themed cat house–perfect for those cats who are always looking to explore!
What they say?
"Join the pawty!" – Surprise My Pet
Pricing:
$30/month
Box Specs:
Surprise My Pet uses a monthly theme to send 5-7 toys, treats or accessories for pets each month. The monthly subscription is based on each dog's size and, as a family-owned business, Surprise My Pet claims to hand pick each item for each individual box.
In addition, the company prides itself on using pictures of real subscribing pets for their marketing, box designs, and social media.
Surprise My Pet has just started a new process where those subscribers who are interested can submit a certified, pet-oriented charity in their area to be considered.
The company then draws from a hat – literally they say – on a monthly basis and selects the winning charity to receive a check from Surprise My Pet.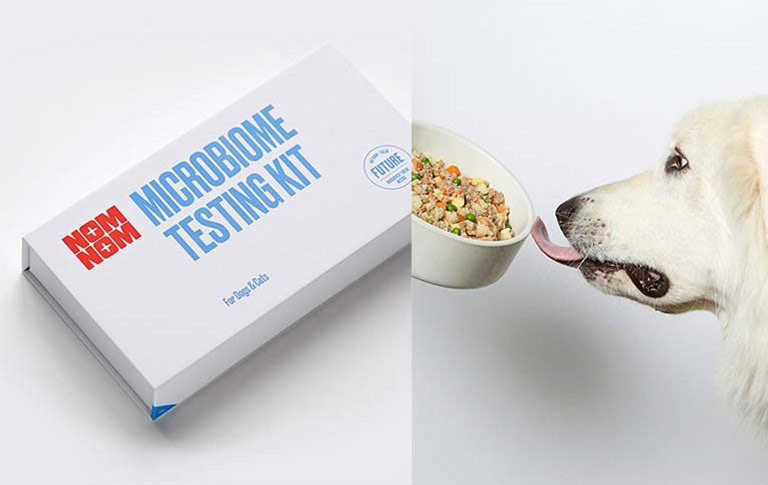 What they say?
"Real good food for dogs & cats." – Nom Nom
Pricing:
$35/week
What's inside:
We already showed you here the top 25 best subscription food and snack boxes for humans. Here is the best food subscription box for your pet!
Nom Nom is a weekly subscription box for both dogs and cats, delivering fresh, healthy meals for your furry friends.
Every pre-portioned meal is developed by an in-house veterinary nutritionist to ensure it's balanced and is only made up of a whole, natural ingredients.
What they say?
"Groomer tested and groomer approved." – GroomBox
Pricing:
$49.99/month
Box Specs:
GroomBox is a monthly subscription box for pets, pet owners and pet groomers. Every month, boxes are sent with up to ten grooming products or accessories to make grooming your furry friend easier with long-lasting effects.
As their website says, GroomBox is groomer tested and approved, meaning subscribers are receiving some of the best products on the market. This includes bows, bandanas, shampoos, combs, and more.
What they say?
"A monthly surprise for your pets, not for your wallet!" – TreatLuv
Pricing:
$24.99/month
Box Specs:
TreatLuv subscribers will get 5-7 all-natural treats for their pets each month.
Any box will start with dog treats, with the ability to add on goodies for your cat as well.
Furthermore, TreatLuv does make mention that all of the treats included in each subscription are made in the United States.
Final Thoughts
We're glad to share the 30 best monthly pet subscription boxes perfect to spoil your best furry friend. In compiling this list, we took into account the price, quality of products, customer service policies and accessibility.
Share your thoughts and reviews of any or all of these products and help us help animal lovers nationwide!
Also, be sure to check out the Top 20 Best Subscription Boxes for Kids.
FiveBoxes is always here to help you choose the best subscription box for your needs!