FiveBoxes is reader-supported. When you buy through links on our site, we may earn a small commission when you click the links at no additional cost to you. Read the full disclosure.
Last updated on Jan 31, 2022
If you want to take your game to the next level and get excellent products, food, or gear without going to a physical store, a subscription box is possibly your best option.
There is something strangely attractive about subscription boxes, and many people cannot wait to lay their hands on one.
First, let's address the elephant in the room and explain to those who may not be familiar what exactly a subscription box is.
So, what is a subscription box?
In a nutshell, subscription boxes are a physical delivery of niche-oriented products delivered straight to your mailbox, usually every month. The purpose behind a subscription box is to offer the recipient the ability to try, typically full-sized products, from the comfort of your own home. They are coupled with the added value to those who applied for membership or subscription on top of the actual merchandise.
A subscription box also allows the recipients to get their foot in the door, as it were so that they can get in the automated process of monthly refills. Let's face it, time is a valuable commodity nowadays, so any service that will help save time, and money, is high on most individuals lists.
As we all know, the shopping experience is essential! Subscription boxes are not just products conveniently delivered to your home. There's also the whole exciting feeling that the process brings– from the moment you receive the box to when you open the package. It is almost like having Christmas coming twelve months a year!
With all this said, you are probably wondering, am I going to find the right subscription box to fit my style?
Fortunately, there are thousands of subscription boxes for men to choose from, all of which depend on the niche you prefer.
In today's article, we will take a look at FiveBoxes top 10 best subscription boxes for guys. Take a look at what fits your needs better.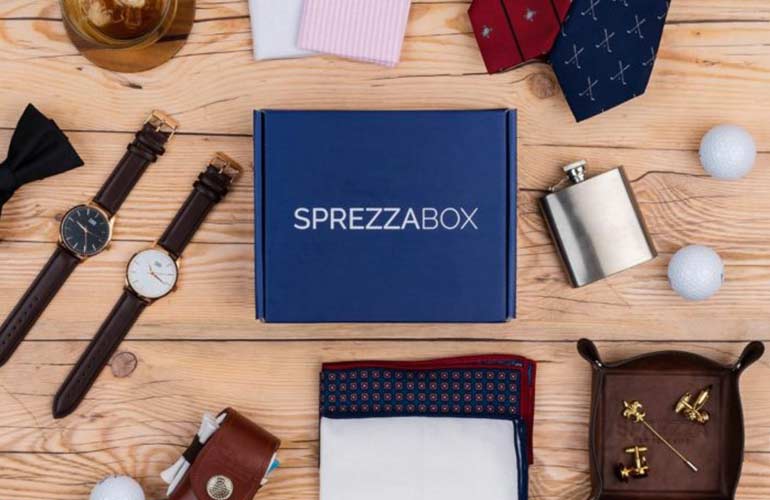 The Cost: $28 + Shipping For Monthly Subscription.
What's in it?
If you are looking to either upgrade your style or maybe spice thing up, the SprezzaBox will take you to that next level. There are a few different options to choose from, and all of them are focused on gentleman's accessories.
It is essential to know that they have a custom stylist that will handpick a few different products (5-6) and send them directly to you. SprezzaBox will often include a combination of socks, pocket squares, ties, grooming products, sunglasses, and much more.
They are all exquisite items that will accent your masculinity. The best thing is that each box has an estimated value of over $100 worth of items, and you only pay $28.
You should check out their website and get your subscription box right now!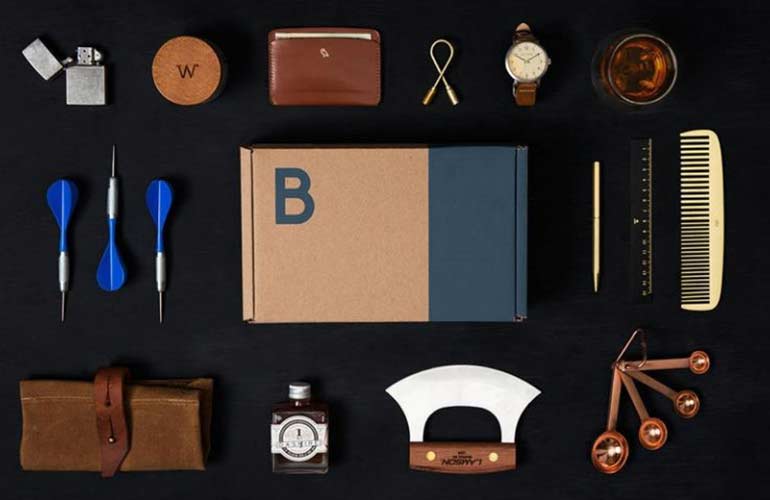 The Cost: $45+ Shipping For Members or $55 without membership.
What's in it?
If a gentleman's accessories aren't enough to increase your confidence, the Bespoke Post will more than get the job done. It is a combination of products designed to fit not just the modern man and the contemporary world in which he lives.
With this subscription box, the purpose is to upgrade your everyday life through themed boxes, each full of exciting products like outdoor essentials, home bar accessories, clothing, cigars, and much more. Bespoke Post will deliver both stylish goods and useful guidance on a monthly bases, and every box will be better than the one before.
This box is undeniably the most customer-centric box available on the market.
The best thing about Bespoke Post is that it uses smart software to optimize your box's contents if you are at a loss for what to get. You just have to answer a few simple questions, so they can get to know you better, and in a few seconds, you will get a unique box created to fit your individual style. You can then save this personalized information for use in future purchases.
Additionally, the entire process is 100% hassle-free, and you can cancel your subscription at any time.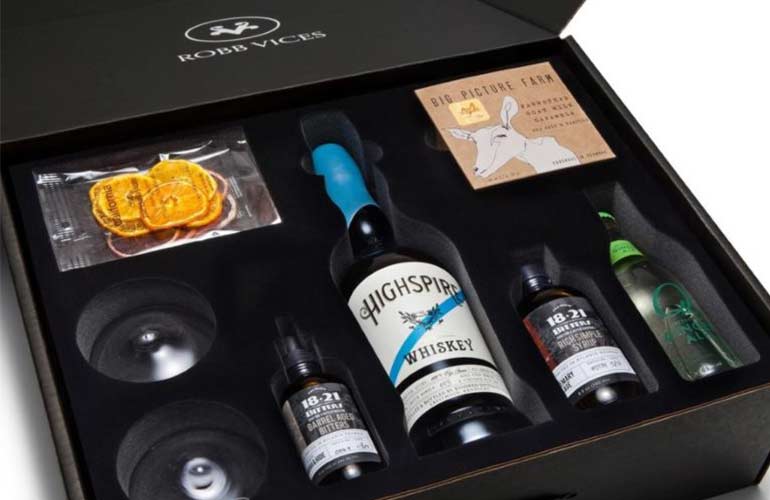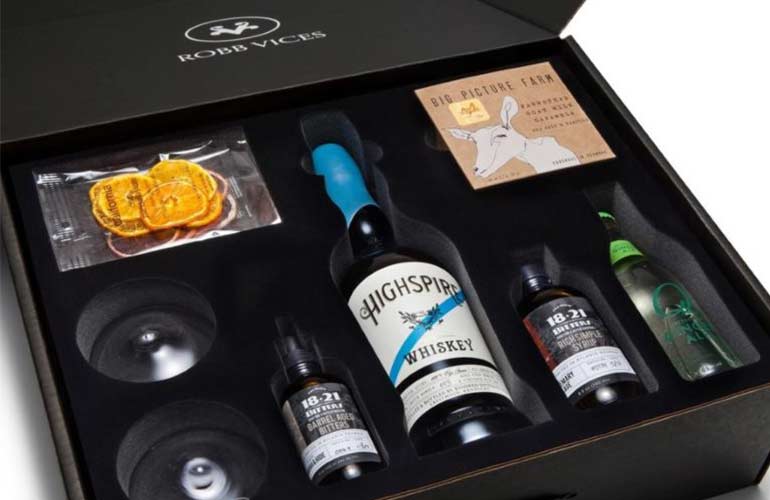 The Cost: $359+ Shipping For 3 Months Membership and 3 Boxes
What's in it?
As you have probably already guessed from the price, this item is a luxury subscription box. This high-end box takes you around the world, showcasing some of the finest products from Italy, Japan, Cuba, and many other countries.
Their boxes have different themed products packed with great attention to detail. You can get items such as hot spring skincare products from Japan, a selection of high-quality vines, or for those coffee freaks out there, some of the tastiest coffee in the world, all alongside several accessories.
Robb Vice's primary goal is to create a luxury box for those who enjoy something next and exciting every month. They also offer specially designed hand-made cigar subscription boxes, which can be slightly more expensive than their standard boxes.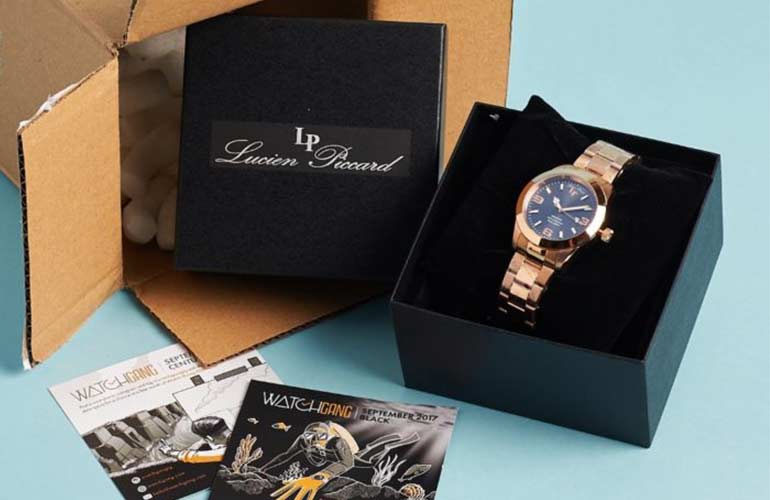 The Cost: Original Tier: $4 9.99 + Shipping for Mont-to-Month Membership Black Tier: $99 + shipping.
What's in it?
If you consider yourself a lover of all things watch related than Watch Gang is the subscription box for you. Those who consider themselves successful will tell you time is money—as such, having a watch on your wrist is undeniably one essential tool for your business.
With this very concept in mine, Watch Gang offers their subscription boxes that are scaled to fit just about everyone's pocket and needs. If you decide on the Original tier $49.99 subscription, you will receive a watch every month worth up to $150.
However, if you prefer to go with the Black Tier for $99 per month, the watch you receive each month will be worth up to $500.
Then there is the luxury box for those who want to get the most bang for their buck, which is $299.99 per month. In this box, the watch you will receive will be worth up to $1,500.
The fun doesn't stop there! Watch Gang also offers three weekly GIVEAWAYS! If you purchase a subscription, they will enroll you for their giveaways that feature incredible products.
Every Tuesday, they have a drawing to give away a TAG Heuer; every Friday, there is a drawing to give away a Rolex, and on Saturday's they have a drawing to give away a Seiko.
The Watch Gang subscription box is undeniably the perfect box for any true watch lover, and with the added bonus of getting a good value for your money. You should definitely try it out and see what you'll get.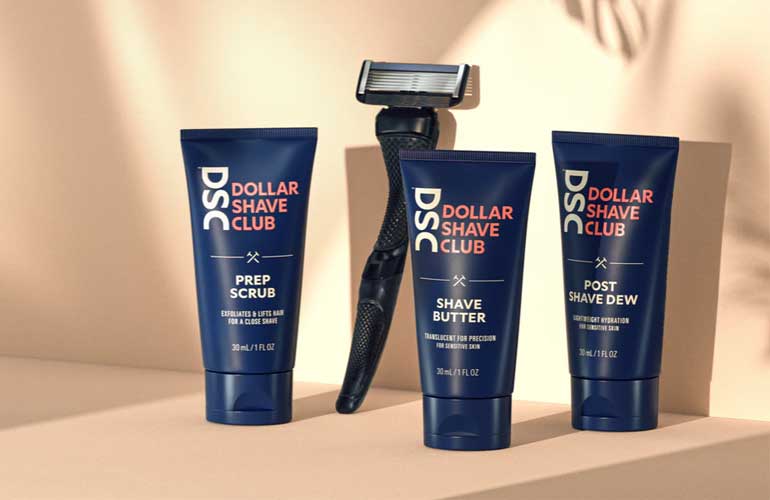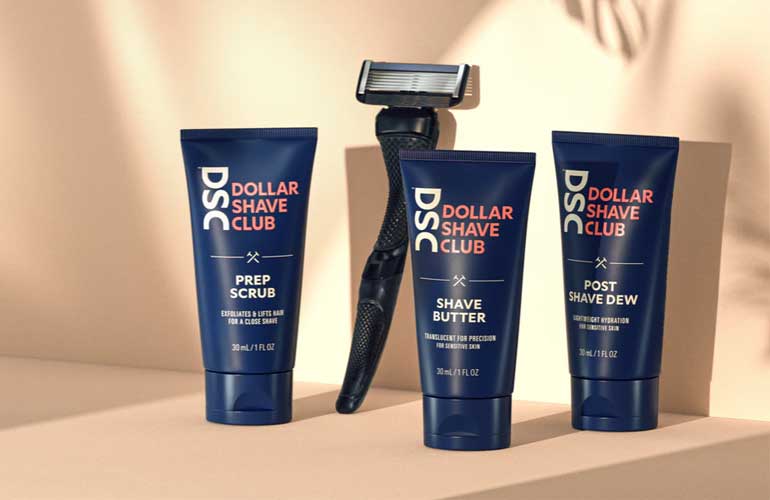 The Cost: Subscription boxes start at $5 for starter kit and refills depend on the type of product you choose.
What's in it?
Dollar Shave Club is currently one of the best known and highest rated subscription boxes available. If you are a fan of the NFL, you've assuredly noticed their earlier Super Bowl commercials. Once the word got out, their popularity took off, and many people couldn't wait to get their hands on this company's product.
Dollar Shave Club covers the niche of men's facial hair, and their boxes contain fresh razors, as well as many other types of men's styling products. Since their popularity has grown, they have expanded their line of products to include offering such items as hair care to toothpaste and shampoo.
With the Dollar Shave Club, you will have the confidence that goes with feeling crisp and looking sharp every day. All of the featured products are high-quality and backed up by Unilever
The ordering and sign up process will ask you a variety of questions, so they can set up the proper subscription box that is best for you.
More importantly, it lets you optimize a timely delivery, so you will always have a sharp razor on hand to style your beard.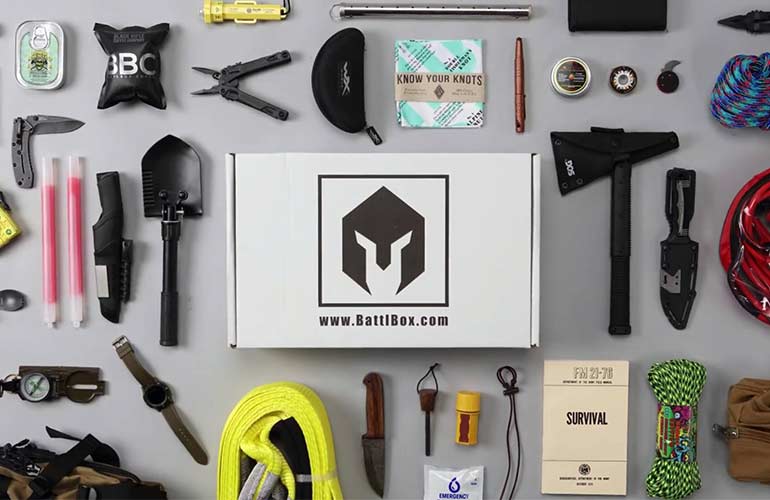 "Monthly subscription for hand-picked outdoor, survival, EDC, and other cool gear." – BattlBox
Price:
From $29.99/month
Box Specs:
If you are thirsty for adventure, BattlBox delivers the experience you have been waiting for. This is another box for survivalists with specially curated gear and Everyday Carry (EDC) items.
They have 4 different subscription options: basic, advanced, pro and pro plus. Depending on your survivalist level, you can choose how much you want to spend. The pro pack includes a full camping kit with sleeping bags, tents, backpacks and more.
The Pro Plus includes all the items from the Basic, Advanced and Pro packs, with added items from top rated brands (Kershaw, Spyderco, CRKT, etc.).
Each box has a different theme or mission. They also often include items for firearms.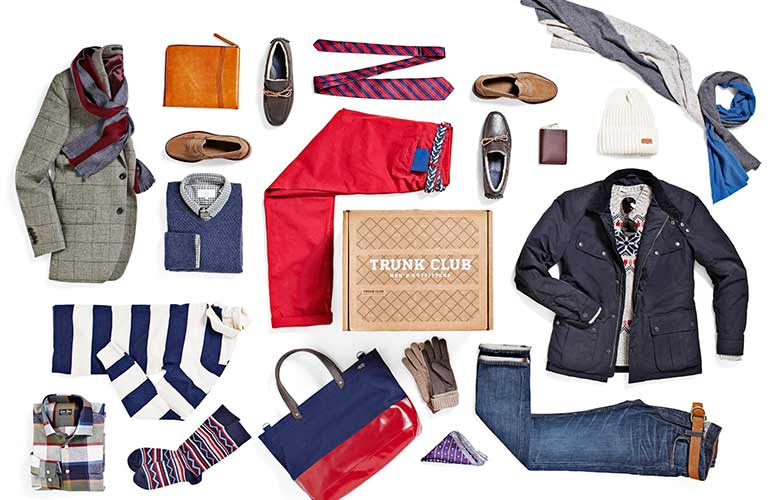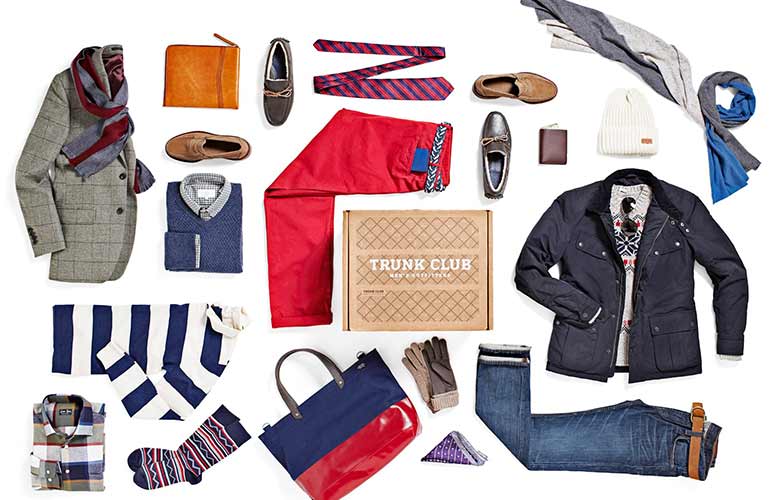 The Cost: Subscription boxes start at $25 with no subscription required and free shipping in the United States.
What's in it?
Can you imagine having the luxury of a personal stylist taking care of all of your wardrobe needs? Who handles it all, so you don't even have to search for the latest trends or go to the store to buy your clothes?
Yes. No doubt, many would find it more than just a little handy. Enter the Trunk Club, the subscription box designed to update your closet. In fact, the owner of the Trunk Club is one of the nation's most prominent retailers, that of Nordstorm, and their job is to take your wardrobe details to the next level.
Their boxes contain a wide array of high-quality name brand clothes combined perfectly. Brands like Barbour, Hugo Boss, Vince, UGG are all part of this boxes contents for a relatively small fee of $25 per month.
At this point, you are probably wondering how they can choose the right size for you every month.
Not to worry, they'be got that covered with your questionnaire. Additionally, you will receive a size chart that will explain in great detail the fit of every clothing piece.
If you still manage to receive a clothing item that is not your size, don't worry! They have a superb policy called "Try Before You Buy," where you can keep all the products that fit you, and the rest you may return without paying any additional fees.
The Cost: Monthly Subscription costs $19.99 + free shipping for the United States.
What's in it?
Most of the time, many of us are not dressing as stylishly as we can. We tend to lean toward stocking the essential items in our closets, such as T-shirts, socks, or boxers. There is also the fact that most of us do not pay that much attention to what we wear in the comfort fo our homes. Eventually, our wardrobe takes on a somewhat tired appearance over time.
That is why the Basic Man subscription box is one of the most practical subscriptions of products you can get delivered to your home every month. They are focused on essential items that every man needs in their everyday life. The Basic Men subscription box will provide an update to your wardrobe every month, and you will have the confidence of looking fresh and new at all times.
Additionally, they provide excellent tracking for subscribers alerting them to when they need to change an old pair of underwear. They have many products available in different styles and colors, plus a straightforward sizing chart.
The Cost: Subscription starts at $10.95 + shipping.
What's in it?
If you are a coffee freak and like to take a break in your busy schedule and enjoy an excellent coffee, Mistobox is the right choice for you.
This subscription will more than add a step up to your caffeine level, with the help of their high-quality coffee beans from all around the world. Their selection of products is more than impressive.
You can choose from more than 500 different varieties of coffee from different parts of the world. Mistobox offers coffee from 100% Arabica to exotic flavor blends that will perk up your taste buds.
With the wide choice of flavors and blends that they offer, it is hard to choose. Or is it? – They have coffee expert software designed to learn your taste preferences.
It is the perfect box for coffee lovers and a great gift idea that is easily customizable.
Click here to discover other coffee subscription boxes.
"A like-minded community of modern tactical and survival gear enthusiasts." – Crate Club
Prices:
$49.99/quarterly – Lieutenant Box
$99.99/quarterly – Captain Box
$399.99/quarterly – General Box
Box Specs:
For all the handymen out there, Crate Club is a tactical survival box built by Navy SEALs & Special Ops professionals.
If you or someone you know is a survival gear enthusiast with a love for camping, hunting, fishing, and being outdoors, then this box is the ideal choice.
There are 3 boxes in distinct categories. For everyone starting into the surviving scene, the Lieutenant Box offers the basics of survival and self-defense tools.
Halfway there is the Captain Box, with added outdoor essentials, medical kits, EDC packs and more.

If you consider yourself a pro, the General Box contains items that are actually used by SEALs and Special Forces. According to Crate Club this is the 007 of boxes! It includes custom bulletproof bag inserts, flashlights and binoculars.

Inside each box, you will have a guide with pictures, specifications and instructions on how to use each item.
Final Thoughts
These are some of the best subscription boxes available on the market. Most of the time, there are coupons or direct discounts, so if you do your research, you may be able to snag yourself some significant savings.
The popularity of subscription boxes is growing by leaps and bounds, as the convenience of having high-quality items delivered right to your home becomes more and more appealing.
Make sure to check out all of the boxes and let us know which one is your favorite.