FiveBoxes is reader-supported. When you buy through links on our site, we may earn a small commission when you click the links at no additional cost to you. Read the full disclosure.
Christmas is around the corner and if you are in need of a gift for the upcoming holidays and are desperately searching the Internet, you came to the right place.
FiveBoxes prepared a list of best subscription gifts for men, for women, for kids, and general gifts for friends & family. Even if you know nothing about the person who you are gifting – Secret Santa perhaps – don't worry. There are gifts on this list that will bring a smile to anyone!
It's a total of 23 subscription gifts ideas that you can offer to loved ones, that will surely be practical and useful and which they definitely will cherish.
Take a look down below at the best Christmas and holidays gift ideas for 2022.
Best Subscription Gifts For Men
"Create special moments you'll both remember." – Flaviar
The Price:
$109/quarterly
$349/annually
Box Specs:
If you know a man or woman who loves whiskey, Flaviar is the perfect subscription gift. Every month they ship rare whiskies and spirits from distilleries around the world.
Fully personalized, you can take a small quiz and select some of your favorite whiskeys. Flaviar will try to appeal to your taste and find the best matches for your flavor preferences.
Delivered on a quarterly basis, each pack comes with a few sample whiskeys plus a full-sized bottle of delicious whisky. You can also try Flaviar other brands, like Caskers.
Approved by Martha Stewart, gift a Flaviar box with a one-year gift membership.
"Meet Your New Favorite Tee!" – Fresh Clean Tees
The Price:
$44+/month
Box Specs:
So, you are struggling to find a gift for your significant other, or maybe for a male family member? Why not offer them a subscription that brings them constantly a chance to renew their wardrobe?
With the Fresh Clean Tees subscription, you are gifting fresh clean t-shirts on a monthly basis, which come in different styles, patterns, and colors. Try v-necks, crew necks, long-sleeve tees, and much more with this subscription.
If you want an added incentive, Fresh Clean Tees gives you a 15% discount when you sign up and make your first order. They also give free shipping on orders over $75.
"Give style personalized for his taste, fit, and preferences." – Stately Men
The Price:
$99+/month
Box Specs:
Another subscription box for men that focus on clothing is Stately Men. This one, however, delivers stylist-curated outfits, so that men can always be ready for any formal or semiformal occasion.
Remember you can take the style quiz so that the brand's stylist can learn the person's style, fit, and tastes to create the right outfits.
It's a very useful gift and Stately Men allows you to purchase a Stately Gift Card. You can buy a card in the value of $99, $149, or $299 that the receiver can cash in the online store of Stately Men.
"Become a barbecue expert today!" – Grill Masters Club
The Price:
$29.99/month
Box Specs:
Do you know a guy who loves his grill and organizing barbecues? Find them the perfect gift and give them a Grill Masters Club subscription.
You choose to Give as a Gift on their website, you can pick the size of the subscription you want to offer. The package includes some high-quality barbecue items, like sauces and dips, plus some great cooking tips.
If you want to buy a Grill subscription box, until the 26th of December, Grill Masters Club is making some incredible promotions and discounts. Check it out:
Get 15% Off your first box when purchasing a 3-month subscription with code: BBQHOLIDAYS3
25% Off your first box when purchasing a 6-month subscription with code: BBQHOLIDAYS6
Or 35% Off your first box when purchasing a 12-month subscription with code: BBQHOLIDAYS12
Remember, you can get other meat and food subscription boxes ideas and gifts here!
"Tactical Survival Box Built by Professionals" – Crate Club
The Price:
$49.99/quarterly – Lieutenant Box
$99.99/quarterly – Captain Box
$399.99/quarterly – General Box
Box Specs:
For the outdoor man or the one who loves adventure, gift them a crate club. To offer this gift you should know well the person you are giving the crate, as you need to know whether he is someone who wants to take on the outdoors or someone whose main environment is living in the woods.
You can offer it as a gift on their website, either in a quarterly or annual subscription. It comes with gear adapted to different levels: lieutenant, captain, and general.
This box is also suitable for outdoor adventurous women, so feel free to give it to a person of any gender that likes radical sports.
"Give the gift of hard-to-find and craft wines and foods!" – VeroVino
The Price:
From $50
Box Specs:
We already mentioned whiskey, but what about the wine lovers out there? VeroVino subscription is the ideal gift for the ones who like to collect wine bottles and try wineries across the world.
Try wines from Portugal, Spain, Italy, France, Australia, South Africa and California. If you don't know how to choose the perfect VeroVino box for your friend or relative, just buy a gift card.
You give them the chance of picking the wine package of their dreams and you get $10 credit for yourself to spend. It's a win-win situation (or a wine-wine, in this case!).
Remember to tell the person you are giving this gift to subscribe to VeroVino's newsletter for monthly recommendations on recipes to pair with the wines in the boxes.
Best Christmas Subscription Gifts For Women
"We hand-picked the perfect gifts for every occasion. Shop now for your bestie, squad, sister (and you!)."
The Price:
From $14.95/month
Box Specs:
For women who love accessories, like bracelets and jewelry, check out PuraVida Bracelets. Founded in Costa Rica, this is a sustainable gift, as the brand provides jobs to artisans across the globe and donates part of the profits to charity.
Find different matches and get three hand-picked bracelets per delivery. Check out their gift guide, which gives you some tips on what to give to a specific person.
There are gifts sets and even gifts for men who like accessories. Check the items under $10 to over $65 and choose the ones that fit your budget.
PuraVida offers Free Shipping on orders over $40, so take advantage of this and make your Christmas gift shopping at all once in their store.
"Inspire happier lives through practical joy boosting activities & thoughtful self-care products!" – Therabox
The Price:
$34.99+
Box Specs:
Therabox is the most popular self-care subscription box and the perfect gift for these holidays. Each box comes with 6-8 full-sized products curated by a therapist, inspiring self-love and relaxation.
It includes products for bath, aromatherapy, essential oils, and clean beauty skincare. So, you are gifting a chance of a nice self-experience which will definitely be rewarding. Your friend or relative will be so grateful to receive this present!
And if you don't want to gift a commitment, you can just buy a gift in their one-time store instead of a subscription. Or give a gift card instead, on the value of $10 to $100, or a mystery box for the value of $44.95!
Here are some other self-care subscription boxes ideas for Christmas.
"Receive a surprise candle every month perfectly curated to match your unique scent profile." – Wickbox
The Price:
From $29.95/month
Box Specs:
We all know someone who is crazy about candles and there is not a better candle subscription than Wickbox. There are two different sizes: a monthly medium box and a monthly large box.
They are beautifully packaged, have a customized scent profile, a unique design, and a long burn time from 60 to 100 hours.
Go to their website and choose to Give as a Gift, choose the size of the box you want, and enjoy the free shipping that Wickbox offers.
"A treat for yourself, your way, when you want it." – Bootay Bag
The Price:
From $10/month
Box Specs:
The perfect gift to a significant other, a close friend, or your wife. Buy a panties subscription box, that comes with a high-quality underwear set and a matching bra.
Go to Bootay Bag website, select Give A Gift and how many undies you want to offer. You can also choose the subscription plan and the style: always thong, never thong, or mixed.
You can select the size too, but if you are not completely sure, don't worry. She can contact Bootay Bag later and change the size and the preferences and adapt the subscription to her tastes, without any added cost.
"Mindful Living. Happy Planet." – Earthlove
The Price:
Box Specs:
Do you have that friend or relative that always says she doesn't want any gifts? Well, this one she will be glad to receive and you will definitely show how much you know her.
Earthlove is an environmentally friendly subscription box, that comes with 6 to 8 items per box. It includes beauty products and snacks that are GMO, vegan, all ethically sourced.
They also include guides and books about the environment from conscious writers. Select their holiday gift guide, which includes gifts for her, for him, for animal lovers, for Eco-warriors, and more. And you can also select your budget and choose a gift that doesn't break your wallet.
Best Christmas Subscription Gifts For Children
"Creative & Fun Science and Art: The Perfect Gift" – Green Kids Crafts
The Price:
$29.95/month
Box Specs:
This is one of the most popular kids subscription boxes and it's sure to be the perfect gift if your kid has a touch for science. With each package, you get a box focused on the environment and the Earth, so the child can practice experiences and learn new incredible facts about the world surrounding him/her.
Get up to six art projects or activities per month, which are bound to keep kids excited and active, while getting educated on valuable topics.
In the Christmas season, get a Science, Technology, Engineering, Arts, and Mathematics (STEAM) and grow a miniature Christmas tree in a single day with Green Kids Crafts Crystal Chemistry Christmas Tree.
And until the end of the year 2022, if you spend $250 in Green Kids Crafts, you get $50 with the code HOLIDAYCARD.
Here are some other kids' arts and crafts subscription boxes.
"The perfect gift for kids that play sports!" – Sports Box Co.
The Price:
$31.99/month (Shipping included to the U.S)
Box Specs:
If you know a child who loves sports, either practicing or watching, we recommend Sports Box Co. This is a box targeted for kids, with items tailored to specific sports.
You can choose one of these: Hoops Box, for basketball enthusiasts, Batter Up, if the kid is a baseball or softball lover, Power Play Box, for hockey fans, Gridiron Box, for the football crowd and finally the Corner Kick Box, if the child plays soccer.
Pick the age of the kid you are gifting this present. Sports Box Co. has boxes that focus on different age groups, from 8 to 13 and older. There are also boxes targeted at girls, so don't worry, Sports Box is suitable for both genders.
Find more sports boxes in this article from FiveBoxes.com.
"Help parents spend more time reading with their children." – Bookroo
The Price:
$16.95+/month
Box Specs:
What better gift for a child than a book? If you know a kid who loves reading, Bookroo is the subscription box you want to offer.
Help start a home library, with educational and fun books, adapted to ages, from 0-3, 3-6, and 7-10. Bookroo gives the chance of gifting a book club, where you can add the name of the child, pick the age, club, and plan.
There are books about sports, fairytales, animals, science and much more, so you can choose which one to offer.
Open Bookroo website and unlock your mystery offer, to get subscription box discounts.
Find subscription boxes with books for kids here.

"A subscription box for the ultimate LEGO and brick fans." – Brick Loot
The Price:
$25+/month
Box Specs:
This box came up from the brain of a 9-year-old, who was obsessed with legos and brick building toys. Brick Loot is the perfect gift for any child who likes to build, create and collect Legos.
They are constantly incorporating new items and they adapt to pop culture themes, like Star Wars and Harry Potter. Brick Loot is a great gift, which incentives creative thinking and bonding moments between children and adults.
Scroll to the bottom of their website or click here to offer a gift subscription of 1, 3, 6 months, or a full year.
Check other toy subscription boxes here.
"You're about to give your child the best gift yet!" – Little Fun Club
The Price:
$24.95/month
Box Specs:
Giving gifts to children under 3 can be very difficult, as they don't have any specific interests as older kids do. So, Little Fun Club is a good option for babies' and toddlers' Christmas gifts.
This club delivers curated, age-appropriate, unique children's books, for children 0 to 12. So, you can offer a book adapted to children of a very young age, which will help their growth and create an opportunity for parents to create bonding moments.
Little Fun Club is a helping hand for mom and dad or any other relatives who need to come up with a story before bed. With these books, there will be never-ending tales, so that the child can have the sweetest dreams about princesses, warriors, and dragons!
Find more boxes for babies and toddlers here.
Best Subscription Gifts For Friends & Family
The Price:
$39.99 per month
Box Specs:
A perfect gift for a friend or a family member is the Crated With Love subscription box. It delivers board games with different themes, from mystery to romance and you can choose the appropriate one for the person you are gifting the box.
So, if you are gifting it to someone who has a significant other, perhaps try to gift them the couple experience. If instead, you are giving it to someone who has kids, try the House of Curiosities, fun for the whole family.
Or perhaps you are giving it to someone single, who still enjoys playing table games with friends and the occasional nostalgia trip? Try The Awkward Years, and travel through 90s TV Series, movies, and music albums.
The best part is that you can gift it as a one-time box, so you can offer a single board game instead of a whole subscription if you prefer.
For other date night subscription boxes click here.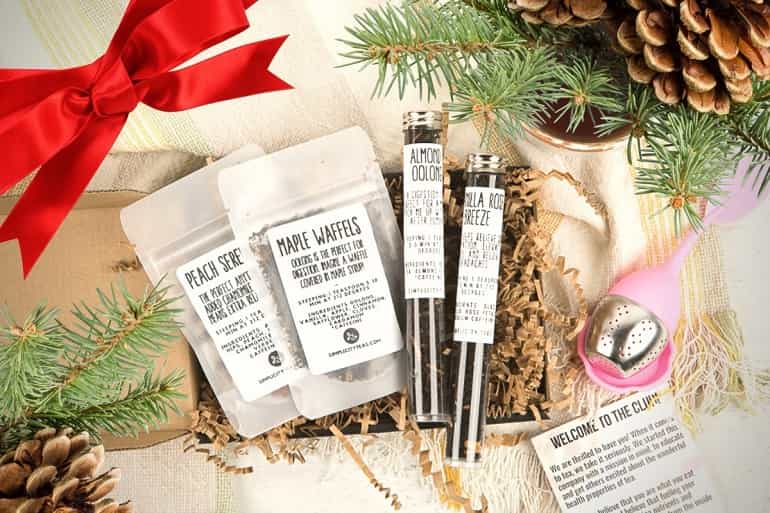 "Artisan loose leaf teas hand-curated by tea experts for you!" – Simplicity Teas
The Price:
From $9/month
Box Specs:
You know a tea lover when you see one. A perfect gift for an office secret Santa, or to offer a family member, Simplicity Teas brings you loose leaf teas curated in a box.
Plus, it includes tea diffusers, so you won't have to accumulate hundreds of teabags. Simple and sustainable.
For Christmas shoppers, Simplicity Teas offers the chance to gift a one-time box, so the person can try it out and then decide if they want to continue the subscription.
Get the tea box one-time order at $34 and the Signature Series Box for just one more dollar. You can also add loose leaves of your choice if you find a perfect blend that you enjoy.
For more Tea Subscription Boxes click here.
"Fall in love with a new houseplant variety every month." – Plant Of The Month
The Price:
$36/month
Box Specs:
If you have a friend or relative who has an interest in plants or has their own home garden, offer them a Plant of The Month subscription. It's a great idea since it includes a house plant, seeds, and some other items to display the plant.
Their plants are not pet-friendly entirely, so make sure to inform the person to check the instructions to see if it's safe to keep the plant near their cats or dogs.
This box includes a hand-illustrated instruction leaflet to understand how to care for each variety too. The last day to order this box in time for Christmas is the 13th of December, so hurry up.
Use BEWELL code at the checkout and get a special subscription box discount.
Find more plant subscription boxes here.
"The best way to surprise your feet every month." – Foot Cardigan
The Price:
Starting at $12.99/month
Box Specs:
What better and crowd-pleaser Christmas gift than socks? Foot Cardigan has a socks subscription for men and women of any age, that are comfortable and affordable.
Get socks with a Christmas theme or pop culture, or simple fuzzy socks in different colors. You might think this is a boring gift, but the reality is anyone needs socks and therefore your gift will be definitely something that will have practical use.
Plus, Foot Cardigan gift certificates where you can add a personalized message or gift cards in values up from $25, which allows the person to buy the socks of their preference in their online store.
Check other socks subscription boxes here.
"For anyone in your life that loves good food, cooking, entertaining, the Mediterranean diet and lifestyle." – Kosterina
The Price:
From $39.95/month
Box Specs:
No Christmas gift list would be complete without chocolates. It's a great gift to anyone with a sweet tooth and it's a present that you can give to a man, woman or child. So, why not try Kosterina?
With a Kosterina subscription, you are not only offering chocolate, but you are gifting a top-quality experience. Kosterina has 3 subscriptions of dark chocolate: almonds & vanilla, nuts, cinnamon & honey, and figs.
Kosterina also specializes in olive oil and other items straight from the Mediterranean Sea. Head on to their holiday shop, get a holiday gift bundle and stocking stuffer, which combines top-quality chocolate and extra virgin olive oil. A match made in heaven!
"Chocolate and book lovers! You've found your match." – Chocolate And Book
The Price:
Starting at £14.99 ($19.52 US)/month
Box Specs:
So you have someone who loves books and chocolate: should you get two gifts or pick one? Well, why not both at once? With a Chocolate and Book subscription, you gift the perfect combo.
The books come in different genres such as Thriller, Sci-Fi/Fantasy, Romance, HiddenGen, ChickLit, Award-Winning, Surprise, Young Adult, and Bestseller.
You can choose the genre and the box will include a homemade award-winning chocolate and a hot beverage: coffee, tea, or hot cocoa.
Chocolate and Book ships to more than 20 countries, including most countries in Europe and the United States. Take advantage of Cratejoy's promo codes for first orders and have a special discount at checkout!
Find some other chocolate subscription boxes here.
"World's best cocktails delivered to your door." – Cocktail Courier
The Price:
$29.99-$49.99/month 
Box Specs:
If you don't know what to gift a loved one, a cocktail kit is always a good idea. With the Cocktail Courier subscription box, you are gifting a never-ending experience, of making cocktails at home that are themed according to the season or current topics.
In December, Cocktail Courier got inspired with House of Gucci movie, the Ridley Scott movie starring Lady Gaga and Adam Driver. Prepare a Tanqueray Martini with a twist with this subscription box, which comes with chic barware and a co-branded cocktail tray and coasters.
And if you recommend Cocktail Courier to your friends and they spend $15/minimum, you get $15 in credit!
Find some other interesting alcohol subscription boxes, to gift wine, whisky, and cocktail kits to your friends.
Final Thoughts
We hope that you found enough gifts for all your loved ones. You don't need to go bankrupt or be worried about giving boring gifts at the Christmas office party.
Plus, if you haven't found what you are looking for, why not browse FiveBoxes a bit more? Check out the men, women and kid section, as well as subscription boxes for pet lovers.
There are a lot of other sections on the FiveBoxes website that can be useful and if you need further tips, leave a comment down below and we will give you some insights on what to give a specific person.
Have a Merry Christmas surrounded with the loved ones and we wish you a happy year of 2022. We hope to see you around next year!