FiveBoxes is reader-supported. When you buy through links on our site, we may earn a small commission when you click the links at no additional cost to you. Read the full disclosure.
Updated: 07/2/2022
Let's face it – we absolutely love food and snacks! Convenient meal preps are heavenly, but who doesn't want to munch and crunch on something delicious from time to time?
Whether you prefer delectable sweet treats or something salty and savory with a crunch, snacking is one of our favorite past times.
As if you actually need a reason to desire a gummy, yummy treat, or an exquisite meal easily prepared! This list will give you twenty delicious excuses to choose from that will have you anticipating checking your doorstep every month.
Feast your eyes on over thirty of the best food & snack subscription boxes.
What are the top 31 food and snack subscription boxes?
"UrthBox is all about the delicious discovery of healthy and tasty new treats. Every month we'll help you discover safe, healthy, and natural products from trustworthy brands that you can purchase at your local stores or online." – UrthBox
Pricing:
4 options:
Mini (7+ snacks): $14.99/month
Small (14+ snacks): $24.99/month
Medium (20+ snacks): $34.99/month
Large (27+ snacks): $44.99/month
Box Specs:
Urthbox makes snacking simple for its subscribers. They offer full-size, organic, and GMO-free snacks accompanied by yummy extras. You can choose between snacking styles, classic, gluten-free, vegan, or diet, to customize your personal snacking experience.
For multi-month orders, they give one bonus snack box absolutely free! Whether gifting these delicious goodies or keeping them all for yourself, this cheap monthly food subscription box will satisfy the most intense of cravings.
"WE GET IT. YOU LOVE MEAT. It's why we created the Carnivore Club. The world's first subscription service featuring premium cured meats delivered to your door. " – Carnivore Club
Pricing:
$39.99 a month (w/ subscription)
Box Specs:
This unique box with food from around the world is strictly for the meat lover. Carnivore Club's international food subscription box features uniquely bold, authentic cured meats.
Whether you prefer French Charcuterie, South African Biltong, or Italian Salumi, this monthly food box is sure not to disappoint! Make sure not to gift this one to a vegan or vegetarian friend, though.
Check out our other Meat Subscription Boxes.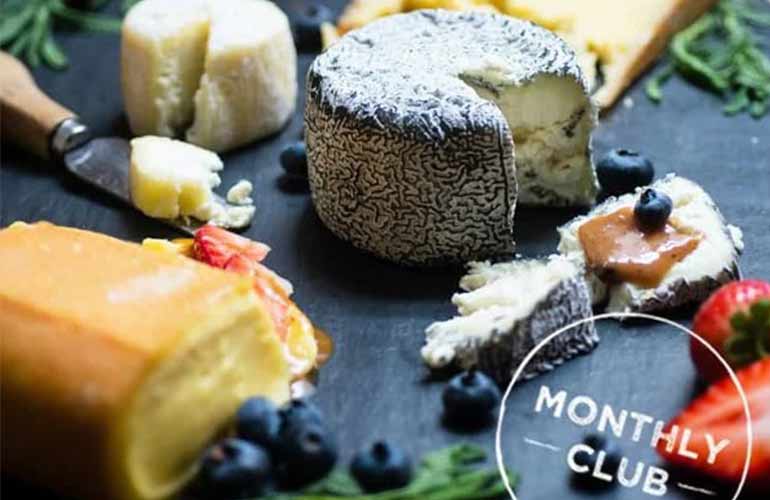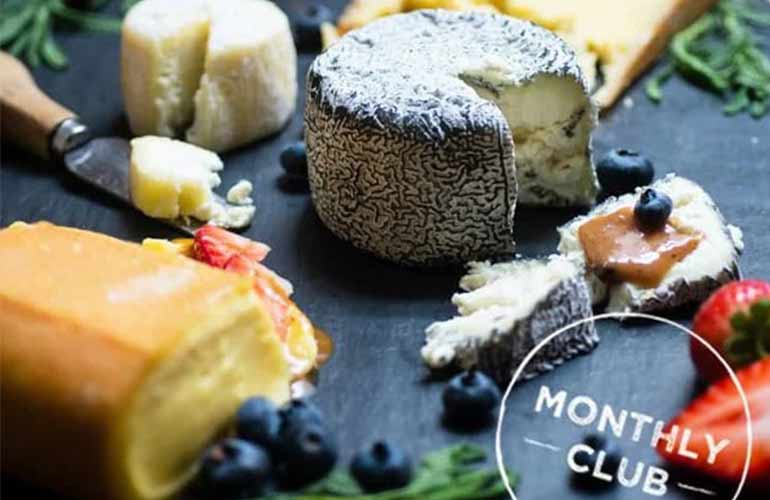 "Live life to the tastiest." – Di Bruno Bros
Pricing:
$280.00/4 months subscription
Box Specs:
Do you love cheese? DiBruno's first subscription box is a must-have for cheese lovers. Eat Like A Cheesemonger Club is designed by DiBruno, a brand that started in 1939 in South Philadelphia, from the hands of two Italian brothers, Danny and Joe Di Bruno.
The current owner is Emilio Mignucci, who qualifies himself as a 3rd generation cheesemonger – a merchant that specializes in cheese.
DiBruno's have refined their cheese production over the years and now they're sharing with you their quality cheese through an easily accessible subscription box.
Each month the box celebrates a special occasion or seasonal theme, although DiBruno claims you can enjoy them at any time. The most important part is to celebrate great food with great people.
"Give your meals & drinks a nutritious boost!" – Smart Toppings
Pricing:
$19.90/per month
Box Specs:
Do you need extra vitamins in your life? Smart Toppings claims to be the number one bestselling vitamin powder, enriching your meals and drinks.
Formulated in the US, this Vitamin Topping is tasteless and dissolves easily in your food or drink. It adds no carbs and it's completely vegan. Smart Topping vitamin powder enhances immune and nerve function, bone growth, energy storage and fat metabolism.
So, what vitamins does this include? Smart Topping includes Vitamin A, D, E, B1, B3, B5, B6, B12, Niacin, Biotin, and Folic Acid. Read more here about the ingredients of Smart Topping vitamin powder and how they can improve your quality of life.
"Individually packaged scones for maximum convenience." – Seven Sisters Scones
Pricing:
$29.00/per month
Box Specs:
Who doesn't love a crunchy scone for breakfast or as an afternoon snack, with a cup of coffee or tea by the side? Well, although scones taste great, getting the right recipe and finding the ideal consistency is not easy.
Seven Sister Scones helps you solve that problem, by delivering a monthly box of tasty scones to your door. For $29 a month you get 12 mini-scones of your choice. They are individually packaged and labeled for maximum convenience.
These scones are made with all-natural ingredients, real butter and baked the day they ship. Each box also includes Love & Care instructions, so you learn where to store your scones for maximum freshness (if you don't eat them all at once!).
Their subscription boxes are fully customizable, meaning you can choose the flavors you prefer. Sign up for Seven Sisters Scones and enjoy the crispness of an authentic scone.
"Keto friendly snacks to your door, monthly." – KetoKrate
Pricing:
$39.99/per month
Box Specs:
Are you craving tasty goodies that are also carb-free? The KetoKrate has exactly what you need. It's a box packed with sweet and savory snacks, from beef jerky to chips or cocoa roasted seeds.
KetoKrate has a huge variety of snacks delivered every month and it's all gluten-free, maltitol free and aspartame-free. However, it is NOT flavor-free!
Plus, KetoKrate is soy and sucralose conscious, having it in a low position in their ingredients list and using alternatives when possible.
So, if you are on a strict diet or you do daily workouts and can't go over a carb limit, pick KetoKrate and enjoy diet-friendly tasty snacks.
"Get 10+ keto snacks delivered monthly!" – The Keto Box
Pricing:
$40.00/per month
Box Specs:
Do you love a good snack but you don't want to cheat on your diet? The Keto Box is the ideal subscription service for you.
Every month you receive snacks such as bars, cookies, sweets, nuts and even meat-based items. Not only that, but you also get cookie and brownie mixes and keto sweeteners.
Love a good sauce but can't find a keto friendly one in the local grocery store? The Keto Box sends you condiments and sauces, such as ketchup and BBQ sauces.
What's missing? Something to drink? The box also includes keto drinks, such as flavored water and sodas!
So, what DON'T they include? No items with over 5g net carbs and items that contain non-keto-friendly sweeteners. Take care of your diet and nutrition, while feeling the same satisfaction of everyone else.

The Keto Box ships month to month for $40.00, but you can get a $2 monthly discount if you make a 3-month subscription!
"100% Natural Freeze-Dried Fruit Snacks" – The Rotten Fruit Box
Pricing:
From $22.49/per month
Box Specs:
One of the tastiest and healthiest snacks you can take anywhere is dried fruit. The Rotten Fruit Box is a dry fruit subscription service and one that will certainly please anyone, no matter the lifestyle or dietary restrictions.
The Rotten Fruit Box has four different choices of packs: the Seasonal box has the best in-season fruit; the Variety Box has 8, 16 or 30 snacks with no repeated items.
The Custom box allows you to select your fruit selection every month; and finally, the Berries Box, which includes strawberries, blueberries, raspberries, and blackberries – dried fruit rich in antioxidants.
Plus, on their website, you can purchase a portable personal blender to make smoothies and shakes anywhere you go. Just add water or milk to your dried fruit and drink your daily boost of vitamins.
"Each delivery, we'll surprise you with awesome new snacks so you'll always find new favorites. Spicy, sweet, candy, chips, sour, gummy, we've got it all!" – Munchpak
Pricing:
3 options:
5 snacks @ $13.95/month
10 snacks @ $23.95/month
20 snacks @ $43.95/month
(Discounts available for quarterly and annual payments)
Box Specs:
With snacks from across the globe and an average rating of 4.7 out of over 9,000 reviews on their website, MunchPak is a fine candidate in terms of a great monthly food box.
Inside of each box, you will find a small booklet filled with fun facts and information about the snacks you will be munching on, as well as the country of origin.
Each box features full-size snacks, ranging from 5 to 20 snacks in each, and you can also add a soda to each box delivery as well to quench your thirst.
These bells and whistles make MunchPak a noteworthy international snack subscription box.
"We strive to make snacks that taste amazing, but we won't cheat to get there by loading our snacks with sugars, salts, fats, or preservatives." -NatureBox
Pricing:
$30 a year
Box Specs:
NatureBox was designed with workers in mind. A corporate snacking program, NatureBox delivers nutritious treats, all of which have no artificial flavors, colors, corn syrup or sweeteners, to employees, whether remote, in-office, or WFH status.
This health-conscious monthly food box offers a number of perks. You also have the option of ordering each item individually. You will save anywhere from 25% to 40% on every order, every day. If your order is more than $25 dollars, you also receive free shipping.
You earn $5 in store credit every single month, so by the end of the year, you have earned $60 back! (Double the cost of membership!) If you aren't crazy about one of your snacks, they will replace it for free. Every morsel of savings makes this monthly food subscription a pretty sweet deal.
Besides food, they also have some beauty products perfect for women's hair. Here are some other 20 ideas on subscription boxes for women.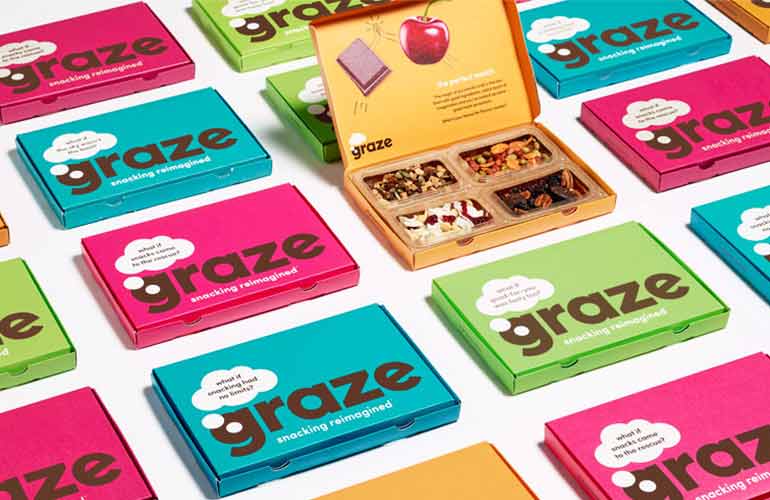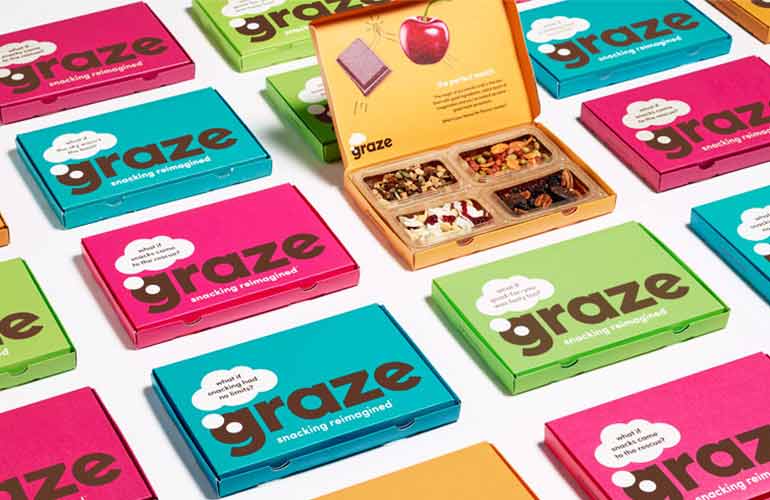 "Imagine having taste experts on hand to select snacks for you! With a Graze subscription, you'll do exactly that. All you have to do is tell us what you like and we'll tailor the flavors of each box to suit you." – Graze
Pricing:
$5.87 a month (first box – $2.93)
Box Specs:
For a unique assemblage of tasty snacks free of trans fats, corn syrup, artificial flavors, genetically engineered ingredients, or colors, give Graze a try.
This international snack subscription box promises not to disappoint. In their words, they're "on a never-ending hunt for healthier, juicier, crunchier, tastier, fresher, bigger, better!".
From their peanut butter and chocolate protein bites to their punchy chili and lime nutty protein power multipack, Graze offers plenty of tasty monthly food subscription options.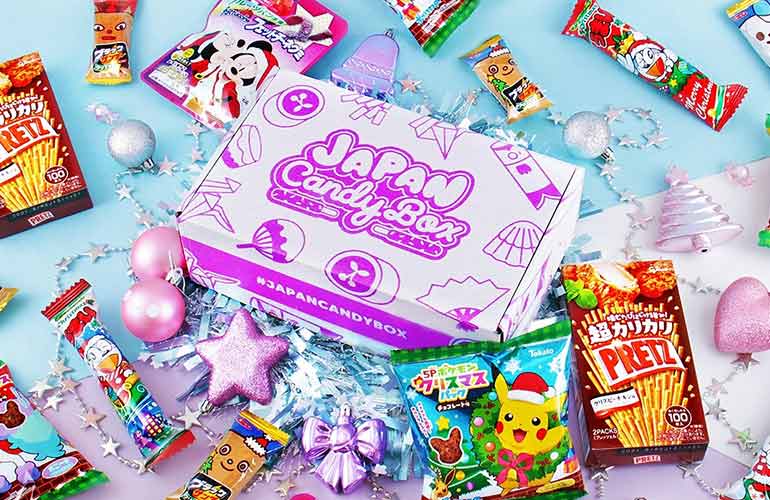 "Our passion at Japan Candy Box is to spread the love for fun Japanese candy & snacks all over the world! We are totally in love with everything Japanese, and snacks are a big part of the authentic Japan experience." – Japan Candy Box
Pricing:
3 options:
$24.90 a month
$131.40 every 6 months ($21.90 a month)
$238.80 annually ($19.90 a month)
Box Specs:
For an international food subscription box creatively crafted with a flair, the Japan Candy Box is definitely worth a try. Every month, you will receive 8-10 cute and carefully curated vittles with a unique Japanese flair.
Choose from different international brands such as Pocky, Jagabee, Pretz, and Hi-Chew to name a few. If you want something a little more familiar, sample their exclusive Japanese Kit-Kat flavors for a true taste of new and improved.
Once you give this monthly box of snacks from around the world a try, the Japan Candy Box will have you wanting more!
"We partner with small artisans and famed candy producers to fill your box with a thoughtfully curated selection of delectable candies every month. The possibilities of curation are endless." – Candy Club Box
Pricing:
2 options:
Fun Box (six 6-oz candy cups): $29.99/month
Party Box (six 13-oz candy cups): $39.99/month
Box Specs:
If you happen to be a candy lover with a crazy sweet tooth, Candy Club Box is one of the monthly food subscriptions you should be in a rush to sample. Easily one of the best monthly food boxes, Candy Club will consistently surprise you with their sweet treats.
From gummies and jellybeans to strawberry straws and licorice, each delivery will show you why Candy Club is one of the best snack subscription boxes.
If you have children or you need to find a gift to a little one, this could be just the perfect idea. Check out the other 20 subscription boxes for kids.
"We believe that life is worth celebrating. A new taste, a new city, a new culture – every new discovery enriches our lives." -Try The World
Pricing:
For Snacks:
$19 a box monthly
$17 a box quarterly up-front
$16 a month twice a year up-front
$15 a box annually up-front
For Food from Different Countries:
$39 a box monthly
$35 a box quarterly up-front
$33 a box twice a year up-front
$29 a box annually up-front
Box Specs:
For a monthly box of snacks from around the world, mouth-watering and specifically curated for your snacking pleasure, the Try the World Snack Box provides a snack lover's paradise.
Subscribers can enjoy five healthy, natural, hand-selected treats made by small-scale artisanal producers with the snacks option every month, or choose to indulge in seven to eight gourmet delicacies, a cultural journey right at home, with the countries option.
This international food subscription box offers an assortment of products from all over the world, accompanied by tips, recipes, and stories.
"Our mission at Jerky Snob is to find the best quality jerky made around the country. Great jerky is made without all of the unnecessary ingredients like nitrites, nitrates, MSG, and high fructose corn syrup." – Jerky Snob Box
Pricing:
3 Options:
Two Bags: $15 a month
½ Pound: $27 a month
1 Pound: $54 a month
Box Specs:
If you are a lover of all things beef jerky, the Jerky Snob box is a cheap food subscription box that will satisfy your jerky craving.
Every month you can choose the amount of beef jerky you want and choose from a variety of bold and spicy, uniquely named flavors: "Righteous Felon – Baby Blues BBQ, Aufschnitt's Teriyaki, and Long Beach Jerky – Gramps' Original" to name a few.
Jerky Snob Box is definitely one of the monthly food subscriptions worth the purchase. If your husband loves jerky snacks, this is the man crate for him. Check out other subscription boxes for men.
"Our mission at Vegancuts is to celebrate the vegan lifestyle, regardless of how you live it, and bring you vegan products you can trust." – Vegancuts
Pricing:
4 Options:
Monthly: $24.95
Quarterly: $74.85
Twice a Year: $134.70
Annually: $258.60
Box Specs:
The Vegancuts Snack Box allows subscribers to enjoy delicious vegan snacks, drinks, and meal kits conveniently. Their snacks are 100% Vegan, totally cruelty-free, and made with non-toxic ingredients. They offer free shipping to U.S. subscribers as well.
From sea salt crackers to avocado crisps, this monthly food box features 10+ nutritious items, each clean and consciously crated.
If you want the pleasure of fruity snacks or an afternoon pick-me-up without having to feel guilty about the high-calorie count, the Vegancuts Snack Box is currently one of the best snack subscription boxes to try.
Find more vegan subscription boxes here.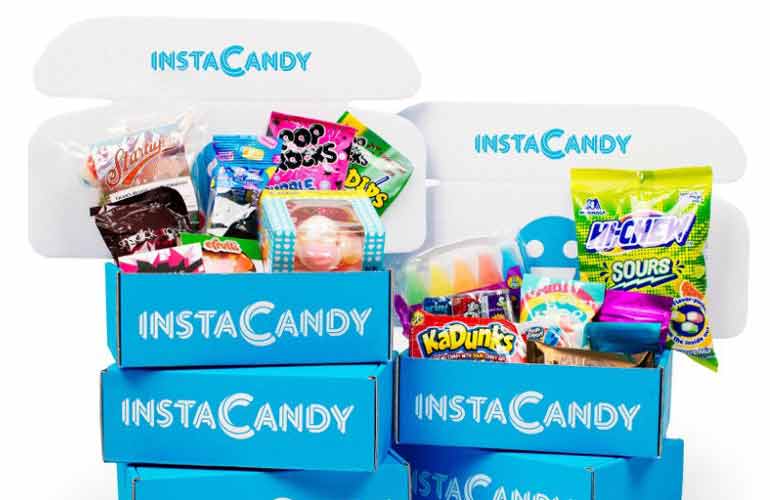 "Enjoy your monthly treat delivery! We bring you bliss with a fun mix of unique new candy and childhood favorites." -InstaCandy
Pricing:
$24 a month
Box Specs:
Candy lovers everywhere can rejoice with InstaCandy's monthly food subscription. For your gummy, gooey, chewy, and chocolatey fix, this snack box leaves nothing to be desired.
A few of their featured items include: Startup Candy Company's Artisanal Jumbo Pops, Nickle Nips, Tropical Mambas, Chocolate Hazelnut Ice Cubes, KaDunks, and even the Japanese Candy Burger Making Kit, an irresistibly sweet lineup of goodness.
Each box will deliver a surprise of 8 or more candies for you to enjoy every month. One of the best monthly food subscriptions, InstaCandy is the only thing your sweet tooth is missing.
"We want our customers to know what they are eating, as well as provide some information about Japanese culture with every box." – Freedom Japanese Market
Pricing:
3 Options:
Puchi Pack (5-8 full-size & sample snacks): $12.99/month
Original Pack (12-16 full-size & sample snacks): $22.90/month
Family Premium Pack (assortment of larger, premium snacks): $42.16/month
Box Specs:
For about a pound of handpicked Japanese candies and snacks delivered right to your front door every month, Freedom Japanese Market offers a monthly box of snacks from around the world that is hard to refuse.
This international food subscription box also includes an English content list and one handmade, seasonal origami piece.
For snacks that are unique and different, from Japanese BBQ corn puffs and fruit au lait Caramel Corn, to pineapple candy potato chips.
This box of monthly food subscriptions will leave you anticipating new delicious snacking options every month
"Every month, the Love With Food team scours the world for the latest emerging snack brands and delivers an expert curation of the tastiest, feel-good options straight to your door." – Love With Food
Pricing:
3 Options:
Tasting (7+ surprise snacks): $7.99-$9.99 a box
Deluxe (15+ surprise snacks): $16.50-$19.95 a box
Gluten-Friendly (10+ surprise snacks): $19.99-$24.99 a box
Box Specs:
The Love With Food snack box delivers new, organic, and natural snacks for monthly enjoyment. With the purchase of each goodie-filled box, a meal is donated to the less fortunate, making this literally one of the best meal subscription boxes currently.
Their rewards pantry allows subscribers to earn points with every purchase, product review, and friend referral, and enjoy free snack rewards.
Munch on some Manchego mini tortas or crunch on a serving Dill Pickle Kraut Krisps made with healthy, tasty ingredients.
"Smarter snacking is just the beginning of our vision. A life of health, happiness, clarity, love, family, and balance is what we strive for." – SnackSack
Pricing:
Classic Option:
Vegan OR Gluten-Free Options:
Box Specs:
If you want a taste of one of the best snack subscription boxes currently on the market with good health in mind, SnackSack is perfect for your snacking needs.
A monthly delivery of nutritious goodies free of artificial additives, this cheap food subscription box is perfect for dieters and the health-conscious alike.
Each box comes filled with 11-15 wholesome goodies, ranging from butternut squash tortilla chips to cinnamon toast popcorn. This monthly food box is hard to pass up.
"Healthy snacks from the world's best brands. Fitness tools to keep you inspired. Nutritional tips to keep you feeling great. With each purchase, we donate snacks to kids in need." – Fit Snack
Pricing:
$28.90 monthly
$27.90 a month – prepay 3 months
$26.90 a month – prepay 6 months
$25.60 a month – prepay 1 year
Box Specs:
Fit Snack is a monthly food box curated for the fit and fabulous. Each of their snacks is selected by their nutritionist, all of which are high in protein, low in sugar, gluten-free, organic, and natural.
Each box includes a bonus of workouts created by a professional trainer, as well as challenges or athletic gear to help your fitness journey, depending on which plan you select.
Shipping is free, and with the purchase of each box, healthy snacks are donated to needy children. If you are a fan of healthy snacks, nutritional tips, and fitness inspiration, Fit Snack is an awesome monthly food subscription choice.
"We've made it our mission to find exciting, health-conscious snack brands and connect them around the snack bowl with like-minded people." -SnackNation
Pricing:
Snack Box (15 snack box): $24.95 a box
Snacks + Essentials Box (8-10 snacks + health essentials): $34.95 a box
Super Snack Box (30 snack box): $39.95 a box
Box Specs:
SnackNation prides themselves on delivering an expertly-curated, delicious variety of snacks to your home or office every month.
This monthly food box features premium coffee, gourmet goodies and safety essentials, whether you are sending a friendly reminder to ten employees or serving 10,000 employees.
Even WFH employees can enjoy treats monthly, and a meal is donated to a family in need with the purchase of a box. SnackNation is easily one of the best meal subscription boxes.
"SeoulBox is a truly immersive experience into Korean culture. Compared to its competitors, the box provides the widest variety of Korean snacks." – SeoulBox
Pricing:
Deluxe OR Halal (12-14 snacks)
Signature (18-22 snacks)
Box Specs:
If you are craving a monthly box of snacks from around the world with a Korean flair, SeoulBox will deliver just that to your door.
This international snack subscription box offers Korean savory snacks, sweet treats, mealtime foods, and drinks every month for you to discover.
Each box also includes 2-3 Kpop merchandise items and a 12-page tasting guide to make your snacking experience fun.
This box with food from around the world is definitely worth sampling if you want to try something different and delectable.
In Their Voice:
"Open your box and commence on a delectable, culinary, and cultural journey!" – Treats
Pricing:
Standard (5+ snacks): $14.95 a month
Premium (10+ snacks): $24.95 a month
Box Specs:
Treats offer a monthly box of snacks from around the world conveniently delivered straight to your home. They offer a variety of unique snacks from different countries: Asia, Latin America, Australia, Europe, and Africa to name a few.
They even feature Indian delicacies like Parle Hide & Seek biscuits. Treats Snack Box is one of the best international snack boxes for the curious and adventurous snacker.
"Gifting is our specialty. Whether it's a thoughtful get well gift for a sick friend or birthday chocolates to express best wishes or congratulations, we have you covered." – Jackie's Chocolate
Pricing:
$29.95 a month
$89.95 quarterly
$179.00 every 6 months
$359.00 annually
Box Specs:
Are you a chocolate lover? Enjoy snacking on crunchy nuts, chewy caramels, fully marshmallows, and creamy, fruit-filled centers wrapped with decadent chocolate?
Jackie's Chocolate box is one of the tastiest monthly food subscriptions on the market. You will enjoy about 15 of the world's best chocolates every month, and you can also enjoy free shipping if your order is over $75.
Check out some other chocolate subscription boxes.
Meals and product delivery subscription boxes
"Getting a CrateChef box is like receiving a gourmet gift from a top-name culinary expert delivered right to your door." – CrateChef
Pricing:
$49.00/per month
Box Specs:
Learning how to cook is not difficult and with CrateChef it becomes even easier. Each month CrateChef features an experienced chef, sharing their story with you in a box.
In each box you receive 5 to 7 items that represent a sample of the featured chef's favorite ingredients. The items can include many things, from spices, herbs, sauces and other pantry objects.
Along with that, it's possible the box includes kitchen tools, gadgets and even a cookbook from the chef.
Prepare yourself to start producing gourmet dishes at home and surprise your friends and family.
CrateChef provides quality luxury ingredients from around the world, with all the guidelines to help you become a chef of your own. If cooking is your passion or just a hobby you love this is the subscription box for you.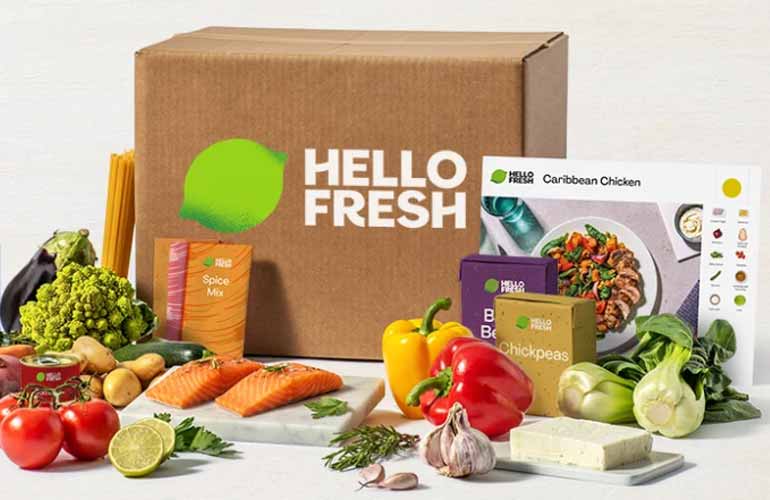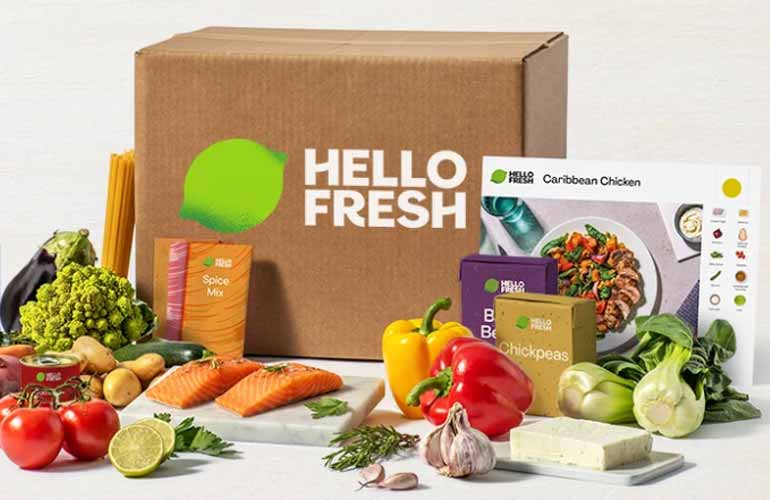 "In all our active markets, we aim to provide every household with wholesome, homemade meals – no shopping and no hassle." – HelloFresh
Pricing:
$7.49 per meal
Bundles starting at 2 People, 3 Meals a Week: about $61/week (shipping included)
Box Specs:
The HelloFresh monthly food box is one of the best meal subscription boxes currently on the market. This food box makes dinnertime easy and fun. Each box includes recipes with easy-to-follow instructions.
You can choose your plan type: meat & veggies, veggie-only, family-friendly, or calorie smart. The foods included are high quality and they allow you to skip weeks, change recipes out, and cancel at any time.
America's most popular meal kit, HelloFresh is without a doubt one of the monthly food subscriptions worth trying.
"Plenty of options, tons of flavors, fresh ingredients galore all delivered to your door! What are you waiting for?" – Home Chef
Pricing:
Kits starting at $6.99 a meal
Box Specs:
Currently number one in customer satisfaction for meal kit companies, the Home Chef cheap food subscription box provides plenty of bang for your buck.
They offer carb conscious, calorie conscious, and vegetarian options for healthy weekly meals.
You can also customize your recipes according to your cooking skill level, making this one of the best meal subscription boxes to try.
"When it comes to meal-time, you've got a lot of options. Some offer convenience, some offer nutrition, and some offer the foods you crave. We offer all three." -Freshly
Pricing:
1 meal: $6.99
4 meals: $49.99
6 meals: $59.99
9 meals: $89.99
12 meals: $107.99
Box Specs:
The Freshly monthly food box gives you that chance to enjoy home cooking without all the hassle. Choose the best diet option suitable for your dining needs- carb conscious, calorie conscious, or vegetarian.
You can then upgrade, double up, or switch out your meals as you desire. Spice up your evening with a Japanese BBQ Burger or a Huli Huli Chicken Rice Bowl from the Freshly international food subscription box.
"We use less packaging and simple ingredients for delicious, filling meals that are easily doable. Our aim is to bring tasty value and convenience, not make you a chef." – Every Plate
Pricing:
$4.99 per serving, $8.99 shipping (no matter the number of meals)
Box Specs:
The Every Plate monthly food box is one of the best monthly food subscriptions because of its affordability and practicality. They do away with the fancy frills and fillers, and offer each one of their meals at a mind-blowing $4.99 per serving!
Every week they offer different delicious meals, from soy-glazed pork meatloaves to Hoisin sriracha chicken with ginger rice and roasted carrots. Enjoy one of the best meal subscription boxes with Every Plate.
"Stay healthy at home with chef-crafted meals full of organic fresh produce & delicious flavors." – Sun Basket
Pricing:
3 recipes a week for 2-4 people @ $11.99 per serving + $7.99 shipping
Box Specs:
The Sun Basket monthly food box provides plenty of diet options. Choose between 9 different delicious meal plans, from pescatarian to Mediterranean.
Their food is fresh and farm-to-table with eco-friendly packaging and quick preparation time.
Try the Sun Basket international food subscription box for flexible meal plans with absolutely no commitment and an, as they put it, 100% mouthwatering guarantee.
Final thoughts
Finding the best snack or food subscription box is easy and painless. Simply choose the dietary needs you have and maybe check out which ones will be perfect gift food boxes.
Anyone would be thrilled to receive a snack subscription box as their birthday gift! Looking for more subscription boxes? Check out FiveBoxes.com.