FiveBoxes is reader-supported. When you buy through links on our site, we may earn a small commission when you click the links at no additional cost to you. Read the full disclosure.
Last updated on Feb 07, 2022
Monthly subscription boxes are the new and improved way to discover fresh, fun, and trendy items for your personal or gifting pleasure, especially for women.
With so many options for subscription gifts for her, figuring out which company to purchase from at first might be a bit overwhelming.
Are you looking to satisfy your inner diva with a voguish statement piece of jewelry? Or you wish to show your love for your significant other with a fresh bouquet of flowers delivered monthly?

There are offers for every wallet, every taste, and every need.
Here are the top 19 women's monthly subscription boxes that FiveBoxes recommends. Take a look.
What are the Top 19 Best Subscription Boxes for Women?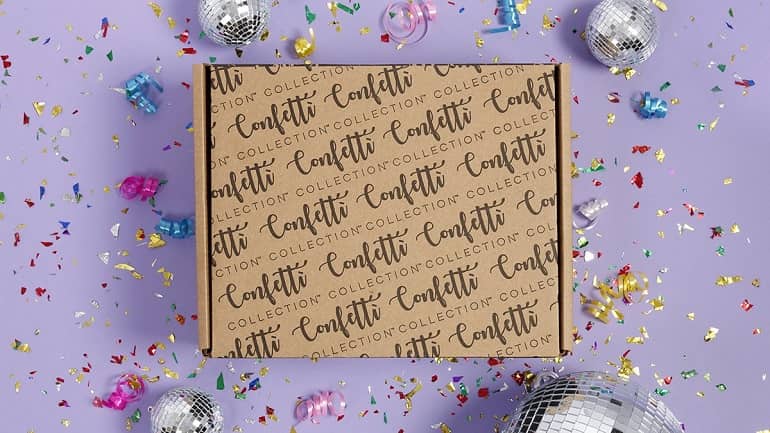 "Treat yourself to an award-winning box of giftables, stationery, and other fun novelties." – Confetti Collection
Pricing:
$19.99/every 2 months
Box Specs:
If you love a good surprise, Confetti Collection is the ideal subscription box for you. Every 2 months you'll receive a pack with stationery (pens and notebooks, for example) and other small items that vary from bookmarks to coffee cups or stickers.
Every shipment is different, so you won't have repeated items in your collection. Plus, these items are ideal for gifting to friends, family or to surprise a soon-to-be mommy in a baby shower.
When most people right now are in a work from home situation, Confetti Collection is the ideal subscription box to pamper your home office and make it cozier.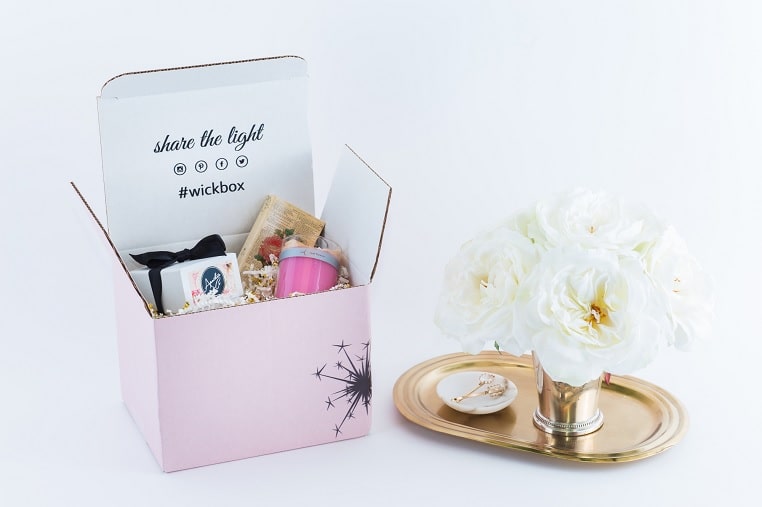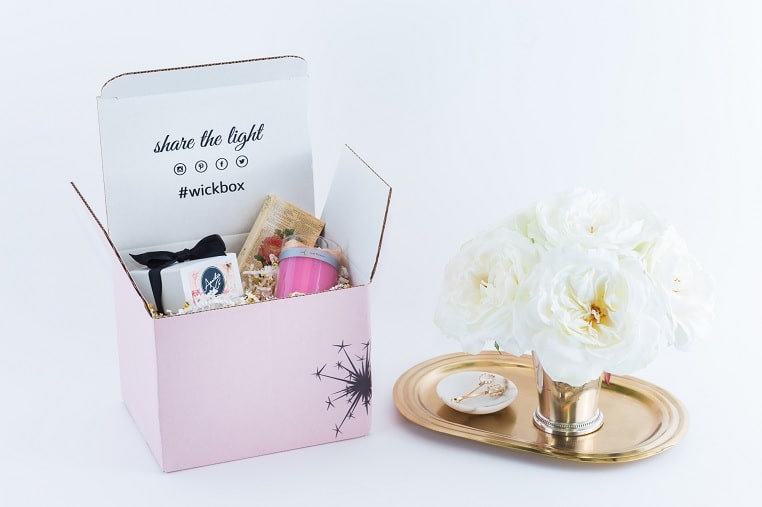 "Your luxury candle subscription curated to your unique scent preferences." – Wickbox
Pricing:
From $29.95/month
Box Specs:
So, you love candles, and you haven't found a candle subscription box that fulfills your enthusiasm for it? Or maybe you have a loved one who really enjoys amazing scents and looking for the perfect gift?
Wickbox is the ideal present for all candle lovers out there. They come in two different sizes: a monthly medium box and a monthly large box.
Both come with one monthly candle, specifically curated for you, with the large package having double the burn time as the medium one so you can have your candle lit for up to 100 hours!
With positive reviews from Forbes, HuffPost, and Oprah Magazine, Wickbox is one of our favorite subscriptions out there.

Get the Wickbox subscription now or gift it to the most passionate candle fanatic you know!
We have two goals. To build a community of women who support women, and to help you discover products that are ethical and sustainable. — CAUSEBOX
Pricing:
Two options:
$54.95 quarterly
$199.80 annually
Box Specs:
For a combination of lifestyle necessities, such as home decor, jewelry and cosmetics, the CAUSEBOX is an obvious choice for monthly gift boxes for women.
Each box contains at least a $150 value of 5 full-size products.
Many of these ethnically-designer items are exclusive to CAUSEBOX, and subscribers who decide to indulge in their annual membership receive an extra $20 in savings, plus the ability to customize their girly subscription boxes.
"Delivering happiness and well being to everyone, everywhere." — FabFitFun
Pricing:
$49.99 a box quarterly
Box Specs:
Featuring $200+ worth of products, ranging from beauty and wellness to fitness and home, in each $50 box, FabFitFun is one of the best monthly gifts for her.
Delivered four times a year, FabFitFun offers full-size cosmetic and beauty products, accessories, and a number of other lifestyle necessities, all perfect subscription gifts for her.
Each season, new items can be selected. Free shipping is even included, and all of these bonuses combined make it obvious as to why they have been mentioned on CBS as well as Forbes.
FabFitFun is undoubtedly one of the best girly subscription boxes.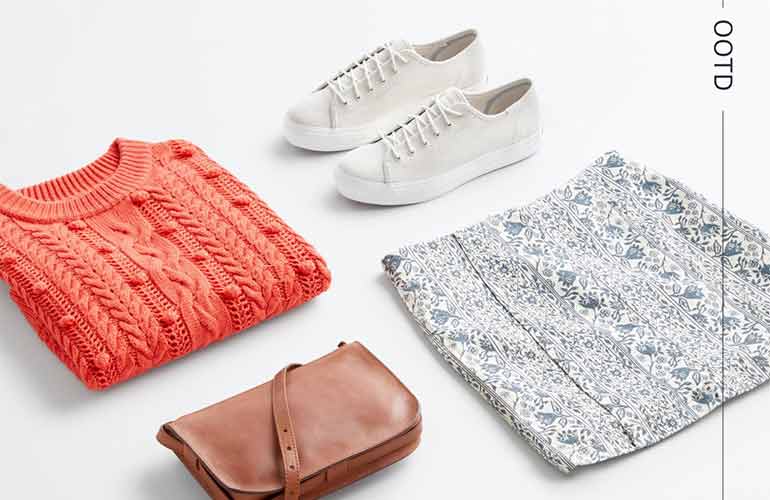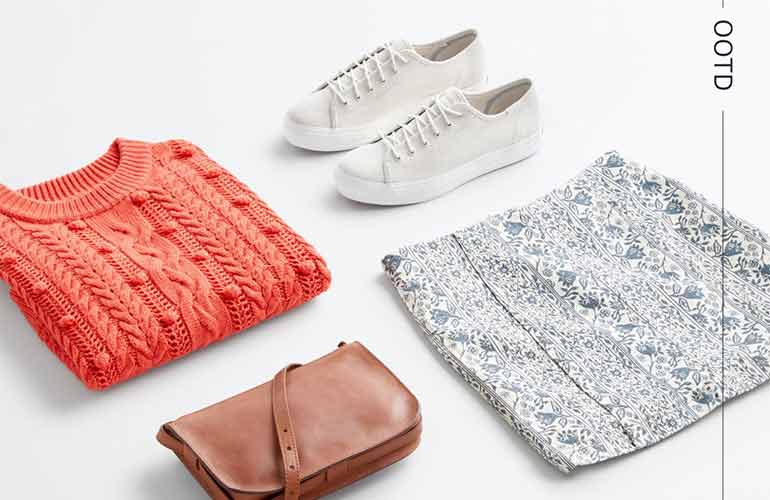 "With clothing hand-selected by our expert stylists for your unique size and style, you'll always look and feel your best." — Stitch Fix
Pricing:
$20 monthly styling fee
Box Specs:
With Stitch Fix, you can have the personal stylist you always wanted while spending a fraction of the cost. Every month you receive five items, handpicked based on your personal style, making Stitch Fix one of the standout monthly clubs for her.
You can choose which clothing items, shoes, or accessories you want to keep and only pay for those items. Your $20 monthly styling fee is used as credit and only charged if you choose to return all of your items.
Stitch Fix also offers subscription boxes for men and subscription boxes for kids. So, it's perfect for when you need to choose a gift for a loved one.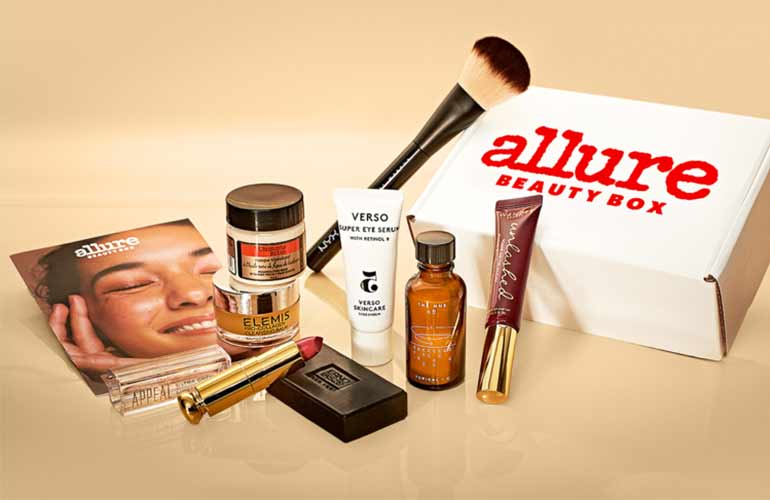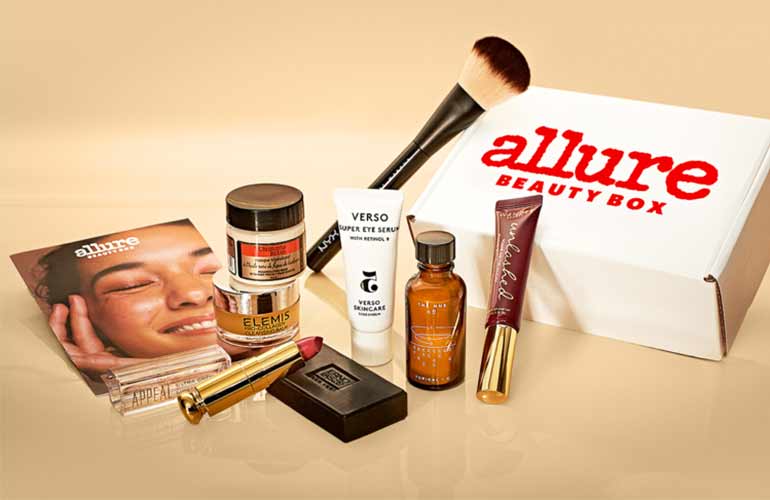 "Let us deliver a small bit of comfort, creativity, and connection"— from the Allure team to you.
Pricing:
$15 a month
Box Specs:
For a refreshing collection of luxurious monthly subscription gifts for her, Allure Beauty Box leaves little to be desired.
Each box is worth $122 on value, features at least two full-size products, a mini-mag including a few tips and tricks from Allure's experts. In total the box contains 8 items.
They also offer free shipping for all U.S. citizens and also deliver to Puerto Rico.
If you like to be the first to get your hands on trending cosmetics and beauty products, the Allure Beauty Box is easily one of the top subscription boxes for women.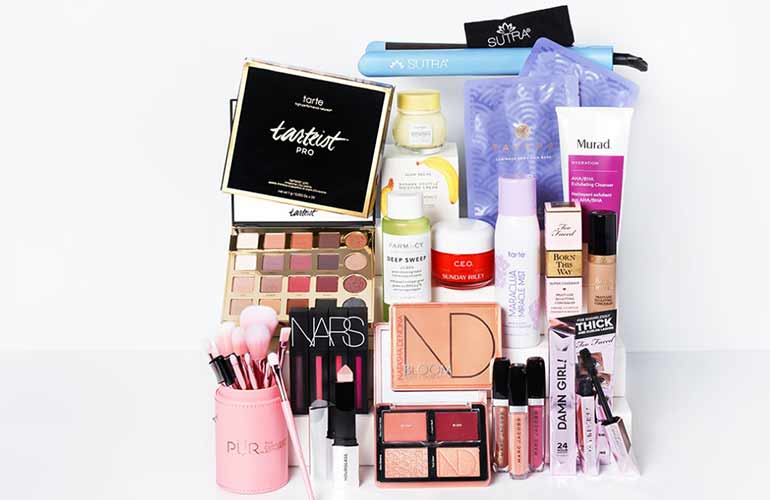 "Enjoy exclusive, members-only offers from the best brands in beauty." — BoxyCharm
Pricing:
$25 monthly
Box Specs:
For great quality and a variety of full-size beauty products, the BoxyCharm box is one of the best monthly female subscription boxes.
With featured brands including MAC and NARS, this ladies' subscription box will have you anticipating your new arrivals each month.
Your items will consist of skincare, lip and eye products, beauty tools, and a palette — all essential items fitting for a ladies' subscription box. If you really love their subscription gifts for her, upgrade to their BoxyLuxe supersized box.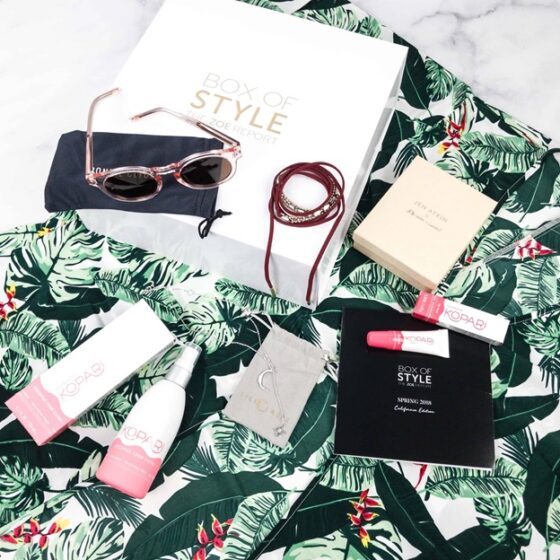 Quality over quantity. That's our mission and our promise. We carefully hand-select a mix of luxury brands you know as well as under-the-radar brands you'll fall in love with each season. — Rachel Zoe Box of Style
Pricing:
$99/quarterly
Box Specs:
If you are looking for haute, fashion-forward statement pieces and products, the Rachel Zoe Box of Style will not disappoint.
These subscription gifts for her are size and color customizable, and consist of styling tools, beauty products, and other accessories.
You have the option of paying for this ladies' subscription box either quarterly for $99, or $349.99 for the year.
The yearly option will upgrade you to VIP status and allow you to access all 5 seasonal luxe beauty items at a cheaper price.
"We know your life is so full, you probably don't take the time to prioritize you enough. This is our real goal. Every month you get your Birchbox, it's a reminder that you deserve time to care for yourself. And not just to take care, but to take joy in that care." — Birchbox
Pricing:
Three options:
$15 a month
$84 twice a year (free hair kit included)
$156 annually (first box is $1!)
Box Specs:
If you wish to enjoy 5 sumptuous makeup and cosmetic samples from a number of different categories every month, Birchbox is cutting edge in terms of cheap subscription boxes for women.
Each month their team handpicks your items, consisting of a mix of niche and prestige beauty brands, based on your personal desires.
They also offer you $1 back in Loyalty Points every time you spend $10, making them easily one of the top monthly gift boxes for women.
"TheraBox was founded with one mission in mind: to inspire happier lives through practical joy boosting activities & thoughtful self-care products!" — TheraBox
Pricing:
4 options:
Monthly: $34.99
Every 3 Months: $99.99
Twice a Year: $191.94
Annually: $371.88
Box Specs:
TheraBox is currently one of the best gift boxes subscriptions for her because of its true focus on self-care.
These monthly subscription boxes are arranged by licensed therapists to reduce overall stress and increase cheerfulness.
Each of the monthly gift boxes for women consists of 5 to 7 organic bath products and skincare, herbal teas, aromatherapy products, and uplifting readings.
TheraBox also includes one happiness activity to exercise your mind and attentiveness.
"With a committed and bold spirit, we set out to redefine the jewelry category as a customer-led, joy-filled experience." — Rocksbox
Pricing:
$21 a month
Box Specs:
Rocksbox, currently one of the best girly subscription boxes, allows its customers to try chic designer jewelry without the commitment. Your items will be picked based on your style preference, making each experience unique.
All Rocksbox buyers can add items to their wishlist at will. Nonetheless, expect to be surprised with at least one of the items in their next shipment.
Three pieces of jewelry can be selected, or sent at random, monthly. If you decide to purchase the jewelry, you can do so at a discounted price.
People Magazine and Forbes have also both labeled Rocksbox one of the best monthly gift boxes for women for a reason.
"Members at any level gain access to all of our curated jewelry collections, including iconic fashion houses like Hermes and Chanel, as well as couture brands and emerging designers." — Switch
Pricing:
Three options:
$29/Month (1 piece of jewelry w/ $5 in earned credit monthly)
$49/Month (2 pieces of jewelry w/ $7 in earned credit monthly)
$69/Month (3 pieces of jewelry w/ $10 in earned credit monthly)
Box Specs:
If you have always wanted to try designer jewelry brands like Gucci, Christian Dior, and Chanel without the hefty price tag, you now have your chance.
One of the elite monthly clubs for her, Switch is a jewelry rental service that allows women to feel fabulous without the guilt of overspending.
Members are allowed to keep their jewelry as long as they please. If they want to purchase their customized order, they can do so at a discounted member price.
Who said that cheap subscription boxes for women couldn't offer luxury products?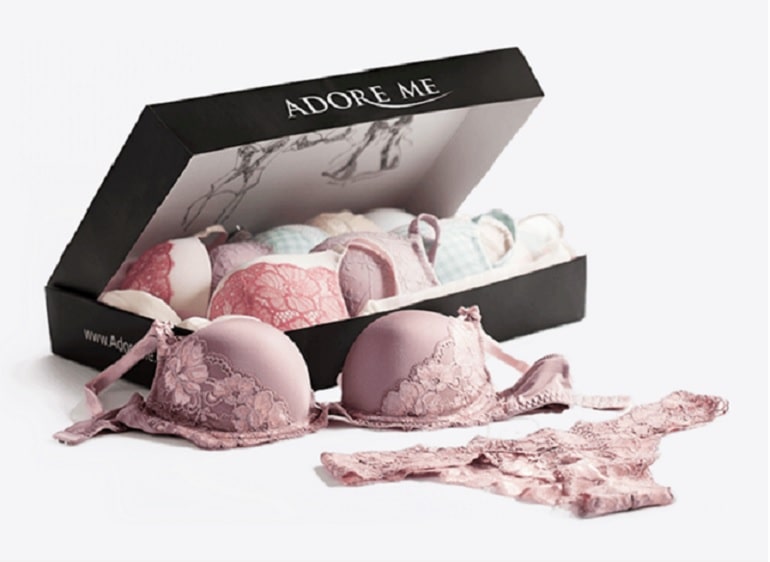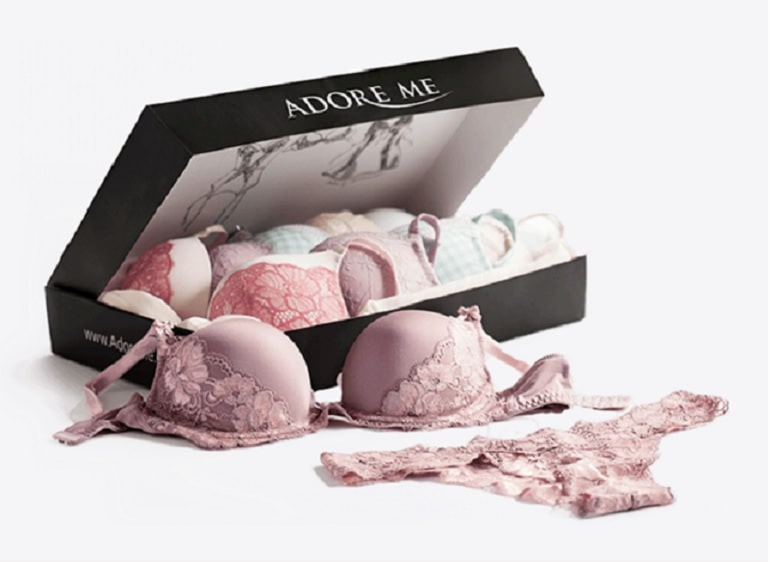 "We understand that every woman has a unique style and body type and we celebrate that by designing lingerie styles with a perfect fit for everybody." — Adore Me
Pricing:
$39.95 a month
Box Specs:
Every woman loves sassy, sexy lingerie that fits their body type. Adore Me's monthly gift boxes for women deliver gorgeous lingerie choices, featuring a variety of fun colors and styles.
This monthly subscription box allows its users to upgrade to their VIP option, which prices the first box at $24.95 and also offers free shipping and exchanges.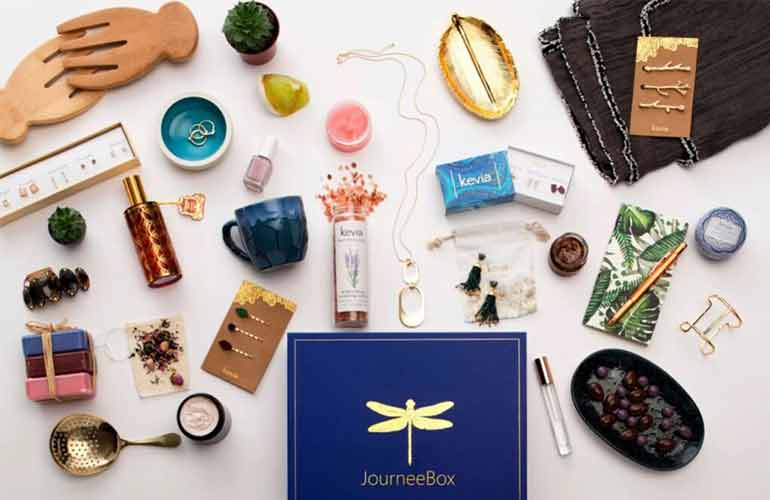 "Our stress-free approach guarantees every box is full of fair trade goods that empower the artisans that make them." — JourneeBox by Kevia
Pricing:
$54.95 quarterly
Box Specs:
This set of monthly boxes for women follows the similar direct-to-consumer framework for production as the company IKEA — they design and produce all of their materials exclusively.
The JourneeBox by Kevia features a quarterly delivery of designer-produced, durable home, culinary, body, and fashion goods.
Users can enjoy one of the best subscription services for women as they customize the size and color of their options for their enjoyment.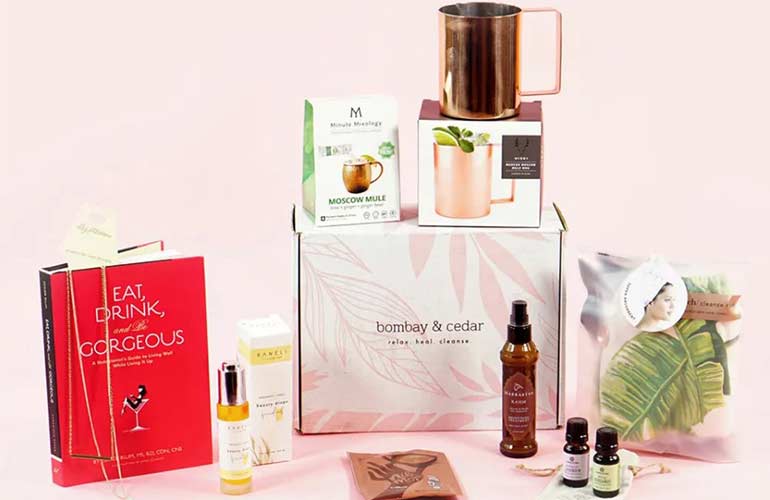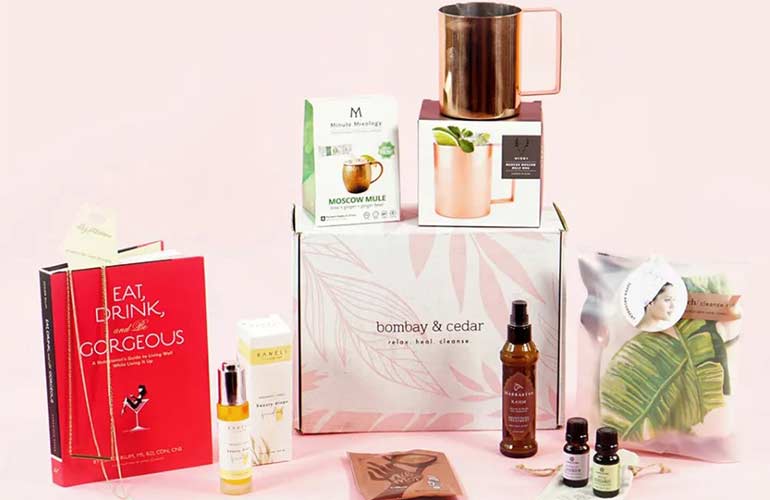 "A luxury unboxing experience that offers the opportunity for discovery, change, and yearning to learn more. High-quality products curated with a touch of love." — Bombay & Cedar
Pricing:
4 options:
$31.95 a month
3 months @ $30.95 a month
6 months @ $29.95 a month
1 year @ $28.95 a month
Box Specs:
Full-size beauty, wellness, aromatherapy, and lifestyle essential products — just a few of the perks that the Bombay & Cedar monthly box offers.
When monthly boxes for women feature essential oils, diffusers, skincare products, books, and snacks, they become simply irresistible.
The Bombay & Cedar box, as they put it, is "carefully curated for the discerning woman who lives an inspired life."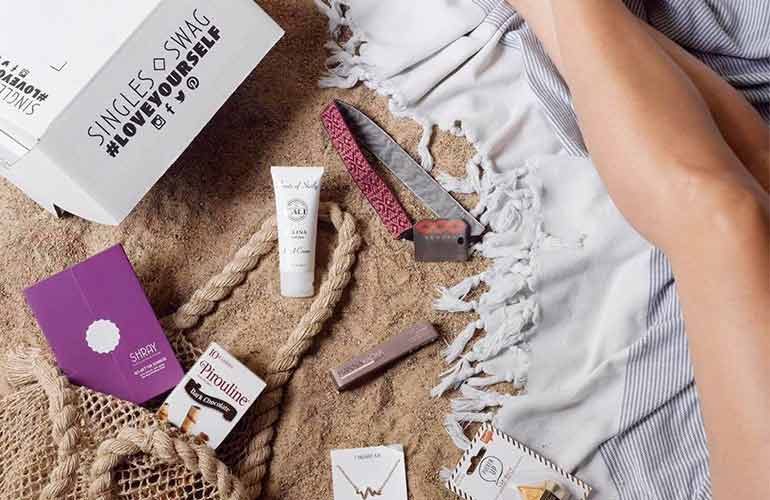 "At SinglesSwag we do not subscribe to any societal or cultural expectations on women. We believe a woman's happiness is determined by her outlook and attitude, not by her relationship status." — SinglesSwag
Pricing:
2 main options:
SinglesSwag Petite (4-5 full-sized products monthly)

$24.99 monthly
$71.99 for 3 months
$139.99 for 6 months


SinglesSwag (7-8 full-sized products monthly)

$39.99 monthly
$114.99 for 3 months
$224.99 for 6 months
Box Specs:
Single women deserve to feel important too, and SinglesSwag was designed to make sure of it.
Every month, you receive full-size organic beauty and bath products, scrumptious snacks prepared by artisans, fashion accessories, and even a few surprises.
SinglesSwag's unique selection of products makes them one of the best monthly subscription boxes for women.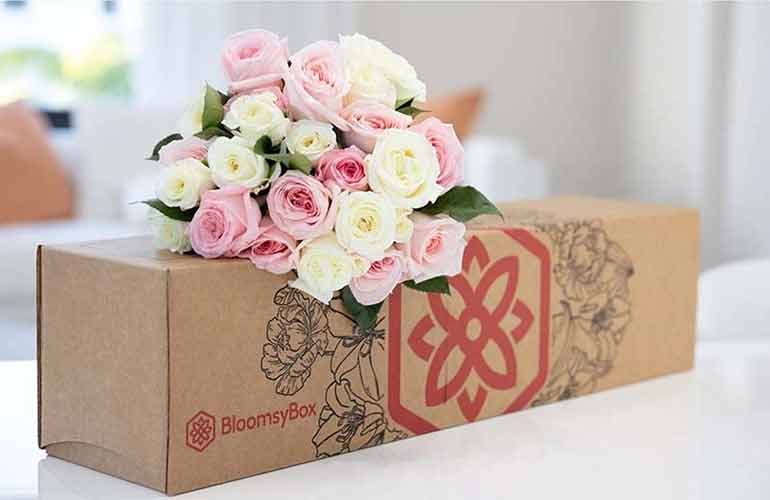 "Experience the joy of farm-to-vase flowers! Our bouquets arrive within 48 hours of being picked at our sustainable farms–making for the ultimate in freshness. The perfect gift for yourself or someone special!" — BloomsyBox
Pricing:
6 Options:
Weekly Plans:

$44.99 a week
$44.99 bi-weekly


Monthly Plans

$39.99 a month (Bloomsy original)
$44.99 a month (Bloomsy roses)
$49.99 a month (Bloomsy deluxe)
$54.99 a month (Bloomsy premium)
Box Specs:
Women have always loved the sentiment behind a bouquet of fresh flowers. They are amazing gifts, they smell great and they give your house or flat a refreshing atmosphere.
The creators behind the BloomsyBox took advantage of this vision and found a way to produce unique hand-tied bouquets for the flower-loving woman to enjoy.
Have your own flower arrangements straight from the garden to your door. These girly subscription boxes can be customized to arrive on a weekly or monthly basis.

"Margot Elena's meticulously crafted brand libraries overflow with luxuries beautifully balanced in design, fragrance, and formulations. Always mindful that her products add beauty and meaning to their environment, Margot Elena designs her brand worlds down to the last endearing detail on each package." — Margot Elena
Pricing:
$49.99 seasonally
Box Specs:
Make yourself feel special with all things beautiful from the Margot Elena Discovery Box. Filled with over $200 worth of full-sized luxury products in each box, this girly subscription box is sure to satisfy.
Filled with subscription gifts for her, items consist of stationery, wearables, opulent fragrances, and lifestyle gifts.
If you happen to miss one of their seasonal boxes, you can join the waitlist on the purchase page and still enjoy their fine products.
"Experience the World At Home, Each Month." – GlobeIn Artisan
Pricing:
4 options:
$40 a month
3 months for $38 a month
6 months for $35 a month
Annual for $33 a month
Box Specs:
Also featured by Forbes and Business Insider, GlobeIn offers monthly boxes for women that worth investigating.
Offering a new theme every month, this ladies' subscription box sends out random items based on their stock, making each shopping experience unique.
The GlobeIn Artisan box features 4 to 5 handmade items with a value range of $70-150.
You can have unique items from different countries, from an artisanal ukulele to a Persian silk tunic.
Each distinctive decoration is made by remote artisans around the world, meaning every dollar spent helps create jobs for those who may be less fortunate.
Final thoughts
Here you have our top 19 subscription boxes for women. We had in consideration the diversity of prices and products, plus how accessible to buy these women gift boxes are.
Let us know what were your experiences with the packages mentioned and if we missed any must have subscription box for women.
While you are here check out also the top subscription boxes for men. Whether you are looking for a monthly surprise or a casual gift to a loved one, FiveBoxes helps you to make the right choice.