FiveBoxes is reader-supported. When you buy through links on our site, we may earn a small commission when you click the links at no additional cost to you. Read the full disclosure.
Last updated on Feb 08, 2022
From ready-to-make meals to beauty products, we all look forward to our monthly subscription box deliveries. But what about the best subscription boxes for kids?
As it turns out, there are dozens upon dozens of kids subscription boxes geared specifically for children, ranging in niches from toys to educational materials to even snacks.
So how do you know if you will get your little ones excited each month with these kids boxes? Luckily, we've done some of the heavy liftings for you and have compiled all you need to about what's on the market.
Take a look at FiveBoxes picks for the 21 Top Subscription Boxes for Kids.
What are the top 21 best subscription boxes for kids?
They say:
We believe that creative confidence helps kids think BIG and act like creators and producers instead of just consumers. – KiwiCo
Pricing:
$19.95/month for any box or $16.95/month when you commit to a yearly subscription
Recommended Age:
Tadpole Crate: 1/2 years to 14
Eureka Crate: 14 and upwards
Box Specs:
KiwiCo is a STEAM (science, technology, engineering, arts, and mathematics) subscription box for kids, offering 6 lines for kids and teens of different ages.
These include the Tadpole Crate, geared towards newborns up to 36 months, up to the Eureka Crate, meant for ages 14 and up.
According to KiwiCo's website, each kids box is meant to inspire young inventors, artists, makers, and scientists with monthly hands-on educational projects.
What they have to say:
Young children work alongside an adult, while older kids and teens indulge their culinary curiosity! And it's perfect for picky eaters — kids who cook, eat! – Raddish Kids
Pricing:
$24/month with options to save with longer subscriptions
Recommended Age:
Ages 4 to 14
Box Specs:
Raddish Kids is one of the best children's monthly subscriptions. If your child likes cooking, baking, and creating new things this is for him or her. So these are great subscription boxes for girls and boys!
Each box includes three illustrated recipe cards, laminated with step-by-step instructions for things like Pesto Pasta Salad or Swedish Meatballs.
The box also comes with a "featured kitchen tool," and a grocery shopping list. Kids will also learn with options for dietary substitutions. Raddish Kids allows parents the flexibility of add-ons, with additional aprons, apron patches, and kitchen tools for additional monthly charges.
Important: As advertised on Raddish Kids' website, recipe modifications for vegan, vegetarian, gluten-free, egg-free, and dairy-free diets are available.
They believe:
Our mission is to enable and empower parents to build their children's book collections in an affordable and exciting way through curated monthly book deliveries. – Bookroo
Pricing:
$19.95/month + shipping with options to save with longer subscriptions
Recommended Age:
Board books: Ages 0-3
Picture books: Ages 3-6
Chapter book box: Ages 7 to 10, or older
Box Specs:
How it works: Bookroo is a monthly subscription and award-winning book club for kids! Whether or not a child already loves to read, they'll love the excitement of opening a gift compiled with an array of exciting new books each month.
These are great subscription gifts for kids and you can subscribe and use it when you need to offer a present to a little one. It's a great way to start a child's at-home library, full of educational and fun books they'll want to read over and over again.
Named one of Parent's Magazine's Top 10 Subscription Services, Bookroo books arrive in a bright, colorful box, hand-wrapped like a present. It is ready for each child to open easily.
What they have to say:
I am happy to say that I am now able to give families the tools they need to engage their child in fun sensory play while promoting the development of important sensory-motor skills. – Christina Kozlowski, founder of Sensory TheraPLAY Box
Pricing:
$39.95/month + shipping, with options to save with longer subscriptions
Recommended Age:
5-9 years old (might vary from child to child).
Box Specs:
Sensory TheraPlay Box is a toy subscription box curated by a pediatric occupational therapist. It's mission: to bring a smile to a child's face each month!
Each box is compiled with items meant to help your child self regulate or to simply offer fun therapeutic play! Inside, you'll find a mix of 5-6 textured toys, crats and activities meant to improve motors skills and early development.
According to its website, Sensory TheraPLAY Box is designed with high-energy and anxiety-prone children or children on the autism spectrum in mind but can be enjoyed by ALL kids.
The best part? Subscribers will receive all sorts of different items so they can really discover what type of products work best for their child.
According to its founder Joanna:
Yumble was born when I realized I wasn't alone in this struggle [to spend hours every week planning, prepping, and making healthy, yummy meals from scratch] and that there could be a better way. – Joanna Parker, founder of Yumble
Pricing:
Starts at $7.99 per meal with 6 meals per week
Recommended Age:
Ages 1 to 12
Box Specs:
Yumble takes the work out of meal prep for a picky eater. With prepared dishes meant for kids ages 1-12, each box is made with regionally sourced ingredients and veggies hidden in each dish.
It allows subscribers to pick whether you'd like to receive 6 meals per week (good for 1 kid), 12 per week (recommended for 1-2 kids), or 24 meals per week (for 2-3 kids).
Subscribers can also select which meals they'd like to receive or let Yumble fill their box with their most popular items. Subscribers will receive ready-to-heat food that even picky eaters will enjoy.
Some standout meals: classic cheese ravioli and green beans in veggie-packed marinara sauce and baked taco pockets with brown rice and organic corn.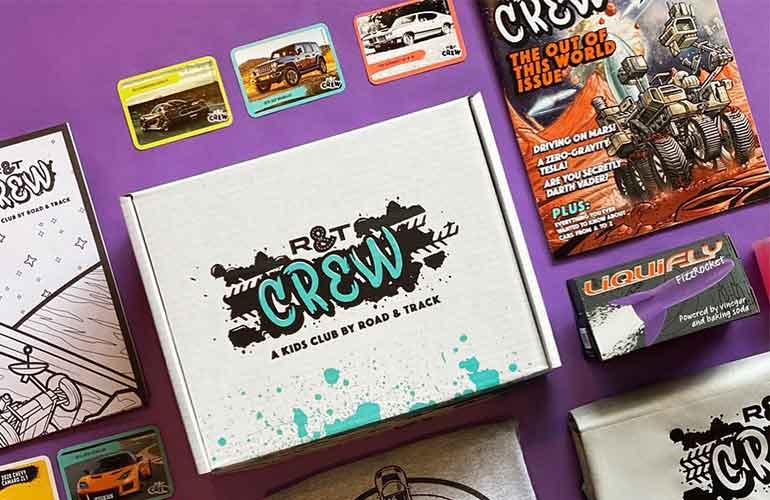 What they have to say:
It's a magazine and subscription box for kids ages 6-10 who love cars! Crew members receive a curated box of car-themed goodies, plus a special R&T Crew magazine every other month. – R&T Crew
Pricing:
$225/year for six boxes or $40/per box
Recommended Age:
6 to 10 (younger kids should be always accompanied by an adult)
Box Specs:
R&T Crew is the ultimate subscription box and magazine for those car and truck loving little ones!
Every other month, a themed box arrives with car-inspired activities, wearables, and a special members-only R&T (Road & Truck) CREW magazine–something to do, wear and read.
Even though this looks like subscription boxes for boys only, you might be surprised how your little girl also gets excited over the automotive world.

Each kids box is curated with custom items and content worth over $60. Since you pay for box and not for the month, this is one of the best quarterly subscription boxes for kids.
What they have to say:
As a new mom, it's difficult to keep up with each stage and understand how to support it, as all happens so quickly. Between feedings, changings and longing for REM sleep, it was a challenge to continuously research and buy new age-appropriate toys that helped with development. – Jasmin Bhukkarat, founder of Hoppi Box
Pricing:
$22+/month
Recommended Age:
0 to 4 years old
Box Specs:
Hoppi Box is meant to nurture a little one's growth, taking the guesswork out of what toys are developmentally appropriate for each baby it serves.
Each quarter, Hoppi Box sends four or five goodies, tested by child-development experts, geared towards a baby's age and upcoming milestones. If you are looking for the top subscription boxes for babies look no further.
The toys will help support the development of fine motor, cognitive, and social skills. A plus: all toys are eco-friendly, organic, and BPA-free.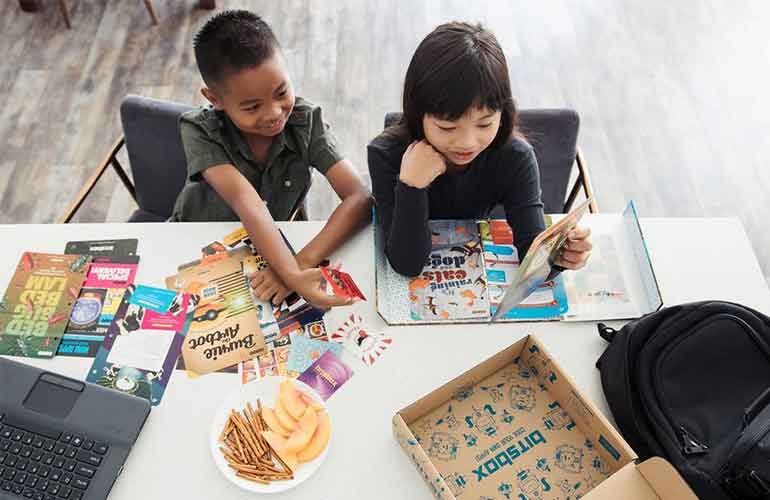 About BitsBox:
We believe two things: that every kid has the right to learn, and that it's our job to make stuff that works for every kind of kid. – Bitsbox
Pricing:
$24.95/month
Recommended Age:
6 to 12 years old
Box Specs:
Have a little tech genius at home? Bitsbox is a learning system and a monthly subscription box that teaches kids to code! Subscribers will receive a box in the mail or an emailed PDF (depending on which subscription tier you sign up for) that teaches kids ages 6-12 new computer coding projects.
Each box introduces a new computer science concept. Kids are able to look through the materials and choose a project ranging from simple to more advanced.
And with hundreds of different projects to choose from, kids will never run out of innovative and educational opportunities!
What the brand says:
Nike Adventure Club is the most convenient way to get the shoes your child needs, delivered right to your door. – Nike Adventure Club
Pricing:
$20+/month
Recommended Age:
You can choose the shoes that fit your child's age.
Box Specs:
Nike Adventure Club is Nike's official subscription for kids' shoes. Subscribers can choose a monthly, bi-monthly, or quarterly subscription to get a new pair of Nike or Converse shoes regularly delivered to your door.
Adventure Club boxes also include an "Adventure Kit," made up of activities to inspire kids to get up, move and take on everyday adventures. The best part?
Nike club members participate in two big shoe collection drives a year. Subscribers will receive a bag that can be used to send used sneakers back to Nike–depending on their condition, they'll either by recycled or donated to a family in need.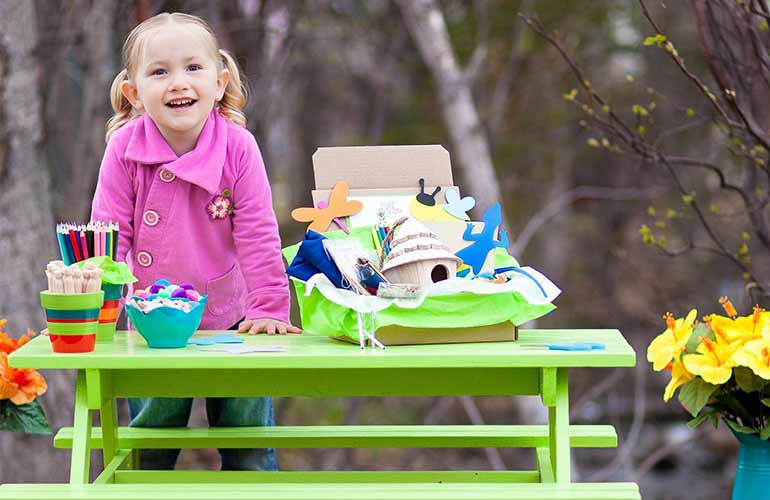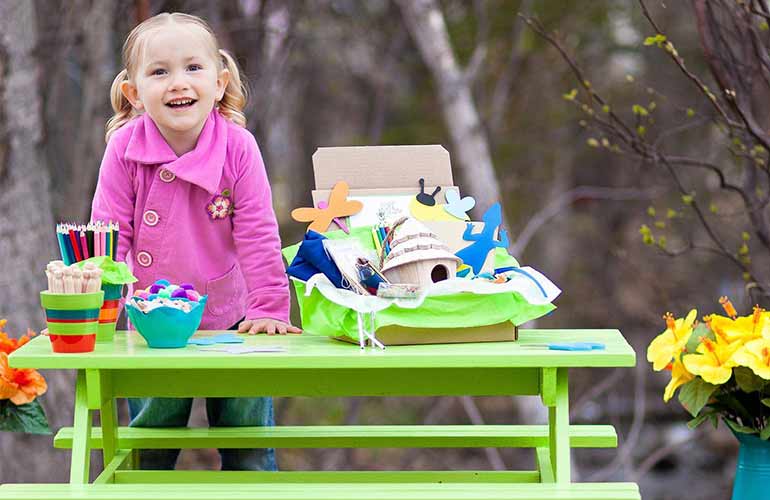 Their words:
Our desire to benefit people and the planet is at the very core of our business, from our mission to the way that it is translated into action. – Green Kids Crafts
Pricing:
$24.95/month
Recommended Age:
Different categories: ages 2-4, 5-10, 10+
Box Specs:
Kids can learn about topics like nature, electricity and art through four to six different STEAM-focused activities. From crafts to hands-on science experiments, each box is an opportunity for kids to explore the world around them, learn and be creative!
It also comes with a 12-page magazine with instructions and explanations for each activity and topic. Green Kids Crafts also promotes all of their boxes as being carbon neutral and says one tree is planted for each box ordered.
Quoting the creators:
The design of Tinker Crate tries to infuse "STEM concepts into each crate's themes with enriching projects and activities that are accessible and fun for all types of learners. – Tinker Crate
Pricing:
$19.95/month
Recommended Age:
This DIY box is geared towards kids ages 9-16.
Box Specs:
Take a look at these delightful monthly subscription boxes for boys and girls who want to learn crafting, carpentry, and engineering. From the makers of KiwiCo, Tinker Crate sends materials to create an innovative STEM project from the comfort of your home each month.
In addition to all the materials needed to construct & experiment with a project, kids will also receive a 16-page "Tinker Zine," filled with at-home experiments and amazing science stories to extend the learning opportunities.
Your child will become a craftsman in no time and this subscription box for kids is thought to help them develop their innovative traits.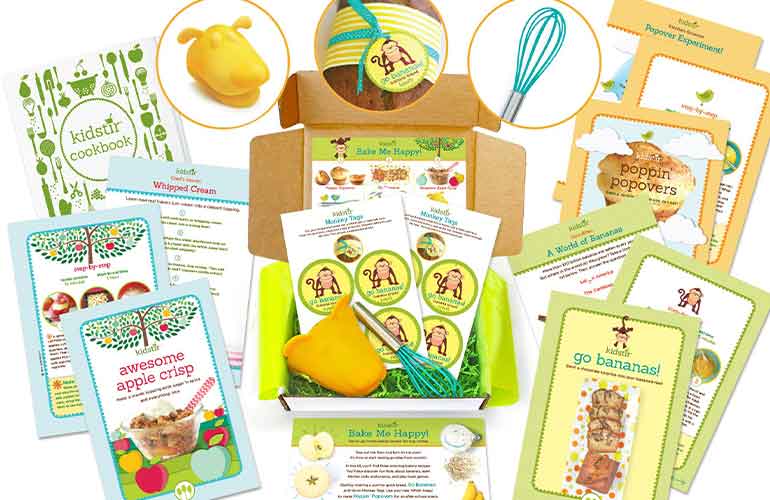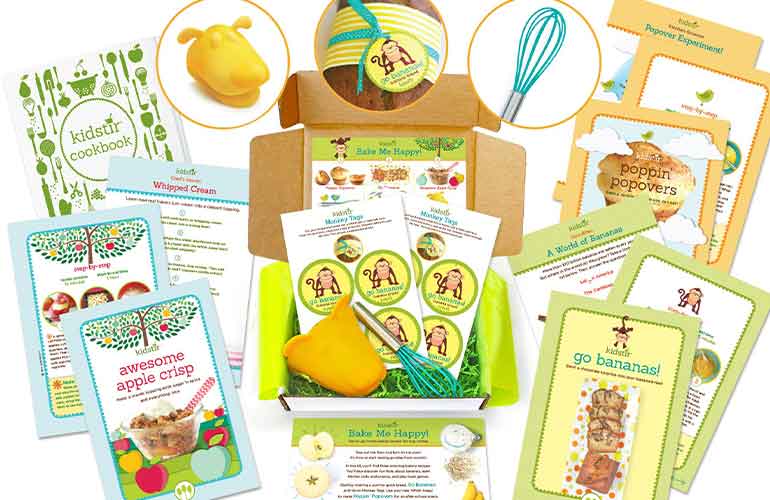 What they have to say:
We believe in getting kids in the mix—after all, the more opportunities they have to try new things and build new life skills, the happier and more confident they'll grow up to be. – Kidstir
Pricing:
$20+/month
Recommended Age:
Kids aged 4 to 14
Box Specs:
Do you enjoy cooking with your kids? Kidstir wants to help! This cooking kit makes their kitchen creations edible with easy-to-follow recipes, kid-size tools, and a printed shopping list.
Even your pickiest of eaters will enjoy creating a happy and healthy connection with food, with recipes ranging from apple cinnamon crisp and s'more shakes to turkey club subs and zesty cranberry sauce.
Kids will also love using a new child-friendly kitchen tool each month to create any of the provided three recipes in each box.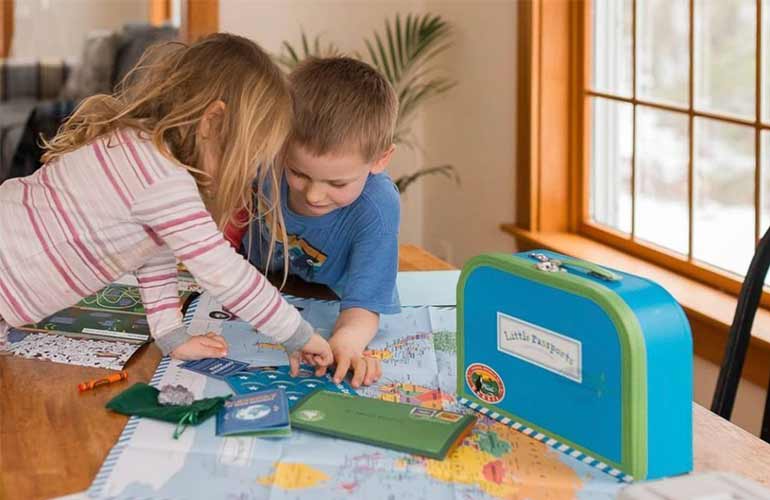 Quoting the creators:
Our products deliver discovery and adventure to children of all ages, and we've also built a wonderful community of parents, grandparents and educators that share our vision. – Amy and Stella, founders of LittlePassports
Pricing:
$15.95+/month
Recommended Age:
3 categories:
3-5
6-8
9+
Box Specs:
Who says you can't travel from the comfort of your living room or child's bedroom? Little Passports offers a way of getting to know the world easily and it's specially useful now that COVID-19 restrictions kept our vacations on hold.
Spark your child's curiosity for culture with this global subscription box. With options for three different age ranges, subscriptions include hands-on activities and information to learn about a new country each month.
They even have a preschool subscription, making it one of the choices for best subscription boxes for preschoolers.
Subscribed "explorers" learn about world themes like music and oceans. Some other examples of included goodies?
A wall-sized world map, bright orange suitcase, stickers and an activity booklet.
What they have to say:
We believe people learn best through doing and creating. Our mission is to inspire your curiosity and help you realize your potential, as you solve real world problems with hands-on projects. – Creation Crate
Pricing:
$29.95/month + shipping, with options to save with longer subscriptions
Recommended Age:
12 years or older
Box Specs:
We live in a world surrounded by technology and it's unavoidable that your child's future will be connected to it somehow. That's why Creation Crate wants to prepare subscribers for the jobs of the future while learning how to build and program awesome electronics tech-related projects.
Each box comes with everything you need to build your very own electronic gadget, with each project being slightly harder than the last. Creation Crate's website recommends these projects for all sorts of ages, starting as young as eight.
Additionally, it also makes mention of college students who may want to challenge themselves or older adults looking to keep their minds sharp and tech-literate.
This is a subscription box for kids over 12 years old. If you have a younger child be cautious to keep them under your supervision with this gift box for kids.
What they have to say:
It started by three parents determined to challenge the status quo and create better food experiences for everyone. – Galit, Greg, and Sarah Michelle Foodstirs® Junk-Free Bakery™
Pricing:
$25.99/every other month + shipping
Recommended Age:
Kids older than 6
Box Specs:
This fun bi-monthly box aims to satisfy your child's sweet tooth in fresh and uncompromising ways. Geared towards kids ages 6 and up, each box is filled with high-quality, pre-made mixes that have no preservatives or artificial ingredients.
Some fan favorite ingredients: organic heirloom flour and all-natural food dyes. Boxes can also include junk-free baking mixes for staples like chocolate chip cookies or vanilla cake.
And everything included is always organic, non-GMO, and kosher. Each recipe is easy to follow and allows kids to get creative by decorating cookies, cupcakes or other fun treats like cake pops.
About them:
We are breaking the stereotype that science is boring, difficult, and only for certain types of people. We believe every child is a scientist. – MEL Science
Pricing:
$34.90 per month for MEL Chemistry (which includes a new package every two weeks) or $19.90 per month for the lite version (which only ships one set a month)
Recommended Age:
MEL Kids is recommended for kids between 5 and 10
Box Specs:
This is perfect for the little scientist. Five to ten-year-olds (although these are great for kids of all ages) will receive two or three chemistry set experiments a month, depending on the subscription.
Each box also contains a special VR headset with $50 worth of at-home lab equipment. If subscribers choose to lite version, they'll receive just one experiment per month.
Both offer creative and educational lessons, with the ability to follow along step-by-step on a smartphone or tablet.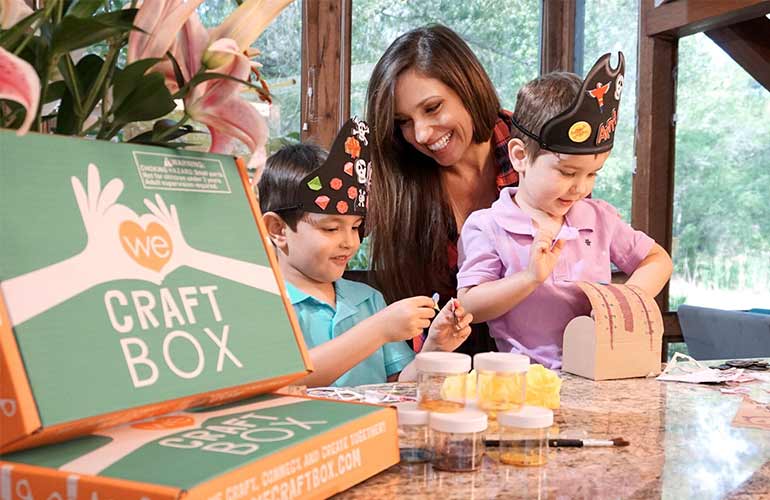 About them:
We Craft Box was created to solve a problem for its founder, Betsy. "Enabling her to connect with her children and be creative together in the easiest way. After talking to other parents, she realized that there was a need for this box, a need to cut out the leg work and have fun and creative moments at our fingertips!"
Pricing:
$29.99/month
Recommended Age:
Suitable for children between 3 to 9
Box Specs
How it works: Is your child crafty? With We Craft Box, subscribers will receive all the materials needed to put together 2-3 different crafts together, ranging from decor to jewelry.
These boxes are geared towards three to nine-year-olds, but who doesn't love a good DIY craft? Each gift box for children is themed and all activities are interactive, with clear instructions so everyone can follow along.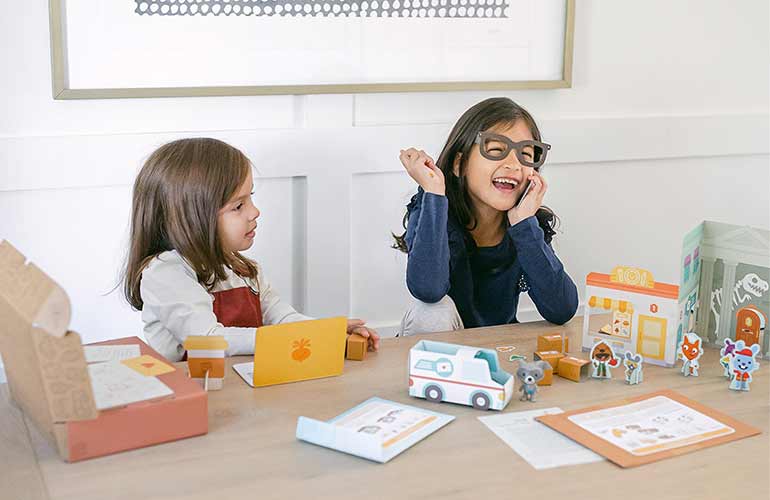 About them:
Founded on values like open-ended play and creative learning, we build things that grow minds, spark creativity and get giggles. – Sago Mini Box
Pricing:
$19/month, with options to save with longer subscriptions
Recommended Age:
It's a subscription box for preschoolers: kids aged 3-5.
Box Specs:
Sago Mini Box is meant to bring quality, creative play to preschoolers every month. Each box includes a Sago Mini collectible figurine and a set of kid-friendly make-and-play activities.
These Monthly box subscriptions for kids have themes that range in topics from fairy tales to space exploration. They are meant to teach preschool-aged children "modern skills" while they play.
For example, little ones will get his or her first taste of what it's like to run a restaurant with the "Pet Cafe" box.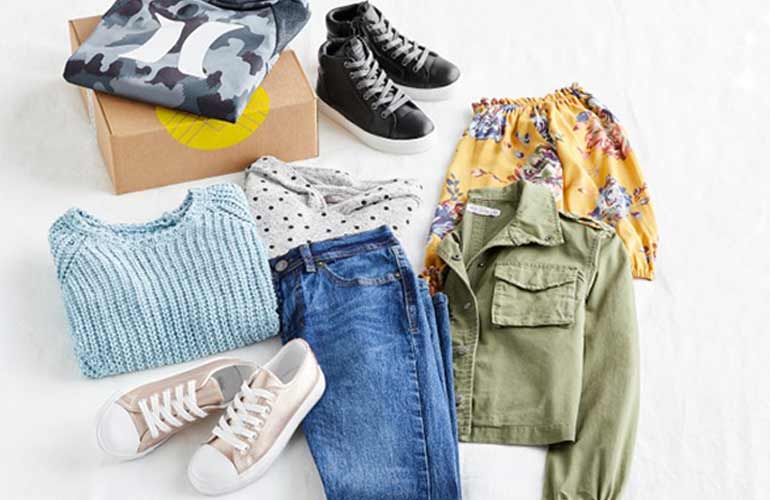 About them:
It's our mission to change the way people find clothes they love by combining technology with the personal touch of seasoned style experts. – Stitch Fix
Pricing:
$20 styling fee that is applied to any items you keep! You only pay for the items you keep. (Keep everything in the Fix and get a 25% discount)
If you are looking for cheap subscription boxes for kids this one is a good option.
Recommended Age:
No age restriction. Clothes can be adapted to each age and size.
Box Specs:
If you're familiar with the Stitch Fix service, get ready for Stitch Fix Kids, providing the same personal styling service for your little ones!
Each delivery contains 8-12 pieces picked by a stylist for you and your child's preferences–just fill out the easy quiz! It's one of the top clothes subscription boxes in the market and a suitable gift box for kids.
Each delivery also includes a personalized note from the stylist. This is a great and easy way to conveniently shop for your kids without even leaving your home! With the chance to choose clothes for any gender, Stitch Fix Kids is one of the best monthly subscription boxes for girls and boys.
Your kids can simply try each piece, keep what they like, and send back what they don't!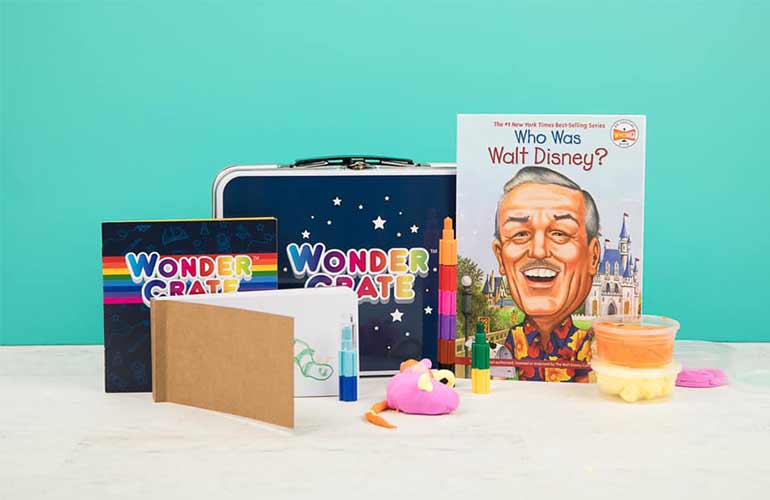 About Corrie Wiedmann, Founder of Wonder Crate:
As a parent, Corrie was worried about her child's choice to look up to reality stars and celebrities, rather than to figures who are making a difference in the world. – Wonder Crate
Pricing:
$24.95/month, with options to save with longer subscriptions
Recommended Age:
Wonder Crate Jr. recommended for kids 5-7;
Wonder Crate Kids is recommended for children 8-12.
Box Specs:
The mission of Wonder Crate is to "inspire the next generation of change-makers by introducing kids to real people that used their courage, perseverance, and passion to make the world a better place." So how do they do it?
Each month, subscribers of these children's subscription boxes will receive a hands-on activity, a biography about a person that reflects each package theme, and a monthly guide for parents (the first month also includes a cute tote or lunch box).
This is one of the best mystery subscription box for kids, as they are surprised each month with a new 'hero'. If you are looking to find the perfect little girl subscription box this is the best choice, as there are a lot of female heroes for her to look up to.
Through Wonder Crate, kids will be introduced to influential people like Jane Goodall, Serena Williams, Bill Gates, or Martin Luther King Jr. Pick a category to receive like scientists or athletes, or sign up for the Combo Series and receive some of it all!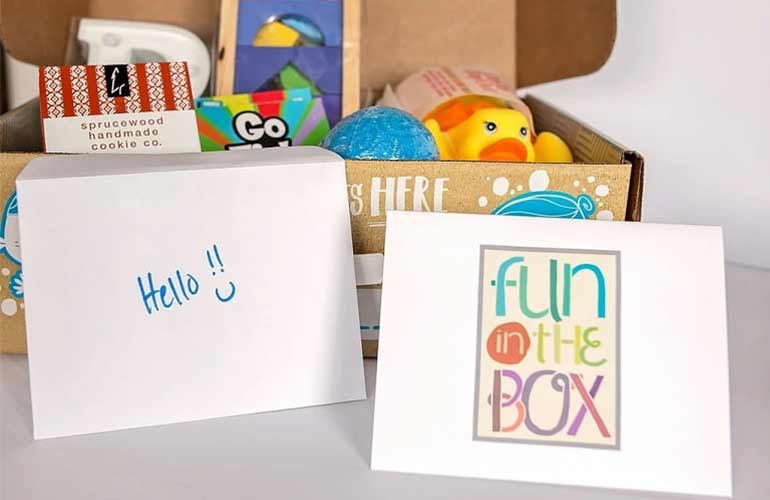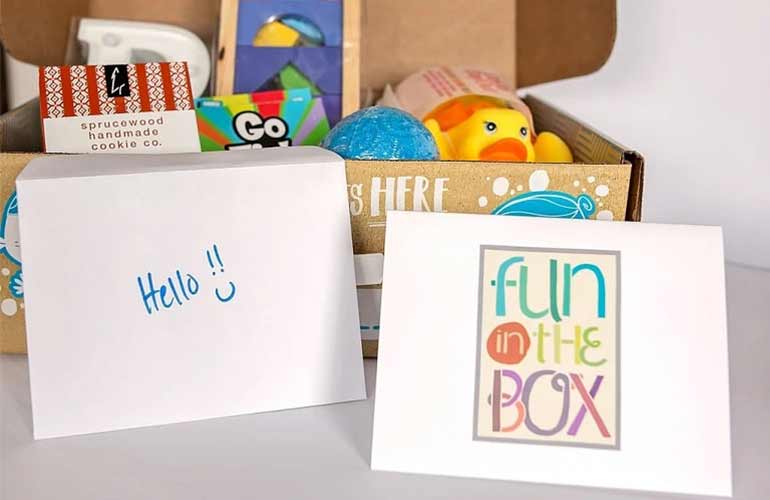 About Fun In The Box:
"Surprise gifts for kids delivered to your door." – Fun In The Box

Recommended Age:
From newborns to 12-year-olds
The Price:
$49.99 CAD (38.80 USD)/seasonal
Box Specs:
A completely customizable subscription service, Fun In The Box is a seasonal surprise for children. It is aimed at kids from 0 to 12, but you can choose based on gender, age, and your relationship with them.
Every box contains between three to five items, including an activity that both the child and the adult can find engaging.

It's ideal for helping to create bonds between children and adults, parents, grandparents, other relatives, or even teachers.
The boxes vary from 'beauty boxes' to 'STEM research' for all those little scientists out there. It also contains games that are adapted for each age group.
Fun In The Box delivers to every home in Canada and the US with an added shipping cost.
Final thoughts
Here we have our 20 picks for cool subscription boxes for kids. We combined the ones who inspire our little ones, boosting their creativity, and taking into account diverse personalities.
Whether your kid wants to become a chef, a scientist, or a Formula 1 driver, there are subscription boxes for children of all sorts.
If you are not a parent yet, we are sure these kids subscription boxes will come in handy. When you need to pick a gift for a nephew/niece or for a friend's child take a look at these gift boxes for kids.
If you pick a mystery box for kids they will be thrilled with the surprise.
And if you enjoy this format, peak into the best subscription boxes for men and the best subscription boxes for women too.
FiveBoxes helps you make the right choice when it comes to pick the right subscription box. The market has definitely something available for all ages, personalities and… wallets.
Any package we missed? Let us know in the comments below.